ManyCam is one of the most popular virtual cameras and live video software that enables users to use their webcam with various video conferencing apps and video streaming apps simultaneously for Windows and Mac.
What if ManyCam stops functioning due to a technical issue? And you cannot solve this problem in a short time.
Fortunately, there're lots of alternatives to ManyCam on the internet that have similar features. Well, you can also enjoy excellent functions from other software. Below is the list of 8 ManyCam alternatives for Windows and Mac that you can check out.
4 ManyCam Alternatives for Windows
#1. FineShare FineCam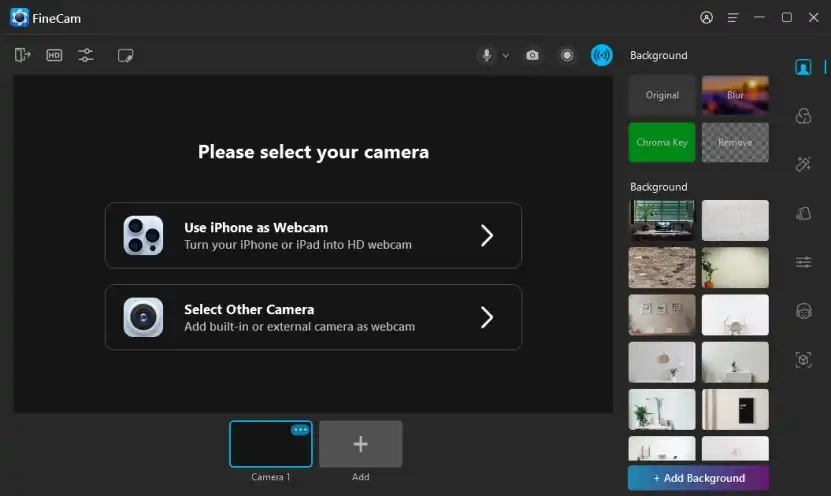 The first ManyCam alternative is FineShare FineCam. The software is a virtual camera powered by AI that works with a variety of platforms including Zoom, Twitch, OBS, Adobe Premiere Pro, and much more. It runs on Windows 8/10/11, macOS 11 and above, Android, and iOS.
Do you want a high-quality webcam? This app can turn your phone into a 4K HD webcam. It also allows you to launch the iPhone's front and rear cameras at the same time and you can customize the size and position of the frame for your calls and streaming.
In addition, it enables you to snapshot and record your video, choose filters and effects, add brand logos, and remove and blur the background. You can set PowerPoint slides, a video, a web page, or your favorite pictures as your virtual background for free.
#2. YouCam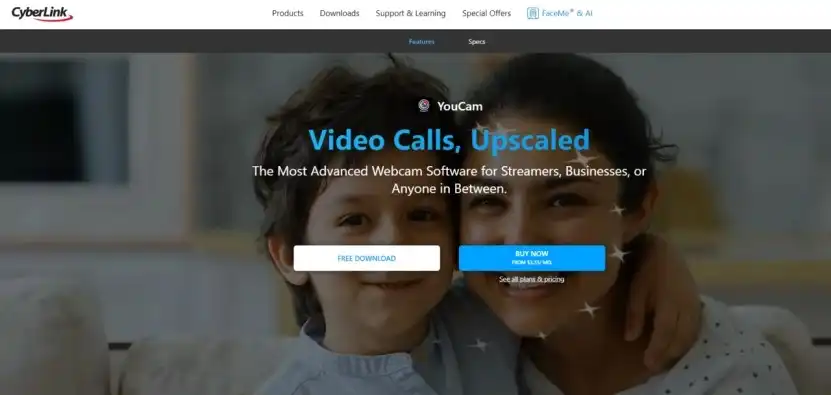 The next tool on the list is YouCam which can turn your webcam into a live video studio and works with various platforms such as Twitch, Facebook, Zoom, Google Meet, and so on. It's used for streamers, bloggers, home users, and businesses.
YouCam can replace or blur backgrounds, apply customizable makeup, and add filters and stickers during chats. You can add customizable titles and images to your favorite Twitch, Facebook Live, and YouTube Live.
Besides, it can recognize your face automatically and stay perfectly positioned while you use YouCam.
#3. Yawcam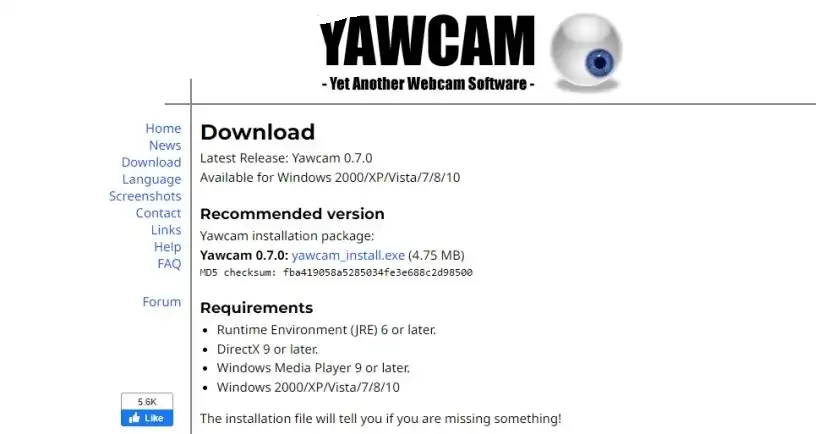 If you're looking for a free ManyCam alternative, you can try Yamcam. It's short for Yet Another Webcam software. Yawcam is a simple and easy-to-use program that only works in Windows.
The tool's features include video streaming, image snapshots, text and image overlays, password protection, multi languages, motion detection, etc. It also offers more than 20+ languages.
Yawcam is also a built-in web server, and scheduler for online time, time-lapse movies, and online announcements for communities.
#4. AlterCam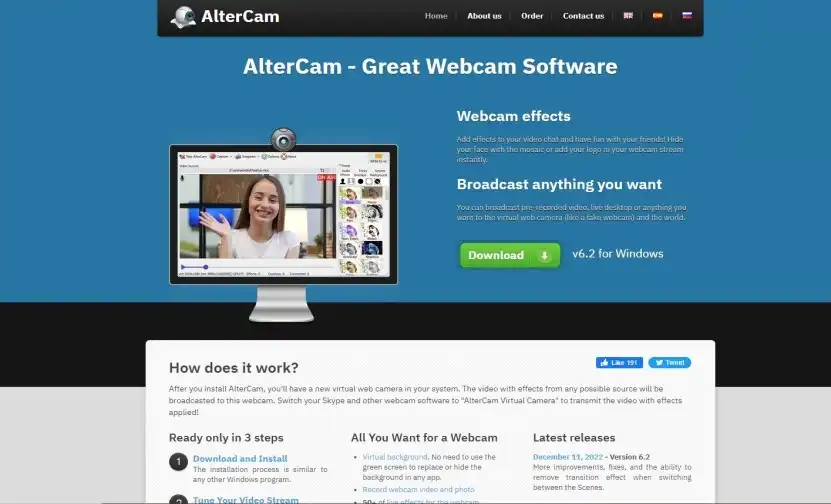 AlterCam is a good ManyCam alternative for Windows that can be used as a virtual webcam.
Just like other webcam software, AlterCam can record video and photos, blur, and change the background. You can add effects or your logo to your video stream or add different webcam overlays. It uses GPU acceleration for less CPU usage.
Besides, this program will split your webcam video to other popular platforms and change your voice in real time.
4 Manycam Alternatives for Mac
Not all ManyCam alternative is suitable for Windows, so the next part will introduce 4 ManyCam alternatives for macOS.
#1. OBS Studio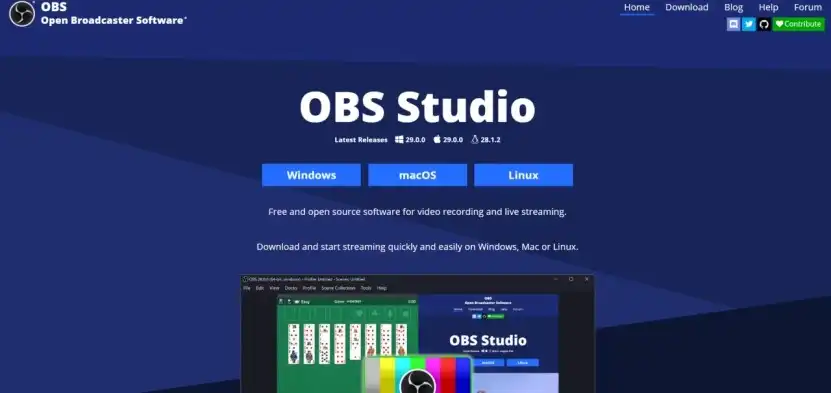 OBS Studio is a free and open-source virtual camera software for games and live streams for Mac. When you first start using it, you have to put the time in to learn how to use it so it's not a good ManyCam alternative for beginners.
It offers high-resolution video and audio capture and mixing in real-time. You can create multiple scenes from various sources such as text, images, webcams, browsers, and more.
It's also an intuitive audio mixer that includes per-source filters like noise gate, noise suppression, and gain. You can add new sources, duplicate existing ones and change their properties easily.
#2. Webcamoid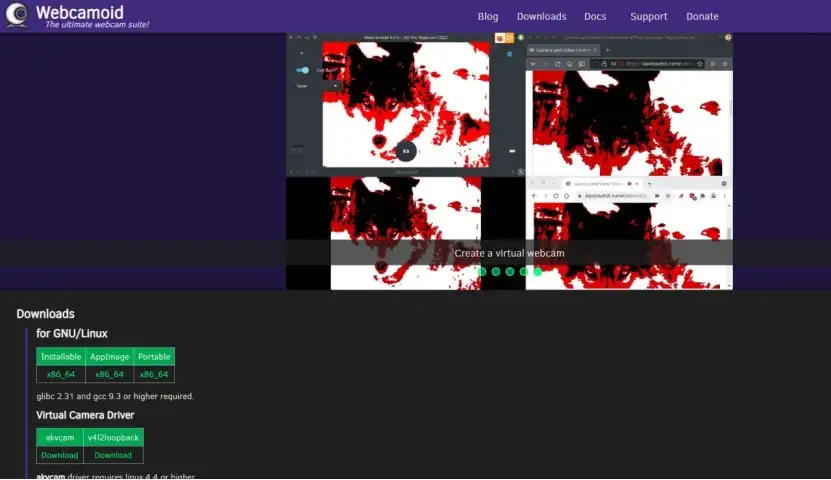 The second ManyCam alternative for Mac is Webcamoid. This program has a simple and intuitive interface. It's a full-featured and multiplatform webcam suite written in C++ and Qt. With Webcamoid, you can take pictures and record videos with the webcam and manage multiple webcams at the same time.
It offers funny effects that you can apply to your videos. Moreover, it uses custom network and local files as capture devices and supports various output video formats. Without any prior installation, Webcamoid can be utilized from a USB stick or similar device.
#3. CamTwist Studio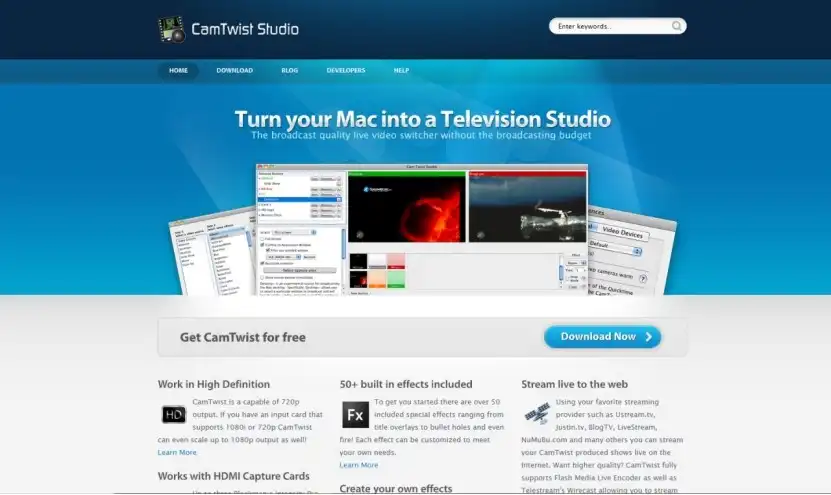 CamTwist Studio is a good ManyCam alternative that can turn your Mac into a television studio. The software is capable of 820p output. If you want to produce content in 1080p, you should enter 1920×1080 in the custom resolutions preference.
It offers 50 effects like broken glass and bubbles that you can add to your video. Apart from that, you can create your special effects by using Apple's Quartz Composer. Its effects library also offers some custom effects.
Further, it can be seen as an integrated webcam and you can stream your CamTwist-produced live shows on your favorite streaming provider such as LiveStream, BlogTV, and more.
#4. iGlasses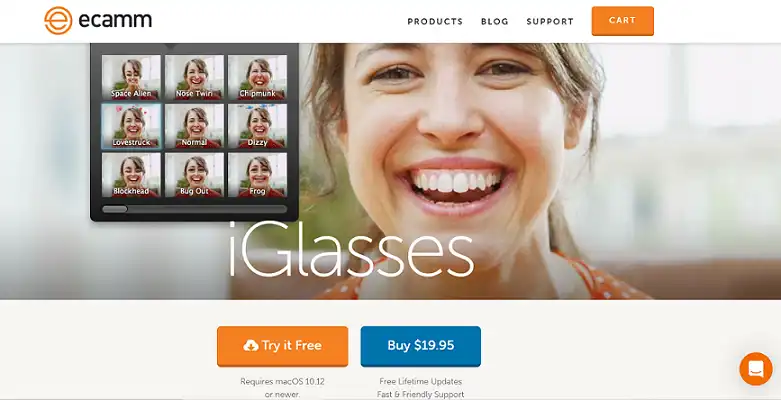 The last ManyCam alternative for Mac on the list is iGlasses. This software has a user-friendly interface. It lets you adjust brightness and color correction.
iGlasses offers various effects and styles that you can add to your video. You can schedule your YouTube and Restream broadcasts.
It gives you total control over your webcam video setting from a variety of apps like Skype, Yahoo, iChat, and more. You can zoom your video, record videos in high quality, take photos and then share them on your social media platforms.
But it only works with apps running in 32-bit mode.
FAQs about ManyCam Alternatives
#1. Is there a free version of ManyCam?
ManyCam works on free, standard, studio, and premium versions.
Using its free version, users can enhance their live videos. It also enables you to broadcast to social media platforms and connect to your video calling apps. The number of video sources available is limited. And you cannot use the Chrome key and blur the background on the free version.
#2. Is there a ManyCam alternative for both Windows and Mac?
You can use FineCam. FineCam is compatible with Windows, Mac, Android, and iOS.
#3. How to remove the ManyCam.com watermark?
Three steps to help you remove the ManyCam watermark quickly.
Step 1. Open ManyCam on your computer.
Step 2. Click Text Over Video located at the left navigation menu.
Step 3. Uncheck the Show ManyCam logo box.
If you activate the subscription, the ManyCam watermark will be removed automatically.
#4. Can I use ManyCam on Chrome?
ManyCam also supports Chrome. The below steps will help you to do this.
Step 1. Copy-paste chrome://settings/content/camera into Chrome's address bar.

Step 2. Choose the ManyCam Virtual Webcam option to set it as the default for the website.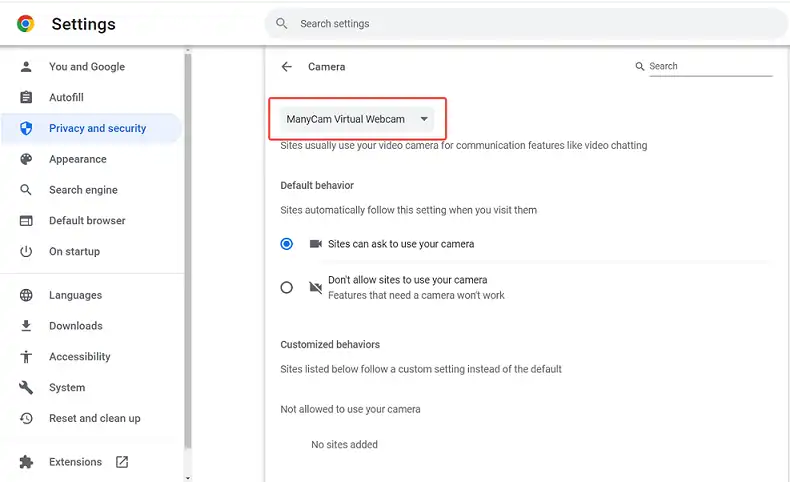 If ManyCam virtual webcam not working, you can update your browser.
#5. Is there a free alternative for ManyCam?
If you're looking for a free ManyCam alternative, you can try FineCam, YouCam, and Webcamoid.
Here, we recommend FineCam. Its free version feature allows you to remove the webcam background, add PowerPoint/webpages/application windows, and create 2 scenes at a time.
#6. How to uninstall ManyCam?
The method to uninstall ManyCam for Windows and Mac is different. Here's how:
For Windows:
Step 1. Type Add or Remove Programs on the Windows search bar.
Step 2. Click ManyCam in the list that appears.
Step 3. Then select Uninstall.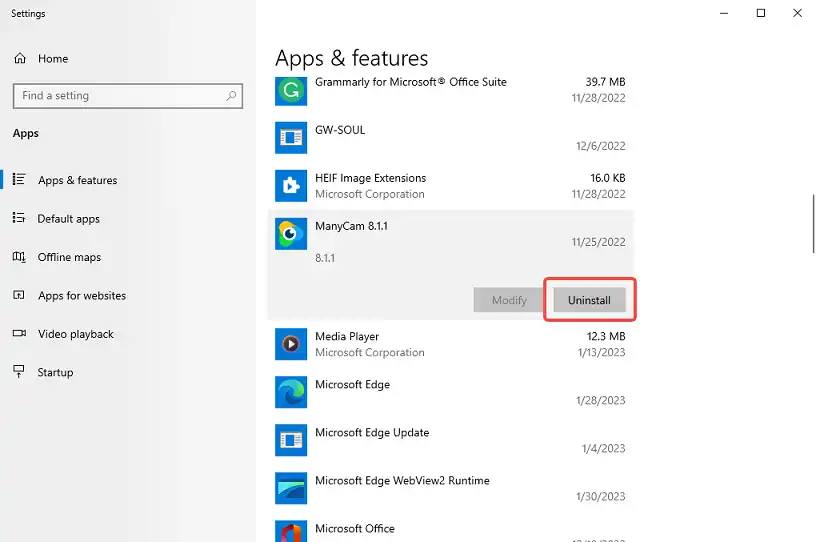 For Mac:
Step 1. Go to your Application folder.
Step 2. Search for ManyCam.
Step 3. Open the ManyCam folder and run Uninstall ManyCam.
Step 4. At last, reset your Mac.
Summary
All in all, the ManyCam alternatives mentioned above have their advantages and disadvantages. You can choose the webcam software that meets your needs.