It's hard to look at any area of life these days and not see a role for artificial intelligence somehow. Tech, retail, logistics, and even medicine are finding ways to utilize AI to their advantage.
Video editing software is no different. By incorporating AI technology into video editor programs, users now have much more sophisticated tools to work with. AI helps not only in fine-tuning the audio and video quality of these programs, but also in providing personalized suggestions, streamlining procedures, and allowing for a whole range of other advantages that people might have thought unimaginable just a few years ago. Whether you're looking for the best video editing software for YouTube, or for your own website, it will pay to educate yourself on what to look for in a program.
Let's take a look at what some of these stand-out features are, and check out the top products on the market these days.
Advantages of Using AI-powered Editing Programs
The advantages of using AI editing programs are many. A few of the major ones are the following:
Personalization. We talk a lot about AI and personalization in many industries these days. With video editing, too, programs learn to "understand" user preferences, which both allows for increased consistency across any given user's work, and also provides a much greater degree of precision in terms of what distinguishes any given user from others.
Improved content creation. AI video editors can analyze video content to help users design their videos, distinguish important parts from others, and improve the overall flow of their productions. This applies to audio and text as much as it does to visual aspects.
Automated editing and enhancement of videos. Advanced programs can actually perform editing tasks for you, based on user preferences and pre-designed algorithms. They can also detect where certain types of enhancements, both in visual and audio aspects of videos, can be beneficial for making higher-quality videos.
Once you've prioritized your desired program features, you can start to think more broadly about the types of videos you want to make, what platforms you want to use them on, and how you intend to reach your target audience.
Top AI Video Editors on the Market
Movavi Video Editor
Movavi Video Editor's newest version has incorporated the following features into its product, making it one of the best video editors: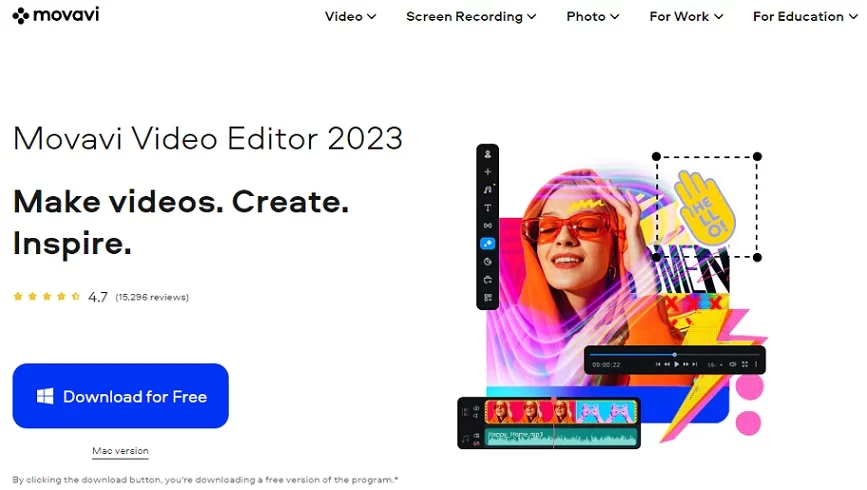 Features:
LUTs and overlays for interesting effects
A wide range of customizable transitions, stickers, intros and outros, and sound inputs
The newest filters, including Glitch, Blur, VHS, and others

Movavi offers a free, limited version of its editor, as well as a paid version for $54.95 that allows for advanced editing features, keyframe animation, and background and noise removal. It is compatible with Mac and Windows.
VSDC
VSDC brands itself as an advanced tool that is as easy to use as a basic one. With VSDC video maker, you'll get:
Features:
An advanced motion-tracking tool
An "edit the beat" tool, to create visual effects alongside music
An AI art generator to create artistic-looking images in your videos
An HSL Chroma Key for subtle adjusting of colors

VSDC offers a free, limited version, as well as a Pro version. The Pro version includes all of the advanced features mentioned above and costs $19.99. It is Windows-only.
Runway
If you're collaborating with a team on a video project, Runway might be a good option for you. Runway has several advantages with its editor: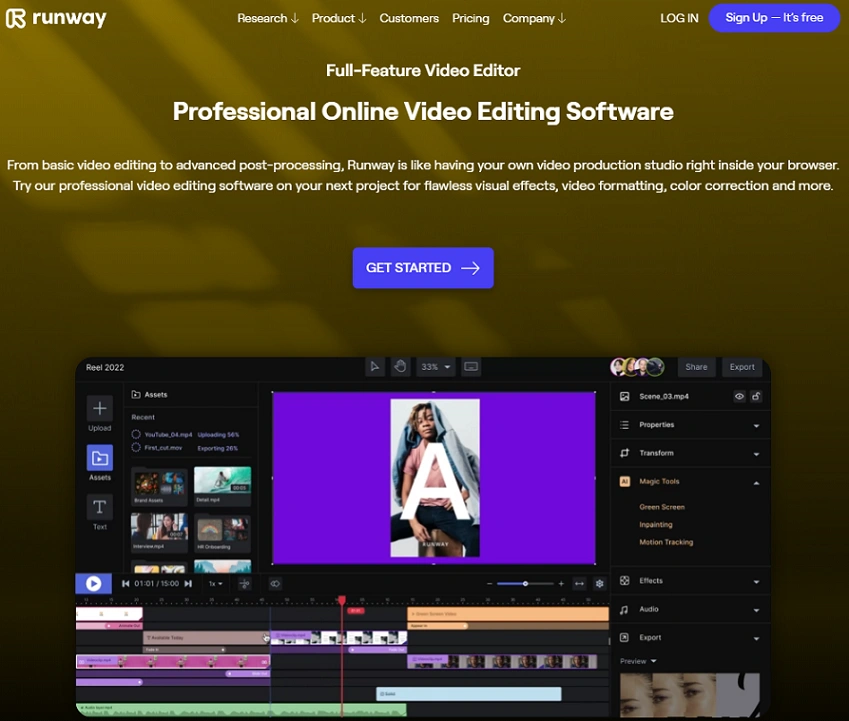 Features:
Collaboration in real-time with other users based in any location
An AI "training" function that allows you to program your own AI components based on keywords and other commands
Cloud storage for easy access among users

Runway offers three versions of its product:
Basic, which is free and has limited editing options
Standard, which costs $12 per month and includes some of the program's "AI Magic Tools"
Pro, which costs $28 per month, allows for up to 15 editors, and has a much wider range of custom AI generators
Runway is compatible with Mac and Windows.
FlexClip
If you are looking for an easy option for making a variety of videos such as promotional videos, explainer videos and social media videos, FlexClip will be a good choice.
FlexClip 5.0 introduces three groundbreaking AI features: Text to Video, AI Video Script and AI Image Generator, which revolutionize the video creation process.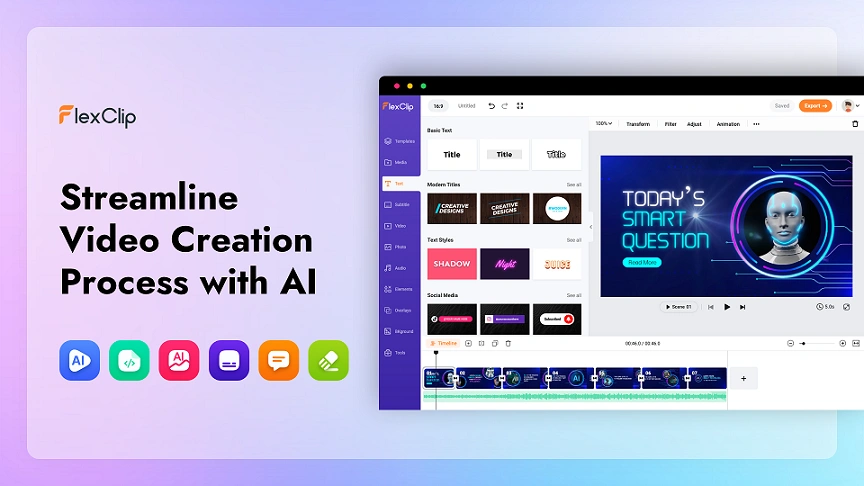 Features:
Team collaboration function to increase productivity.
Millions of Royalty-free Stock Media including photos, videos, and music.
5000+ exquisitely-designed video templates in diverse categories.

FlexClip offers a free plan, as well as 2 paid plans. The Plus plan starts at $9.99. You can experience all the AI features even in the free plan.
Lumen5
Lumen5 prides itself on being a reliable option for companies hoping to create solid branding for themselves and educational videos. Among other things, it provides the following features:
Features:
Recommendations for editing to enable branding consistency across platforms and engagements
Quick and user-friendly editing tools
"Talking head videos," which allow for transcription and text emphasis

Lumen5 offers four levels of pricing:
Basic, for $19 per month
Starter, for $59 per month, including custom fonts and colors
Professional, for $149 per month, including custom watermarks and many stock photos and videos to choose from
Custom, for customized rates and with a number of personalized features
It is compatible with Mac and Windows.
Peech
With Peech, you'll get a high level of automation, and customizable formats to utilize for different predetermined groups. If you're looking for a professional yet easy-to-use program, this could be a solution for you. Peech offers the following features: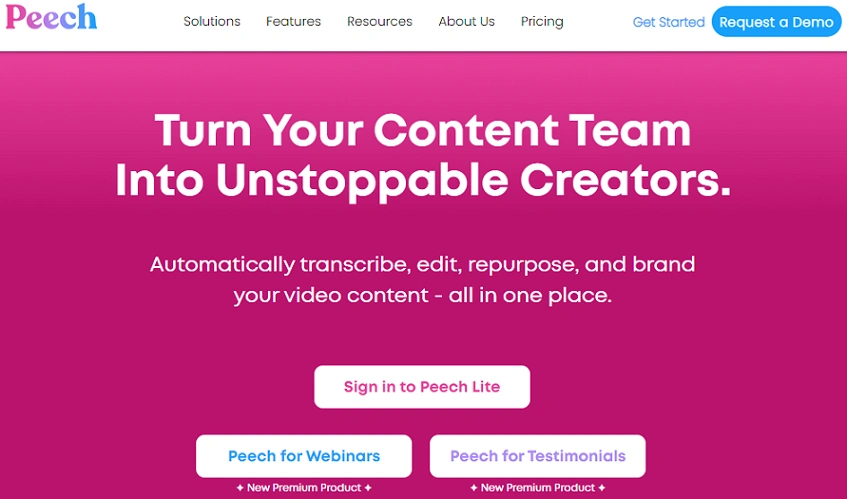 Features:
Calibrated automatic editing based on your company's priorities
Auto-generated visual elements
Localized content to speak to different audiences

Peech also offers four levels of its product:
Freemium, which is free, allows for one user, and has limited video capability
Pro, for $49 a month, and allows for a greater number of users, as well as videos of greater length
Teams, for $399 a month, which allows for five users, longer-length videos, and more editorial features
Custom, which will allow you to personalize your videos to different degrees based upon individual need
It is compatible with Mac and Windows.
CapCut
CapCut video creator is also known for its ease of use, and includes convenient features, such as instant uploading to different platforms. You'll also get:
Features:
Keyframe animation capability
Chroma keys for customized coloring
An automatic stabilization tool

CapCut has two options for purchase: $7.99 per month, including limited editing features; or $44.99 per year for the "Pro" version, including more advanced features. It is compatible with Mac and Windows.
Tips: Use FineShare FineCam to Record Videos with Ease
Video editing is no doubt an important part of content creation, and before that, there's also video recording which is as important as editing. Better video quality makes viewers more willing to enjoy your video, and in here, we recommend you to use FineCam to record videos.
FineCam is an AI-powered virtual camera software that can record high-quality videos of resolution up to 4K. The intuitive interface of FineCam is suitable for beginners to handle in a short time. It supports using your phone as an HD webcam so you can save some budget planned on equipment. What's more, the segment recording function of FineCam allows you to record multiple videos separately and merge them into one video.
Currently, FineCam is free to use on both Windows and macOS, you can download it now and start your video creation right away!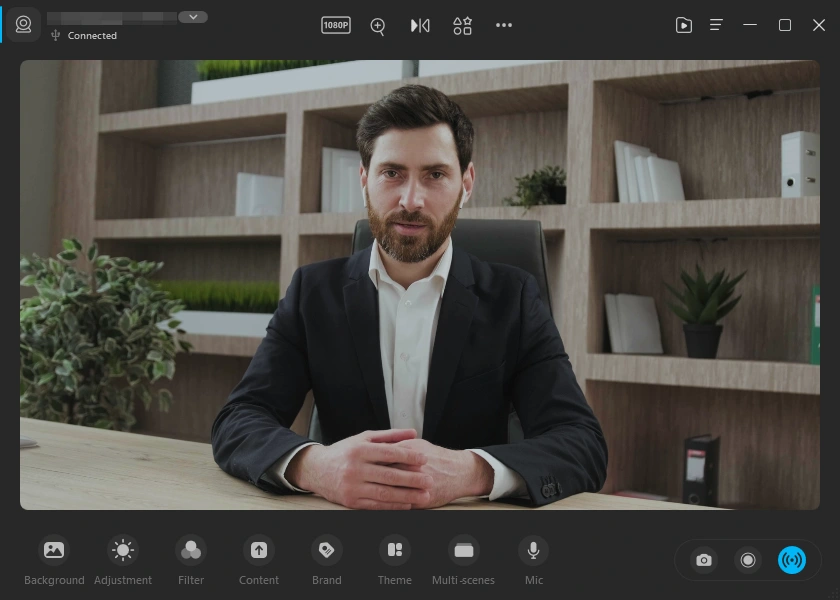 Be Prepared for the Future of Editing
Once you get started with an AI-powered program, you'll be amazed at the increased level of sophistication and customization that you'll get. You will start creating truly professional looking videos, possibly right at home, with greater ease than you ever imagined. Check out these products so that you can get started right away.