If you are a pro game streamer, you must know the importance of having unique graphics that portray you as a pro. A great platform that enables you to get a free webcam border is necessary to be unique from the crowd.
The problem comes when there are no free platforms you know to help get the overlays you require or customize one. But the good thing is that several platforms have been developed to ensure your streaming experience in whichever medium is the best.
This guide has outlined the top 5 free platforms where you can download webcam overlay and border. The platforms may be offering premium services, but they offer a variety of free templates that you can use.
[lwptoc depth="2″]
Part 1. What is Webcam Overlay, and Why Do You Need It?
The webcam overlay gets placed above all layers, allowing you to display pictures, text, and other graphics as you wish. Webcam borders and low-thirds are good examples of webcam overlay.
Most pro streamers know the secret of webcam overlay because webcam overlay plays an important role in streaming and video editing. Overlays serve many purposes, one of them being to define your brand, enabling you to create a connection with your audience because you get displayed as a professional streamer.
Other benefits of having a Webcam overlay include the following:
Webcam overlay enables streamers to improve the appearance of their stream. Every extension you add to your overlay boost engagement with your viewers.
The overlay provides more information about your brand, making you stand out from the crowd.
Using a webcam overlay builds trust with your audience by differentiating beginners from experts. The more you uniquely design your overlay, the more you show professionalism and commitment.
Part 2. Top 5 Platforms to Download Webcam Overlay & Border
A great streamer understands the need to stand out from the crowd by having exceptional graphics. The internet is filled with all kinds of overlays and themes you can choose, but if you want a free webcam border, here are the top 5 platforms you must visit.
1. Streamlabs Overlay & Themes for Game Streamers
For pro game streamers, Streamlabs is one of the most trusted platforms offering all-in-one streaming software to make your next streaming experience the best. The platform is fast, and its webcam overlay will make you stand out from the crowd. Moreover, it offers several free templates you can choose from, ensuring your experience is the best.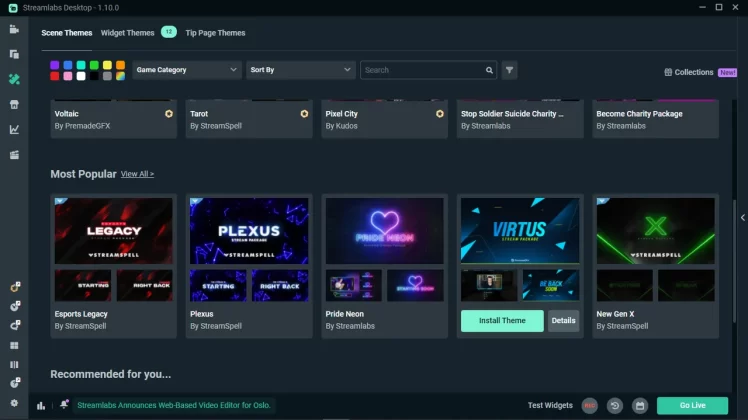 The ease of customizing the overlay and themes has made Streamlabs a suitable platform for game streamers and content creators who want to change their backgrounds. They also offer easy interactive tools that anyone can use.
2. Nerdordie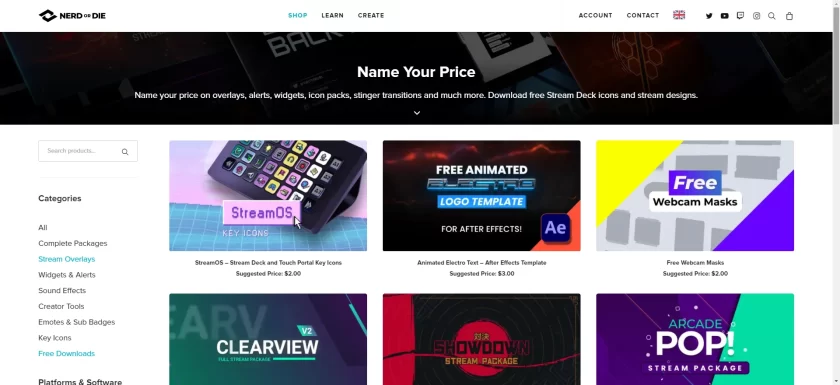 The beginner-friendly platform has proved helpful for users that want webcam overlays. The platform is interactive and offers several demo images in the background, making it suitable for beginners. The application allows you to create a customized webcam overlay image and can be used with any stream.
Nerdordie allows you access to various interactive options to create your desired overlay. No other third-party software is involved, and it will take a few seconds to get a webcam overlay. The platform offers free and paid themes. Notice if you want to download free overlay images, you will have to create an account.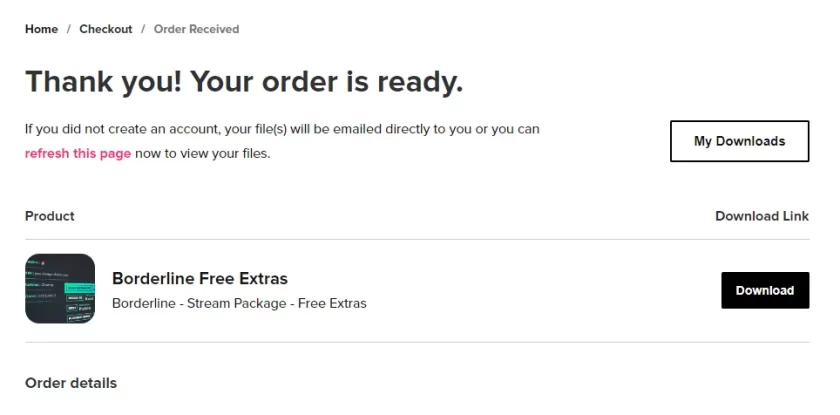 3. Twitchoverlay.com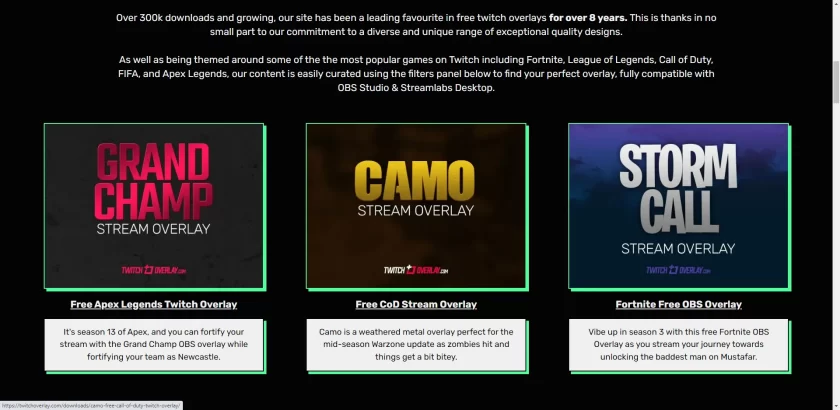 Twitch Overlay is the best source if you want a platform that offers a premium stream of graphics. The platform was designed in 2014 and provided easy access tools that are friendly to be used by everyone, including beginners.
Highly experienced professionals designed the platform, and its impressive overlay quality is evidence of its professional services. The platform is known for its excellent customer care and well-managed stream art services.
Although the platform offers premium services, users can enjoy free overlays, screens, and general graphics downloads. It provides a separate full-featured webcam overlay that can be moved, leaving out the parts you don't want to include and capturing those you wish to keep.
4. Strexm.tv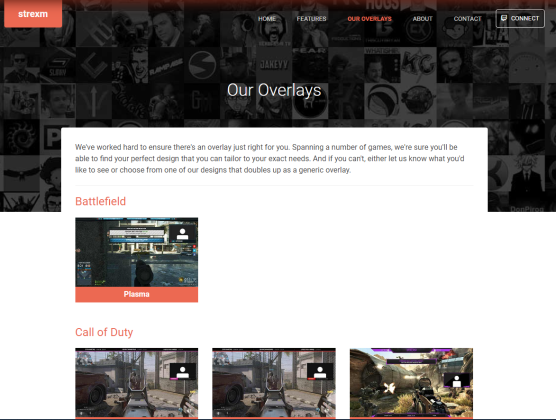 Strexm. tv is the best platform when you want unique overlays. Every overlay is manipulated to suit your needs of specific streaming platforms specifically. The platform is free, and if you don't want to spend any penny on their overlays, no one will force you because of the numerous free overlays they offer.
Many features are making the platform stand out from the rest. Firstly, they offer unlimited support ensuring your streaming experience is the best. They also provide various overlays specifically for several games. Moreover, their overlays are dynamic, allowing you to customize them anytime to fit your needs.
If you are looking for beautiful overlays that will serve all purposes, Strexm is the best platform to offer that.
5. OvrStream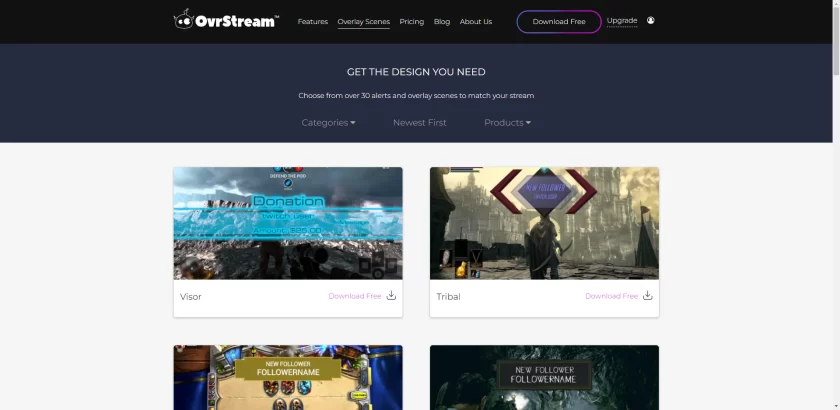 OvrStream is another excellent platform that can upgrade your gaming experience because of the professional alerts and overlays it offers. The platform has made the creation of 3D motion graphics animation fast and efficient.
The platform allows users to quickly customize various features with any overlay, and more than 30 alert and overlay templates are at your disposal. OvrStream is the best platform if you want control over every overlay. To get its free overlay, you will have to provide your email and Twitch Handle.
Conclusion
You can trust several platforms when you want a webcam overlay to make your streaming experience the best. If you don't know the various platforms you can use, this guide has done the work for you. The article has also explained the various features of every platform, enabling you to choose easily.