Having your video's background edited has always been popular amongst video producers and live streamers who are often using their webcams.
Websites like Fiverr allow you to pay freelancers as low as $5 to get your background removed. But the good news is, you don't have to pay to remove your webcam's background since there is webcam background removal software like Xsplit VCam.
XSplit VCam is a webcam program that allows you to make professional-quality videos from your computer. It makes cutting-edge background removal and blurring possible with any webcam without needing costly green screens or elaborate lighting setups.
However, it supports only 1080/30fps and it cannot be used for video recording.
In case you want a free alternative you can use to record high-quality video, there we offer some similar apps to XSplit VCam.
3 Best XSplit VCam Alternatives for Windows & Mac
Apps like XSplit VCam are a great way to edit and remove backdrops from videos as well as record live webcams. Here is a list of the 3 Best XSplit VCam alternatives for Windows and Mac.
1. FineShare FineCam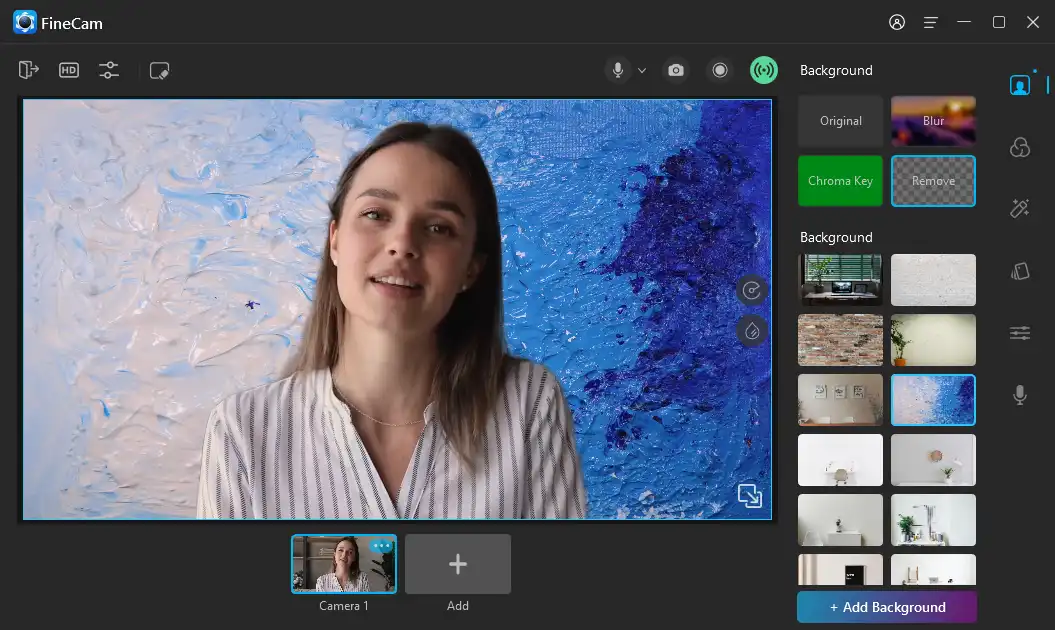 Just like VCam, FineShare FineCam also allows you to turn your iPhone or Android phone into a 4K webcam, and remove, change, and blur the background with/without a green screen with 1 click.
With Unsplash images packed in, FineCam lets you quickly pick out your favorite virtual background. Furthermore, you can also add local media, YouTube videos, and web pages as webcam backgrounds. In this way, you can easily start a video presentation, interview, class, or podcast.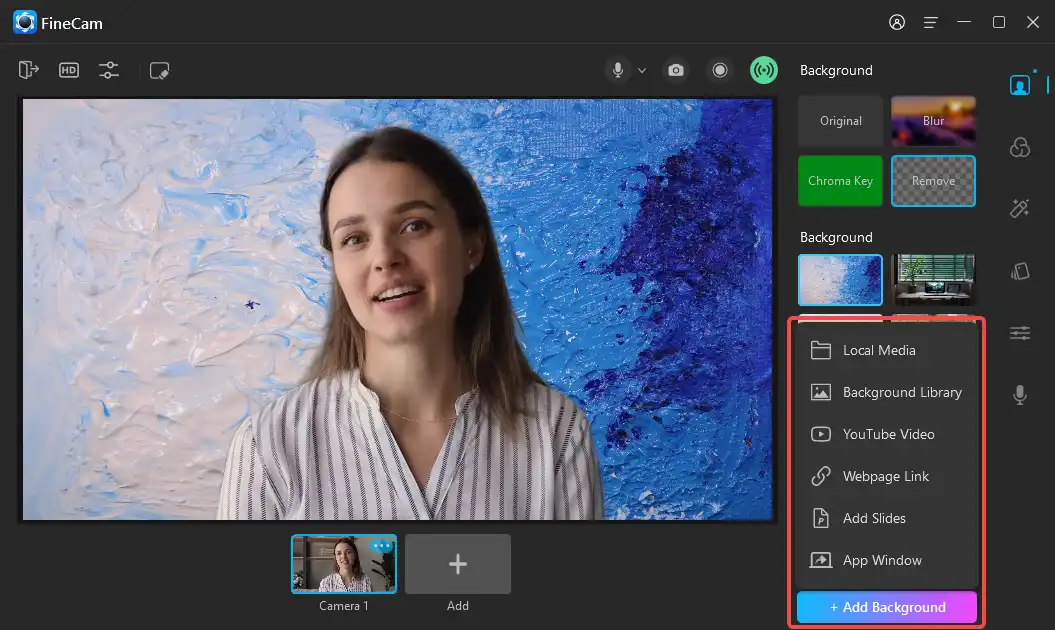 Different from VCam, FineCam allows you to make a video with a resolution of up to 4K (3840x 2160). In addition, there are some other interesting features you will find, such as applying filters and effects, adding brand logos, and low-thirds.
Definitely, FineShare FineCam is one of the top free alternatives to XSplit VCam.
Advantages of FineCam:
Supports video quality up to 4K
Supports unlimited video recording time
Supports dozens of webcam filters and effects
Supports webcam overlay on PPT slides, computer app windows, and phone screens
Supports logo and brand elements importing and customization
Offers preset brand templetes
Can work with your best streaming and video chatting platforms
Import local media formats including BMP, JPG, JPEG, PNG, GIF, HEIC, MP4, M4V, MOV, RM, WMV, RMVB, MKV, AVI, FLV, WEBP, and WEBM
2. NVIDIA BroadCast
NVIDIA BroadCast is also among the preferred free alternatives to XSplit VCam. On your Windows PC, if you are using NVIDIA RTX graphics cards, then you can use the NVIDIA BroadCast. It can change the background without the need for a green screen, and it can even blur, replace and customize the background.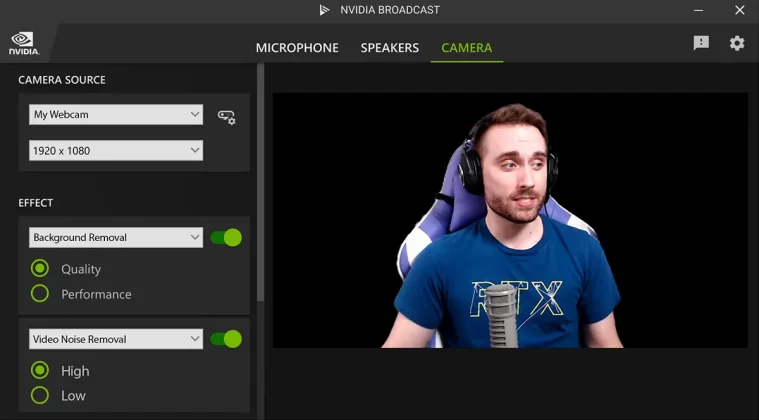 The auto frame allows you to zoom in or crop the video and image to the desired size. NVIDIA Broadcast has some exceptionally unique features. With AI-enhanced voice and videos, it can transform any room into a home studio.
3. OBS Plugin + Portrait Segmentation v0.4.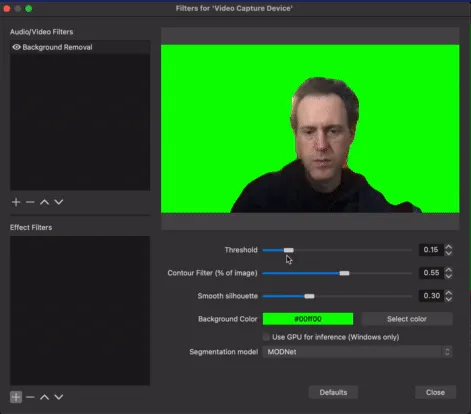 Open Broadcaster Software (OBS) is a video recording program that is available for free. It is capable of working perfectly on Windows. It's a useful alternative to XSplit VCam. API, plugins, and scripts are all available via the OBS Studio. It allows customization and functionality based on the user's preferences. OBS can now run at high speed because of the native plugin you have to download.
OBS allows users to create videos from different sources and media; it includes Windows captures, recorded files, webcam videos, uploaded images, and text annotation. The best thing about Open Broadcaster Software is that it isn't limited in time. You can record up to hours. It even allows you to record the screen and stream it live.
OBS has a particular feature for gamers: they can screen share their game with the world. It also lets you choose the resolution of your live videos and add text to them. It has the ability to remove watermarks for free. OBS Studio, a free alternative to XSplit VCam, lets you stream like a pro.
Portrait Segmentation v0.4.0
OBS has a plugin that makes tasks even easy and faster. Portrait Segmentation v0.4.0 allows you to simply replace the background of portrait images and videos and create a virtual green screen.
This plugin predicts the portrait mask and removes the background pixels using a neural network. It only works on operating systems and not on GPU. This plugin can easily be used with other OBS plugins to change the background with a picture, a blurred background, or a transparent color.
Conclusion
To summarize the discussion, XSplit VCam is an effective tool and has all the necessary features to make a video look more professional. However, XSplit VCam supports only 1080/30fps. But thankfully, there are apps like XSplit VCam. These XSplit VCam alternatives allow users to get higher video quality and still for free.
In the above-mentioned top 3 free alternatives to XSplit VCam, every alternative has its own set of unique features. All of them omit the need for a green screen and allow you to replace and add a customized background. These alternatives support Windows Operating System and are available for free.
Look Superb in All Videos
FineCam is an AI-powered virtual camera for Windows and Mac. It makes you look better in Zoom, Teams, YouTube, makes video production easier, and tunrs your phone into an HD webcam. Get it for free.