With the rise of online communication, live streaming, and multiple social media platforms, almost everyone is looking for a high-quality webcam filter app. You are at the right place if you are searching for a free webcam filter app. Here, you will find the apps that will enhance your online experience and provide various filters and fun effects for your webcam.
We have compiled a list of the five best free webcam filter apps to help you find the perfect webcam software for your need.
Webcam Filters Online Tools without Downloading App
If you are going to take some cool selfies, or record some funny videos using your camera, these online filter tools would be very useful since it provides various filters and effects, as well as some basic webcam adjustment features like zoom, mirror, etc. Besides, these tools also are nice online webcam viewers you can use to test your webcam before a video call on a browser.
The only advantage of these online filter tools is that they are full of ads.
1. Webcam Toy – 80+ Camera Filters & Effects
Webcam Toy is a web app and a browser extension that lets you add cool filters and fun effects to your images. WebCam toy is an easy-to-use and beginner-friendly application. All you have to do is allow it to use your webcam, and then you can start taking and editing photos with cool filters and effects.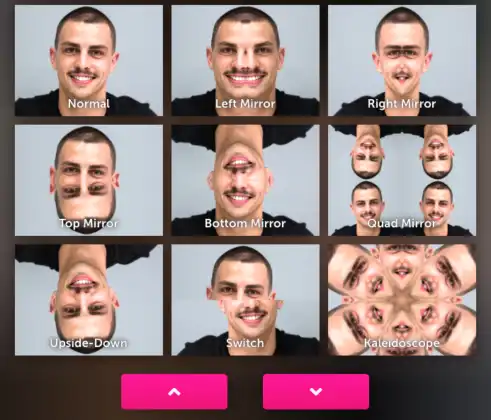 WebCam Toy features many filters and effects that you can use to enhance your webcam pictures. If you want it for live streaming or video making, then webCam Toy is not for you. It does not offer video or live streaming features. It is for you if you need to capture high-quality, fun images without any hassle. You can access the camera right from your browser and don't have to download anything. Moreover, It provides some keyboard shortcuts that allow faster software usage.
Features
Create fun-looking selfies on a PC
Apply visually appealing effects and filters
Immediately share the image on the social network or save it on your PC
Pros:
User-friendly and easy to navigate
You do not have to install any software
Cons:
Not many filters are available
Supported Platforms:
Web browser
2. HD Booth Webcam Effects
HD Booth is an online webcam application that allows you to apply several filters and cool effects on your photos in real-time on Google Chrome Browser. It provides various cool effects and filters to enhance your photos. Furthermore, it lets you adjust filters, and you can use more than one filter simultaneously.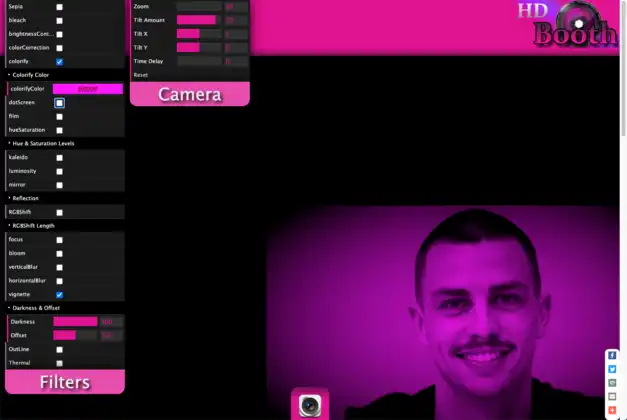 HD Booth also allows setting a time delay from one second to 33 seconds. With multiple online filters and effects, and the webcam adjustments like zoom, tilt amount, and angle, taking amazing photos would be very easy.
Pros:
simple and user-friendly interface.
High-definition photographs.
Cons:
3. Pixect Online Camera
Pixect video camera is a good option for you if you want to use it for photographs and videos. It provides high-quality features for photos and videos. Pixect is another excellent app you can use directly from your browser.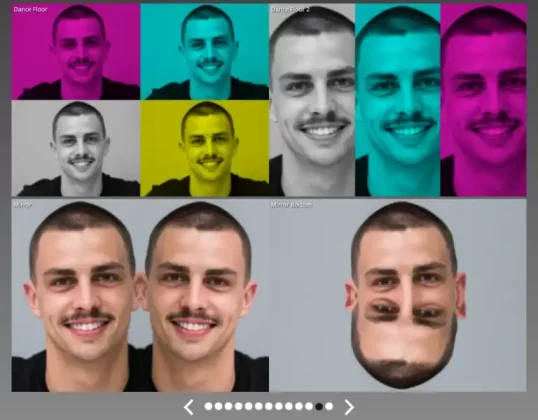 Features
Offers online camera and video recorder.
Webcam effects and filters for photos and videos.
Background defocus, blur, and spot remover.
Numerous photoshoot modes.
You can flip, rotate and crop pictures.
Pros:
No installment is required.
Cool webcam effects and filters.
Cons:
Requires Flash Player 10 or higher.
Full of ads.
Webcam Filters Software without Ads
Some free webcam software allows you to add more professional filters and effects, compared to those effects provided by online tools. Meanwhile, most of them can be taken as a camera source used on popular video chat platforms such as Discord, Zoom, Skype, etc. This brings more fun to your video call on the computer.
However, these programs require a higher system spec to run. If you are running a high-end laptop, then there is no problem.
1. Snap Camera – Face Filters & Effects
Snap camera is one of the best webcam filter software bringing lots of fun for your video calls and live streaming on the computer. Snap camera brings a wide range of filters & lenses to apply to your face on the webcam. You can also make lenses and use them in a snap camera. You can add a snap camera as a webcam within broadcast software or platform such as OBS Studio. OBS is an open broadcasting software; it allows you to use multiple cameras and camera angles. It provides you with a more professional lifestream.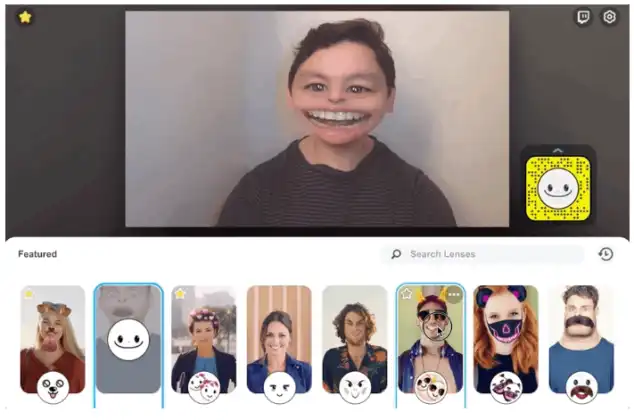 Pros:
Compatible with almost all apps with a webcam.
A wide range of filters.
Snap Lenses.
Easy to install and use.
No registration is required.
Cons:
It does not support snap exchange and messaging.
Won't work on Windows 7 and Windows 8.
System Requirements:
Windows: Windows 10 (64 bit) or newer;
Mac: macOS 10.13 or newer
Hardware: Minimum of Intel Core i3 2.5Ghz or AMD FX 4300 2.6Ghz with 4 GB RAM; Intel HD Graphics 4000 / Nvidia GeForce 710 / AMD Radeon HD 6450; screen resolution of 1280×768 or higher
The latest driver for your specific graphics card is installed.
2. FineCam – 100+ Filters, Effects & Endless Virtual Backgrounds
FineCam is one virtual webcam software whose free edition enables you to perfect your video call by using webcam filters, effects, and backgrounds. Moreover, it also allows you instantly use your iPhone as a full HD webcam, which is very helpful if there is no webcam available or you want to capture video from multiple angles.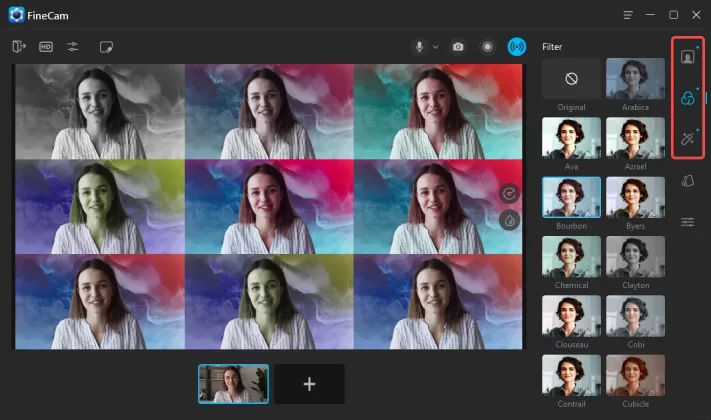 Pros
Use iPhone as 1080 full HD webcam for PC and Mac.
Built-in webcam adjustments like zoom, color, brightness, mirror, etc.
100+ webcam effects and endless virtual background.
Supports taking photos and recording videos.
Can be used on Zoom, Google Meet, and other 50+ video call platforms.
Cons:
Supported Platforms:
3. ManyCam Free – 3D Masks
ManyCam is one of the most popular live video applications and virtual webcam software for windows 10. It has a simple and intuitive user interface and great editing features. Many Cam offers more built-in filters and effects than you will ever need.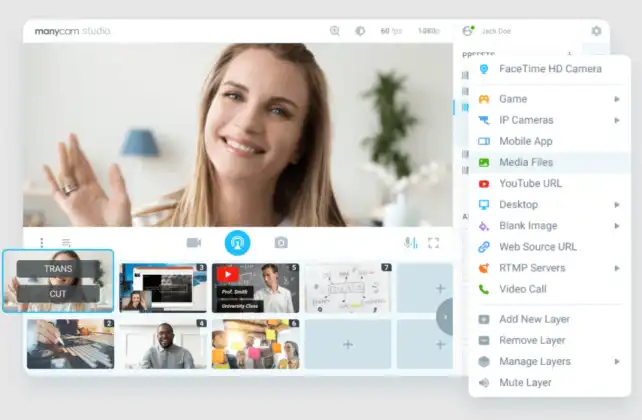 Pros:
YouTube integration
Picture-in-Picture (PiP) mode
Chroma key
Broadcast to multiple channels simultaneously
3D Masks and Effects features
Simple and easy UI
Cons:
The free edition has a watermark integrated.
It also offers an expensive business subscription plan
Manual features adjustments
Supported Platforms:
Windows 7 and above, macOS 10.9 and higher.
Webcam Filters SDK – Banuba Beauty AR SDK
Banuba Beauty AR SDK allows you to add
beauty face filters
to your website or app. It features skin smoothing, skin tone enhancement, eye makeup, and color improvement to make you look better on video calls, video editing, and live streaming apps.
Features:
Make you look better in real-time.
Many beauty and makeup filters.
Add webcam filters for live streaming.
Pros:
Powerful functions
Many face filters.
Cons:
Supported Platforms:
HTML5, iOS, Android, Windows, macOS, Unity
Conclusion
Above are some of the best webcam software with advanced features that you can use for free. You can download the app or use the camera features right from your browser.