There are many different beauty cameras available today, and there are countless stickers and filter options. You can even change faces. What would it be like if your face were swapped for someone else's? Face swap apps have emerged as the newest social media craze, and people have developed an insane addiction to these face swap apps. Many people like to swap faces with their friends and share these funny photos at their friends' parties.
Let's take a look at some of the best free face swap apps below.
1. Snapchat
Snapchat is the most widely used app at the moment with an approximately 200 million user base. It's available for a free trial on both Android and iOS platforms. Snapchat has a lot of entertaining and humorous filters, and you can put your face on another picture or swap faces with other people or pets.
With Snapchat, you may directly capture a complete video or high-definition snapshot and upload it to Snapchat or share it on other platforms. At any time, you can easily and feasibly paste your face onto the video or photo you took.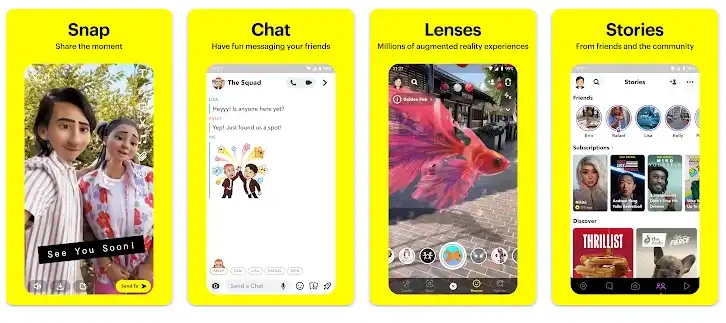 2. B612
B612 is one of the hottest face swap apps today. Because it can automatically beautify your face and make you look better and better, B612 is quite popular among female users. It's somewhat similar to Snapchat's face swap feature, which allows you to swap faces in both photographs and videos.
In contrast, using B612 merely requires selecting a photo before allowing you to finish the face replacement by selecting the Effects section's Face Swap option. B612 can not only automatically beautify during the face replacement process, but also remove some unnecessary background to improve the clarity and beauty of the image.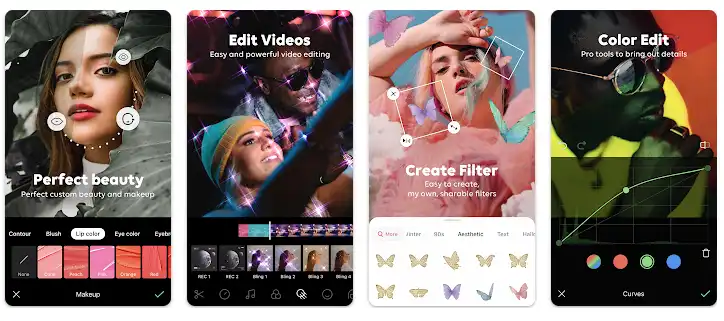 Both Android and iOS devices can get B612 for free.
3. Instagram
Instagram is one of the most well-known social media platforms. Using Instagram's built-in camera, you can directly contribute richer and more intriguing content to your Instagram stories, or you may share images or videos straight from albums on Instagram easily.
Face Swap is a fantastic filter for Instagram that allows two people to swap faces with each other. Without any physical changes, you can become your friend and your friend becomes you. This is an extremely novel and enjoyable experience that has a significant real-world impact.
You must download Instagram to use the filters and all the features it offers. It's compatible with both Android and iOS and it's free.
4. Face Swapper
Face Swapper app by Icons8 is an innovative and versatile free application designed for iOS devices. You can swap faces to try out different hairstyles, body shapes, and professional styles. Exchange faces with well-known celebrities and athletes for amusement, and play around with the faces of your friends and family members. For more serious stuff – modify faces to protect your privacy and biometric data and enhance stock photos with more diverse and inclusive facial swaps.
Face Swapper offers support for up to 1024px in size (pertaining to the face, not the full image), the highest resolution among similar apps.
It preserves the original size and quality of the source image. The app combines fun and practicality, making it a valuable tool for both personal and professional use.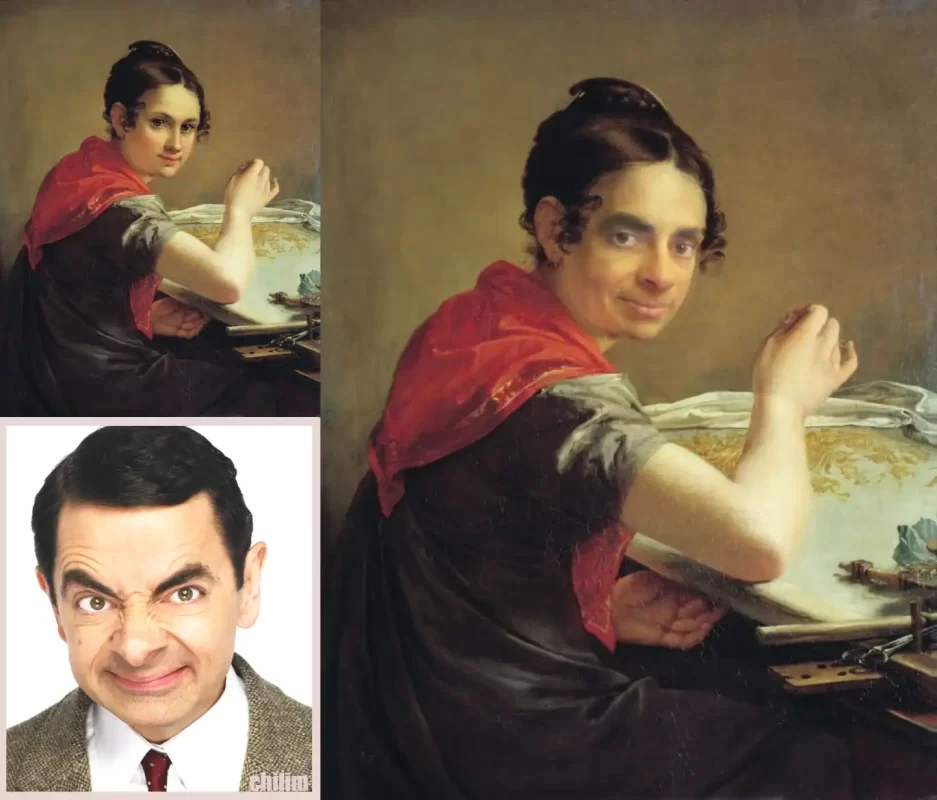 5. FaceApp
FaceApp is also one of the widely used face changer video apps. The app introduces an aging filter in addition to many more distinctive features. FaceApp allows you to see your current appearance as well as your future appearance.
If you want to give yourself a standard smile with eight teeth, you can use FaceApp to make yourself weeny and smile broadly. Additionally, it can modify the color of your hair, add some accessories such as spectacles and hairpins, and even change your gender.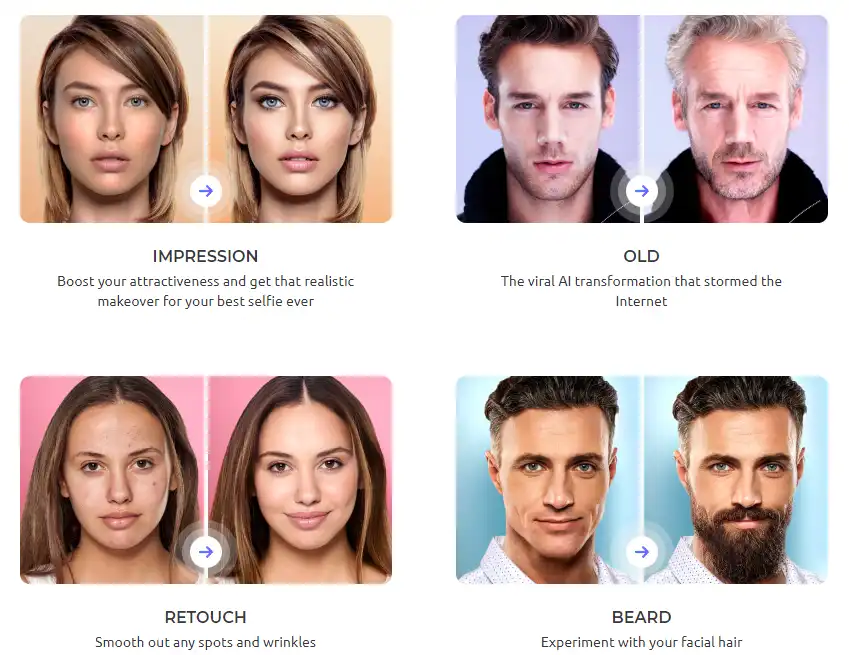 Moreover, FaceApp has a free version as well as a premium version for Android and iOS.
6. Reface
Reface is also one of the best free face swap applications available. It has advanced face swap technology and effects to create high-standard and high-quality face swap videos.
Reface, in contrast to most face swap apps, applies AI technology to enhance both the movements and facial expressions onto another face. You can fully immerse yourself in the content by swapping your face with that of a celebrity from a well-known film. And what's even more incredible is that the developers of Reface update movie and TV clips every day, so you won't miss anything new.
Reface offers a various selection of GIFs, memes, video clips, and classic movie bridges that you can use to personalize new face-swap GIFs and animated videos. Reface developers add new templates every day and also allow you to store these items in your gallery.
So, would you like to make your voice more charming? Would you like to add the voices of celebrities in cartoons and dramas? You should try FineShare FineVoice. With this Celebrity Text-to-Speech tool, you can use the celebrity's voice for off-screen voiceovers or dubbing.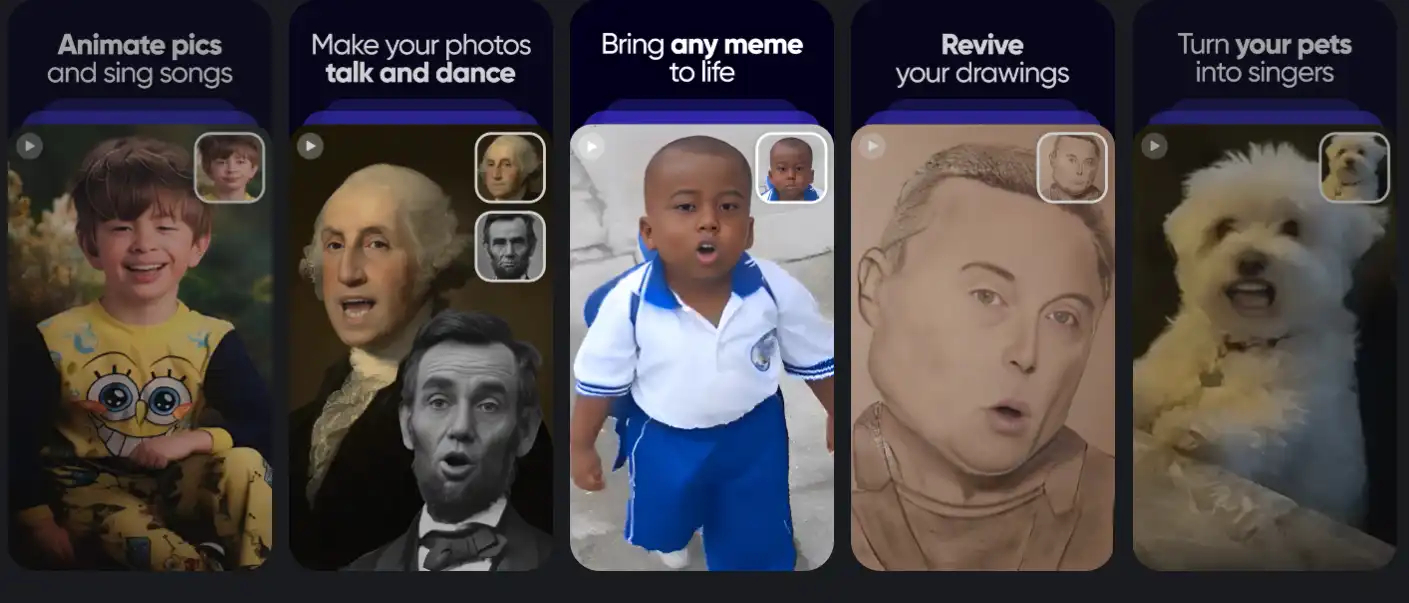 Reface has a free version and is also available for in-app purchases on Android and iOS.
7. Face Swap Booth
Face Swap Booth is a popular face swap app with a ton of features that set it apart from other options available. You can swap faces on a variety of different faces using this application. You can add faces manually or automatically.
The reason Face Swap Booth is so well-liked is that it allows you to swap specific features instead of the entire face. This means that you can duplicate certain facial features and store particular aspects or portions of them to utilize repeatedly in different photographs and videos. Since it saves the face data you upload directly, you can swap faces in group photos as much as you like.
In addition, Face Swap Booth has a preloaded library of celebrity faces. You can store these faces in your gallery and then choose a famous template to customize one new image. With the editing tools, it can even correct any mistakes made by its algorithm.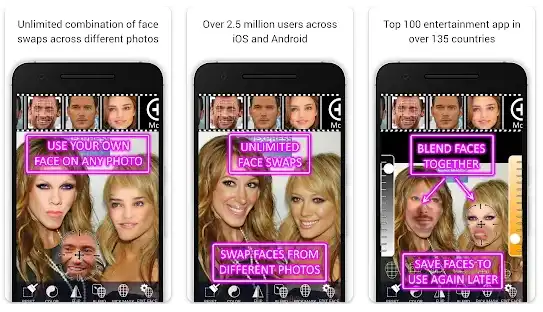 Both the Android and iOS platforms offer a free download of the application.
You can swap your face with your favorite celebrity. Do you know how to make your voice sound like your favorite character? Read this post: 15 Best Free Voice Changers and Plugins.
8. Faceover
Faceover is not only a face swap application that allows you to take pictures but also a photo editing application.
Faceover is a photo editing application in addition to a face swap application that allows you to take pictures. It allows for high-quality face swaps. You can edit, save and share existing photographs in your album.
You can directly copy and paste a face from one photo into another photo to overlap it and then achieve a face swap. And you can even adjust the size and proportion of the photo.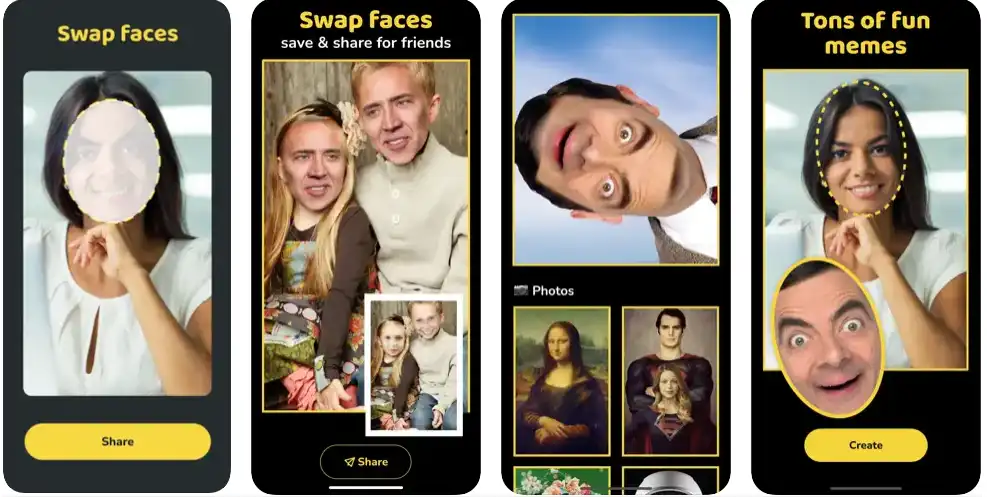 Faceover can be downloaded for free on iOS but not Android.
Conclusion
After reading the 8 free face swap apps above, you probably already have a general idea of what free face swap is all about. Now go download it with your friends and try it out!