Do you love Battle for Dream Island (BFDI), the awesome web series that features teams of talking objects competing for a prize island? Have you ever wondered what it would be like to talk to Firey, Leafy, Gelatin, or any of the other amazing characters from Battle for Dream Island (BFDI)? Do you want to make your own BFDI stories, games, or videos with your own voice acting?
In this article, we'll dive into the exciting world of the BFDI text to speech tool and explore how you can harness this technology to breathe life into your characters, setting them on the path to popularity.
What Is Battle for Dream Island (BFDI)?
Michael and Cary Huang produced the animated web series "Battle for Dream Island" (BFDI). The show first premiered on YouTube in 2010 and quickly gained popularity for its unique concept and engaging characters. BFDI is known for its distinctive animation style, where characters are depicted as simple geometric shapes with faces and limbs.
The premise of BFDI revolves around a group of anthropomorphic objects, each representing a different contestant in a competition to win a dream island. The contestants must participate in various challenges and tasks, and they are eliminated one by one as the competition progresses.
The show's humor, character development, and unexpected twists have contributed to its success, making it a beloved series within the online animation community.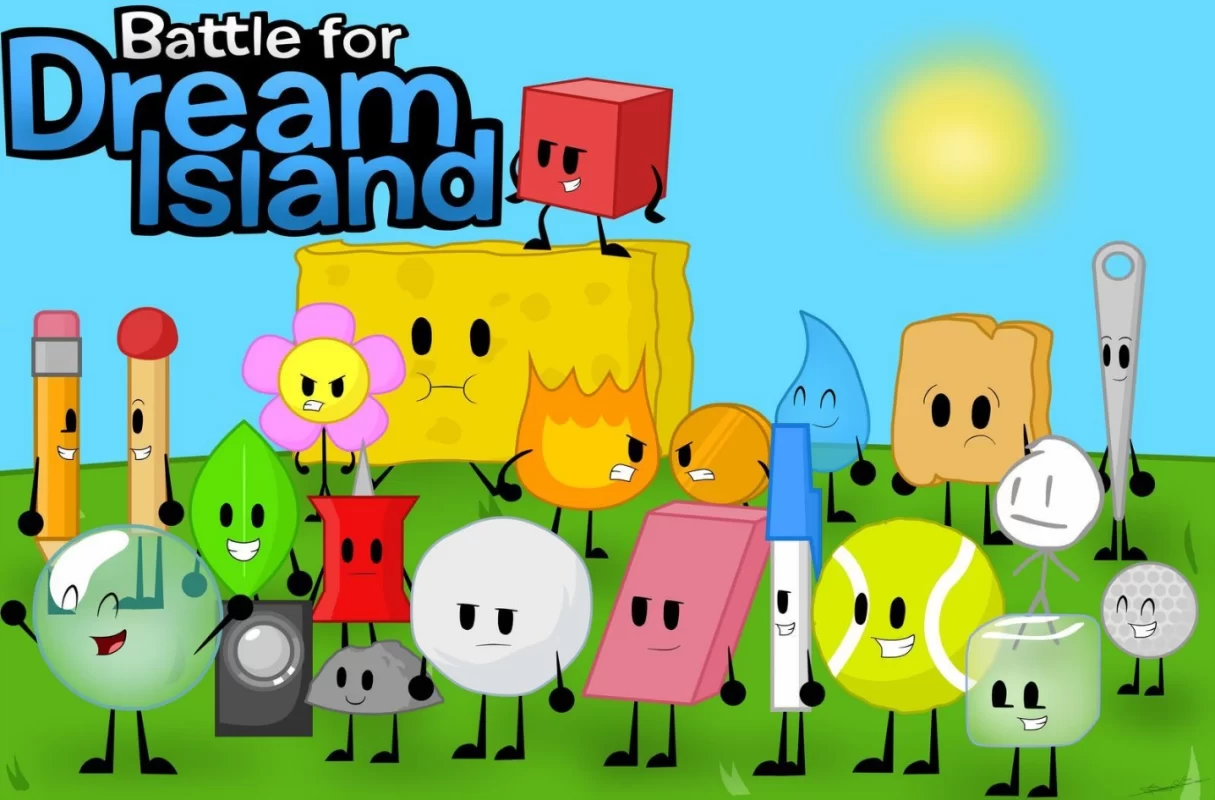 Best BFDI Text to Speech Tool: FineShare FineVoice
Do you want to make your voice sound amazing and impress your friends, fans, or audience? Do you want to sound like a celebrity, a cartoon character, or even BFDI characters? Try FineShare FineVoice, this powerful and easy-to-use BFDI text to speech tool.
FineVoice uses artificial intelligence to mimic the voice and emotion of any person or character you want, including Taylor Swift, Drake, Miley Cyrus, Shrek, Peppa Pig, etc. And it supports 40+ languages and accents, so you can create voices for different countries and cultures, such as English (US, UK, Australia), Chinese (Mandarin, Cantonese), Japanese, Korean, Spanish, French (France, Canada), German, and more. You can use it to create voiceovers for your videos, games, podcasts, or any other content you want to make more engaging and attractive.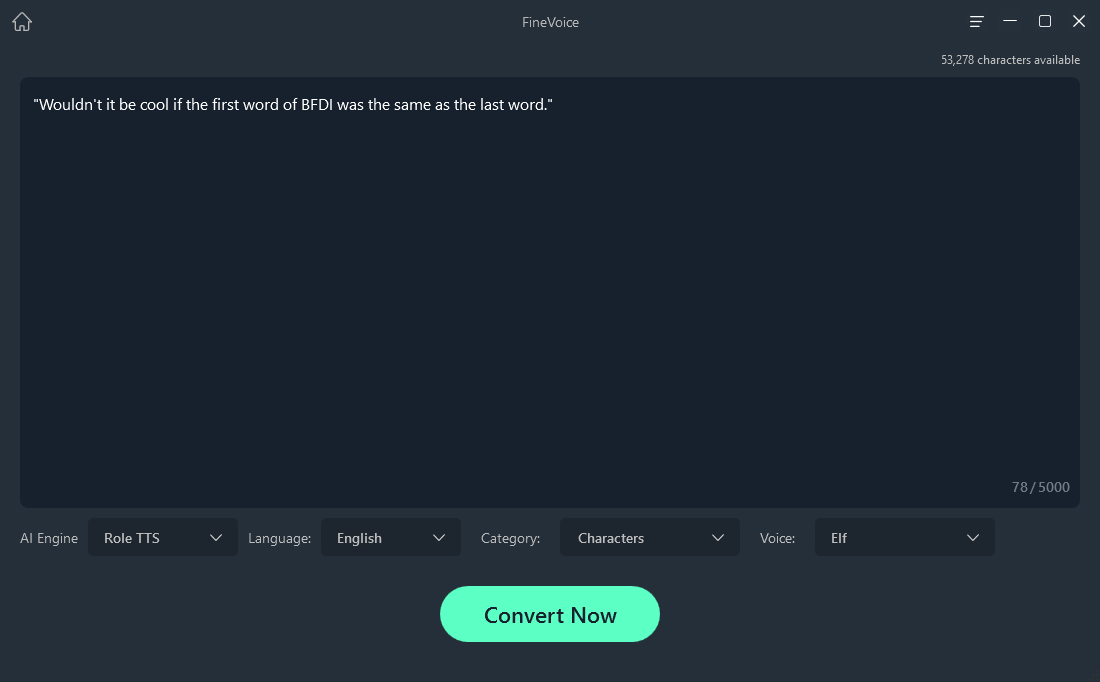 Features:
Easy to use
Change your voice to sound like different personas, such as a lady, man, robot, or even Spiderman
Create voiceovers for your videos with multiple languages and accents
Generate voices for celebrities or cartoon characters
Transcribe your audio recordings into text quickly and accurately
Record your voice with high-quality sound effects and voice effects
Easily extract audio from video files
How to Use FineShare FineVoice to Generate BFDI AI Voice?
Using FineVoice this BFDI voice generator to generate BFDI AI voice is super easy. You can just stick to these easy steps.
Step 1: Download and set up FineVoice on your computer.
Step 2: Launch the program and select the Text to Speech option.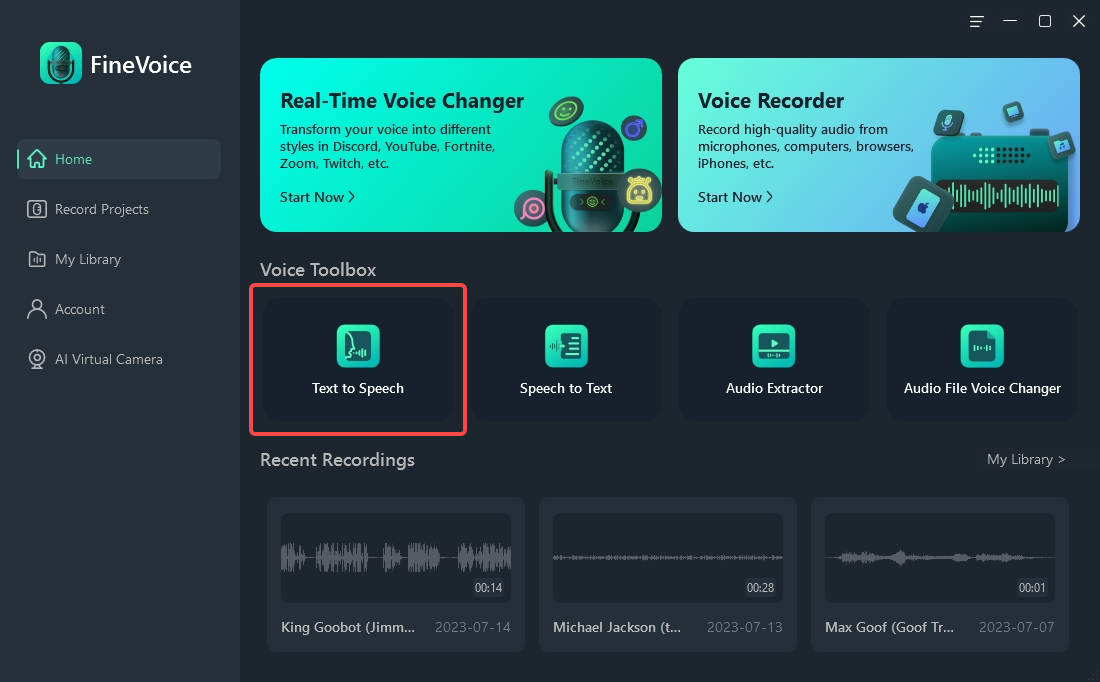 Step 3: Type or paste the text you want to convert into BFDI characters' voices into the text box.
Step 4: Choose a preferred Language and BFDI character voice from the list of available voices.
Step 5: Click the Convert Now button to listen to the generated voice.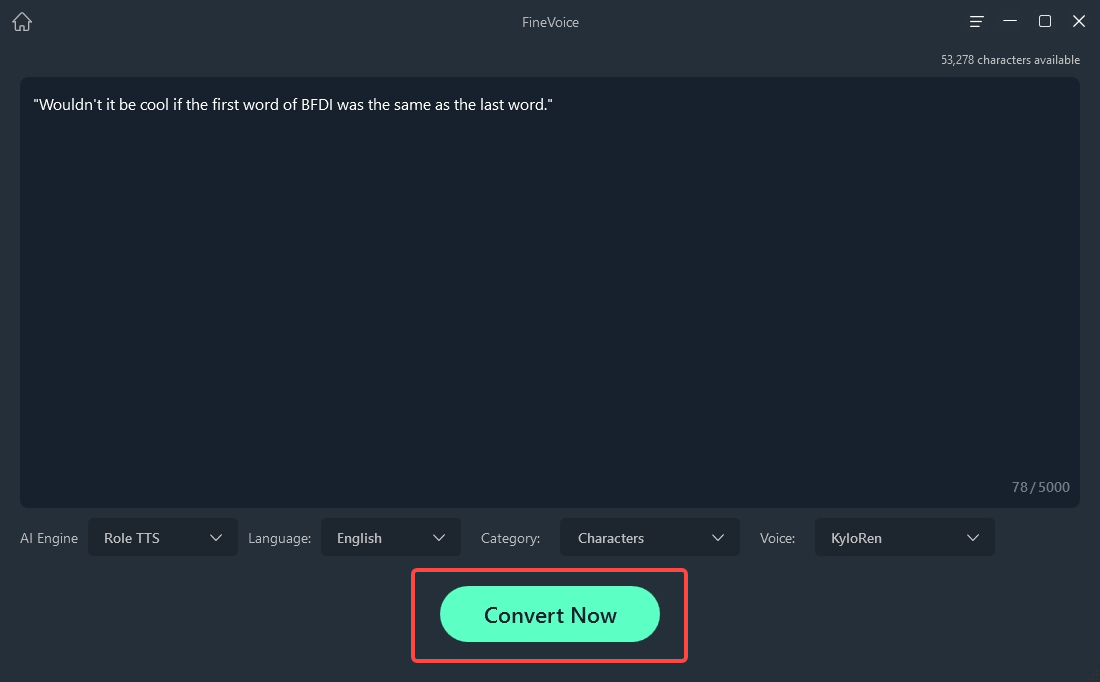 Step 6: You can find the audio file by clicking the View button.
That's it! You have just created a realistic and expressive voice for your BFDI character. You can use it to make your own BFDI animations, comics, games, or fan works. You can also share your creations with other BFDI fans and join the BFDI community.
Get Close to Famous BFDI Characters and BFDI Voice Actors
Let's introduce you to some famous BFDI characters and the voice actors associated with them.
Voiced by Michael Huang: Firey is one of the main characters and is known for his fiery personality (literally). He is a red, flame-like character who is friendly and competitive.
Voiced by Michael Huang: Leafy is a friendly contestant who is often seen as kind-hearted and helpful. She has a leaf-like appearance.
Voiced by Cary Huang: Bubble is a cheerful and talkative contestant with a bubble-like appearance. She is known for her enthusiasm and love of making friends.
Voiced by Michael Huang: Blocky is a mischievous and sometimes arrogant contestant. He has a block-shaped appearance and often causes trouble for others.
Voiced by Michael Huang: Pen is a sarcastic and witty character. He's known for his sharp humor and is shaped like a ballpoint pen.
Voiced by Cary Huang: Eraser is a no-nonsense character who often criticizes others' ideas. He is shaped like an eraser.
Voiced by Cary Huang: Snowball is a rough and competitive character who is known for his athleticism. He is shaped like a snowball.
Voiced by Michael Huang: Golf Ball is a highly intelligent character with a bossy personality. She is shaped like a golf ball and often takes on leadership roles.
Voiced by Michael Huang: Tennis Ball is a knowledgeable and helpful character who often provides information and solutions. He is shaped like a tennis ball.
Voiced by Cary Huang: Woody is a nervous and anxious character who often faces his fears throughout the competition. He is shaped like a wooden plank.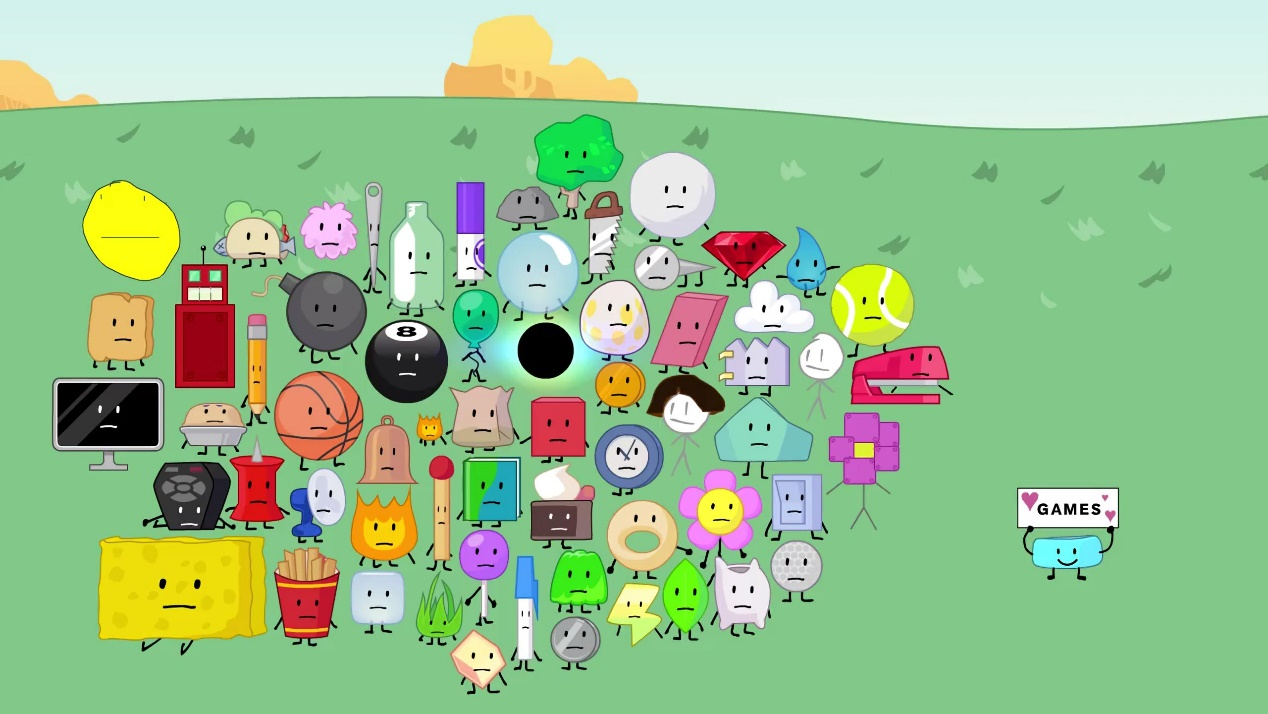 Conclusion
BFDI text to speech tools is a fun and easy way to create voices for your favorite BFDI characters. You can use it to make your own BFDI animations, comics, games, or fan works.
So what are you waiting for? Go ahead and try out FineVoice this BFDI characters text to speech today and unleash your creativity. You'll be amazed by what you can create with this tool. And who knows? Maybe you'll even become the next BFDI star!
FAQs about BFDI Text to Speech
What is BFDI Text to Speech?
BFDI text to speech, short for Battle for Dream Island text to speech, is a technology used in the animated web series "Battle for Dream Island" to generate BFDI character voices. Instead of traditional voice actors, characters' voices are created using computer-generated TTS software.
Are There Legal Concerns When Using BFDI AI Voices in My Content?
Using BFDI AI voices in your content typically doesn't raise legal concerns, as long as you have the appropriate licenses or permissions for the TTS software you use. However, it's essential to respect copyright and intellectual property rights when creating and sharing content.
Are There Alternatives to BFDI Text to Speech Tools for Character Creation?
Yes, there are various alternatives to BFDI voice generators, including hiring voice actors, using voice synthesis software with more realistic voices, or even practicing your own voice acting skills to create unique character voices.