Are you a die-hard Danganronpa fan? Do you dream of stepping into the twisted world of Hope's Peak Academy and putting your unique spin on the thrilling narrative? Do you wish you could make your own fan-made content using their voices?
Well, get ready to unleash your creativity! In this article, we'll explore how the Danganronpa text to speech tool empowers you to make your own Danganronpa voiceovers, adding a whole new layer of excitement to this iconic game series.
A Brief Overview of Danganronpa
Danganronpa is a compelling and critically acclaimed video game and visual novel series that has captured the hearts of gamers worldwide. Created by Kazutaka Kodaka and developed by Spike Chunsoft, this Japanese franchise is known for its unique blend of murder mystery, psychological suspense, and eccentric characters.
At its core, Danganronpa presents a chilling premise: a group of high school students finds themselves trapped in a mysterious location, unable to escape. Their captor is a sinister robotic bear named Monokuma, who forces them into a deadly game. The only way to gain their freedom is to commit the perfect murder without being caught during the subsequent investigation and trial.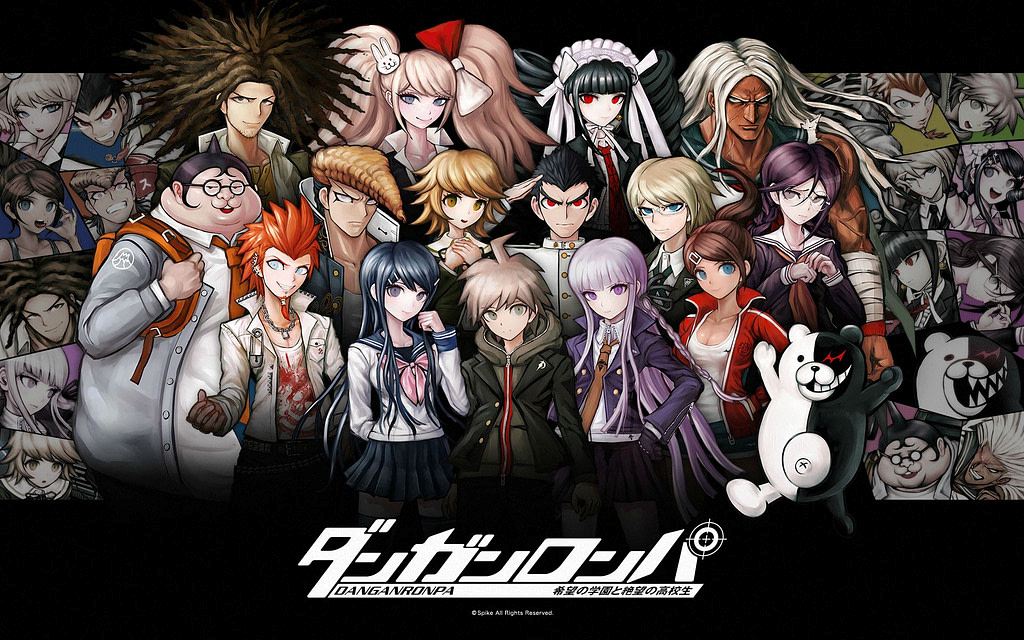 Best Danganronpa Text to Speech Tool: FineShare FineVoice
If you are a fan of Danganronpa, you might be interested in FineShare FineVoice. It's a Danganronpa voice generator that can quickly create lifelike voiceovers in 40 languages for various purposes, such as videos, podcasts, books, and presentations. You can use it to create your own Danganronpa fan content, such as audio dramas, animations, or games, with the voices of your favorite characters.
FineVoice has 220 human-like voices that can match the personalities and emotions of the Danganronpa characters. You can choose from cartoon characters including Peppa Pig, Sonic, and Homer Simpson, as well as celebrities like Adele, Ed Sheeran, and Taylor Swift. You can also select different languages, such as Chinese, Japanese, French, German, etc.
Whether you're an experienced Danganronpa enthusiast or a newbie ready to embark on a thrilling journey, you can use this tool to have a unique and engaging experience like never before.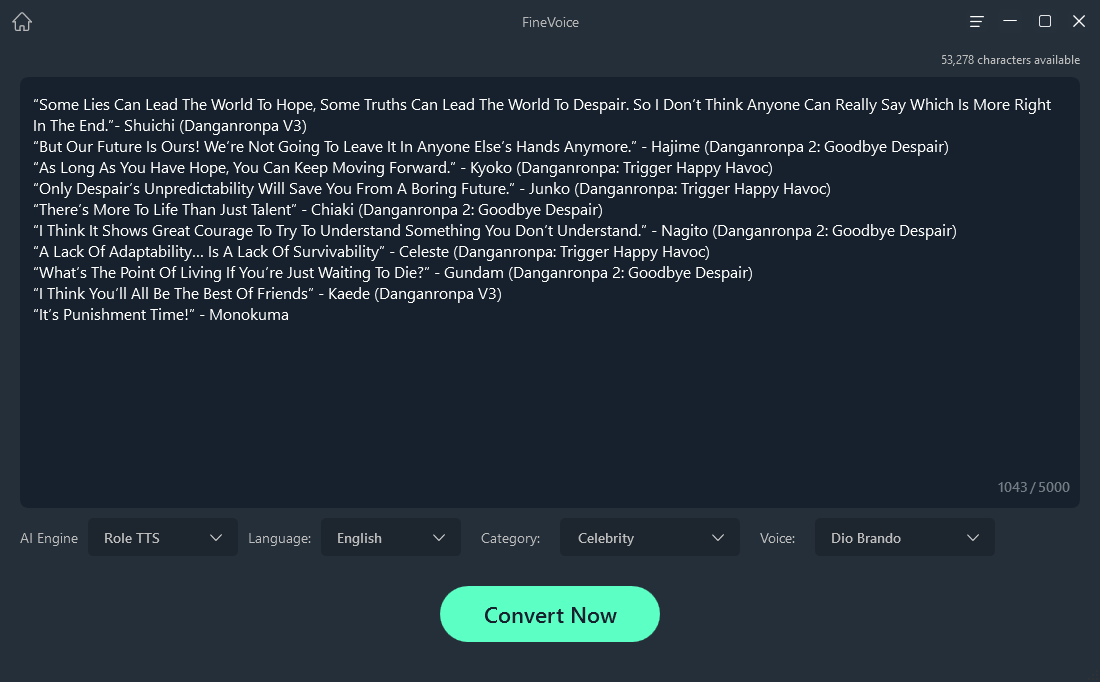 Features:
It's easy and fast to use
Support multiple languages
Offer various realistic characters and celebrity voices
Customize the voice parameters, such as speed, pitch, volume, and style
Record high-quality audio from multiple sources
Transcribe your recordings or audio files into text with high accuracy
Extract audio from video and modify the voice of an audio file
Filter out background noises and improve the sound quality of your voice
Best Online Danganronpa Voice Changer: FineShare Online Voice Changer
Do you love Danganronpa? Do you want to sound like your favorite characters from the game? Try FineShare Online Voice Changer, the best online Danganronpa voice changer that can make your voice sound like 110+ realistic voices of characters and celebrities for free in seconds.
You can find famous singers like Adele, Ed Sheeran, and Eminem, as well as popular rappers like Drake, Cardi B, and Nicki Minaj. You can also try out different characters like Spongebob, Homer Simpson, and Stormtrooper, or even real humans like Barack Obama, Donald Trump, and Kevin Costner.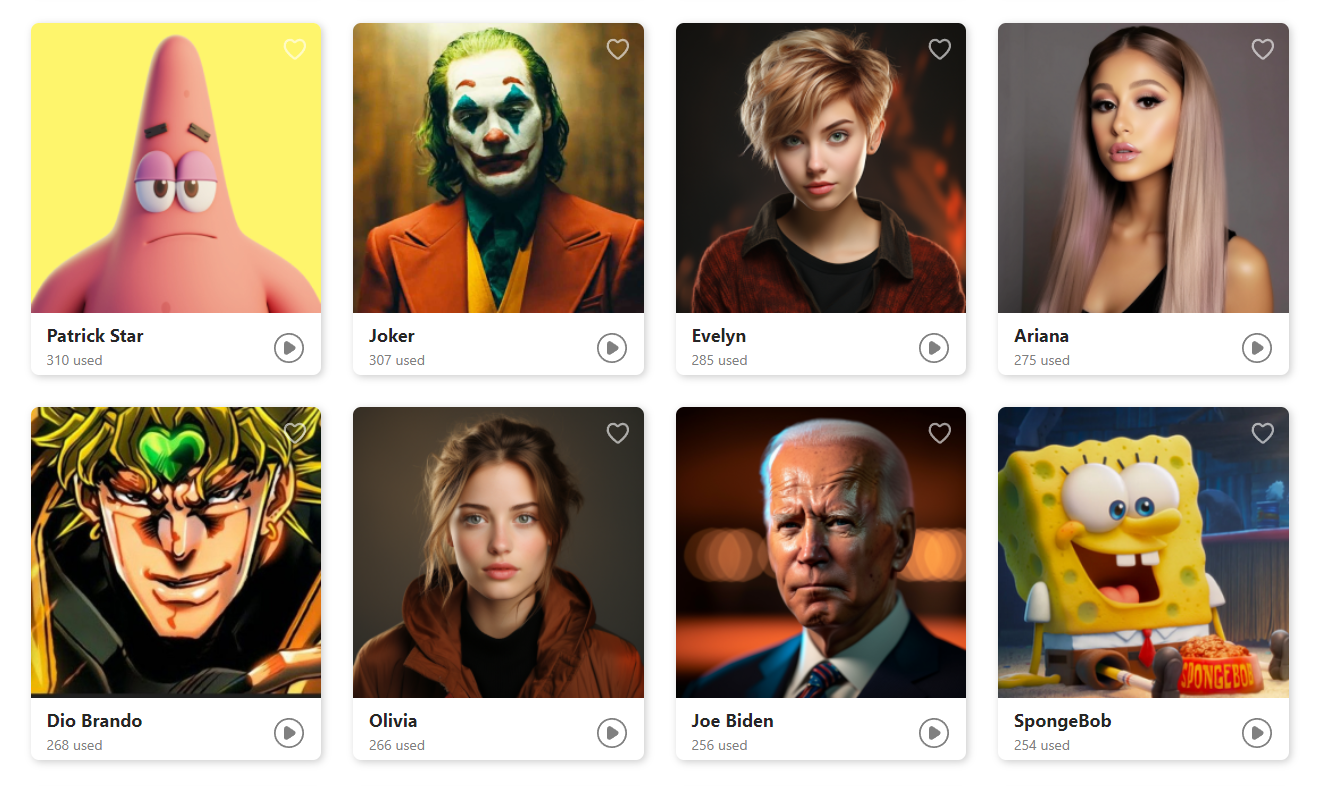 Features:
Easy to use and intuitive interface
Offer a variety of voice models
Create AI covers instantly without separating vocals
Email notification of cover conversion completion
You can download the MP3 version of your AI cover or listen to it online
You can leave the conversion page and create multiple tasks to save time
Do you love music? Do you want to sing like your favorite artists? Then you can check out FineShare Singify, the best online AI song cover generator. You can choose from a wide range of voice models, such as Beyoncé, XXXTentacion, Taylor Swift, Morgan Freeman, and many more.
How to Use FineShare FineVoice to Generate Danganronpa AI Voice?
To use FineVoice this Danganronpa text to speech tool to generate Danganronpa AI voice, you just need to follow these steps.
Step 1: Download and install FineVoice from the button below.
Step 2: Launch FineVoice and select the Text to Speech option from the main menu.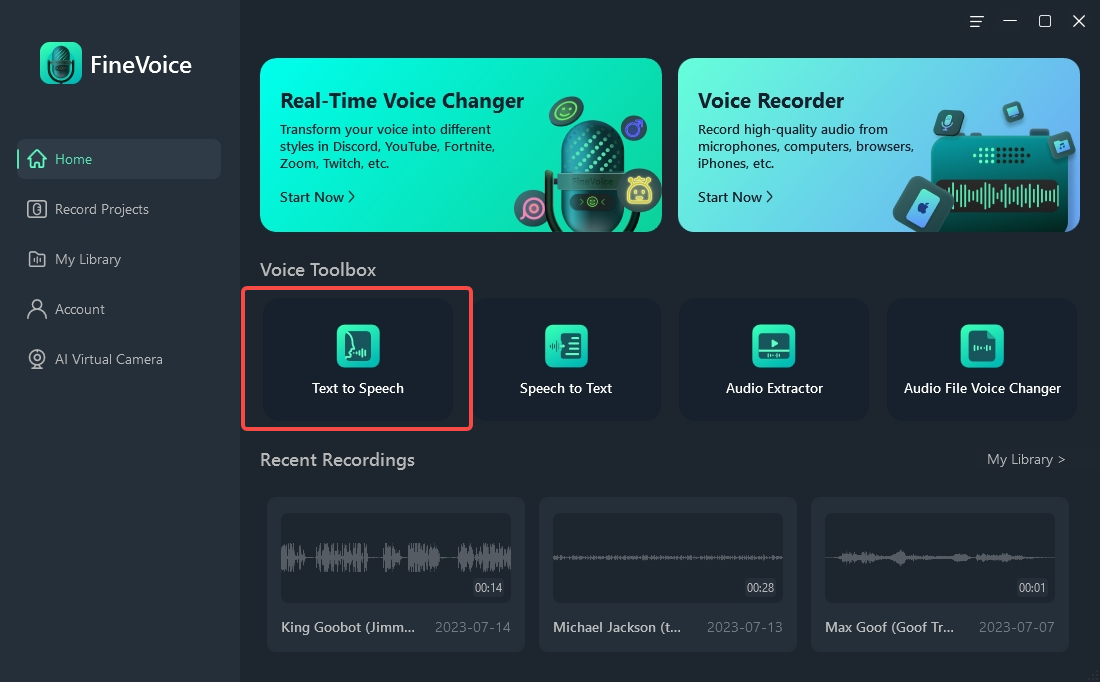 Step 3: Then you will see a text box where you can enter the text you want to convert into speech.
Step 4: Choose the Language you want to use and Role TTS from the drop-down menus.
Step 5: You can search for specific voices by keywords, such as Danganronpa, Shrek, Dio, etc.
Step 6: Click on the Convert Now button and listen to the voice output.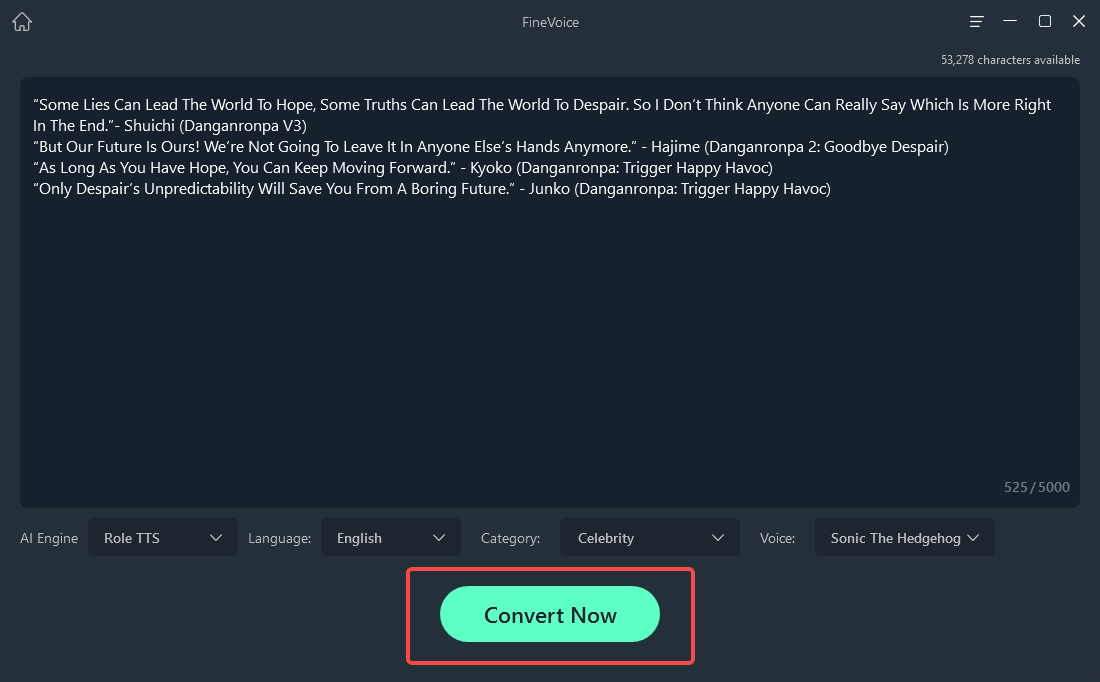 Step 7: If you are satisfied with the voice file, click the Save button to download it as an MP3 file. You can also click on the Share button to share your creation with others via email or social media.
Learn More about Danganronpa Voice Actors
Here's a glimpse into some of the notable voice actors and the characters they've portrayed in the Danganronpa series.
Megumi Ogata is renowned for her iconic role as Makoto Naegi in the Danganronpa series. Megumi's performance captured Makoto's hopeful and determined personality.
Yōko Hikasa voiced the character Kyoko Kirigiri, another central figure in "Danganronpa: Trigger Happy Havoc." Kyoko is known for her calm and analytical demeanor, and Yōko's portrayal captured her enigmatic nature.
Nobuyo Ōyama provided the voice for Monokuma, the series' iconic and malevolent bear antagonist. Monokuma is known for his contrasting cute and sinister personalities, and Nobuyo's performance made him unforgettable.
Minami Takayama voiced Hajime Hinata in "Danganronpa 2: Goodbye Despair." Hajime is the second game's protagonist, and Minami's performance conveys his introspective and relatable character.
Chiwa Saito lent her voice to Aoi Asahina in "Danganronpa: Trigger Happy Havoc." Aoi is cheerful and athletic, and Chiwa's portrayal captured her bubbly personality.
Conclusion
The Danganronpa text to speech tool has turned the tables on the Danganronpa fandom by making you the creator within the Danganronpa universe. With FineVoice this incredible tool, you can take your love for the series to a whole new level by crafting your very own Danganronpa voiceovers.
So, grab your microphone, ignite your creativity, and let your voice be heard in the twisted world of Danganronpa! Have fun and enjoy!
FAQs about Danganronpa
What Is the Gameplay Like in Danganronpa?
Danganronpa combines visual novel-style storytelling with courtroom drama. Players investigate murders, gather evidence, and engage in Class Trials, where they present evidence, debate, and solve puzzles to identify the culprits.
What Is the Order of the Series?
If you want to enjoy the thrilling and twisted story of Danganronpa, you need to follow the correct order of the series.
Danganronpa: Trigger Happy Havoc
This is the first game in the series and serves as an introduction to the world of Danganronpa. It introduces the core gameplay mechanics, and characters, and sets the stage for the overarching story.
Danganronpa 2: Goodbye Despair
The second main game in the series takes a new group of students to a tropical paradise and presents a new set of mysteries and challenges. It builds upon the themes and concepts introduced in the first game.
Danganronpa Another Episode
Ultra Despair Girls: While not a traditional visual novel like the first two games, this spin-off title provides additional context and story elements. It's advisable to play this game after the first two main titles.
Danganronpa V3: Killing Harmony
This is the third main entry in the series, but it takes place in a separate continuity with a new cast of characters. While it's not directly connected to the first two games, it still explores the core themes and mechanics of the series.
Who Is Monokuma?
Monokuma is the iconic antagonist of the series. It's a robotic bear with a split personality, switching between a cute and a sinister persona. Monokuma serves as the mastermind behind the deadly games.