Do you love the analog horror web series The Mandela Catalogue? Are you fascinated by the eerie and captivating voices of its characters, such as Gabriel, N, or the narrator? Do you want to create your speech in Mandela Catalogue character AI voices for fun, pranks, gaming, or creative projects?
In this post, we'll unveil the top 3 Mandela Catalogue voice generator tools that will allow you to bring your favorite characters to life and add a touch of fun, creativity, or even pranks to your projects. But first, let's take a quick look at what The Mandela Catalogue is and why it is so popular.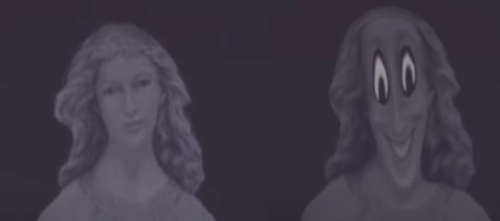 What Is the Mandela Catalogue?
The Mandela Catalogue is a gripping analog horror web series that made its debut in 2021, created by the talented American YouTuber, Alex Kister.
Set in the fictional Mandela County, Wisconsin, the series delves into the chilling existence of "alternates" – eerie doppelgängers who compel their victims to take their own lives before assuming their identities. This terrifying premise has captivated audiences worldwide and gained popularity through analysis and reaction videos shared by enthusiastic internet users.
Spanning across two "Acts," The Mandela Catalogue comprises eleven shorts, with the first act thrilling audiences since its release on June 9, 2021.
What sets this web series apart is its innovative presentation. Some episodes are cleverly disguised as instructional videos from the fictional Department of Temporal Phenomena or corrupted versions of the beloved cartoon, Beginner's Bible, all rendered with a nostalgic VHS aesthetic. This unique approach enhances the eerie and unsettling atmosphere, immersing viewers in a chillingly retro experience.
Furthermore, The Mandela Catalogue skillfully weaves biblical allusions throughout the storyline, touching upon themes such as Lucifer, Noah's Ark, and Adam and Eve. American churches and their surroundings also play a significant role, adding another layer of intrigue to the narrative.
As part of the analog horror subgenre, The Mandela Catalogue stands out as a remarkable example of found footage storytelling. The combination of its haunting concept, nostalgic VHS visuals, and thought-provoking biblical references make it a must-watch for horror enthusiasts seeking a fresh and captivating experience.
Why Use Mandela Catalogue Text-to-Speech Tools for AI Voices?
The utilization of text-to-speech tools to mimic the voices from the Mandela Catalogue series can be an exhilarating and rewarding experience for multiple reasons:
1. Unleash Creativity: With these voice generators at your disposal, you can recreate memorable scenes, and dialogues, or even craft entirely new storylines, unlocking endless creative possibilities.
2. Enhance Gaming and Entertainment: Elevate the entertainment value of your gaming streams or fan content by incorporating custom voiceovers of your favorite characters.
3. Engaging Pranks and Humor: Surprise and delight your friends with hilarious pranks, voice messages, or quirky videos featuring the voices of beloved Mandela Catalogue characters.
Now, let's delve into the top 3 Mandela Catalogue voice generator tools, each offering a unique and impressive set of features that will enable you to channel your creativity and bring your projects to life!
Top 3 Mandela Catalogue Voice Generators for Analog Horror Text to Speech
#1. FineShare FineVoice
FineShare FineVoice is a user-friendly and versatile text-to-speech tool that offers an extensive library of AI-generated voices. With its large library of voices, you can choose from various categories such as actors, movies, memes, impressions, games, sports, and more to find your favorite voices including Mandela Catalogue characters. From the charismatic hero to the mischievous sidekick, FineShare FineVoice has you covered.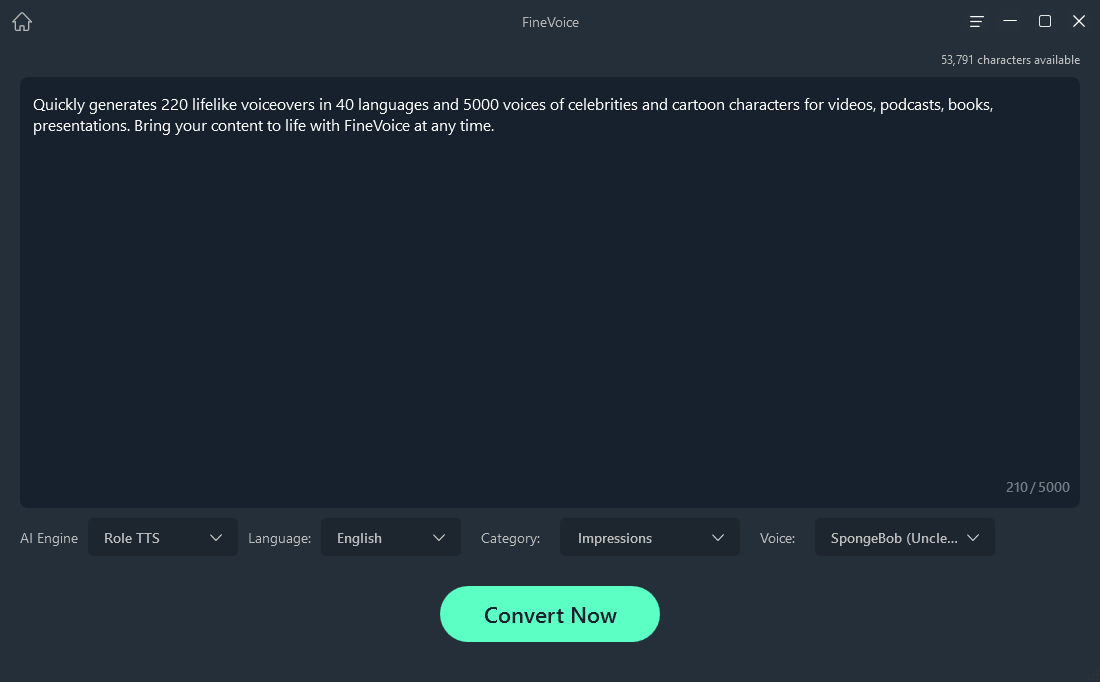 Features:
Over 4000+ impressive voices of characters and celebrities
220 lifelike voices in 20 languages and accents
30+ voice effects and 200+ sound effects for real-time voice changing
Audio extractor to convert Mandela Catalogue video to various audio files
Audio file voice changer to change the voices of Mandela Catalogue into different voice effects
Pros:
High-quality and human-like voices AI voices
Easy and fast conversion
Flexible and convenient output
Supports multiple languages and accents
Offers free trial and affordable plans
Cons:
Limited free usage
No offline mode
Step-by-step Tutorial: How to Use FineShare FineVoice for Mandela Catalogue Character AI Voices:
Step 1. Download FineShare FineVoice for free and launch it after installation.
Step 2. Open the Text to Speech feature, and select your desired AI voice engine, such as Role TTS or Standard TTS.
Step 3. Enter the text you want to convert into speech and choose the Mandela Catalogue character voice.
Step 4. Click on Convert now to generate the voiceover and use it in your projects.
#2. Uberduck
Uberduck specializes in celebrity voice cloning and offers an extensive library of famous voices, including those from the Mandela Catalogue series. Want to hear your favorite character's voice delivered by the likes of Morgan Freeman, Andrew Tate, Spongebob Squarepants, or Barack Obama? Uberduck makes it possible with its cutting-edge voice cloning technology.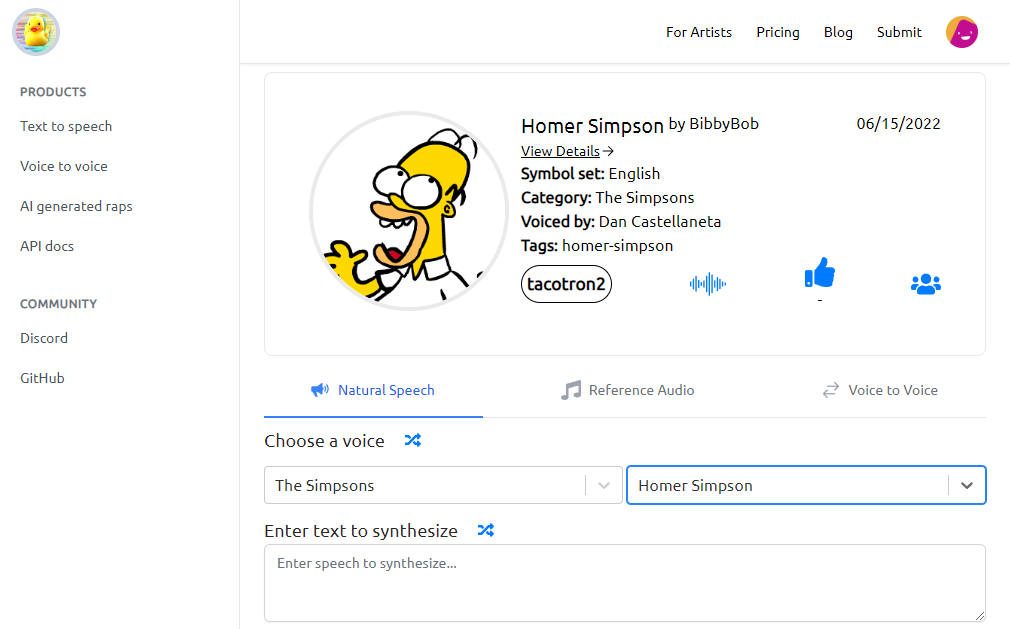 Pros:
High-quality voice cloning
Large collection of celebrity voices
Supports different styles and emotions
Free to use for personal and non-commercial purposes
Cons:
Requires registration to access all features
Unstable and sometimes unavailable
#3. FakeYou
FakeYou is an online platform that harnesses the capabilities of artificial intelligence to create lifelike voiceovers. The platform boasts an array of voice categories, granting you access to a wide range of voices that you can seamlessly integrate into your Mandela Catalogue projects.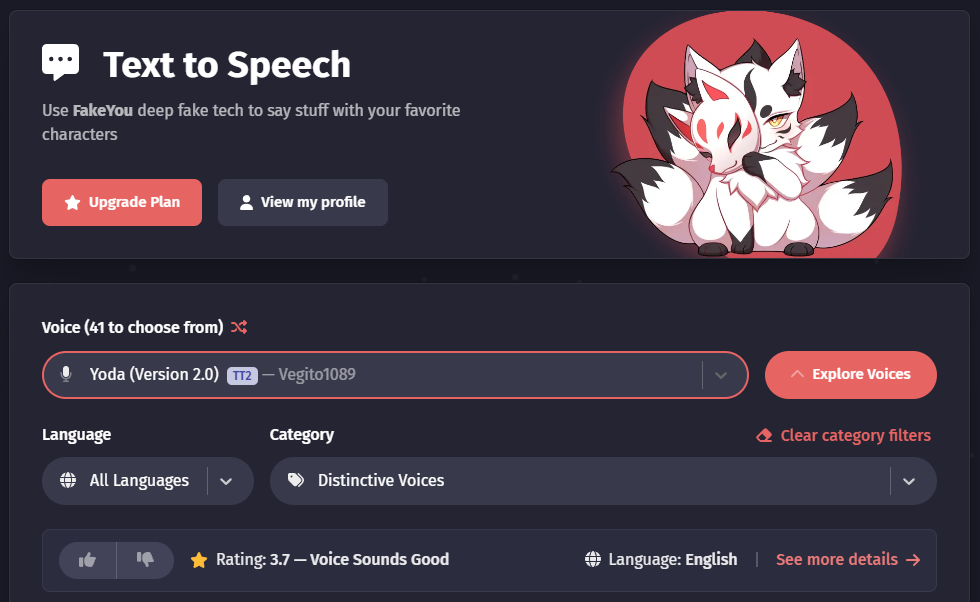 Pros:
3000 AI voices to make your favorite characters talk
Allows uploading your audio samples
Diverse voice categories catering to various preferences and themes
User-friendly interface for a hassle-free voice generation experience
Option to save voiceovers for future use and quick access.
Cons:
Requires internet connection to work
Slow conversion for free users
Bonus Tip: Best Online Voice Changer for Creepy Voices
If you want to change your audio file's voice or record audio with different voices without downloading any software, FineShare Online Voice Changer is your best choice. It offers 87+ realistic voices of celebrities and characters powered by AI voice cloning. You can use it for free and change your voice within several seconds.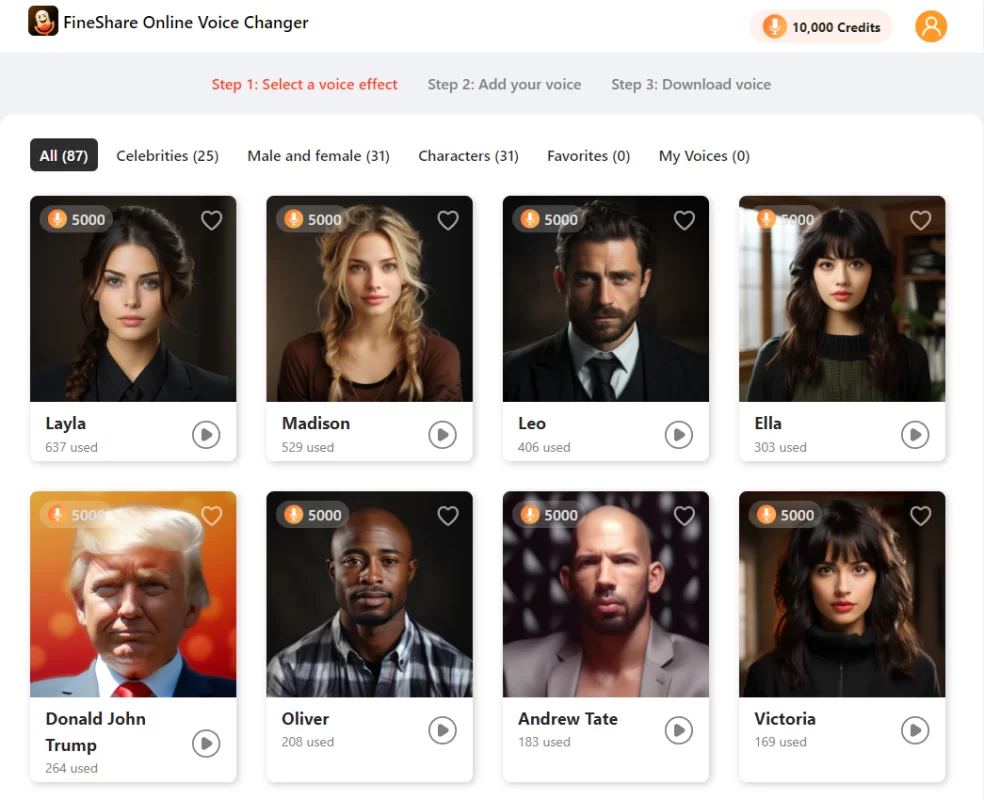 Conclusion
Exploring the realm of Mandela Catalogue voice generator tools opens up a treasure trove of creative possibilities. FineShare FineVoice, Uberduck, and FakeYou are the top 3 recommended tools, each offering its unique set of features to enhance your voice cloning experience. Whether you seek versatility, celebrity voices, or realistic AI-generated tones, these tools are your gateways to endless storytelling potential.
FAQs
#1. How many episodes are there?
The series has 11 episodes across two "Acts", the first of which was released on June 9, 2021. 12
#2. What is the meaning of the series' name?
The series' name came from the Mandela Effect, a phenomenon where a large group of people remember something differently than how it occurred.
#3. Who are the main characters and cast members?
The main characters are Thatcher Davis, Dave Lee, Adam Murray, Jude Murray, Evelin Miller, Cesar Torres, and Gabriel. The cast members include Thorne Baker, Alex Kister, Michelle Strohwig, Tyler Osborne, Michael Vale, Spidey, Andrew Long, and Kyle Denigris.
#4. What are some of the themes and influences of the series?
The series contains many biblical allusions, such as Noah's Ark, Adam and Eve, and Lucifer. It also draws inspiration from other analog horror series such as Local 58 and Gemini Home Entertainment.