With the Spotify music app, you can enjoy millions of songs, albums, and podcasts. Now, you can also find some video on Spotify. But it only supports podcast in video form.
How to watch video podcasts on Spotify on the computer, phone, and TV? How to watch Joe Rogan's videos on Spotify? Let's read this article and find out the answer.
How to Watch Video Podcasts on Spotify?
Spotify is available on computers, smartphones, TV, cars, speakers, and more. In this part, we'll give you a guide on how to watch Spotify video podcasts on the computer, phone, and TV.
Watch Spotify video podcasts on your Phone
Before you watch a video on Spotify, you need to configure your settings in the Spotify app. Here's how to do it.
For iOS and Android: Go to Settings>Data Server. Then turn off Download audio only and Stream audio only under Video Podcasts.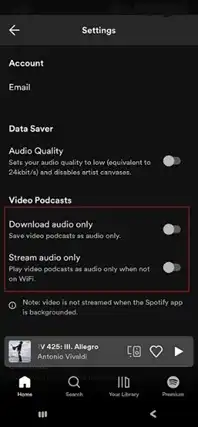 Step 1. Launch Spotify. Go to Search and enter the name of a podcast in the search bar. Or you can choose Podcast under the Browse All option.
Step 2. Tap on the play icon to enjoy the video in full screen.
Watch Spotify video podcasts on the computer
Here's how to do it.
Step 1. Open the Spotify website on your computer and sign in to your account. If you don't have a Spotify account, you can register one.
Step 2. Choose Search located at the left panel and type Joe Rogen in the search field.
Step 3. Open the podcast and then play an episode. Click Show video in the bottom-left corner of the screen to watch the video.

Step 4. Click the Fullscreen icon in the mini player to get a full-screen video.

Watch Spotify video podcasts on TV
Spotify is compatible with most smart TVs such as Android TV, Samsung TV, Google TV, and more. Just download and install Spotify on your TV, and then follow the steps below to watch video podcasts on TV.
Step 1. Go to the app store and search for Spotify to download and install the Spotify TV app.
Step 2. Once you've completed the installation, launch the Spotify app and log in to your account.
Step 3. Choose the Search and select a podcast you want to listen to. Then play your podcast and enjoy it.
Best Free Video Recording Software for Podcasters
You can easily record a podcast at a professional recording studio. However, a professional recording studio is not as good as you think because it's not easy to carry and expensive. If you're just starting as a video blogger, you'd better choose a simple video podcast recording software like FineCam.
FinCam is a free video recorder that can help you record an HD video for Spotify. Moreover, it can record a webcam with a virtual background like videos, images, slides, web pages, and much more.
If you don't have a camera, it can also turn your Android or Apple phone into an HD webcam. It's beginner-friendly and easy to use. This software works on Windows, iOS, Android, and Mac.
Plus, if you don't want to use your voice, you can use FineVoice to dub your video podcasts.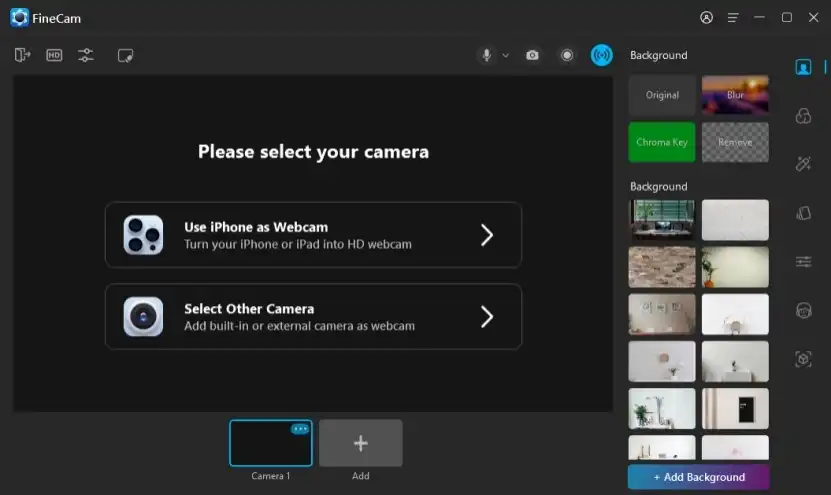 Follow the steps to set up FineCam.
1. Download and install the FineCam app on your device.
2. Open FineCam. Select the camera you want to use.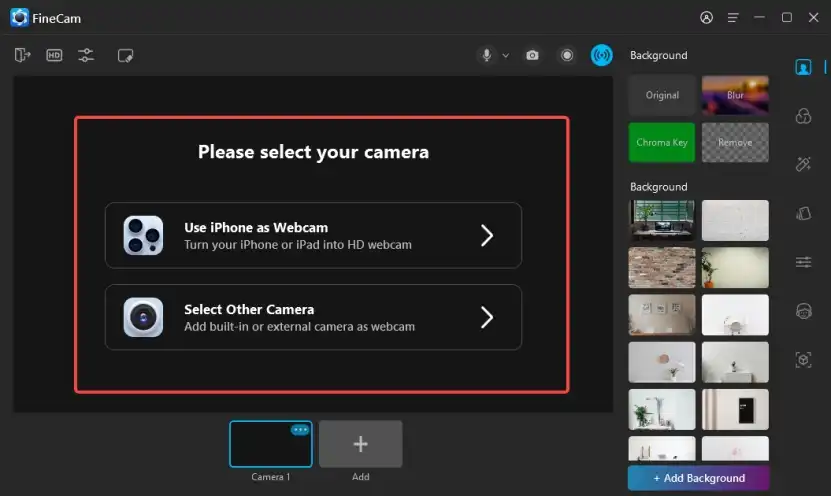 3. When you're ready, click Record on the top right corner of the screen. If you want to change your background, you can click Background to do this.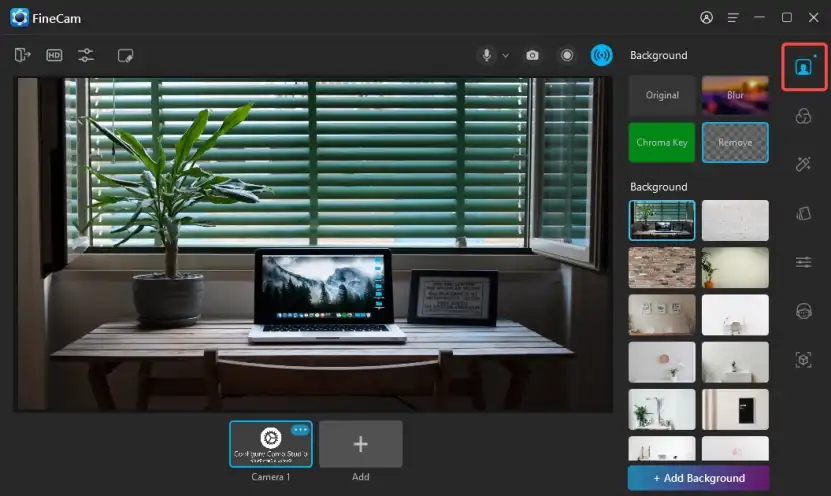 Other video podcasting software for podcasters:
1. Podcastle
2. Adobe Connect
3. VEED.ID
4. QuickTime
Summary
In general, this article explains how to watch video podcasts on Spotify and we also introduce the best free video recording software for podcasters. Now, you not only can listen to other podcasters but also create your video podcasts.