MorphVOX voice changer is probably one of the most famous voice changers nowadays. This handy voice changer can greatly enhance and improve people's experiences in the digital Internet world. MorphVOX is favored mostly by gamers, streamers, and YouTubers all over the world, and with its ever-growing popularity among users, more than a few people have come up with the question, "Is MorphVOX safe?".
In this article, we will take a deep dive into every aspect of this voice changer including its features, and find out whether is MorphVOX safe to use or not. Also, we will provide an alternative software recommendation if you want to the other voice changer.
What is MorphVOX?
Before we start, it's best to know exactly what MorphVOX voice changer is.
MorphVOX is a real-time voice changer software developed by Screaming Bee, it provides a superior voice-changing experience with voice-learning technology and a background cancellation function.
Except for the voice-changing function that offers you plenty of voice effect options, you can also make good use of the soundboard function and the background sounds. Soundboard allows you to surprise your friends by sending them a prank sound. And you can pretend that you are in a completely different place by adding background sounds.
Although, MorphVOX has its drawbacks too. It sometimes doesn't work as expected on Discord, Teams, or Skype, etc. And many users have reported that the sound quality isn't very good, and crashes during usage randomly.
Currently, there are two versions of MorphVOX, the Junior version is totally free and the Pro version needs to be paid, both of them are available on Windows systems.
Pros:
Optimized for popular online games
Soundboard for adding instant sound effects
Voice Compare function to locate the differences between voices
Cons:
Poor sound quality
Not compatible with some platforms that have different audio settings
The free version has limited voice effects
Is MorphVOX Safe?
For this most concerned question, the answer is yes, MorphVOX voice changer is surely safe to use.
People who encountered issues that make them think MorphVOX is risky might have downloaded the software from other unreliable websites. And MorphVOX voice changer from such download sources could be corrupted, even worse, it may contain viruses. To download their products safely, the official website of MorphVOX is the only recommended way. Cracked versions are extremely unreliable if you wish to have safe usage.
Other possible reasons for their doubts include incorrect usage that may cause errors to occur, or the antivirus software recognizing the MorphVOX as malware.
How to Use MorphVOX Safely?
After knowing the possible reasons that make you think MorphVOX isn't safe, there are several things you can do to protect the safety of your device.
Use antivirus software for protection
Antivirus software is no doubt the first defense when you browse on the Internet. It can keep most of the malware and viruses away from your PC. Even if your PC has already been invaded by them, using antivirus software can help you spot the dangers quicker and clean them as soon as possible.
Although antivirus software may bring some inconveniences, it's still a wise choice to install one on your device.
Use the official websites only
Besides downloading applications from verified official websites, it's also highly recommended to download any patches and plugins from official websites only. In the meantime, downloading them from third-party websites might download malware or viruses too.
Backup important data regularly
Backup important data on your PC regularly is not only a good way to protect the device from viruses and malware, but also a contingency method when your PC received physical damage or has been stolen. You can do this simply with an external hard drive or any online cloud storage platform.
Best Alternative to MorphVOX Voice Changer: FineShare FineVoice
If you still feel uncertain about whether to trust MorphVOX and want to use a better and safer alternative, FineShare FineVoice could help you.
FineVoice is an AI-powered all-in-one voice changer software, it is our top recommendation when the topic comes to the best free voice changers. And just like MorphVOX, it's verified software that is 100% safe.
There are dozens of voice effects for you to choose from in FineVoice, you can choose from usually fun effects to famous characters' voices such as Spongebob, Minions, and Kylo Ren. If you are not satisfied with any of them, the Voice Labo function allows you to make a brand-new voice effect with highly customizable audio details.
Besides the real-time voice changer function, you can also use more than one hundred sound effects in the Soundboard to add more fun during your online call or voice chat. FineVoice is now free to use on Windows systems, you can download it and have a try.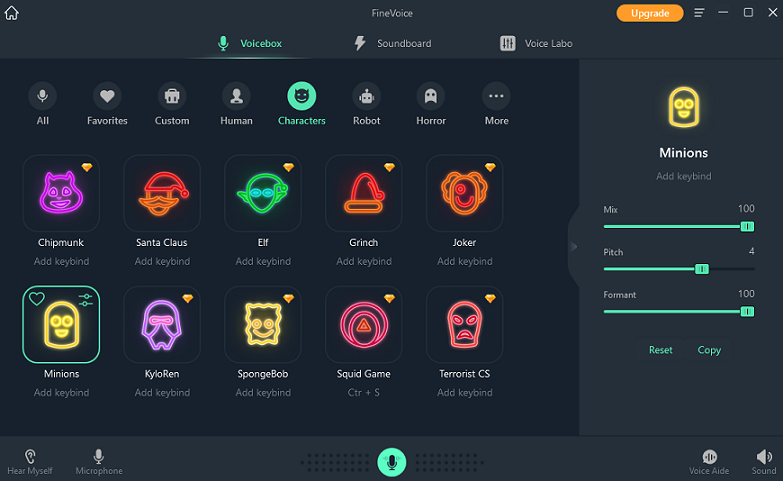 Pros:
User-friendly interface
Support changing voices in audio files
A large collection of voice and sound effects
High-quality output and record
Secured and reliable
Support transcribing and voice generator
Cons:
Only available on Windows systems
The functions of the free version are limited
Conclusion
In one word, MorphVOX is safe to use as long as you downloaded it from official websites, this is the best way to avoid any potential risks. And if you are looking for an alternative, try FineVoice for free, it will surely not disappoint you.