In today's digital age, traditional slide-based presentations can sometimes feel boring and uninspired. Prezi offers a new approach to dynamic presentations, allowing you to create captivating interactive visual stories that engage your audience in ways never before possible.
Let me give you a detail about what is Prezi and what it can be used for. Also, we will answer the question: Prezi vs PowerPoint, which is better? What's more, we will introduce the best presentation tool FineCam.
What is Prezi?
Prezi is a cloud-based presentation software that allows users to create dynamic and interactive presentations. It can be used on most devices with a browser window, which makes a little stress for both the device and the user. Unlike traditional Microsoft PowerPoint presentation software, Prezi doesn't use slides but a visual canvas. It stands out for its fluidity and ability to create memorable visual stories.
Prezi consists of three basic parts: Prezi Video, Prezi Design, and Prezi Present. It has many extensive features, including adding text, images, video, charts, and other multimedia elements to presentations. You can create paths or sequences of content that can be zoomed in and out to create cinematic effects as the presentation progresses. Prezi also allows multiple users to work on a presentation simultaneously and share it with others for viewing or editing.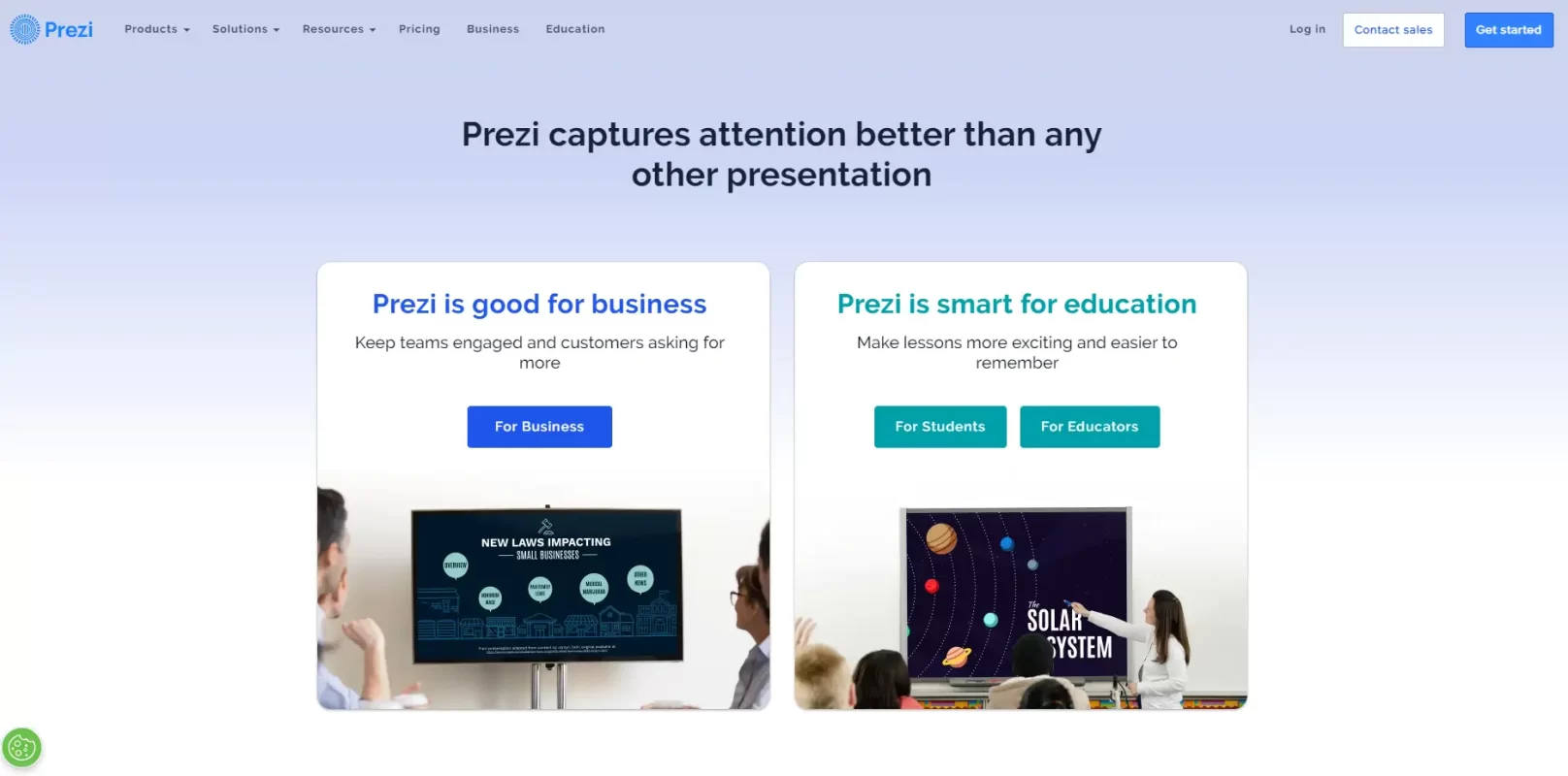 What is Prezi Used for?
Prezi is a flexible presentation tool that can be used for a variety of purposes. Using it, you can create more exciting presentations that capture your audience's attention and effectively communicate your ideas.
Here are some detailed scenarios.
In the business world, Prezi is commonly used to create presentations for pitches, proposals, team meetings, and client presentations.
Educators can use Prezi to create interactive and engaging lessons for classroom instruction or online learning.
Sales and Marketing Presentations
Sales and marketing professionals can use Prezi to create visually appealing and persuasive presentations to showcase a product, service, or marketing strategy.
Prezi is often used to create visual stories or narratives, such as personal stories, travel experiences, or brand stories.
Prezi's collaboration features allow multiple users to work on the same presentation at the same time, making it a useful tool for team collaboration.
You can use Prezi to create presentations for events and conferences, such as keynote speeches, panel discussions, or workshops.
You can use Prezi for personal presentations such as presenting a portfolio, sharing a personal story, or creating a visual resume.
Prezi vs PowerPoint, Which One is Better?
Prezi vs PowerPoint: So which is best? The answer to this question is subjective, as it depends on your needs and preferences. Prezi is a cloud-based program for making non-linear presentations, whereas PowerPoint is an offline tool for creating conventional presentations. This is the fundamental distinction between Prezi and PowerPoint.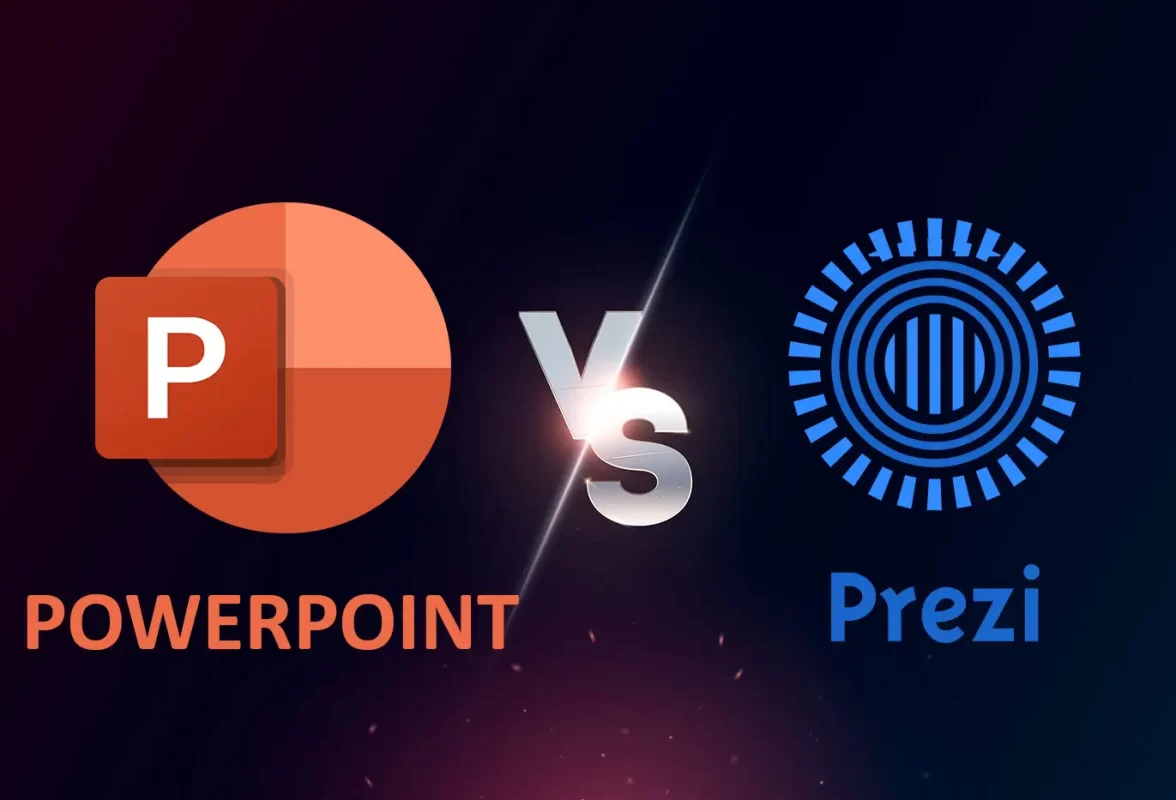 PowerPoint
In PowerPoint, you can create various types of slide content, such as text, images, tables, and so on. And you can embed multimedia elements such as audio, video, and animation into your presentations. Then customize the layout of each slide and add visual effects to your liking to create visually appealing presentations.
PowerPoint also provides a presenter view. You can not only show slides but also add notes and rehearsal time for a more professional presentation. You can customize backgrounds, fonts, colors, and other design elements, or just use PowerPoint's built-in themes and templates. In addition, it allows multiple users to share and co-create presentations, leave comments, and track changes, which is perfect for teamwork and group assignments.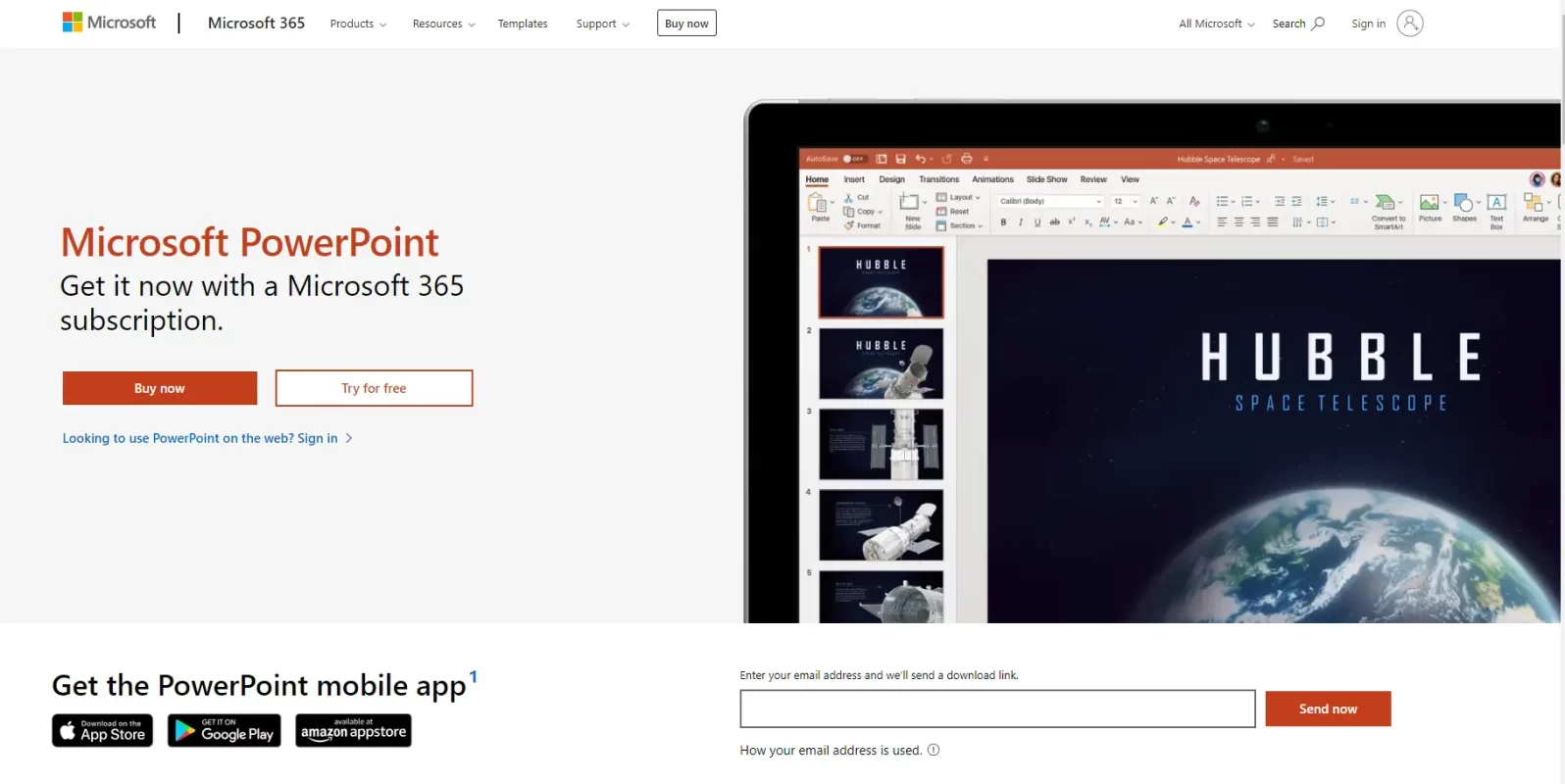 Here are some pros and cons of PowerPoint.
Pros:
Easy to beginners and have plenty of users
Rich multimedia features
Provide lots of available templates
Support presenter view
Offer collaboration features
Cons:
Higher cost
Compatibility issues
Single linear presentation style
Large file size
Prezi
In Prezi, you can present presentations in dynamic motion. During the presentation, you can zoom in and out, traverse, and smoothly transition content. This unique feature adds a cinematic, immersive feel to presentations, making them more engaging and memorable for your audience.
You can create non-linear paths and navigation in your presentations, customize the order of content, and create links between different sections to create a complete story flow. You can download the presentation directly for offline presentation. Even when you don't have an Internet connection, you can share the presentation successfully. Or you can share the presentation link, and export it to PDF or a video.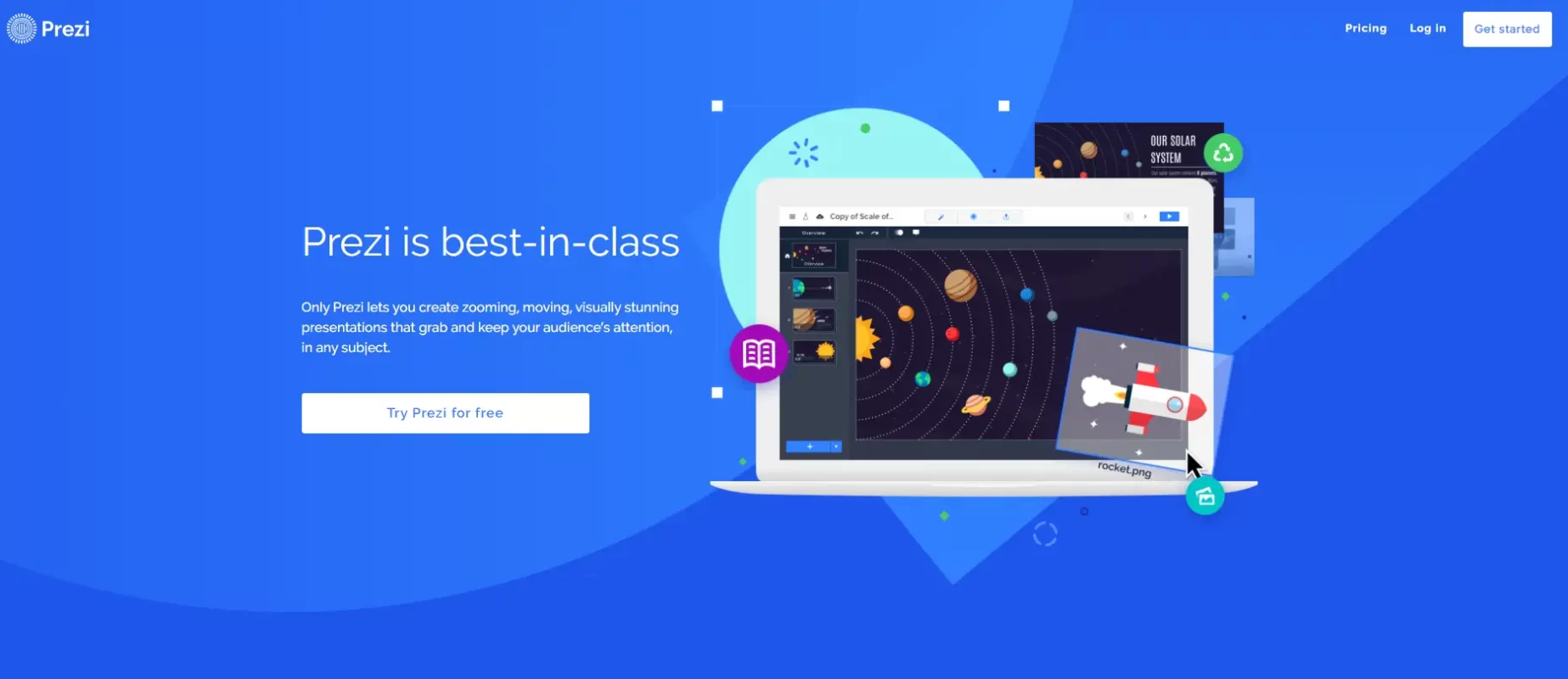 Let's take a look at some pros and cons of the Prezi presentation software.
Pros:
Non-linear navigation, with visually appealing zoom and pan features
Accessible from anywhere, at any time
Extensive multimedia integration
Allow for real-time collaboration
Low cost
Cons:
Confusing layout
Steep learning curve
Limited offline access
Limited data visualization
Bonus: Best Tool to Record Your Presentation
If you have read this far, you probably already know how to choose Prezi or PowerPoint. If you want to record your presentation, we offer you one of the best recording tools: FineShare FineCam.
FineCam is an AI-powered virtual camera software. Its clean and simple layout makes it very easy for you to record Prezi presentations and share your presentations with your audience. It's appropriate for you whether you are recording video presentations for sales, employee training, online courses, or any other purpose.
More importantly, FineCam can use your iPhone as a webcam on your computer. To prevent outside elements from interfering during recording, you can add Google Slides, PowerPoint, or other presentations to change the webcam background. FineCam's screen sharing and presentation features allow members in various locations to share documents and participate in live discussions and brainstorming sessions.
When you use FineCam to record a Prezi presentation, the video is broken into small segments of a few minutes. Once recorded, you can stitch them together to form a complete video. You can also change the shape of the FineCam window, and adjust the transparency of the webcam as needed. Another cool feature is that you can add your own branding and use it on your presentations, or choose directly from FineCam's large number of templates.
Download and sign up for a free FineCam account now and try out this great screen recording tool!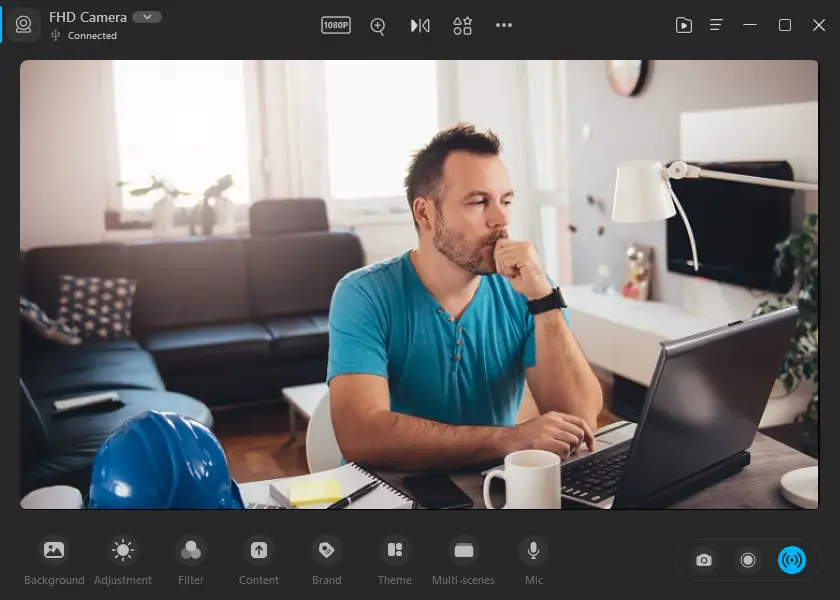 Conclusion
Prezi can be a powerful tool for creating engaging and dynamic presentations, but it's important to carefully consider its pros and cons, and choose the right presentation tool that aligns with the specific needs and preferences of the presenter and the audience.