Do you want to spice up your voice chat on Discord with some cool and funny sounds? If so, you might want to check out Discord Soundboard, a feature that lets you play short audio clips in voice channels.
Soundboard is a great way to express yourself and react to what's happening in the voice channel or the Go Live stream. In this post, we will explain what Discord Soundboard is and how to use it. We will also show you some of the best alternatives for it.
PART 1. What Is Discord Soundboard?
Discord Soundboard is a feature that allows you to play a short audio clip that everyone in the same voice channel can hear. It's similar to Reactions and Super Reactions, but with sounds instead of emojis or stickers.
You can upload new sounds to the server's Soundboard, or use the sounds uploaded by others in your community. If you have Discord Nitro, you can use your community's sounds in any other server on Discord.
PART 2. How to Use Discord Soundboard?
how to play sound effects through Discord? You can follow these steps to use Soundboard on Discord:
Step 1: Click a voice channel on your Discord desktop app or the web version. When the voice connected, if you can see a music icon, Soundboard is enabled.
Step 2: You can hover over any currently available sound and then press the Play icon to play that sound. Everyone on the voice channel will hear it.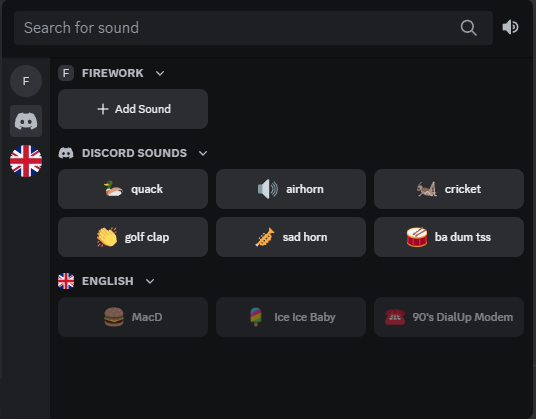 Step 3: You can also preview a sound or favorite it by hovering over it.
To upload new sounds to the server's Soundboard, follow the steps:
Step 4: Click Add Sound to open this window. And upload your MP3 files whin 512 KB and 5 seconds.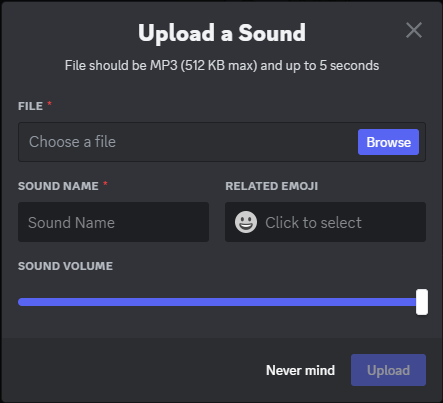 PART 3. 5 Best Soundboards for Discord You Can Try
As Discord only allows you to upload sound clips shorten than 5 seconds, if you want to play longer sounds in Discord or even songs, you can try the 5 alternatives to Discord Soundboard we pick for you.
#1. FineShare FineVoice
FineShare FineVoice is a voice changer for streaming, gaming, and voice chatting platforms like Discord, Twitch, TikTok, etc. It offers 30+ voice effects and 200+ sound effects. You can use it to hide your identity, prank your friends, or create hilarious voices.
Besides the preset sound effects, you can any audio file to FineVoice to create a custom soundboard including sound clips and songs. And you can favorite sounds or use hotkeys to play your favorite sounds.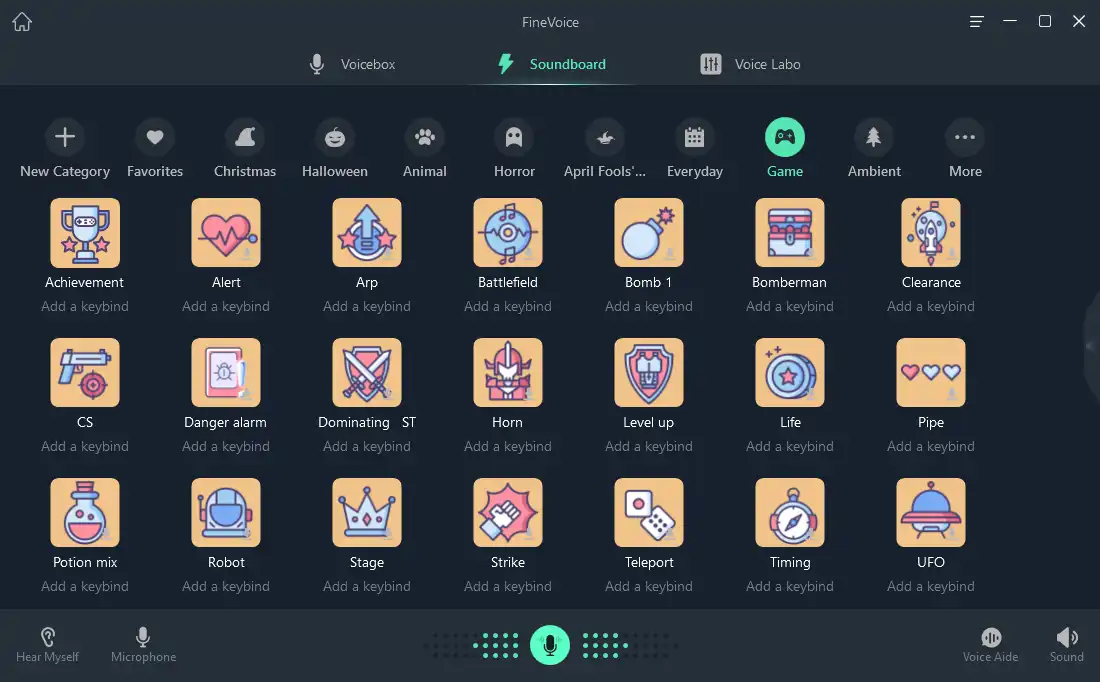 Supported OS: Windows 10/11 (64-bit)
Price: Free
Features:
Interesting user interface.
Compatible with VoIP programs and games, including PS4, Skype, Teamspeak, CS: GO, etc.
Supports changing the volume and playback mode of individual sounds.
Supports muting and stopping individual or all sounds.
Supports uploading MP3, AAC, AC3, AMR, MP2, and WAV audio files to Soundboard.
#2. Resanance
Resanance is one of the best free soundboards for Discord because it offers preset and custom sound effects services. It has a simple and clear interface. Try it if you are using a Windows PC.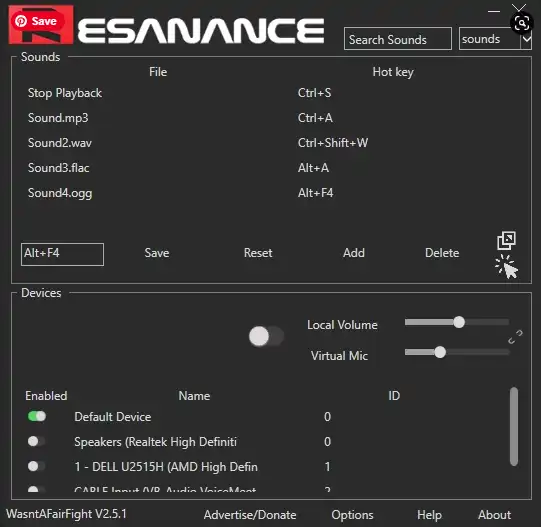 Supported OS: Windows 7/8/8.1/10/11 (64-bit)
Price: Free
Features:
Supports Teamspeak, Discord, Skype, Curse, Zoom, Meet, Teams, Twitch, etc.
Supports separate control of microphone volume and local volume.
Supports adding unlimited sounds and hotkeys.
Supports MIDI soundboard.
Provides TTS feature.
Provides sound search and sound random play.
#3. Soundpad
Soundpad is another soundboard for Discord on Windows PC. It has basic sound playing, and audio editing features, too. It is inexpensive and affordable.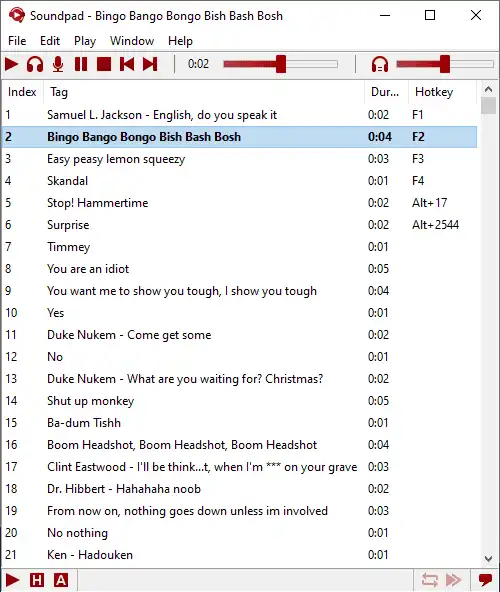 Supported OS: Windows 7/8/8.1/10 (32-bit & 64-bit)
Price: One-time purchase € 4.99 (with a free version)
Features:
Supports Discord, Teamspeak, Skype, PUBG, Dota 2, Counter-Strike, Battle.net voice chat, etc.
Supports hotkeys for sound files for quick access.
Provides equalization of sound file volume.
It is also a recorder and audio editor.
Takes up little memory and little CPU.
Supports .aac, .flac, .m4a, .mp3, .ogg, .opus, .wav, and .wma files.
#4. Jingle Palette
One of the other free soundboards for Discord is Jingle Palette. This soundboard software offers you an intuitive interface with virtual sound bottoms. And you can create and organize your sound effects in a customized palette.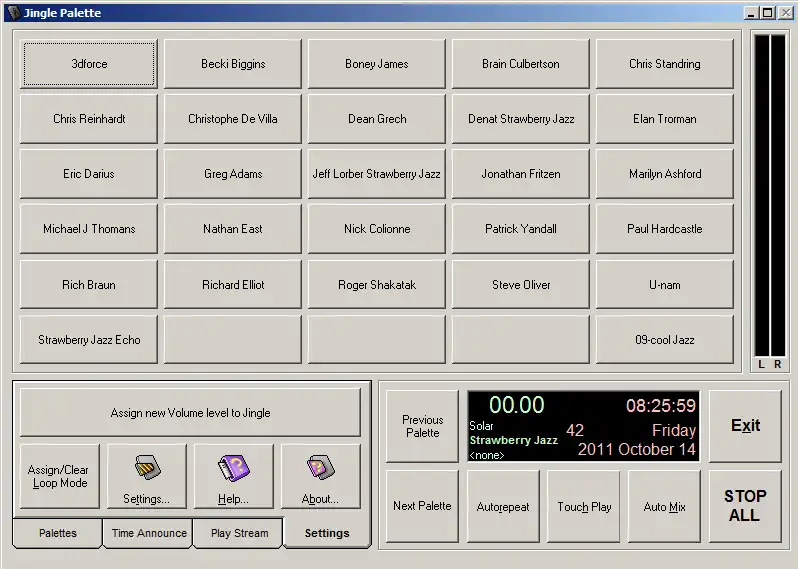 Supported OS: Windows
Price: Free
Features:
An instant player designed for radio broadcasting studios.
Unlimited sound and song uploads.
Easy to organize and switch palettes. Add up to 30 songs per palette.
Multiple ways to play sounds. Supports autorepeat, touch play, and auto mix.
Supports .mp3, .mp2, .mp1, .mpa, .ogg, .wav (compressed & uncompressed) files and streams.
#5. JN Soundboard
The last soundboard for Discord we want to recommend is JN Soundboard. This open-source software is small and single-functional. It is easy to use and integrated with many platforms.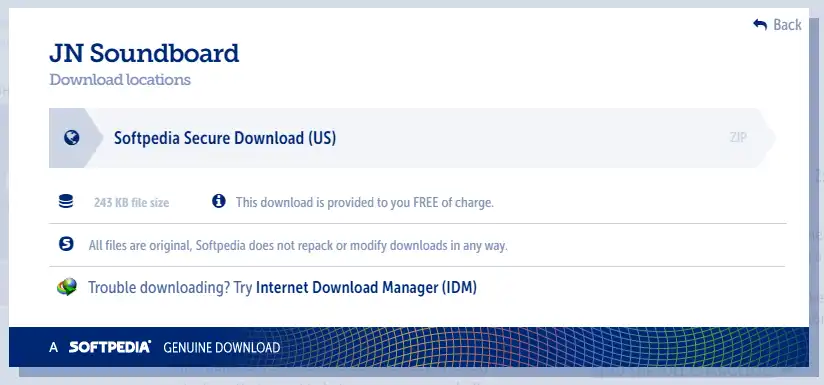 Supported OS: Windows 7/8/10 (32-bit & 64-bit)
System Requirements: Microsoft .NET Framework 4.6 Or Later
Price: Free
Features:
It is an open-source program with small memory usage and a simple and clean user interface.
Supports custom hotkeys to play sound.
Multiple sounds can be played randomly via hotkeys.
Supports .mp3, .wav, .wma, and .aiff files.
PART 4. How to Make a Soundboard for Discord
After learning about soundboards for Discord introduced in the first part, have you found a soundboard application that you like? In this part, we will introduce you to how to set up a soundboard for discord.
Step 1. Download your favorite soundboard software and install it on your computer.
Step 2. Launch the soundboard application and select the microphone and speaker you want to use in Discord as input and output devices in the settings.
Step 3. Launch Discord and go to User Settings > App Settings > Voice & Video > Voice Settings to complete the input and output device settings for Discord audio. Set the soundboard program as the input device and your microphone as the output device.
Tips: Depending on the situation, you can change other audio-related settings to make the soundboard work better.
Find Input Sensitivity and disable Automatically determine input sensitivity.
Scroll down to the Advanced Disable Echo Cancellation, Noise Suppression, and Automatic Gain Control.
Move the Attenuation slider to the far left and turn off When I speak and When others speak.
Make sure Audio Subsystem is selected as Standard.
Conclusion
We introduce the 5 best soundboards for Discord and tell you how to use them for your Discord voice chat and streaming. Hope you have fun with your friends.