Have you ever wondered what it would be like to change your voice during a phone call?
Maybe you want to prank your friends or family with a hilarious voice, or maybe you just want to express yourself creatively and experiment with different voices. Whatever your reason, there is an app for that.
What Is a Voice Changer App?
Voice changer apps are applications that allow you to alter your voice during calls, either by changing the pitch, speed, and tone or by adding effects and sounds.
They can make your calls more fun, interesting, and memorable. You can use them to:
Prank your loved ones or colleagues with funny voices
Express yourself creatively or experiment with different voices
Avoid being recognized or embarrassed by your voice
Laugh or make someone laugh
In this blog post, we will introduce you to 3 of the best voice changer apps that you can use during calls.
3 Best Voice Changer Apps During Call – Free Software
#1. FineShare FineVoice
This free voice changer app during calls lets you change your voice in real time with 30+ effects and filters. You can find voice effects of celebrities and characters you like such as Minions, Darth Vader, and SpongeBob.
You can use FineShare FineVoice to change or hide your real voice on all your favorite platforms and video games like Zoom, OBS, Twitch, Overwatch, and Roblox.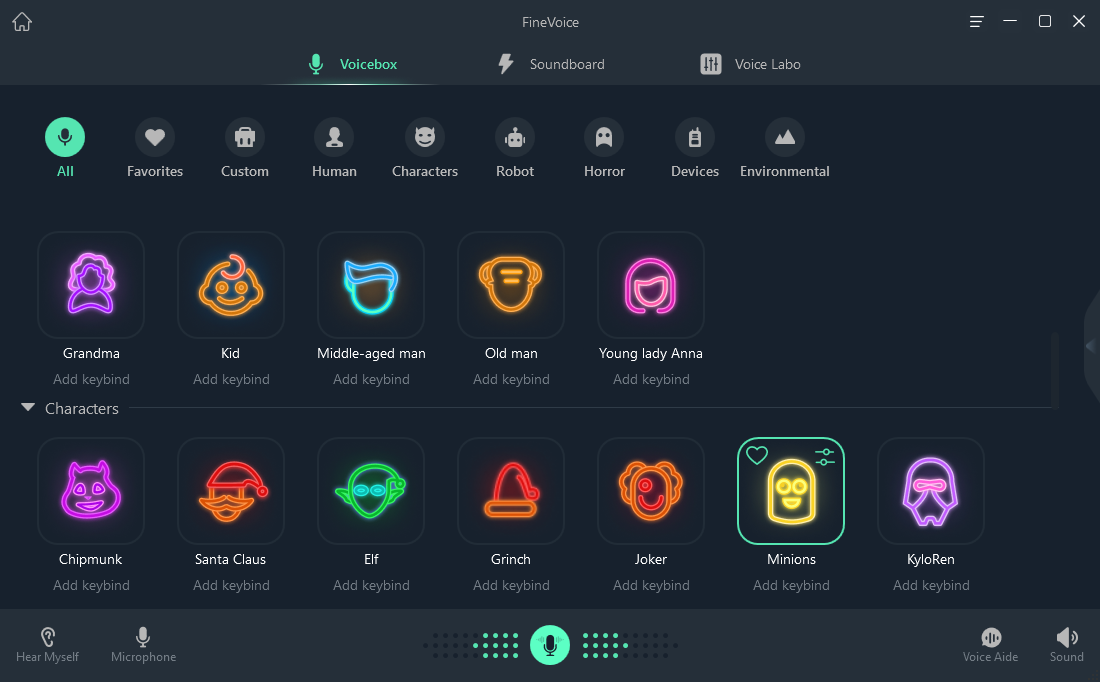 Key Features:
All-in-one AI real-time voice changer
Various effects and filters in different categories
Adjustable volume and pitch with every voice effect
Offers 200+ sound effects and custom soundboard creation supported
Custom voice effects creation supported
High-quality voice recording with audio effects and custom voices
Audio file voice changing with custom voice effects
Offers text-to-speech, audio extracting from video, and audio transcription
Pros:
Free to download and best for beginners
Easy-to-use and user-friendly interface
Fun and creative voice tools
Suitable for different situations and moods
Fast voice-changing speed without latency
Compatible with all voice chatting, streaming, and gaming platforms
Cons:
Temporarily supports Windows only
Some premium features require a subscription
How to use this voice changer app for video or voice calls:
Step 1: Install FineShare FineVoice on your Windows computer.
Step 2: Click Real-Time Voice Changer and explore the voice effect library.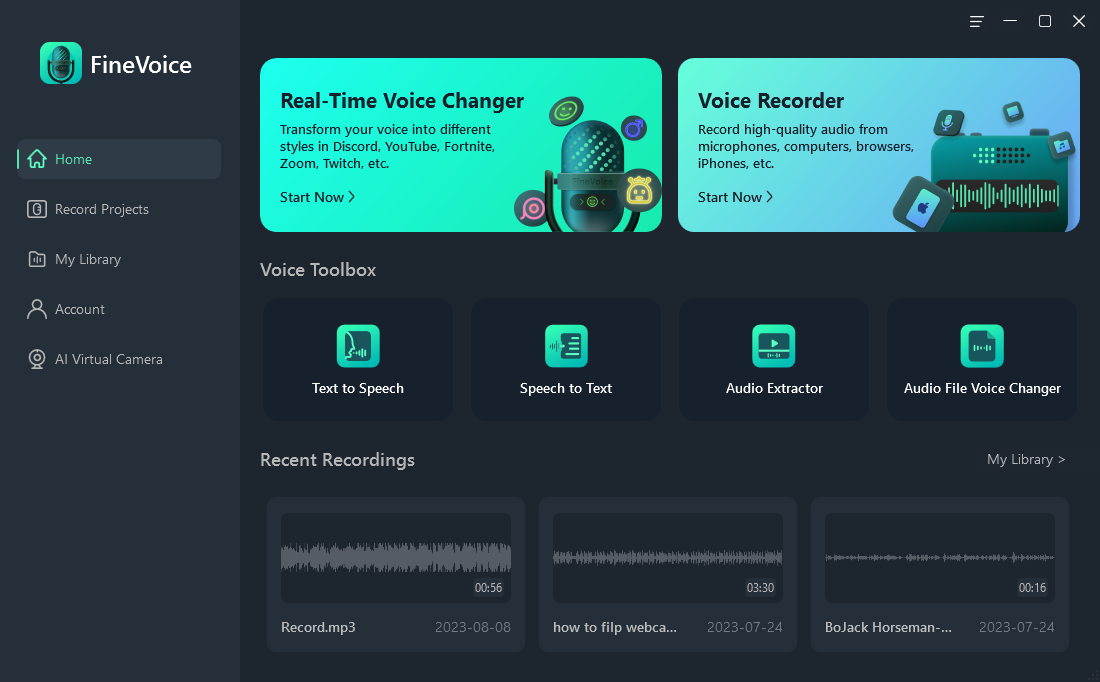 Step 3: Configure your microphone and headphone. And enable Hear Myself and Microphone to capture and hear your voice.
Step 4: Click on what you want to use and adjust the parameters to make the effect match your voice better.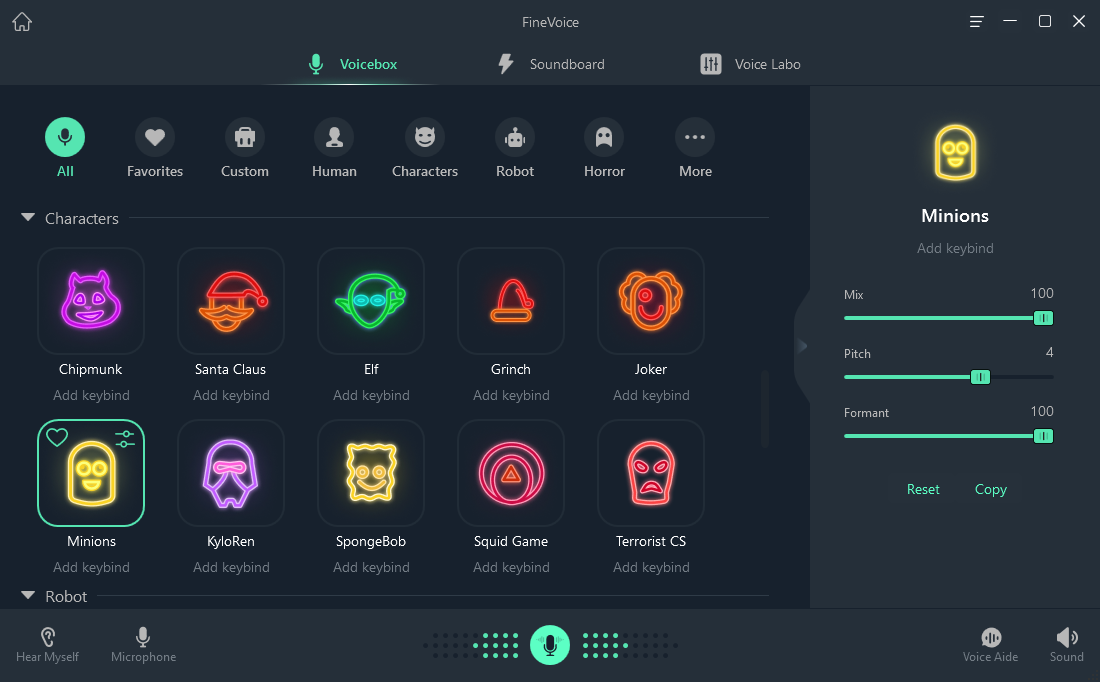 Step 5: Open the video/voice call platform. Before calling, you shall set FineShare Virtual Microphone as the audio input device.
Have fun with your modified voice!
#2. Clownfish Voice Changer
Clownfish Voice Changer is a free and small real-time voice changer that lets you change your voice with simple taps. You can use it for YouTube streaming like Tiko and other YouTubers do.
This voice changer works on the system level. So, after configuring it correctly, it can change your microphone voice on any software or websites that capture your microphone.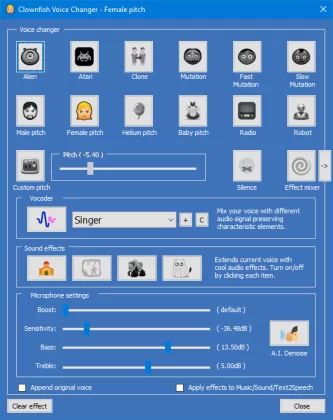 Key Features:
14 voice effects for real-time voice changing
Offers plugins such as soundboard and VST effects
Provides a music and sound player to add more atmosphere
A voice assistant to generate speech from text
You can adjust your microphone settings in the app

Pros:
Real-time voice changing
Free of ads and a simple interface
Multiple languages supported
Offers background sounds
Supports pitch adjustment
Cons:
Only offers Windows software
Provides no celebrity voices
Difficult to set up the voice changer
Limited voice effects compared with FineVoice
#3. Voxal Voice Changer
The above two voice changer apps during calls only provide Windows desktop apps. If you are a Mac user, you may want to try Voxal Voice Changer.
You can use the free version to prank your friends or family with hilarious character voices from sci-fi and fantasy, or to have fun with strange and silly voices.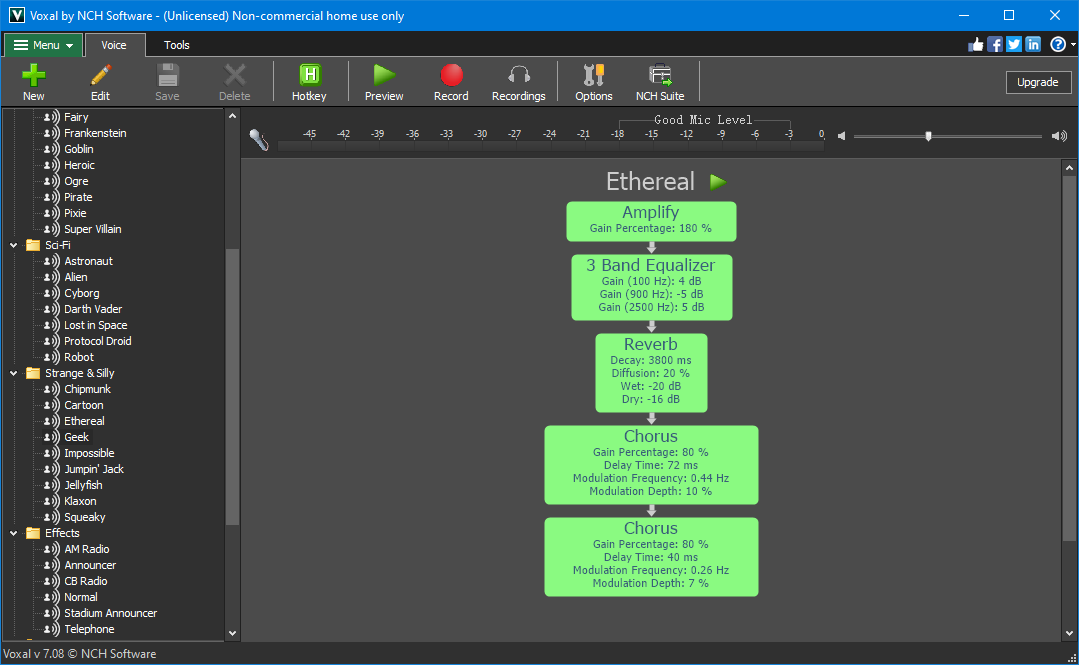 Key Features:
Change your voice in real-time or offline
Provides preview audio for each voice effect
Custom voice creation supported
Works with other NCH audio tools
Pros:
Offers Windows and Mac versions
Low CPU usage
Quick switch between effects with hotkeys
Cons:
Limited access in the free version
Steep learning curve for beginners
Best Voice Changer App During Call for Android/iPhone
If you are looking for the best online voice changer for pranking, I would recommend FineShare Online Voice Changer. You can access this app from any device including Android and iPhone with an internet connection. You don't need to download or install anything.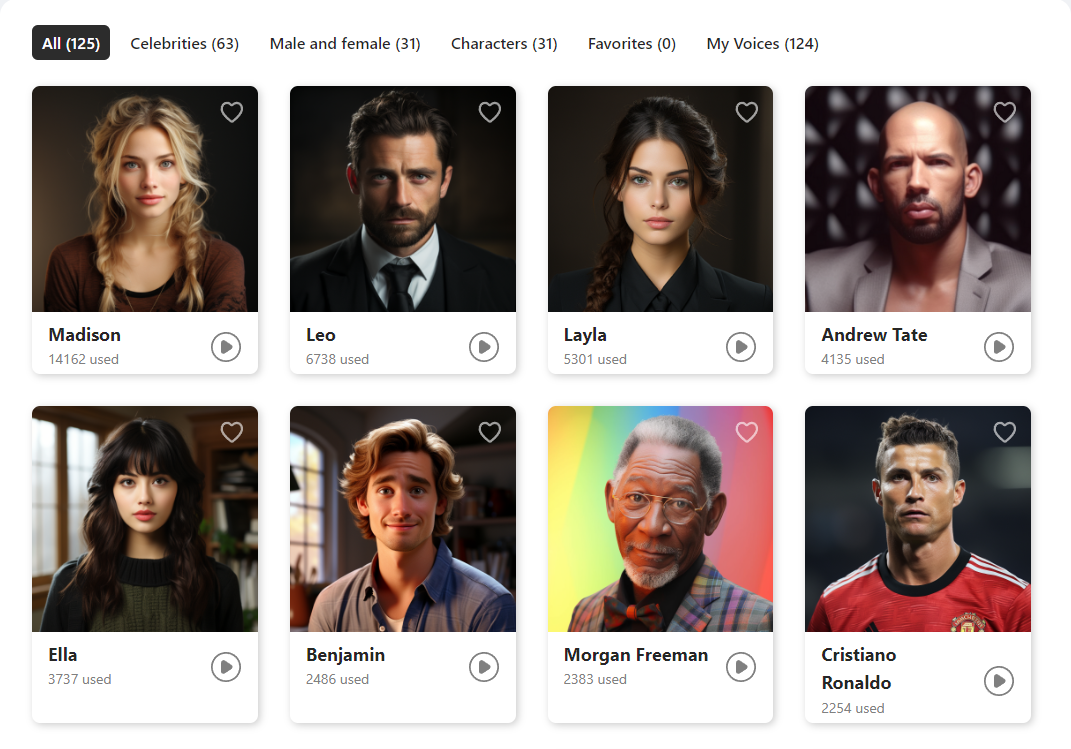 Highlights:
110+ realistic AI voices powered by voice-cloning
Different categories to find the voice you want easily
Easy and free to use without software installation
Works with mainstream web browsers on all your devices
Fast generation speed to transfer your recording or audio file voice
How to use this online voice changer?
Step 1: Visit FineShare Online Voice Changer.
Step 2: Choose the AI voice you want to use from the library.
Step 3: Record your microphone or upload your audio file.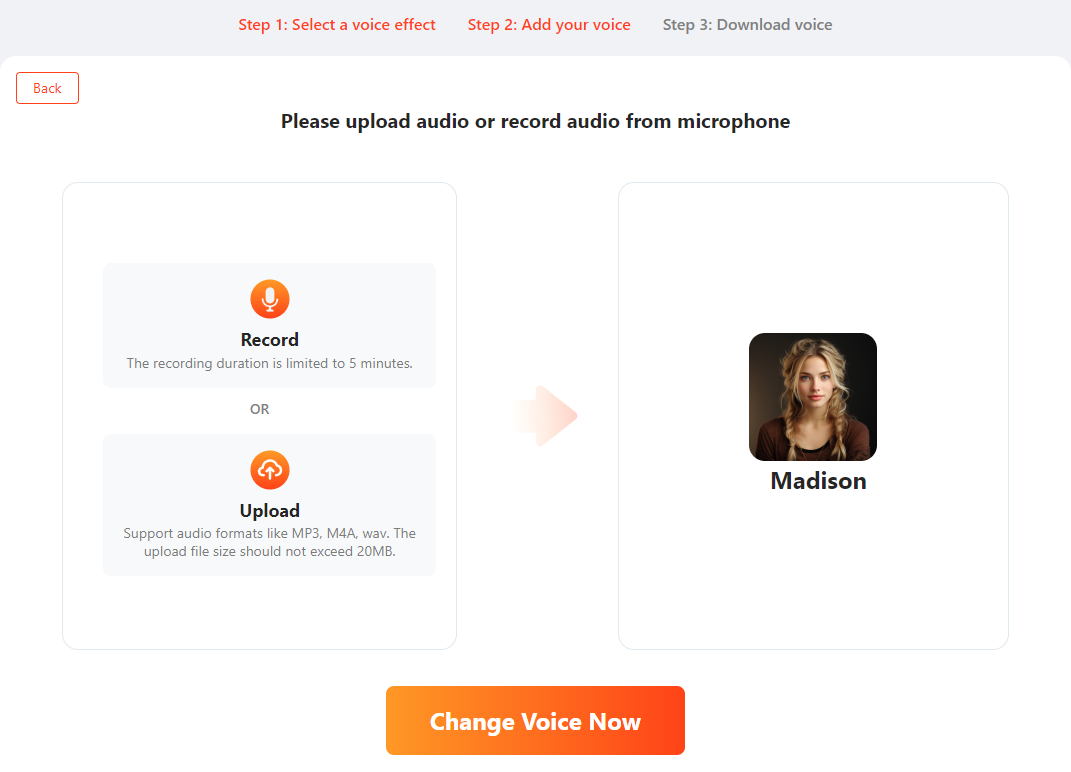 Step 4: Click on Change Voice Now.
Step 5: Download or share the audio with the voice modified.
Conclusion
These are just some of the examples of voice changer apps that you can use during calls. We also gave you a guide to using a voice changer app during calls. Have fun with your "New" voice in a phone call!
FAQs
#1. How to change your voice during phone calls without apps?
There is no definitive answer to this question, as different apps may have different methods of changing voice during phone calls. However, some possible ways are:
Using text-to-speech software like FineVoice, where you can type your responses and your computer will read them off for you.
Using non-digital methods, like lowering your voice or changing your mouth position.
Using a voice changer website, where you can make prank calls to your friends and family with various voice effects.
#2. How to use a voice changer during calls from male to female?
Apps such as FineShare FineVoice can help you change your voice from male to female during a call. Simply select a female voice from the human voice category, and you will speak with a woman voice.
#3. Is there a voice changer for phone calls?
Of course, you can use the voice changers mentioned above for phone calls. FineShare Online Voice Changer which can work on mobile can also help you to make a voice call changer.