So, you are starting a podcast or looking forward to making excellent quality audio content but are stuck with which is a great voice over software for this purpose. Whether you are a beginner or a professional, here we have the 10 best software for recording voice overs for both. You will also learn how you can select the right tool for yourself. So, let's dive into the details!
What Is Voice Over Software
Voice over software enables you to polish your voice and add music or sound effects to enhance the overall quality. You also have some basic editing capabilities, so you can remove the beginning and end of the audio if needed. Any video or audio content makers like YouTube Creators, filmmakers, radio stations, television, or theatre teams requires such software.
3 Important Factors to Consider When Choosing Voice Over Software
Different options are available on the market and the internet, but selecting the right tool is essential as an incorrect selection may degrade the quality and final result. Here are some important factors to consider when selecting voice over software.
1. Ease of use
A good voice over tool should allow its users to create and update a recording quickly and effortlessly. Especially if you are a beginner, you should select voice over software that is simple to use. A user-friendly product can streamline your workflow, so consider the ease of use first.
2. Compatibility
Select software compatible with your recording device and your computer's operating system. It is important to consider whether the software you use will work with your device. Or if it does, can the device's installed OS version support it or not?
Otherwise, you will waste your time (and probably money). It is also a vital factor as many software can be downloaded, but most of their essential feature is not compatible. So, you should make proper research to avoid any inconvenience or frustration.
3. Price
Although free voice over software is available, it can't match the quality a paid one can produce. However, price becomes a significant factor as the tool should not upset your budget. You don't have to purchase the most expensive software on the market. Freemiums are also a decent option, as you can pay for advanced features only if you require them.
Best Voice Over Software for Beginners
Since you know how to choose the right software, let's look at some of the sector's best options. Here are our top picks of software for voice over for beginners.
Windows Voice Recorder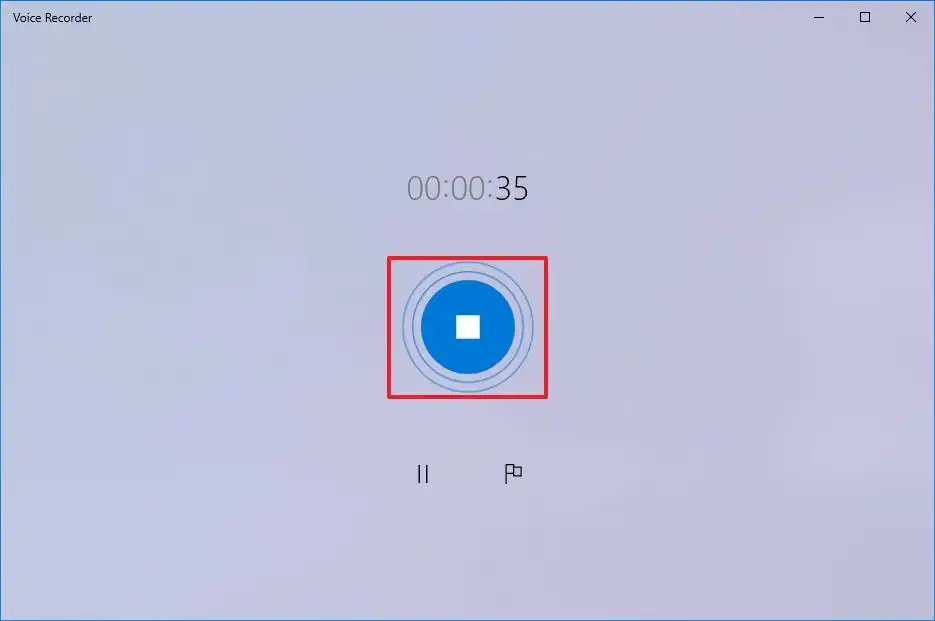 Price: Free
Compatibility: Windows, Mac, Android, iOS
Windows Voice Recorder is a simple software program for a PC. If you require a minimal tool only to record your voice without much detail and editing, you can use this simple recorder to create an audio recording. It's especially useful if you're making rough or basic recordings with your device's inbuilt mic.
Although it is completely free to use, the Windows Voice recorder can record high-quality audio and allows you to edit the audio with basic tools. One of its best features is adding Markers that act like saved points you want to edit out later.
Pros
Excellent connectivity with Windows devices
Easy to transfer files with other apps
Simple to use
Impressive quality
Cons
External microphones and interfaces are hard to manage
Not available for multi-track layered recording
FineVoice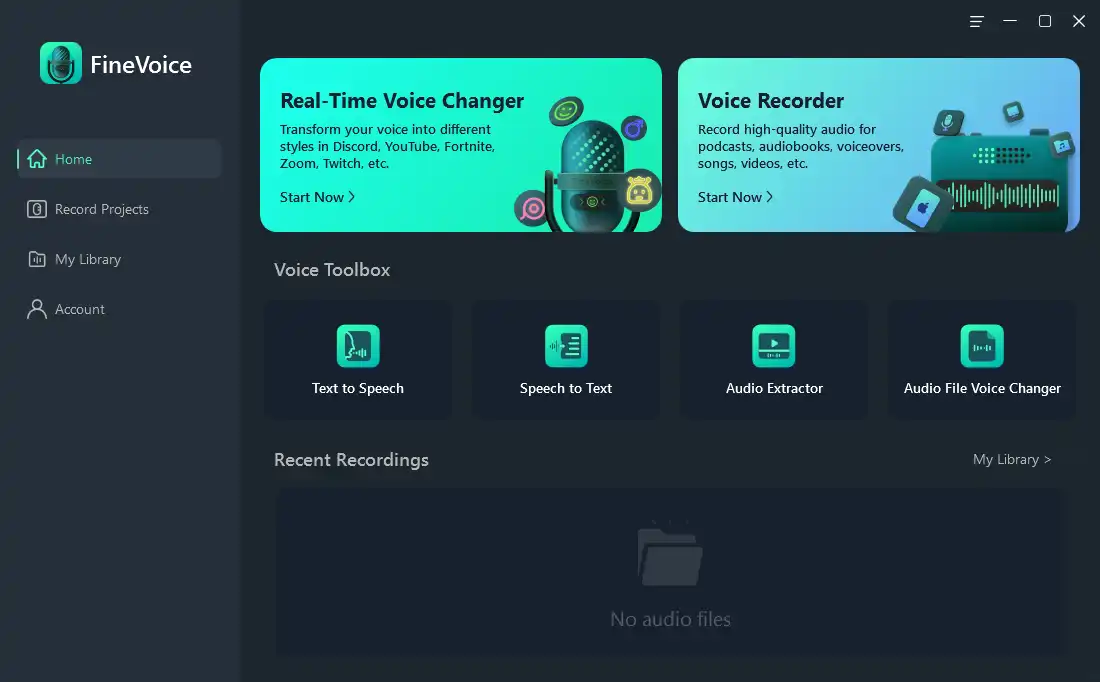 Price: Free and paid
Compatibility: Windows
Another best voice over software for Windows is FineVoice – Voice Recorder. It supports recording sound from multiple sources including microphones, computers, iPhones, iPad, websites, and more. It also offers audio effects (like chorus) and voice effects (like Chipmunk) to help you shape your voice.
Besides that, FineVoice features text to speech, so you can quickly generate natural-sounding voiceovers for your content when you have no time to record voiceovers.
Pros
Simple and intuitive interface, making it easy to use
Record sound in high quality
Offer over 220 lifelike voiceovers
Support modifying your voice during recording
Multiple audio sources supported
Save recording project settings for future use
Cons
Online Voice Recorder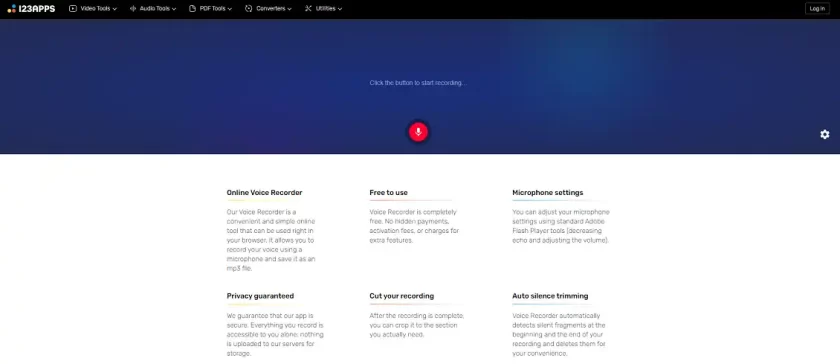 Price: Free
Compatibility: Any Device
Online Voice Recorder is another easy-to-use and free voice over software you can access directly from your browser. It readily enables you to use a microphone to record on the go and instantly export files to your device storage. Voice Recorder detects and deletes silent fragments at the beginning and end of your recording for your convenience. It keeps voice recordings in the widely known MP3 format.
Online Voice Recorder also includes some extra features, such as the ability to playback your audio and trim it in a lightweight editor, as well as the capability to modify your microphone settings.
Pros
No activation fees
Any time access
Super easy usage
Auto silence trimming
Cons
Limited features than other tools
No advanced editing or multi-tracking
Audacity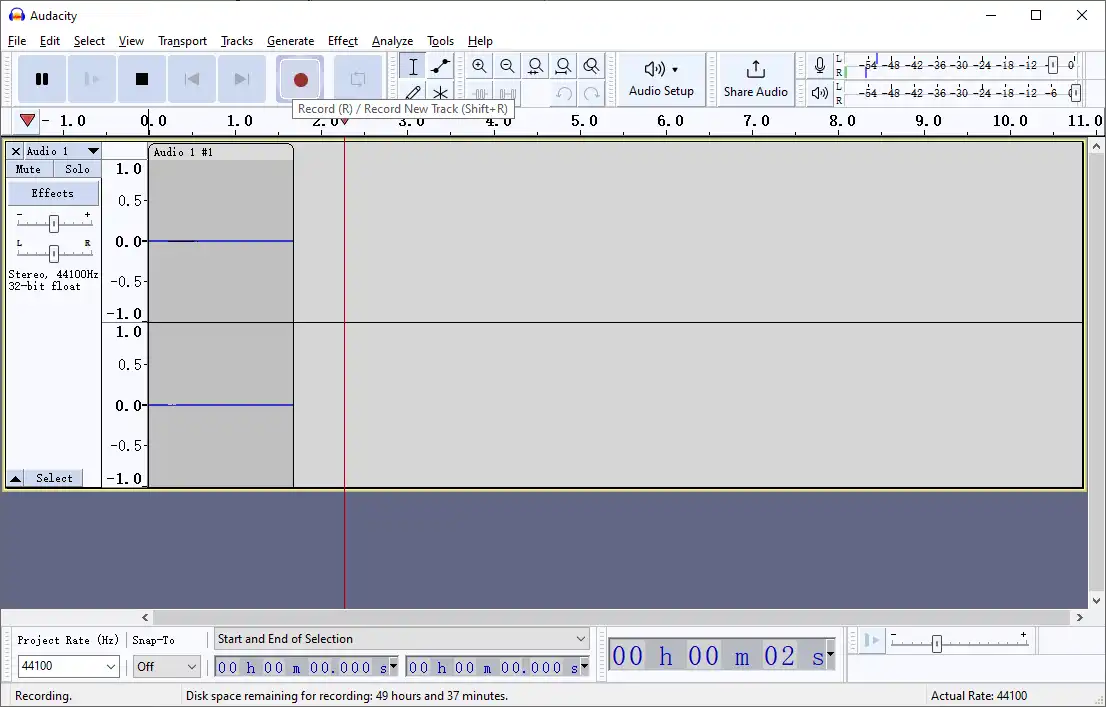 Price: Free
Compatibility: Windows, Linux, Mac
Audacity is an open-source software that is available for both Mac and Windows computers. Despite the fact that it is free, it supports high sample rates, multiple audio formats, and recording at high bitrates for clear audio.
Audacity is constantly updated to improve the software's user experience. Furthermore, this software can be configured to work with a USB microphone or an audio interface, allowing you to use a variety of microphones.
There are also some basic effects that you can use to add reverb or change the qualities of the sound you've recorded and edit any mistakes. Plus, you can download more plugins and sound effects and even edit already recorded audio.
Pros
High Quality & Open Source
Multi-Track Audio Support
Numerous Filters & Effects
Consistent with External Microphones
Cons
Multi-tracking is extremely difficult
A few program bugs lead to disruption
GarageBand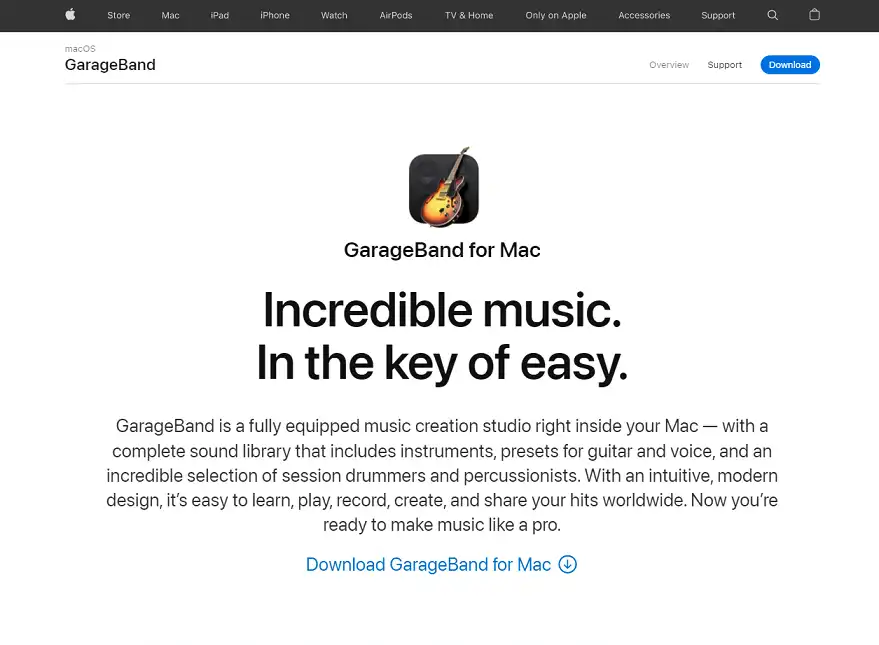 Price: Free
Compatibility: Mac, iPhone, iPad
GarageBand is regarded as an entry-level audio production software for voice over but only for Apple products. The software is advertised with a focus on music production, so you can also use it for voice over if desired. However, it enables multi-track recording and allows you to change the input, allowing you to set up an external microphone easily.
You can also do a lot of editing with GarageBand, such as adding effects, cutting out audio sections, and multi-tracking. Even if you are unfamiliar with audio editing, you can still produce good-quality recordings with the software. It provides complete control over audio quality and file formats, making it one of the excellent tools available to Mac users.
Pros
Effective editing tools
Supports all Apple devices
Create music of different genres
Streamlined interface
Cons
Unavailable for Windows
No view of the mixing console
Best Voice Over Software for Professionals
Above tools are great for beginners being easy to use. But if you want advanced vocal quality according to your professional voice over skills, below are some top picks of the best software for recording voice overs for you.
Adobe Audition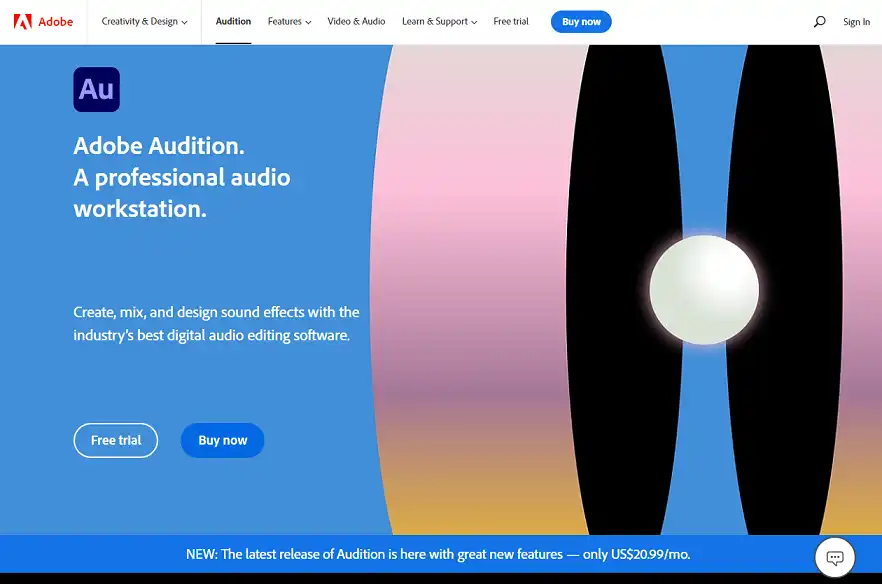 Price: $20.99/Month
Compatibility: Windows, Mac
Adobe Audition is extremely simple to learn and extremely useful if you master it. Professionals find it best to fine-tune the audio they've recorded. Some advanced effects and tools, such as reverb reduction, can remove some of the nasty echoes if your recording could be better. If you want to add more effect, you can also install them.
On audio processors and vocal processing units, you can multi-track and use a large number of presets. This means you can enjoy complex editing even if you aren't an audio technology expert.
Pros
Powerful audio processing
Intelligent reverb reduction
User-friendly
Supports numerous formats
Cons
Expensive with a subscription service
Random crashes
Logic Pro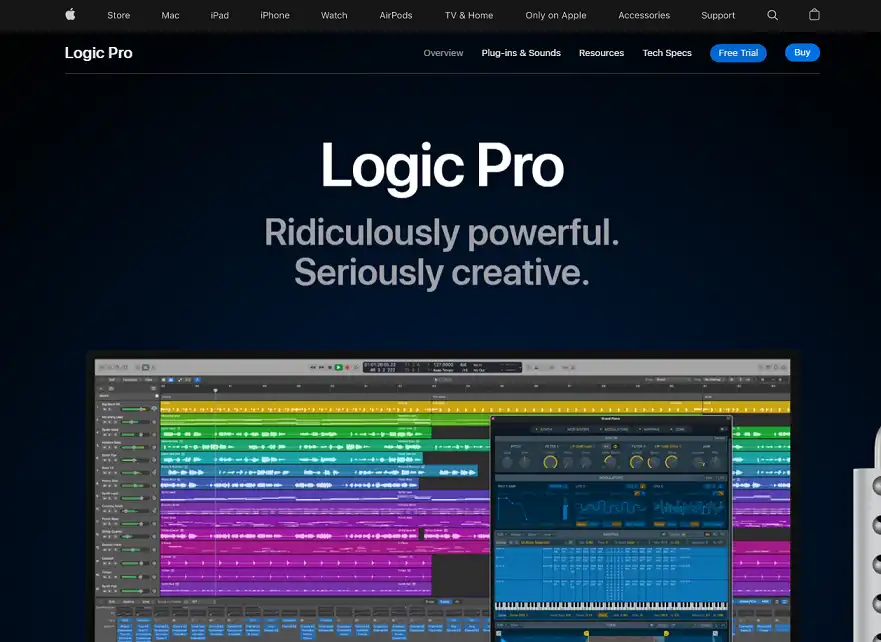 Price: $199.99
Compatibility: Apple Devices Only (iOS 14.0 or later)
Logic Pro is the best software for recording voice overs for Mac users. It provides a professional voice over solution as being a highly powerful program and is also an excellent option for musicians. Many audio and video content creators use Logic Pro for recording high-quality music and podcasts.
However, getting acquainted with the software takes some time, as the learning curve is comparatively steeper. But it does come with a suite of excellent plugins that can help a lot. It also supports high-fidelity recording in many formats, making it a great improvement over GarageBand.
Pros
High-fidelity recording
Industry-standard quality
Includes powerful audio plugins
Improved spatial audio & Dolby Atmos tools
Cons
Incompatible with Windows and other platforms
Some concerns with third-party plugins
Pro Tools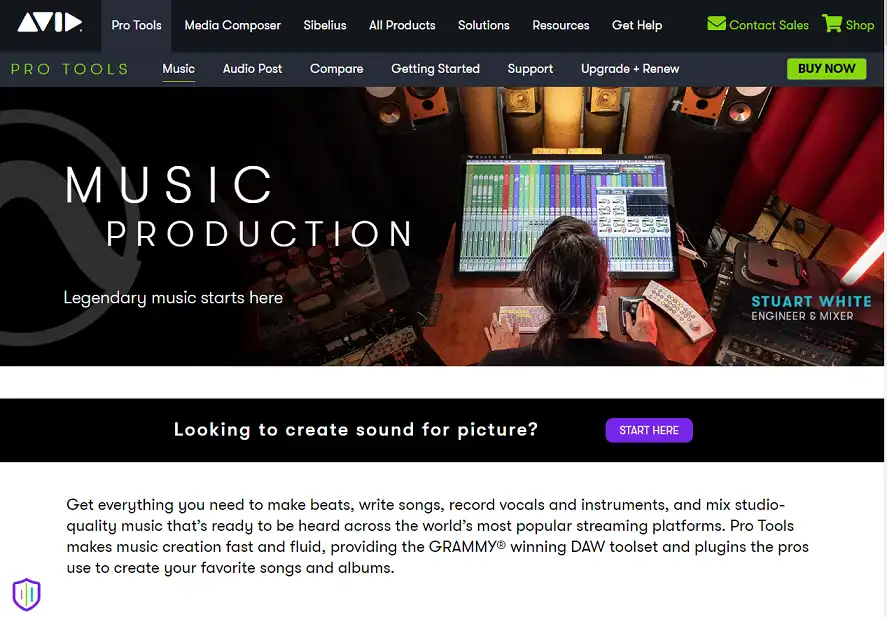 Price: $29.99/Month, $199.00/Year
Compatibility: Windows, Mac
Pro Tools is a well-known software for voice over and audio recordings. It could be a good choice if you need voice over recording software that allows for complex editing and layering.
The software also has a steep learning curve for those unfamiliar with audio editing. So being specially designed for professionals, it allows you to record in high-quality and get excellent results. It also supports video, so you can extract a video file and have the audio interlinked within milliseconds.
Pros
Top-tier hardware support
Powerful plugins
Allows 64-bit recording
Versatile for any audio project
Cons
Have subscription plan instead of actually buying
Requires high computational power
Cubase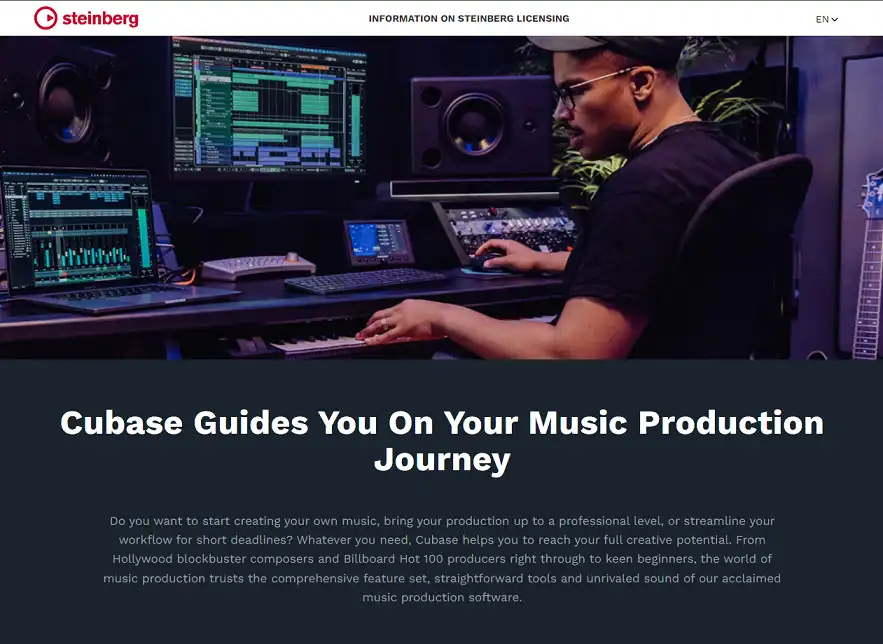 Price: $579.00
Compatibility: Windows, Mac
Cubase is one of the most versatile music production software packages. You can quickly and intuitively create any music with its unmatched range of flexible tools. It includes many virtual instruments, effects, and thousands of sounds. Whether you're a professional composer or a beginner in music production, Cubase has everything you need to turn your ideas into sound.
Pros
Versatile & powerful software
Also usable by beginners
Effortless workflow
Variety of plugins
Cons
Too expensive
Not support video playback
Goldwave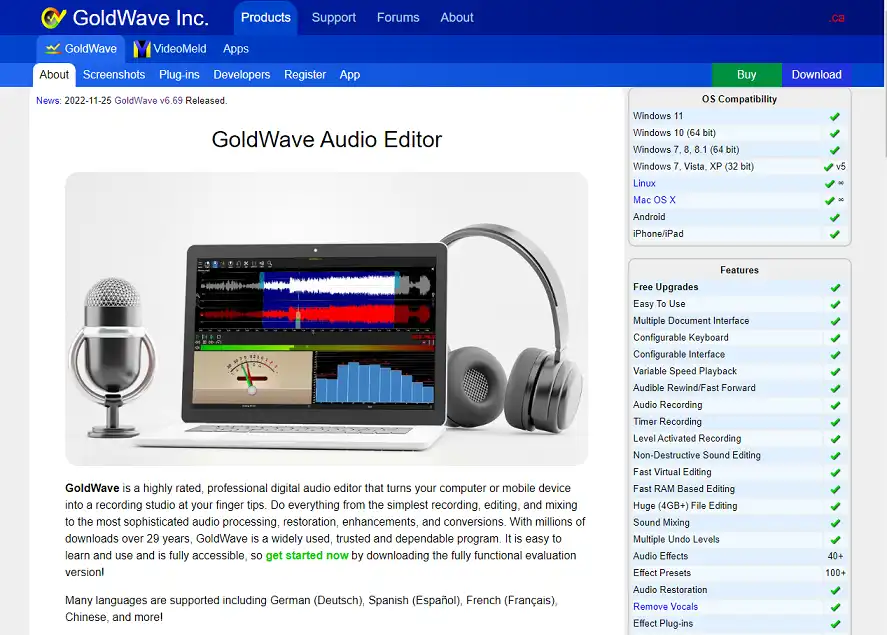 Price: $59.00 ($19.00/Year)
Compatibility: Windows, Linux, Android, iOS
GoldWave is a highly regarded professional voice over software that can transform your device into an audio recording studio. Perform everything from basic recording, editing, and mixing to advanced audio processing, restoration, enhancements, and conversions.
Million people have been widely using and trusting GoldWave for over 29 years. It offers a wide range of filters, special effects, and editing tools and supports multiple file formats. You can even record from multiple sources for an outstanding experience.
Pros
Support multiple languages
Make voice commands for automated systems
Wide range of effects & filters
Use real-time visuals to analyze audio
Cons
Doesn't have media burning tool
UI appears a little outdated
Conclusion
Whether you are an amateur or working at an industrial level, selecting the right voice over software is necessary. We've given the 10 best voice over tools to help you out. So, select anyone from the above list and turn your voice into high-quality audio.