Do you ever want to record a Skype video call? In most cases, you may want to remember the details of the conversation or just keep it for your memories. Skype call recorders are widely used by individuals, podcasters, interviewers, and more. Many people frequently record the whole progress during calls, podcasts, interviews, conferences, and other events involving Skype.
Although it has a built-in recorder, Skype is feature-limited. Due to this, we have discussed the 10 best Skype recorders for Windows and Mac in this article.
What to Consider When Choosing Best Skype Recorder?
The article lists the things to consider when choosing the best Skype screen recorder. We hope it will help you.
We recommend free screen recorders for beginners. For professionals, you can choose one that suits your needs.
An intuitive, clean, and smooth learning curve will be well-liked.
You should make sure of the record range, whether the tool can record a specific area or the whole screen.
Find out if the software can support the file formats you need. If you plan to share your recorded videos, make sure you can upload them directly to platforms.
Best Skype Video Call Recorder for Windows and Mac Users
In essence, FineCam is an AI-powered virtual camera software developed by FineShare available on both Windows and Mac. It works as the best Skype screen recorder as well. You may effortlessly record Skype video calls from your computer with FineCam. FineCam is well-liked for its user-friendly interface. You can try to download and test it for free.
FineCam can help all Skype users record their video calls efficiently. FineCam can capture anything you want with high-quality audio and video, including podcasts, lessons, and interviews. It's also compatible with some platforms, including Zoom, Microsoft Teams, Twitch, OBS, and others.
FineCam differs from many other applications in that you can change webcam backgrounds and add filters. And you can use your phone as a webcam. In this way, you can record your Skype video call better. And you can control the recording process as there is a pause and play button while recording.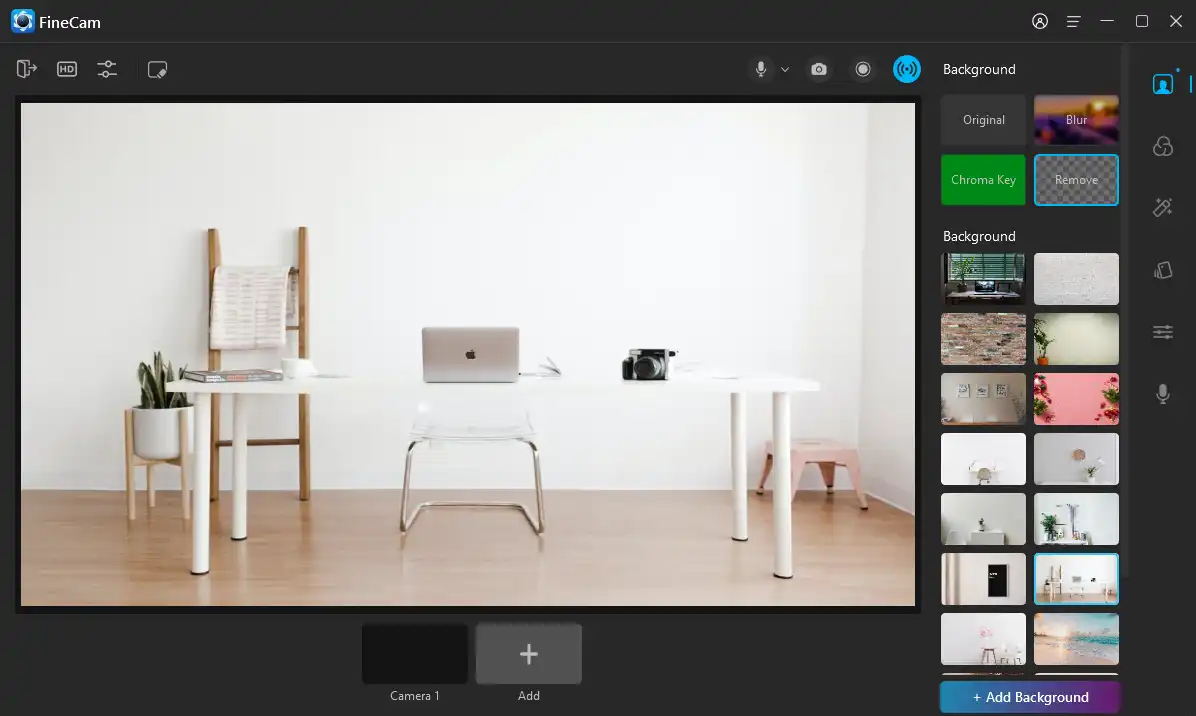 Pros:
Intuitive and easy to use
Recording the screen and webcam simultaneously
Great background during Skype video calls
Get streaming video and online activity
Adds some effects and filters
Cons:
High hardware requirements such as GPU
Pamela for Skype is a free, reliable, and user-friendly software for recording Skype video calls. It works with both Windows and macOS. You can capture up to 15 minutes of Skype video calls with the free version. This Skype screen recording software will be more suitable for professionals.
Pamela for Skype has many useful features. To make sure you don't miss any Skype audio or video call, you can take full advantage of the automatic call recording feature. Also, you can record your podcasts and your chats with Pamela.
You can record audio in mono or stereo format according to your preference. You can also use it as an answering machine, call manager, email forwarder, and program automatic chat responses.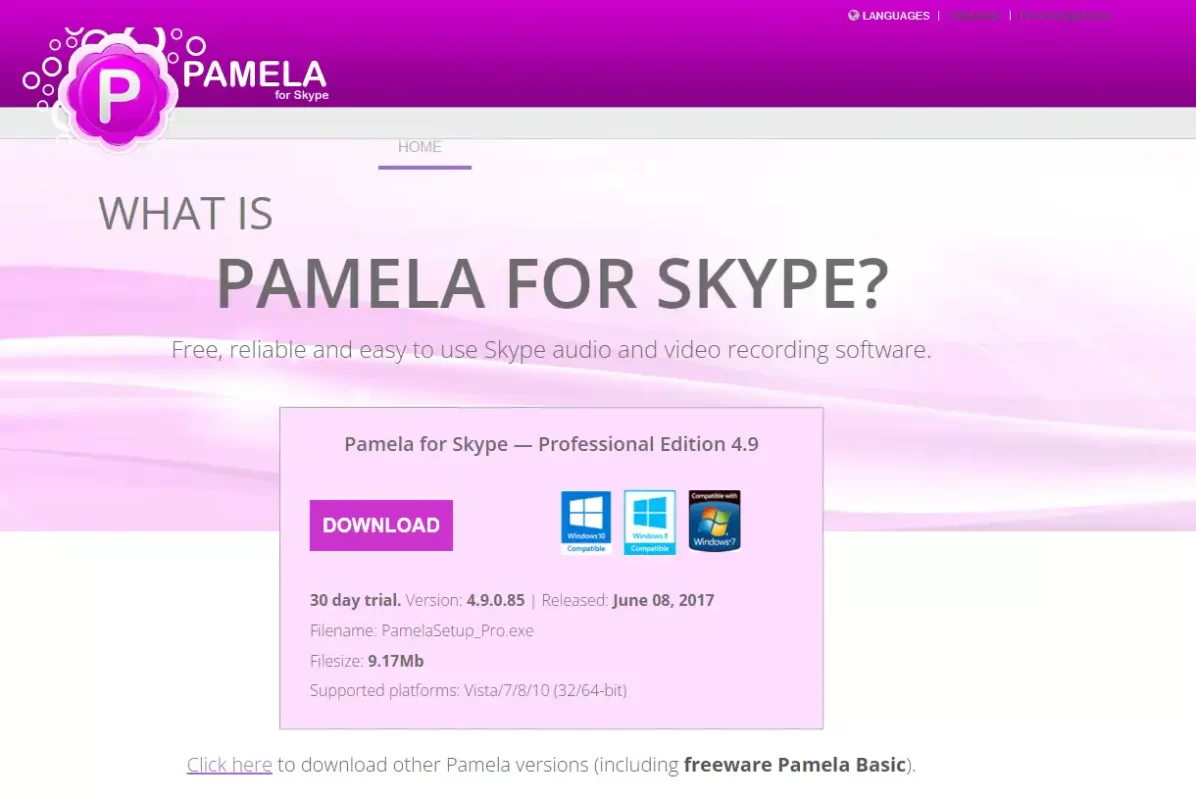 Pros:
Easy to use
Sound can be played back during a call
Clear call recording
Provides mood messages
Advanced answering machine
Cons:
Tricky to install and set up
Limited video options in the free version
Movavi Screen Recorder is also one of the best free Skype recorders. It can record almost all types of screen activities and save them in the video format of your choice. It includes a seven-day free trial period and is accessible for both Windows and macOS.
Movavi Screen Recorder is capable of recording video at 60 FPS. You can record audio and video simultaneously or separately. It has a variety of recording modes, including screen recording, webcam recording, and audio capturing. And you can share these recorded video calls on multiple platforms, such as Skype, Google Meet, Zoom, etc.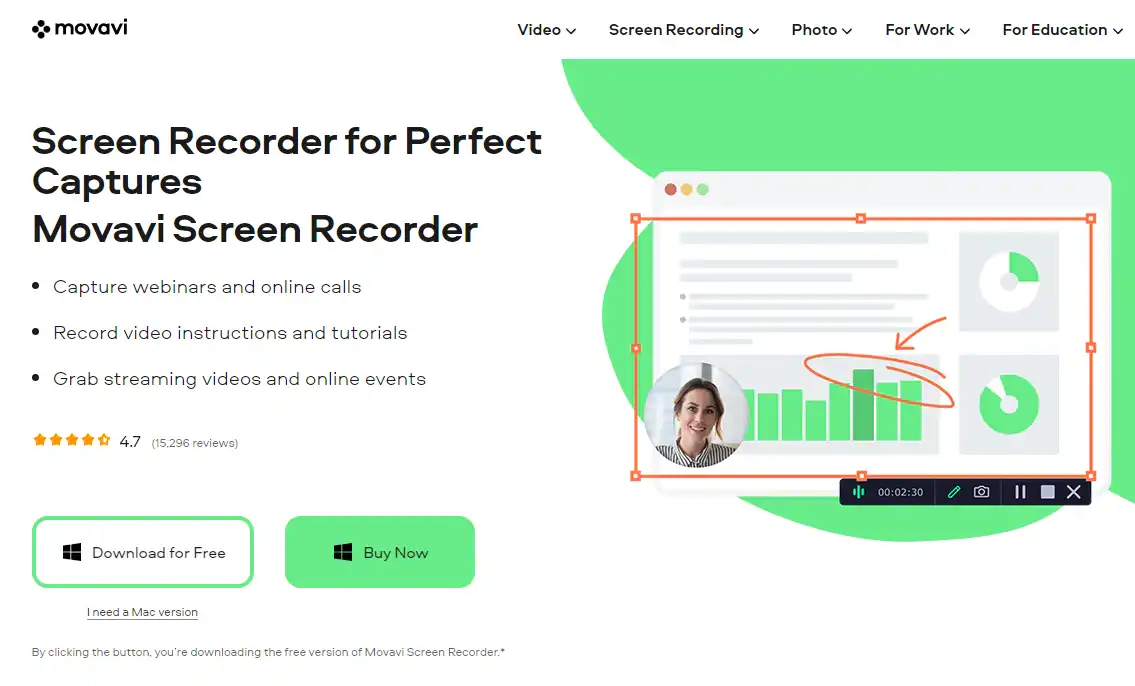 Movavi Screen Recorder can automatically record your scheduled Skype calls. Additionally, you can set up recordings for important conversations in advance. During your recording, it will automatically adapt to the size of the selected window. The recorded files can be exported in the following formats: MP4, MOV, AVI, MPEG, WEBM, and MP3.
Pros:
User-friendly interface
Streaming recorder
Support stereo mode recording
Support all popular file-saving formats
Support for recording voicemails
Cons:
The free version includes the watermark
No notification sound
Take up a lot of storage space
4. TalkHelper Call Recorder
TalkHelper Call Recorder is a video call recorder for Skype. It enables users to record audio or video calls and save them to a computer. It has a simple and clean interface that is friendly to new users. It supports Windows operating systems. It has a seven-day free trial period.
Talkhelper Call Recorder works in sync with Skype applications. It can record not only video calls but also chats and voicemails. Whether you are using standard mode, full-screen mode, or floating window mode, it will record and save every video frame for you.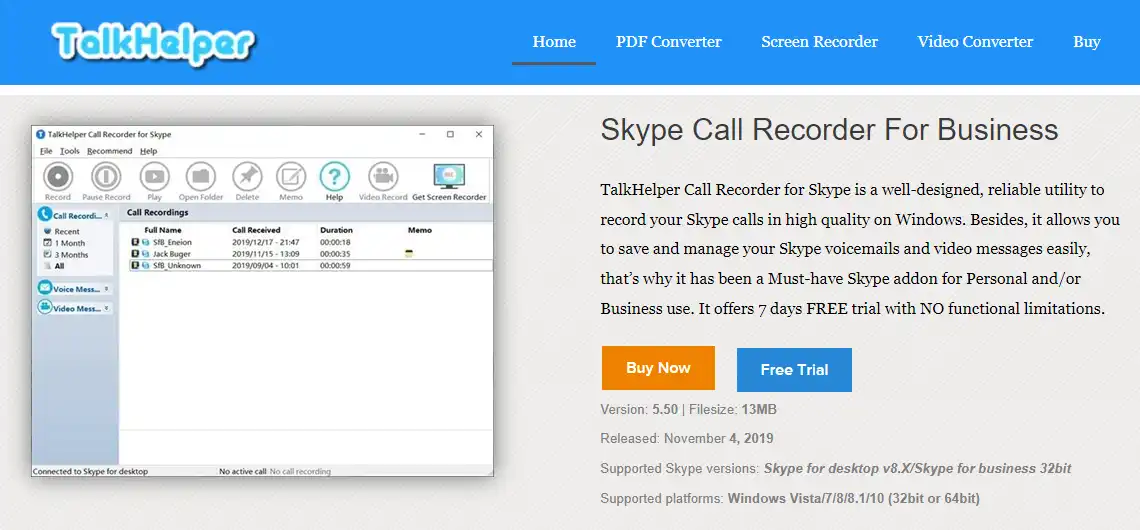 TalkHelper Call Recorder also has a dedicated mode for audio recording, which ensures that every sound is captured during the video chat. You can record audio in stereo format and on separate channels. You can also pause the recording at any time and edit the output to remove unnecessary parts of the dialogue.
Pros:
Free trial of all features
Sleek interface
Ability to add notes and memos during conversations
Cons:
Free trial is limited to 7 days
Software often has minor errors
5. Evaer Skype Recorder
Evaer Skype Recorder can record audio and video of Skype calls. It's available for Windows. It can automatically record Skype video and audio calls for you, which means you won't miss any important calls.
What makes Evaer unique is that it offers you several modes to record Skype video calls. It includes picture-in-picture, double-image, and adaptability. You can easily record Skype video calls in HD quality. And you can save audio in MP3 format and video in MP4 or AVI formats.
When you record a Skype video with Evaer, you can preview the video during recording. You can choose between 240p and 1080p for the video recording resolution. You can also change the video aspect ratio and frame rate. To record clearer audio, you can choose the stereo or mono mode.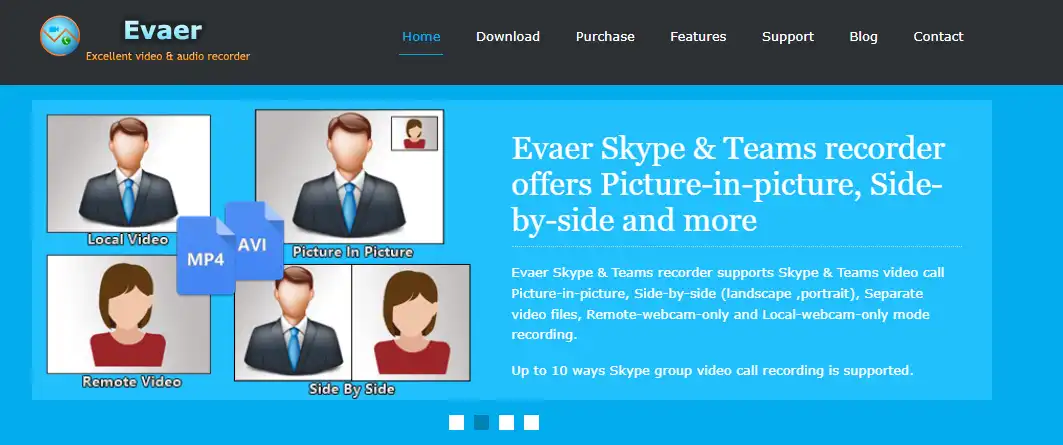 Pros:
User-friendly interface
Notify all users when recording
High-quality voice recorder
Selectable output video resolution
Enable automatic call recording
Cons:
Take time to load
Confusing for beginners
Cannot capture lengthy calls
Provide no editing utilities
Evaer Skype Recorder will request access to Skype when you first use it. Click Allow when you receive a notification, otherwise, Evaer will automatically connect to Skype after a few seconds.
With OBS, one of the best Skype recorders, you will have a completely unrestricted experience. It's among the most popular Skype screen recording tools. It's designed for videographers. And it's compatible with Windows and macOS operating systems.
OBS Studio can record audio and video in real-time. When using OBS, you can select the appropriate recording technique and extra filters according to your requirements. It supports multi-screen recording and personalization options. You can share your screen including images, text, and browsers.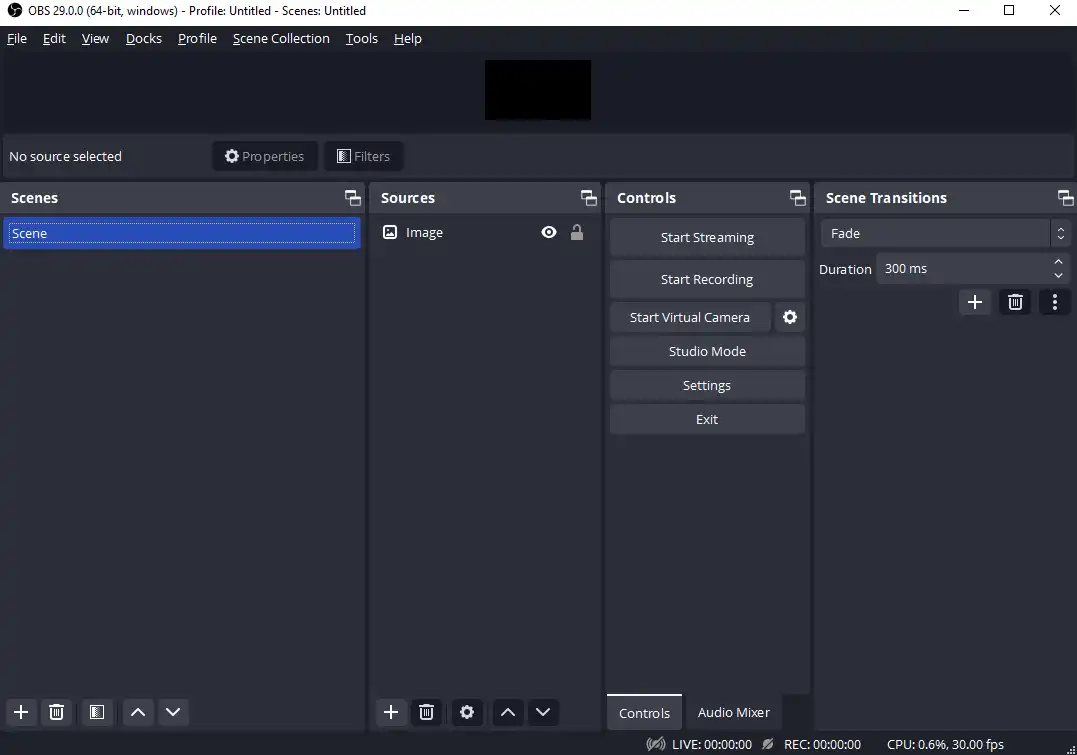 During OBS recording, it can suppress noise and add some remixes. Also, it's a video editor. You can use it to edit, make and share videos on all major platforms.
Of course, OBS is also a live-streaming application similar to Streamlabs. It's popular with many video streamers because they can play multiple stream sources while live streaming. If you want to know the difference between OBS and Streamlabs, you can read this article: Streamlabs vs OBS – Which One Is Better?
Pros:
Free to use
Support custom interface
Record live video and audio
Capture and combine audio
Easy to switch between pre-made scenes
Low CPU usage
Cons:
The user interface is not very intuitive
Require some extra storage space
Don't support Windows XP
7. AthTek Skype Recorder
One of the most advanced Skype screen share recording software is called Athtek Skype Recorder. It has a free trial and is available on Windows. It's designed for Skype users and can save your recorded audio and video to many popular formats such as AVI, MP3, WMA, FLAC, or OGG formats.
AthTek Skype Recorder can record all the details of Skype video calls, including the conversation's content, timing, and duration. You can view the specifics of each call in the list of previous Skype calls. During your Skype call recording, you can split the recording into different tracks based on the speaker. You can also choose to record only one window or the whole screen.

Pros:
Simple user interface
Support for viewing recent recording history
Ability to split recordings into different tracks
Allow selecting individual tracks
Multiple auto-recording options
Support automatic call recording
Cons:
Record video in AVI format only
The free version offers fewer features
8. DVD VideoSoft
DVDVideoSoft is a reliable and unrestricted Skype screen recording software. It's free and available for Windows. Because of its tiny size, the application is easy to download. It can store your recordings in a variety of formats.
As one of the best Skype recorders, it offers you multiple recording modes,
such as picture-in-picture, video from the other party, or a combination of audio from both sides. When you want to record Skype audio and video at the same time, picture-in-picture mode is very convenient. For easy viewing and playback, video calls are automatically stored in MP4 format, while regular audio calls are usually stored in MP3 format. You can transfer recordings to any device.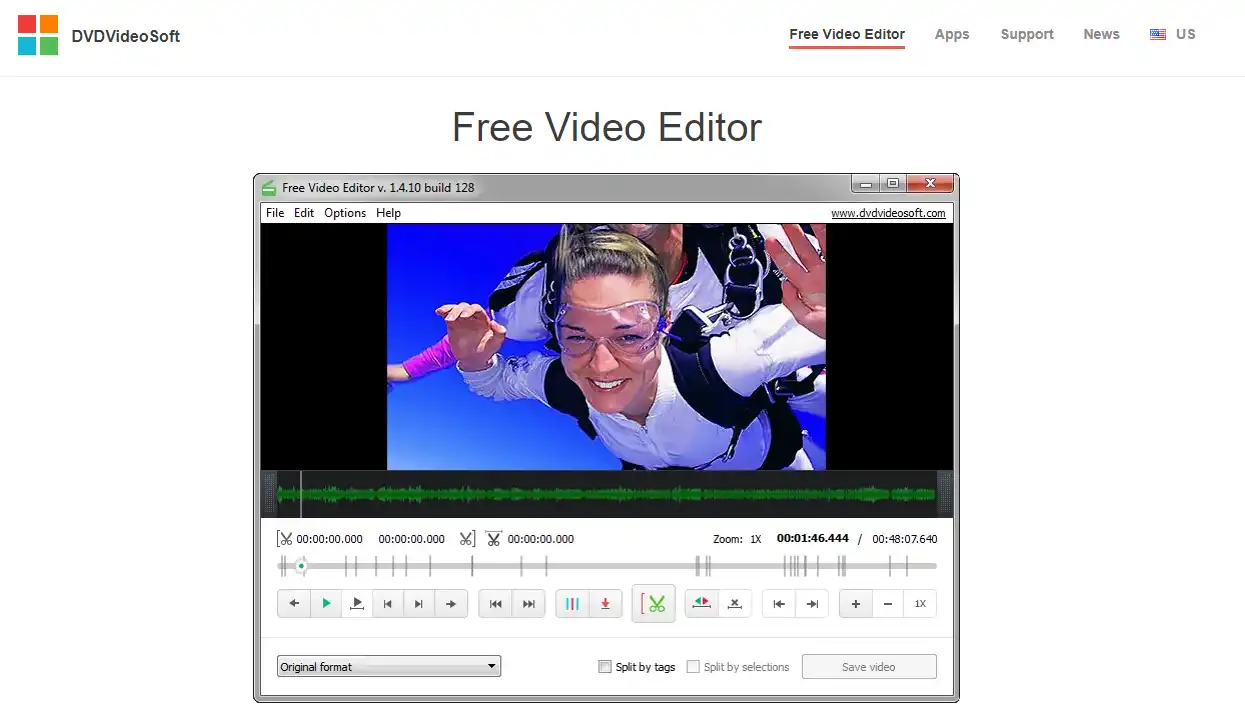 This Skype recorder has no usage restrictions or watermarks. You can access various controls for recording Skype calls in both audio and video.
The sort of equipment you are using has a big impact on the audio and video recording quality. In addition, it can be used to record live performances.
Pros:
Easy to use
Support different recording modes
Low CPU requirements
Stop recording automatically after the call hang up
Cons:
Uncontrol recording quality
Don't support automatic call recording
Have no editing tools
Receive no notifications
9. Ecamm Call Recorder
Ecamm Call Recorder is very popular as one of the best free Skype video call recorders for Mac. It's specially designed for broadcasting platforms. With Ecamm Call Recorder, you can get high-quality video recording and audio recordings.
You can use the Ecamm Call Recorder to record your Skype video conferences, podcasts, interviews, and other events. And you can choose the size of the video because some smaller video images work better on slower systems. You can also record using its unique side-by-side and split-screen modes. But this may result in subpar recordings.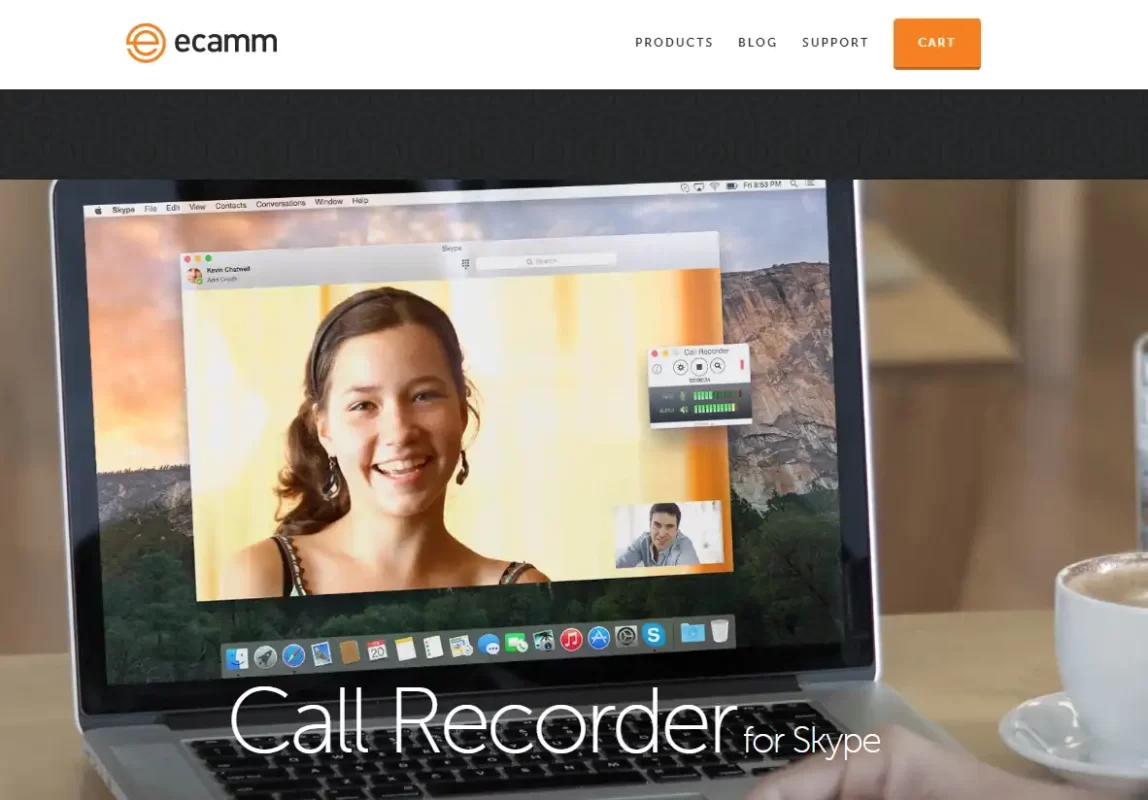 Ecamm call recorder's file conversion feature is also well-liked. It can convert your Skype video calls to MP3 files. You can use these files in podcasts, YouTube, or online movies on Vimeo. With the multi-track recording feature, it can also divide the tracks after your call has ended.
Pros:
Split screen recording
Support backup recording
Record without audio compression
Select video file size
Built-in editing tools available
Cons:
Only available for macOS
Limited editing features
The subscription version is very expensive
10. Callnote
Callnote is another easy-to-use Skype video call recording software. It has a simple and clear user interface with no limitations. It supports Windows 7/8/10 and MacOS. Callnote basic version is free but has few options and you can only record ten times per month. With the Premium version, you can record up to 30 recordings each month. The Pro version allows unlimited recordings and usage of all tools.
You can record high-quality audio and video with Callnote on a variety of platforms, including Skype, Google Meets, Facetime, Zoom, WebEx, and more. During a Skype call, you can choose to record audio and video simultaneously or several audio tracks.
Additionally, you can share these recorded files on YouTube, Facebook, and other websites. You can also convert the recorded voice to text.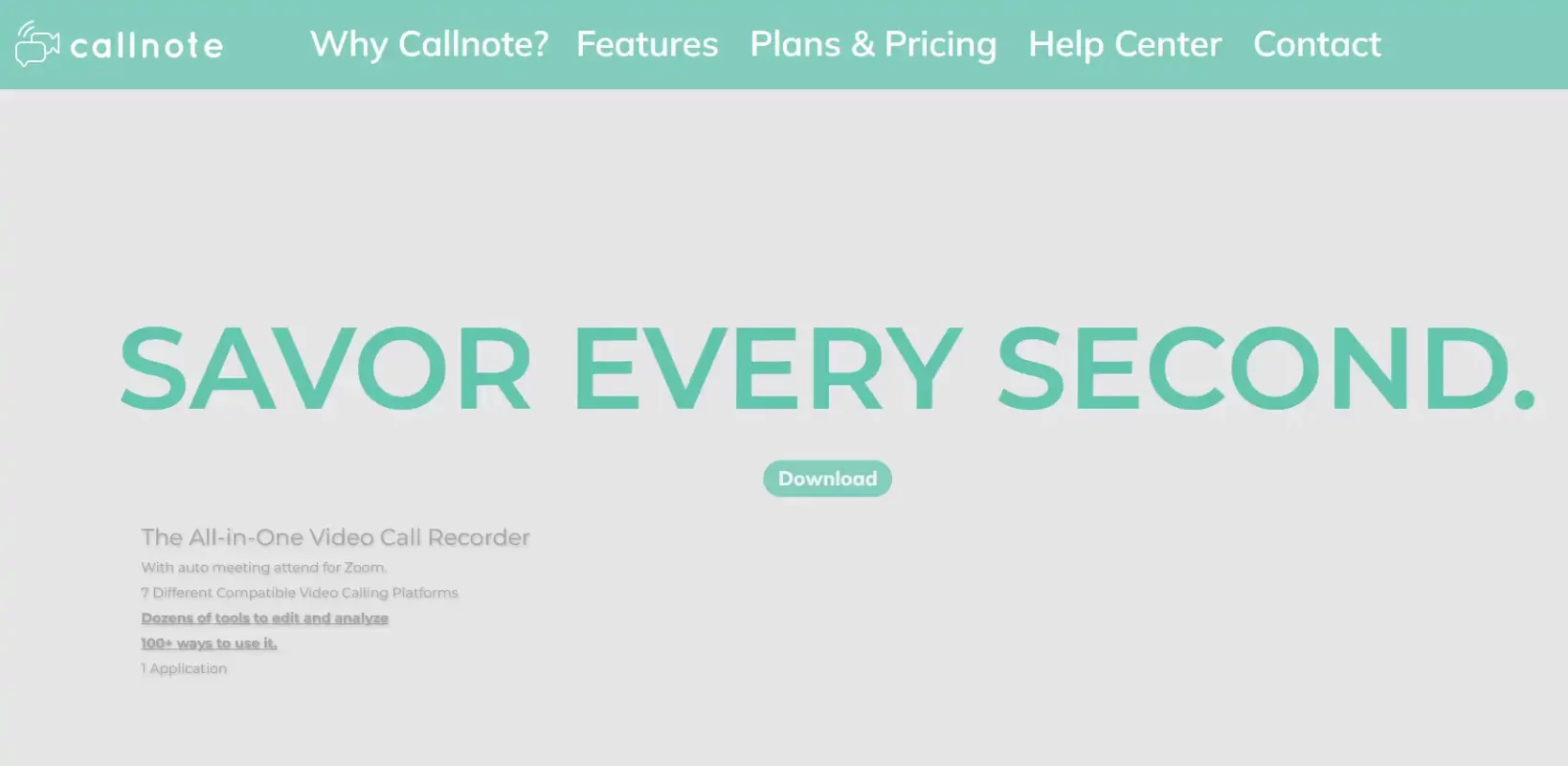 Pros:
Built-in editor to optimize recordings
Support quick sharing
Automatic transcription
Wide range of tools
Cons:
Work only on Mac
Text transcription is not smooth
The free version is limited to 10 recordings per month
Conclusion
As you can see, there are a lot of excellent Skype recorders out there. They can record Skype calls on Windows and Mac. Each of these Skype screen recording tools has its benefits and drawbacks. Now all you need to do is select the best Skype recorder to record a Skype video call successfully.
For beginners, you can choose some easy-to-use and free Skype recorders. And if you want a full-featured recorder, please try FineCam. It allows you to capture high-quality Skype video calls and save them automatically.