In this era of collaboration and communication, Zoom meeting and Zoom webinar are definitely among the best tools that can help you improve work efficiency. These two tools are easily confused since their functions seem similar, but in fact, they are different in many aspects too.
In this article, we will show you the key differences in Zoom meeting vs webinar, the proper situations to use them, and a software recommendation that can help you change the Zoom background.
What are Zoom Meetings and Zoom Webinars?
Zoom meeting is one of the most popular products of Zoom, it allows you to have online meetings with your employees and colleagues, or have a face-to-face chat with friends and families. Zoom meeting is usually used to host more interactive sessions, so your attendees will have more participation.
Meanwhile, the Zoom webinar can be regarded as a virtual online lecture hall, which is much larger than a meeting room. Most of its functions are concentrated on the host, co-host, and panelists. A webinar is usually used for large audiences or public events.
Key Differences in Zoom Meeting vs Webinar
Participant Capacity
When comparing Zoom meeting vs webinar capacity, Zoom meeting has a smaller participant capacity than Zoom webinar.
The free licensed Zoom meeting can hold up to 100 participants, but you purchase the paid plan and use the large meeting add-on to expand the limit to up to 1000.
As for the Zoom webinar, it supports more participants ranging from 500 to 50000 depending on your license.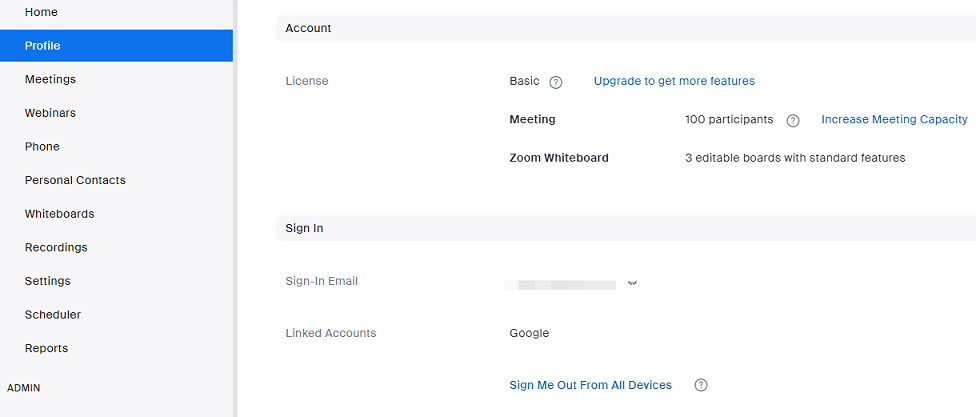 Audio and Video Sharing
In a Zoom meeting, all participants are able to mute or unmute their own audio input and share audio during the Zoom meeting. Situations are different in a Zoom webinar, only the host and panelists can adjust their audio, and other participants can only listen. But the host of the Zoom webinar is also able to unmute any attendee.
On the other hand, the video sharing. Similar to audio sharing, all participants in a Zoom meeting can share their screens. However, a Zoom webinar only allows the host and panelists to do that.
Cost
The actual cost is no doubt another essential difference between Zoom meeting vs Zoom webinar. Generally speaking, Zoom meeting would be cheaper than Zoom webinar.
Zoom meeting is a basic function that is available for any Zoom user. You can use it for free and if you want more advanced features and fewer limits, you can also upgrade your Zoom license to pro version or higher.
In the meantime, let's take a look at the Zoom webinar. It's a paid add-on of Zoom and you will need to pay for subscriptions to unlock it on your Zoom account. The price for the Zoom webinar varies according to the number of total attendees, more attendees require a higher level of subscription, and you need at least 500 attendees to be able to purchase the subscription for the Zoom webinar.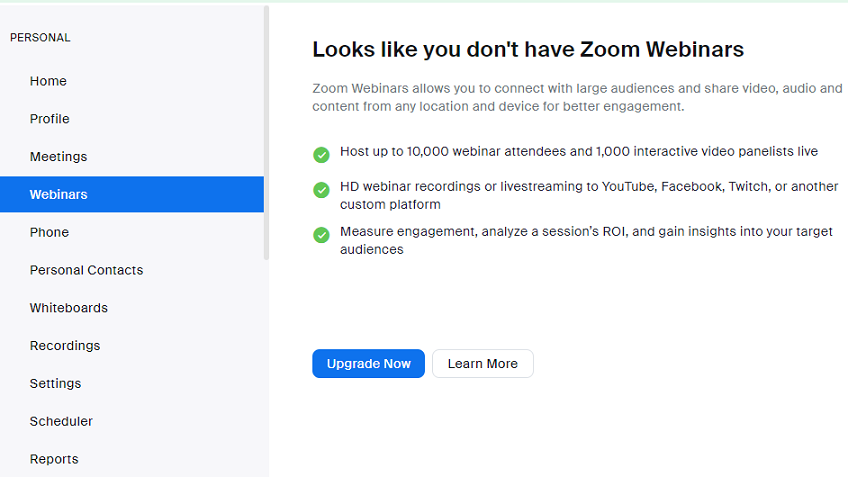 Participant Role
Both Zoom meetings and Zoom webinars involve the host, co-host, and participants. But Zoom webinars also have panelists that Zoom meeting doesn't.
The host has all the permissions for operations, such as live streaming, starting polling, and ending the meeting or webinar, while the co-host has most of the host's rights. Panelists are similar to attendees, but they have more interactions with the host and co-host. As for the attendees, however, are only able to chat, raise hand, answer polls, and ask questions in Q&A, they have few permissions during webinars.
And of course, whether you are a host or a participant, Zoom etiquette is always important if you want to leave a good impression on everyone.
Breakout Room and Waiting Room
Currently, the breakout room and waiting room are two features that are only available for Zoom meetings.
The breakout room allows you to split all the participants into 50 separate groups at most, and each of them can work independently. This function is useful for facilitating smaller, focused discussions and group work. The host and co-host can switch between groups freely and are also able to send a message to all groups or end the breakout room function.
The waiting room is a useful tool to help the host ensure only the right participants can enter the meeting. The host can keep all the participants in the waiting room, and then admit them one by one or admit all at once. And it's also possible for the host to move any unwanted participant to the waiting room during the meeting.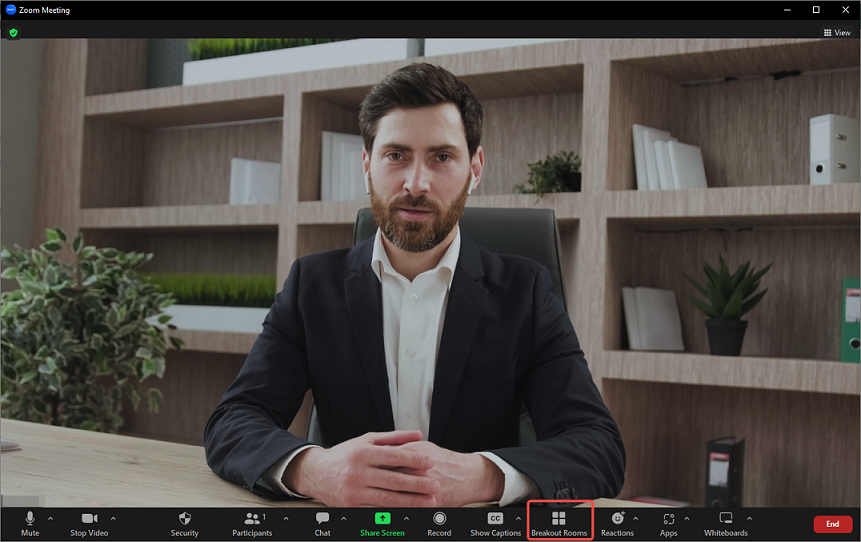 When to Use Zoom Meeting or Zoom Webinar?
Since these two tools have so many differences, you need to think about their most suitable situations when comparing Zoom meeting vs webinar. Don't worry though, we will show you some commonly used situations for reference.
Zoom meeting is for connecting a group of people for discussion and collaboration, it's best used in the following situations:
Situations for Zoom meeting
Group collaboration
Team meetings
Online classes
Sales demos
Office hours

Zoom webinar works better for presenting to a large audience and the host has more control, it suits the following situations best:
Situations for Zoom webinar
City council meetings
Product announcements
Virtual conferences
Religious gatherings
Concerts

Bonus: Change Background in Zoom Meetings and Webinars
Spending a long-time in only listening and watching people talking is dull for sure, and that often happens to the participants of Zoom meetings and webinars.
To spice up your meetings and webinars so it won't be too boring for the participants, you may try to use virtual background, here we recommend using FineShare FineCam to do that.
FineCam is an AI-powered virtual camera software that allows you to change the webcam background during Zoom meetings and webinars with ease. There are a lot of virtual background presets available, and you can also use other things like YouTube videos, local images, web pages, or app windows as your Zoom background. Moreover, you don't even need a green screen to use the virtual background with FineCam, and since it supports turning your phone into a webcam, you can save quite a lot budgets on purchasing external equipment.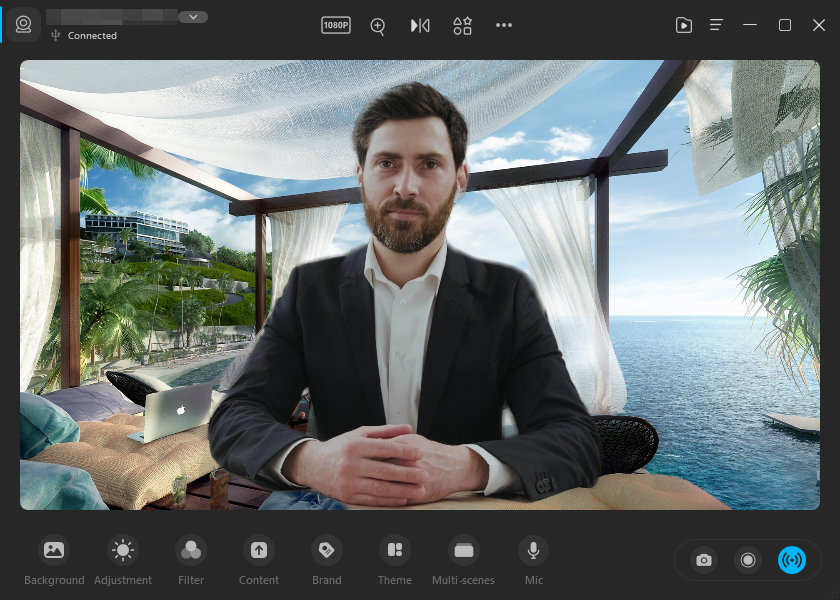 Conclusion
Choosing between Zoom meeting vs webinar should consider many factors, and we hope this post can help clarify your doubts.