Step into the realm of virtual reality, where the boundaries of imagination fade away, and you become the master of your virtual destiny. The Oculus Quest 2 has captured the hearts of VR enthusiasts worldwide, offering an unparalleled level of freedom and immersion.
But hold on tight, as we unveil a secret that will take your VR adventures to exhilarating new heights. Picture this: transforming your voice into the fierce growl of a dragon, the mischievous laughter of a cartoon character, or the robotic tones of a futuristic android.
With the 3 best voice changers for Oculus Quest 2, the possibilities are as boundless as the virtual worlds you'll explore.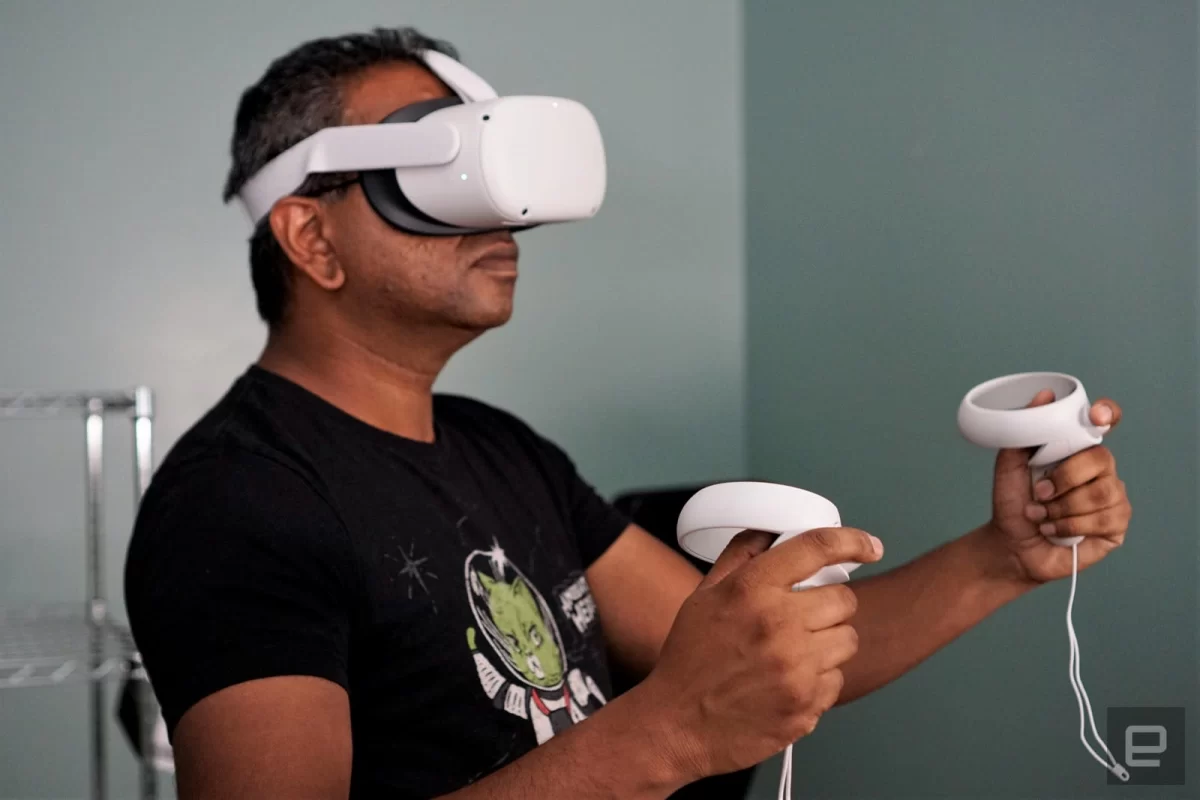 3 Best Oculus Quest 2 Voice Changers
To help you find the best voice changer for Oculus Quest 2, we have reviewed some of the most popular and trusted ones. Here are our top 3 picks.
FineShare FineVoice
Have you ever wondered what it would be like to sound like someone else? Are you ready to take the VR world by storm with your unique voice and persona? FineShare FineVoice is the ultimate voice changer app for your Oculus Quest 2. It's a cutting-edge AI voice changer that empowers you to change your voice like never before.
With FineVoice, you could be a superhero, a villain, a Mandalorian, a celebrity, or a cartoon character. You could make your friends laugh, scare your enemies, or impress your crush. You could explore different worlds and scenarios with a different voice every time.
FineVoice goes beyond Oculus Quest 2. It can be used with various other platforms, such as Fortnite, Valorant, Overwatch, League of Legends, and more, you can enjoy its powerful features across different gaming experiences.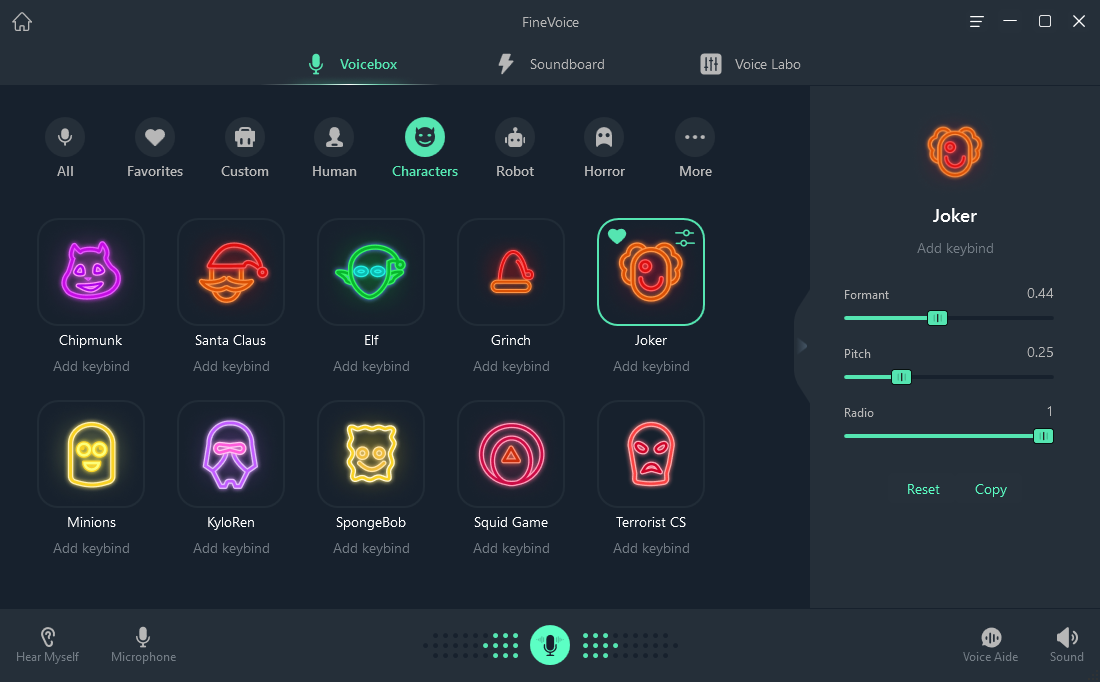 Another voice changer app that you should try for Oculus Quest 2 is Clownfish Voice Changer. It's a popular voice changer that seamlessly integrates with Oculus Quest 2. This lightweight and user-friendly software is an excellent choice for beginners and seasoned VR enthusiasts alike.
You can choose from over 50 voice effects, such as alien, robot, helium, baby, etc. You can also add background noises, music, or text-to-speech messages. Whether you want to sound like a Space Marine or an alien invader, or a Stormtrooper, Clownfish Voice Changer has you covered.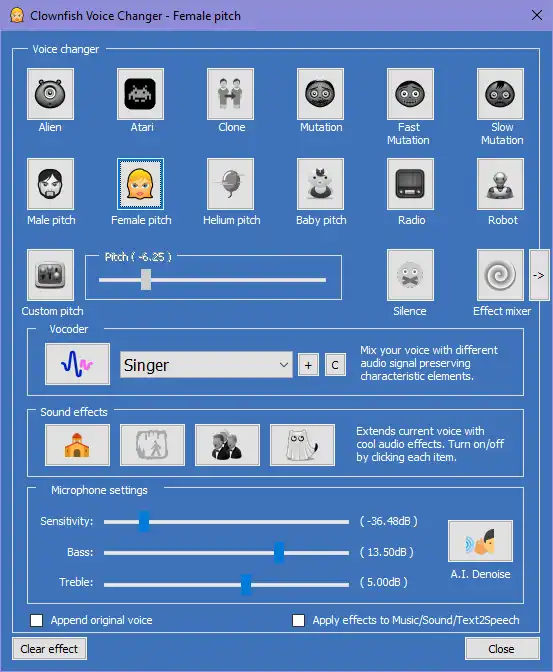 Voxal Voice Changer
Voxal Voice Changer is a powerful and easy-to-use voice changer for Oculus Quest 2 that can help you unleash the charm of your voice and get more attention. It supports Windows and Mac OS X. Additionally, you can connect it with all of your preferred applications, like Skype, TeamSpeak, Discord, CS: GO, Rainbow Six Siege, Steam games, and more.
With Voxal Voice Changer, you can choose from over 100 voice effects, such as male-to-female, baby, alien, hacker, echo, and many more. You can also create your custom voice effects with the voice maker feature. And you can also add background noises to your voice, such as a busy office, train, forest, etc.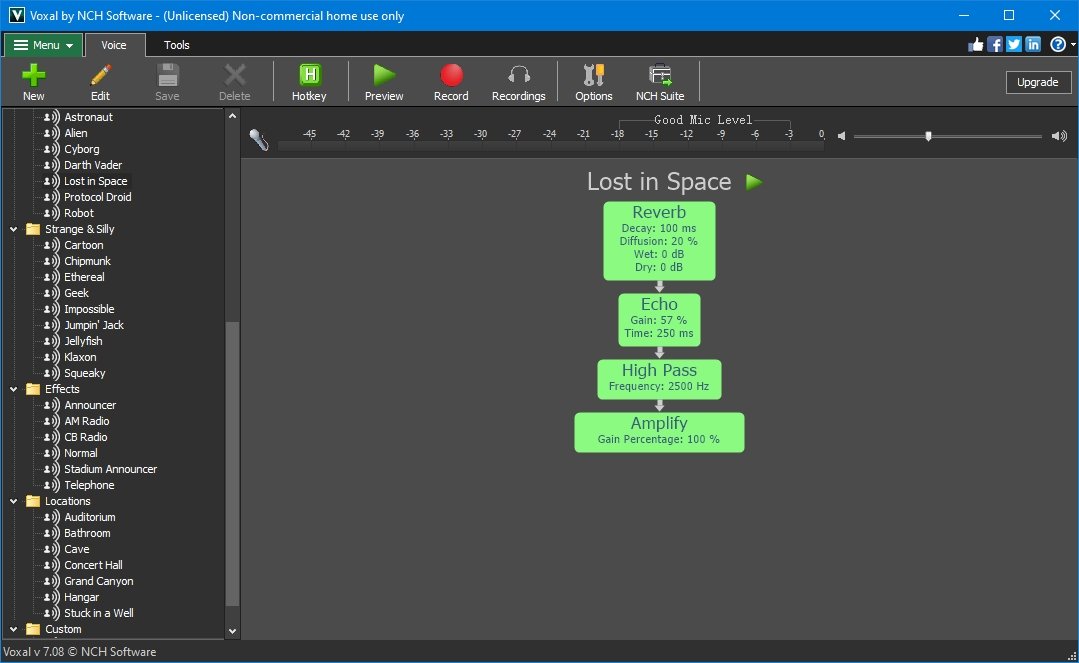 Tips: How to Get a Voice Changer on Oculus Quest 2?
To help you make the most of this powerful tool and elevate your VR experience, here are some tips on how to use FineVoice Voice Changer on Oculus Quest 2 effectively.
Step 1: Download and install the FineVoice app on your Windows PC.
Step 2: Make sure your Oculus Quest 2 is connected to your PC for seamless integration.
Step 3: Assign your headphone as the output and microphone as the input device.
Step 4: Explore the voice effects and choose the voice that best suits your VR adventure.
Step 5: Adjust the tone, pitch, and sound of your voice to create a unique and captivating persona.
Step 6: Have fun exploring the endless possibilities FineVoice offers and let your imagination run wild.
Don't miss out on the magic of FineVoice for Oculus Quest 2. Embrace the charm of your voice and embark on a journey of unforgettable adventures in the metaverse!
Conclusion
As you embark on your virtual escapades with the Oculus Quest 2 and its finest Oculus Quest 2 voice changer, remember to embrace the power of creativity and the joy of connecting with others.
Here we recommend you download and try FineVoice. The world of virtual reality awaits, with the best voice changer for Oculus Quest 2 at your side, ready to amplify your VR experience like never before. Have fun changing your voice in Oculus Quest 2!
FAQs about Oculus Quest 2
What is the Resolution and Refresh Rate of Oculus Quest 2?
The Oculus Quest 2 features a resolution of 3664×1920 (1832×1920 per eye) and a refresh rate of 90Hz, delivering a high-quality and smooth VR experience.
Can I Share My Oculus Quest 2 with Others?
Yes, Oculus Quest 2 supports multiple user profiles, enabling users to share the device with family members or friends while maintaining personalized settings and game progress.
Can I Use Prescription Lenses with the Oculus Quest 2?
Yes, Oculus Quest 2 supports the use of custom prescription lenses or lens inserts designed for VR headsets, allowing users with prescription eyewear to experience VR comfortably without wearing their glasses inside the headset.