So, you will upload some of your videos on YouTube soon and have some privacy concerns about your voice. Don't be nervous; it's understandable. You can solve the issue by using a voice changer for YouTube, but which one is the right tool?
Here, we will discuss some of the finest voice changers that can convert your voice into any desired version. Whether it can be a girl, boy, baby, robot, alien, celebrity, or any sound you like. So, without wasting time, let's get into their details!
#1. FineShare FineVoice
Fineshare FineVoice is a powerful AI voice solution that works on Windows system. It offers an easy-to-use voice changer to modify your voice in YouTube streaming. You can also use it to create any voices you like to dub your YouTube videos.
Whether you are a streamer, podcaster, content creator, or gamer, you can get help from a voice changer, voice recorder, professional voice generator, etc.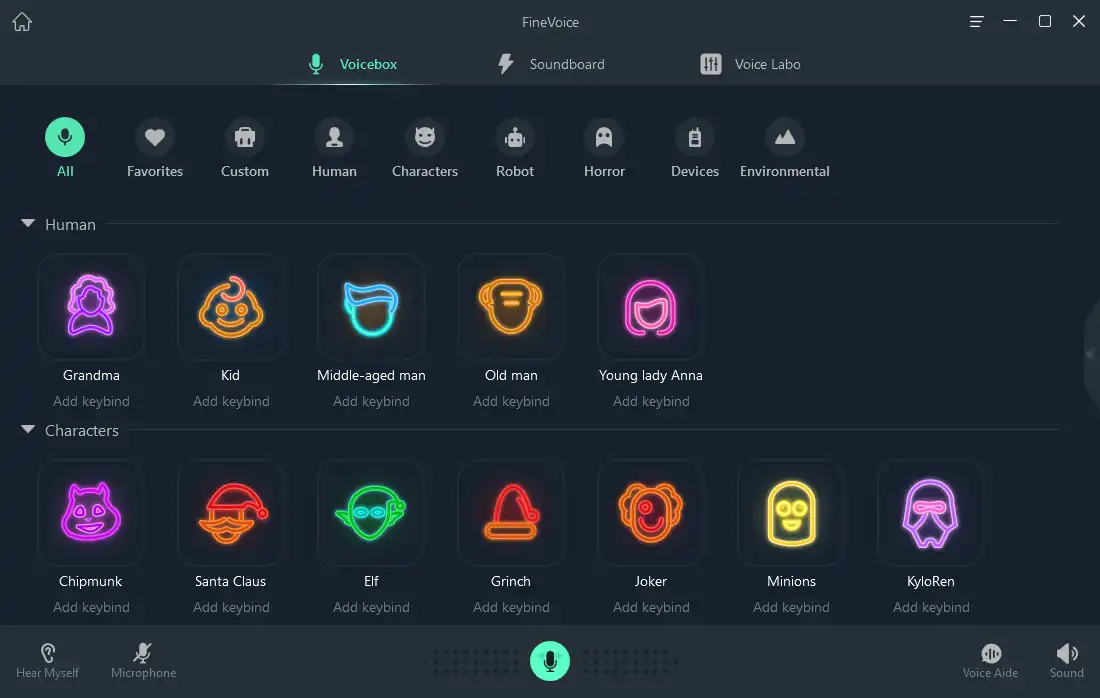 Supported Platforms: Windows 10/11
Highlights:
Various Voice Filters: You can find common voice effects and popular voices like Darth Vader, Minions, and Ghostface. You can apply or create custom voice filters for your stream or videos.
Multi-track Voice Recorder: You can record your voice from a microphone, local audio files, and system audio. In this voice recorder, you can add audio effects and voice effects to different audio sources.
Box of Voice Tools: FineShare FineVoice offers text-to-speech, speech-to-text, audio file voice changer, and audio extractor tools.
Pros
Real-Time Voice Changer
30+ Voice Effects
200+ Sound Effects
Intuitive User Interface
Cons
#2. Voxal Voice Changer
Voxal Voice Changer enables users to cover up or change their voices on the internet for privacy or entertainment. Furthermore, you can create voices for voice-over videos, audiobooks, podcasts, and games and apply multiple effects to a recorded audio file with the ability to listen to the result.
It is an exciting YouTube voice changer that integrates well with most streaming platforms, such as YouTube, Twitch, and Facebook Live, and communication apps, such as Skype or Team Speak.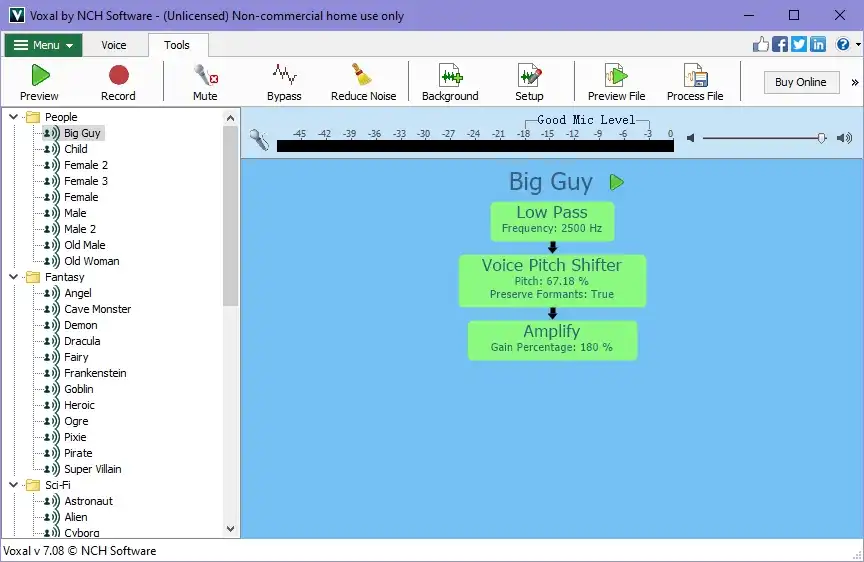 Supported Platforms: Windows XP/7/8/8.1/10/11, Mac OS
Highlights:
Ease of Use: You can apply effects in real-time using a microphone or other audio input device. You only need to load audio and apply the effect and save it.
Huge Library: Robot, girl, boy, alien, ethereal, echo, and many other vocal effects are available in the library. Thus, creating a large number of unique voice effects.
Low Computational Power: Low CPU usage will not interfere with other running applications. You can change your voice for YouTube or games seamlessly.
Pros
Real-Time Voice Change
Consumes No System Resources
Compatible With Multiple Apps & Devices
Simple User Interface
Cons
A few applications demand a restart
#3. Clownfish Voice Changer
Clownfish Voice Changer is another voice changer for YouTube videos you can use to change your voice on various platforms. It allows you to produce a customized voice in programs such as YouTube, Skype, Hangouts, TeamSpeak, Steam, Discord, and many others.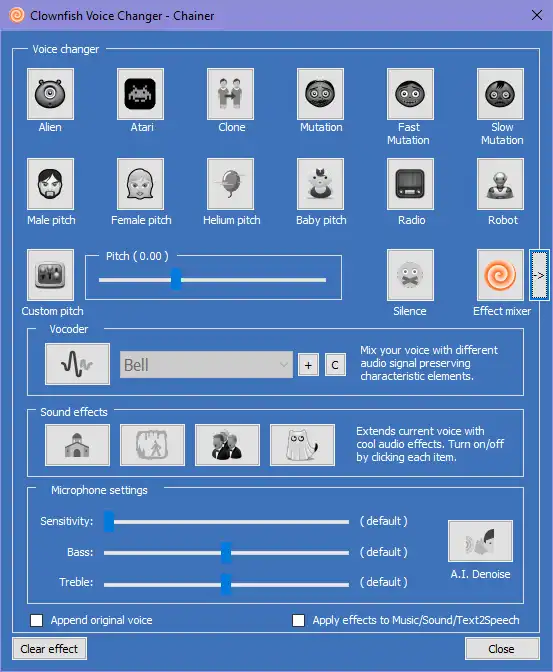 Supported Platforms: Windows 7/8/8.1/10/11
Highlights:
Free to Use: The software is easy to download and free to use for any individual, making it accessible to everyone.
Variety of Effects: You can choose from a variety of voice effects. It can run in the background and change any audio that comes in through the microphone or any other line.
Modern Design: The user interface is simple to understand, contributing to the app's popularity. There are no challenges to the program, and anyone should be able to use it. Everyone can use the program quickly.
Pros
Change the Volume of Your Voice
Great Troubleshooting Assistance
Complete Control Over Voice & Sound Effects
Reduce the Background Voice
Cons
Various bugs can be found
#4. AV Voice Changer Software
AV Voice Changer Software is another versatile YouTube voice changer. This voice-over charm is specially designed to allow users to experiment with the imagination of their voice. It enables users to change their voice in real-time, either in the same gender, the opposite gender, or virtually to any voice.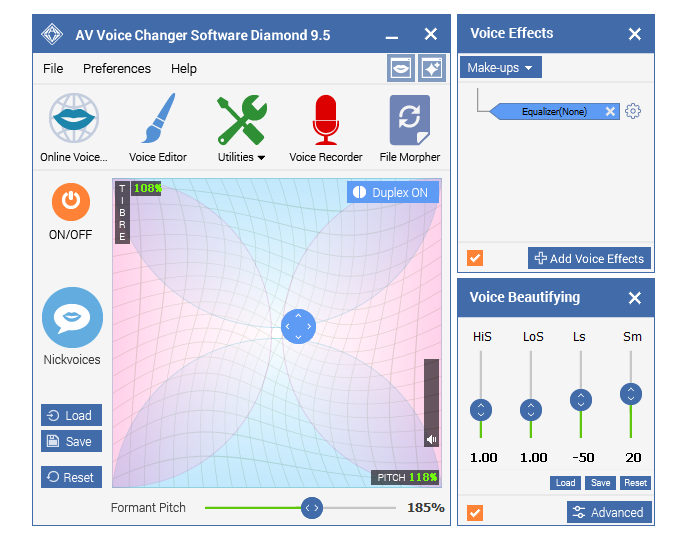 Supported Platforms: Windows Vista/7/8/8.1/10
Highlights:
Voice Morpher: With the voice morphing feature, you can add voice attributes, beautify your voice, and adjust many other advanced settings. This provides high-quality voice output by analyzing the Pitch and Timbre of the human voice.
File Morpher: This distinctive feature allows you to work on multiple files at once. You can upload different files and then save each in popular formats.
Parody Mixer: It can merge up to four different voices to create one unique one have traits of all four. This exciting feature makes it a significant voice changer for YouTubers.
Pros
High-Quality Results
Supports Keyboard Shortcut
Advanced Algorithms
Multiple Files Operation
Cons
Pop-up advertisement on the free version
#5. SuperVoiceChanger
SuperVoiceChanger is another excellent application for changing voice in real time. The application's interface is simple, and you can modify multiple parameters from the same window. If you want to start a conversation on YouTube, Skype, or WhatsApp desktop, you can easily hide your identity using the app's numerous voice filters.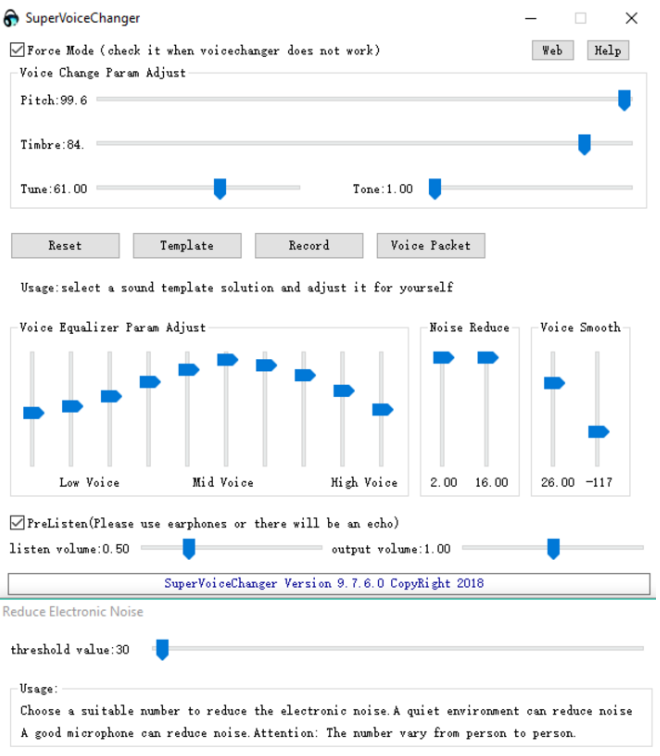 Supported Platforms: Windows 7/8/10/11
Highlights:
Auto Save: It saves the previous settings automatically. So, the next time you enter the app, you can continue from where you left it, making it a useful voice changer for YouTuber.
Available Free: SuperVoiceChanger is freely licensed as freeware for the many Windows 32-bit and 64-bit operating systems.
Create Voice from Text: You can also convert some text into voice and then change it into your desired voice.
Pros
Easy to Use
Enhanced Modification Settings
Saves Previous Settings
Create & Change Voices from Texts
Cons
Only compatible with Windows
#6. Audacity
Audacity is an open-source audio recording and editing software available for free. You can use it to create your recordings, remove noise, cut and combine clips, apply special effects, and do various other things to achieve truly professional results. You can also use it as a voice changer for YouTube and many other platforms.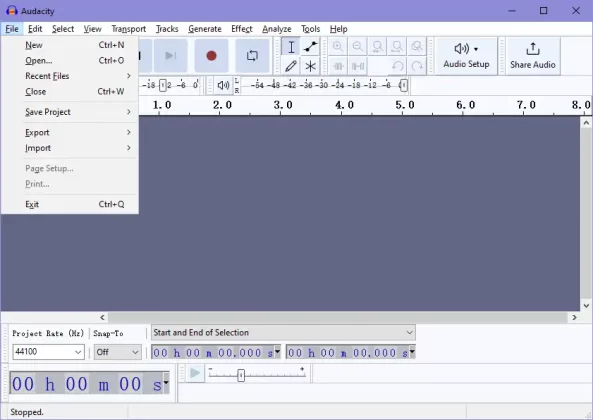 Supported Platforms: Windows 7 & above, Mac OS 10.6 & above, and Linux
Highlights:
Versatile: It is a highly versatile piece of software you can use for various purposes other than just changing your voice.
No Size Restrictions: It can enhance any audio file with multiple plugin integration. There are no size or length restrictions on your projects.
Efficiency: You can professionally change audio into any desired voice and tone with excellent results, making it the best voice changer for YouTube videos.
Pros
Advanced Audio Editing
Loaded with Numerous Effects
Excellent Quality & Usability
Support Multiple Devices
Cons
Requires skills to learn to edit
#7. VoiceChanger.io
VoiceChanger.io is a web-based online tool to change your voice. It can effectively change the audio of uploaded sound into different voices. You can also convert your voice into many different other rea-time. The tool is free to use and has a simple user interface.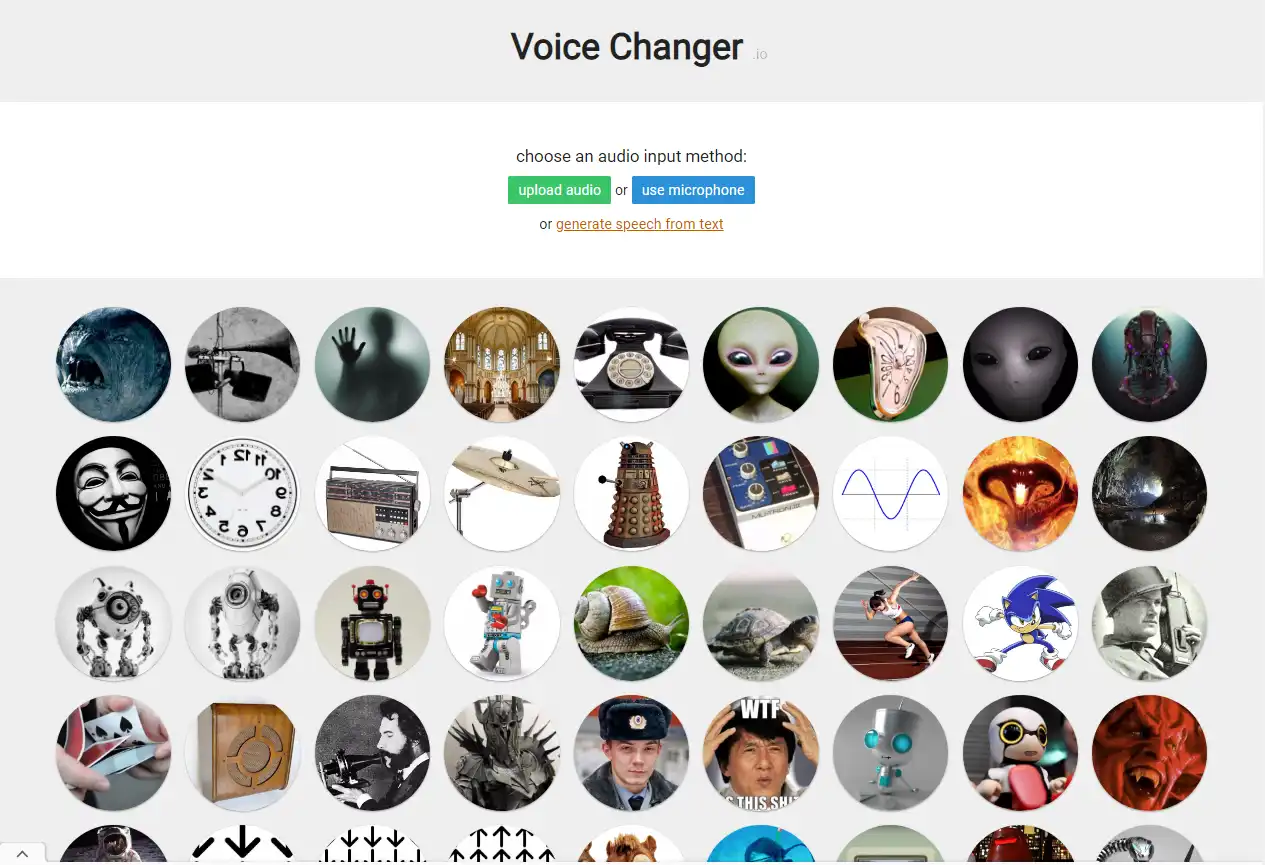 Supported Platforms: Any platform (since it is a web-based solution)
Highlights:
On-the-Go Usage: As VoiceChanger.io is a browser-based tool, you don't need to install any software. You can use it on the go.
Instant Sharing: After you use the tool, you can share it on any social media platform like Facebook, Twitter, or Instagram.
Diversified Library: The platform offers 50+ pre-defined voices of many characters or items. You can select any one of them or create a custom voice.
Pros
Online Tools
Speed Control
50+ Voices Library
Super Easy UI & UX
Cons
You cannot change your voice for streaming platforms
Conclusion
Changing your voice nowadays is easy by using different tools available on the internet. No matter if you want them for your YouTube videos or any other reason. We've given you the 7 best voice changers for YouTube videos. Select anyone of them and make your YT videos more private.