Podcasts are great, but they need transcripts to be more accessible and SEO-friendly. Transcripts are text versions of your podcast audio that you can use for show notes, captions, and blog posts.
But transcribing podcasts can be time-consuming and tedious. That's why you need podcast transcription software.
Podcast transcription software is a tool that automatically converts your podcast audio into text using AI technology or human transcribers. But which one should you use?
In this post, we will compare 6 of the best podcast transcription software to save you time in 2023. We will look at their features, pricing, accuracy, and ease of use, and help you find the best one for your podcasting needs.
#1. Rev
Rev is a podcast transcription service that offers both AI and human transcription options. You can upload your podcast audio files and get them transcribed in text format with high accuracy and quality.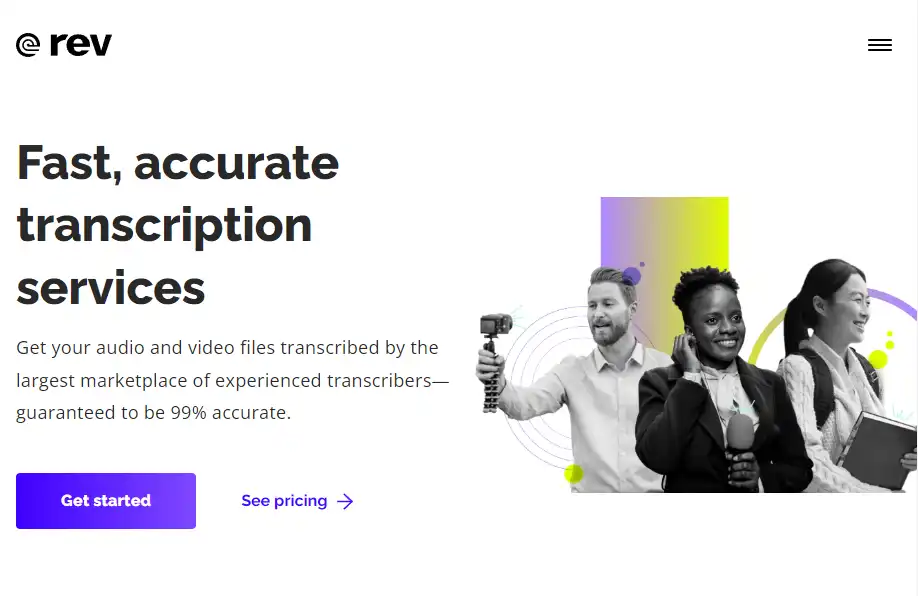 Highlights:
AI and human transcription options
Collaborative web space
Integrations with popular platforms
Speaker identification
Timestamps
User-friendly editing tools
Various export formats options such as PDF, Word, TXT, SRT, VTT, and more
Pros:
User-friendly interface
Desktop, mobile apps and Chrome extension
24/7 Customer support
Fast and consistent turnaround times
High accuracy and quality
Cons:
AI transcription may not be accurate enough for some purposes
No multi-language transcription
Human transcription is expensive
| | | | |
| --- | --- | --- | --- |
| Option | Price | Turnaround time | Accuracy |
| AI transcription | $0.25 per minute | 5 minutes or less | 90+% |
| Human transcription | $1.50 per minute | 24 hours or less | 99% |
Price Policy
Rev also has a subscription plan that includes 20 hours of audio recordings transcribed per month for a flat $29.99 per month. This plan is best for professionals who use a transcription service regularly.
#2. Sonix
Sonix is a podcast transcription generator that uses artificial intelligence to transcribe your audio and video files in minutes. It claims to have the highest accuracy among AI transcription software and supports over 38+ languages.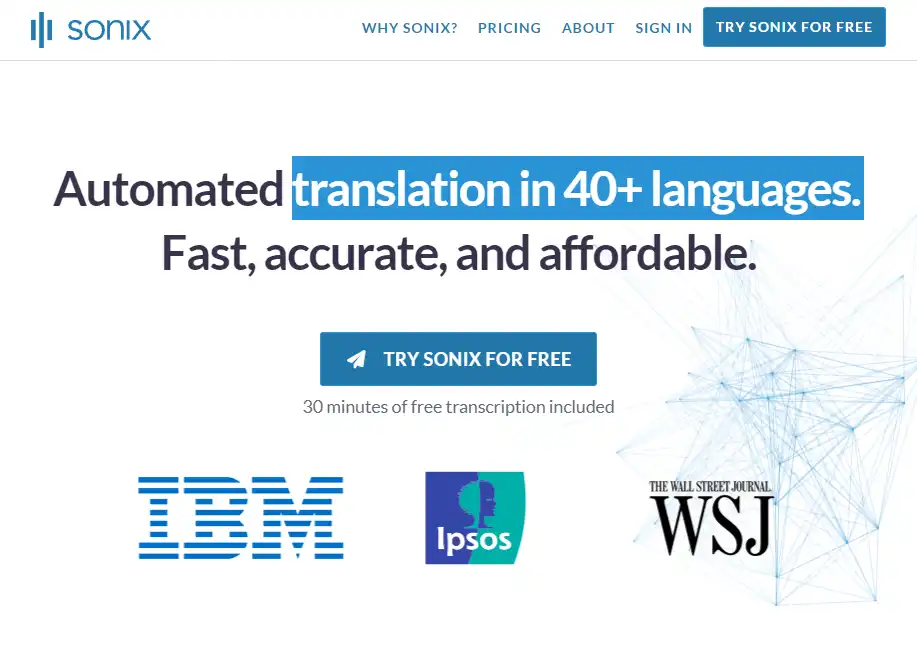 Highlights:
In-browser transcript editor
Translation with one click
Summarization and highlighting the key points and topics
Text and subtitle exports contain PDF, Word, TXT, SRT, VTT, and more
Speaker labeling and automated diarization
Supports existing transcription uploads and multitrack uploads
Pros:
Supports 38+ languages transcription
Word-by-word timestamps
Multiple custom dictionaries
AI transcription
Cons:
No human transcription option
No speaker identification
No timestamps
Plan
Price
Features
Standard
$10 per hour
Pay-as-you-go
Perfect for project-based work
Premium
$5 per hour + $22 per month per user
Subscription service
Ideal for more frequent needs
It comes with advanced collaborative tools
Enterprise
Custom
Subscription service
Customized for large organizations
It comes with dedicated account management and support
Price Policy
#3. Otter
Otter is not a transcription software specialized in podcasting. It is designed for transcribing and sharing meeting notes, so it has some features that are more suitable for meetings than podcasts.
However, Otter can also be used for podcast transcription, as it has some features that are useful for podcasters as well.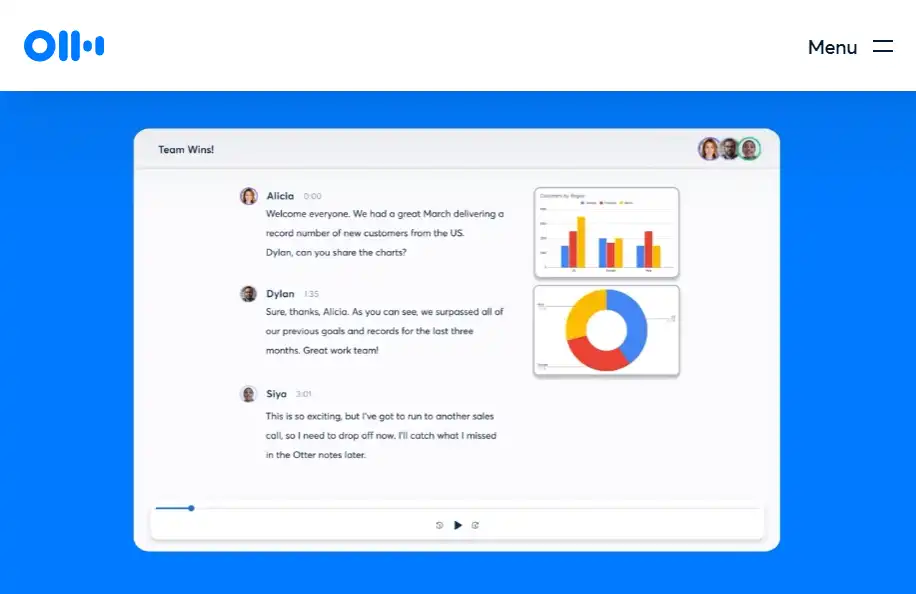 Highlights:
Live transcription for podcasts and meetings
Collaboration with your team on the same transcript
Easy sharing via email, link, or QR code
Editing text, speakers, and time codes
Speaker name identification
Powerful search tool for keywords, phrases, topics, and speakers in transcriptions
Pros:
Provides iOS, Android, and Web version
Great integrations with virtual meeting platforms
Offers playback control for podcasts
Custom vacabulary
administration and security for team
Cons:
No human transcription option
English language only
Limited free plan
Plan
Price
Features
Basic
Free
300 minutes per month
30 minutes per conversation
3 imports lifetime
Pro
$8.33 per month
1,200 minutes per month
90 minutes per conversation
10 imports monthly Advanced features
Business
$20 per month
6,000 minutes per month
4 hours per conversation Unlimited imports
Team features
Enterprise
Custom
Custom
Team features
Price Policy
#4. FineShare FineVoice
Although FineVoice is not a pure podcast transcription software. This real-time voice changer for Windows offers an AI-powered speech-to-text tool. With this tool, you can transcribe your podcasts to text with one click.
And FineVoice is the cheapest AI transcription service on the market. For video podcasts, there is only one step more – convert video to audio with FineVoice Audio Extractor.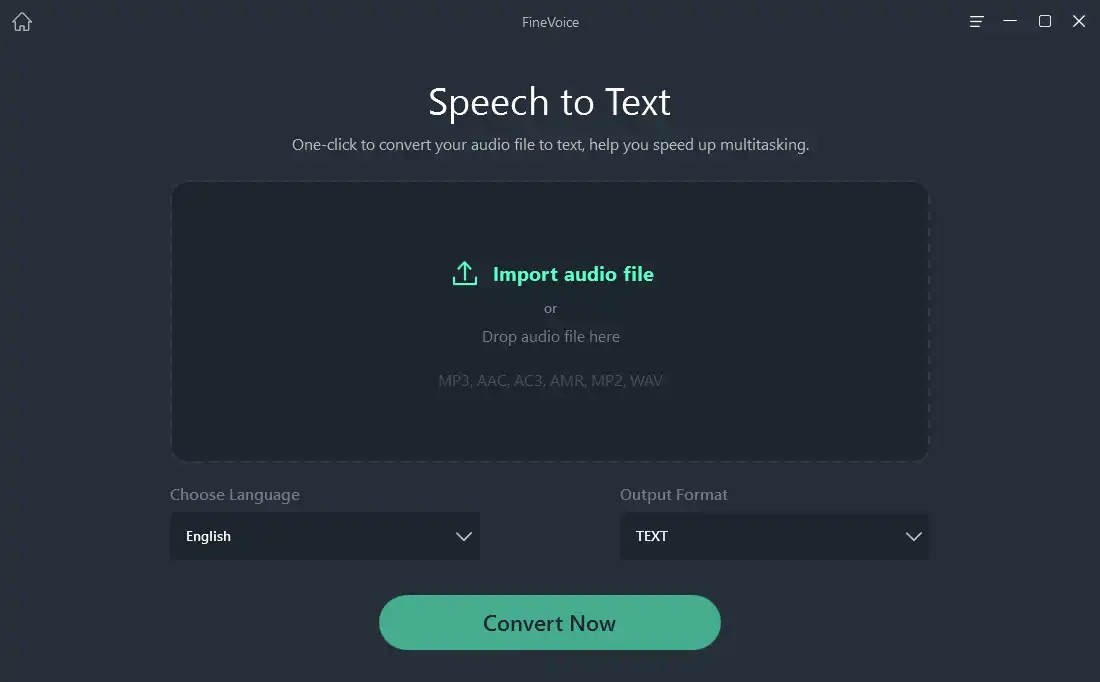 Highlights:
Multiple language options
Various output formats
Various audio import supports
High-quality voice recorder to record podcasts
Audio extractor to convert video podcasts to audio
Pros:
Intuitive interface and easy to use
Free transcription trial and cheap recharge
High conversion accuracy
Fast conversion speed
7/24 tech support
Cons:
Only for Windows
Only supports English, German, and Spanish
You can also use FineShare FineVoice to record microphone sound, system audio, iOS device sound, and audio files at the same time. With 28+ audio effects and dozens of voice effects, you can create high-quality podcasts, voiceovers, and audiobooks.
Option
Price
Features
Subscription
Month plan$9.9
120 minutes per month
Year plan $39.9
120 minutes per month
Lifetime plan $69.99
300 minutes per month
Pay-as-you-go
$3.90
60 minutes
$4.99
120 minutes
$9.99
300 minutes
$16.99
600 minutes
$24.99
1,200 minutes
Price Policy
Take away the easy guide on how to transcribe podcast to text using FineCam:
Step 1. Download and install FineCam.
Step 2. Open FineVoice and click Speech to Text on the main interface.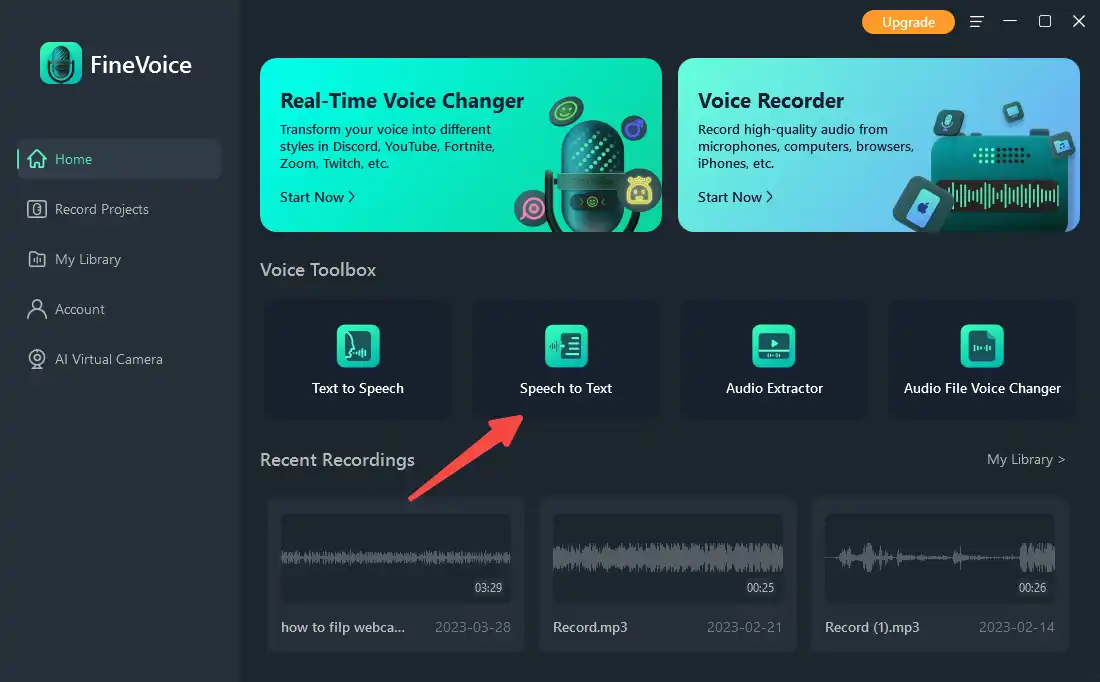 Step 3. Drag and drop your podcast file into the box.
Step 4. Select the language of the file and choose the output file format you want.
Step 5. Click Convert Now to start podcast transcribing.
Step 6. Wait for seconds and FineVoice will automatically save it in a local file.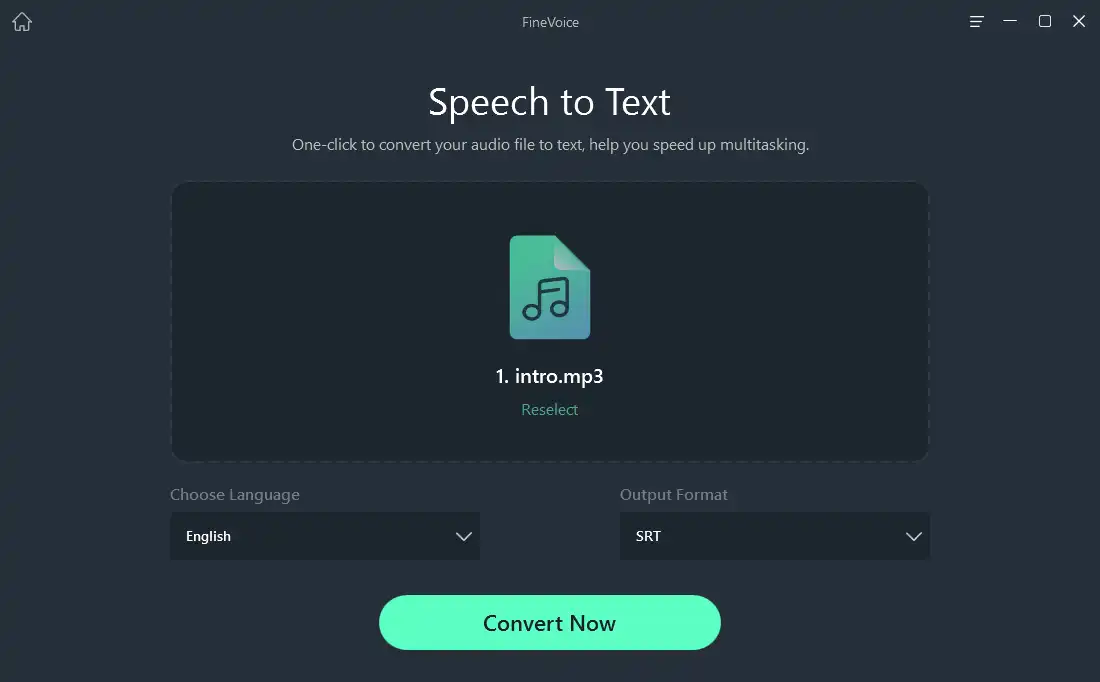 That's all you need to do to transcribe podcast audio to text in FineVoice. If you want to transcribe video podcasts, the only one more extra step is that you need to use the audio extractor of FineVoice to convert video to audio.
#5. NOVA A.I.
NOVA A.I. is a powerful and precise online podcast transcript generator that can provide text for video podcasts with just a few clicks in no time. Sign up for free, upload your podcast to your personal dashboard, and let the software transcribe the speech into text. Export as TXT, SRT, or VTT files, or hardcode the transcript to the podcast as subtitles.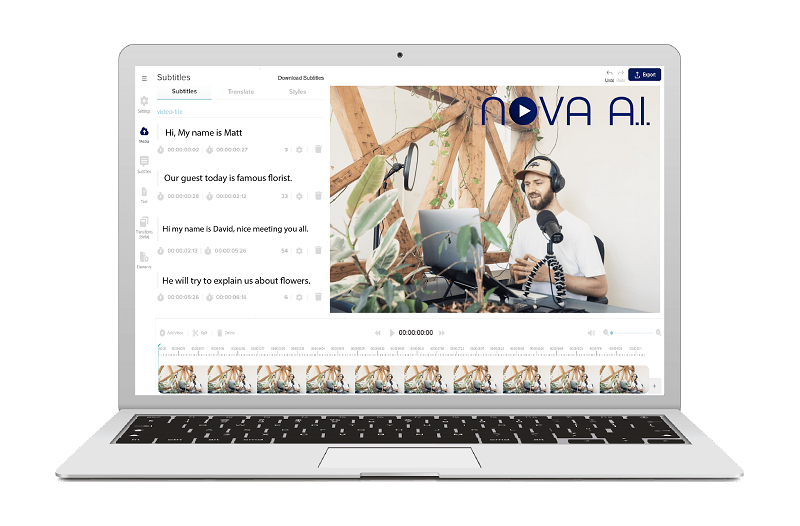 Highlights:
AI-powered with high accuracy
Save podcast transcript as TXT files or with timestamps as SRT or VTT files
Easily edit transcript text and time codes
Possible to translate the transcript into multiple languages
Save the transcript as subtitles
Invite and collaborate with colleagues on podcast projects.

Pros:
Simple to use and user-friendly interface
Browser based, no need to download any software
Free version and paid options
Fast and accurate AI transcription
Supports 40+ languages and can translate transcripts into 100+ languages

Cons:
No human transcription option
Only transcription of pre-recorded podcasts
Limited use in the free version

Plan
Price per month(Monthly/Annually)
Features
Free
$0
30 minutes of transcription per month
Basic
$10 / $8
150 minutes of transcription per month
TXT, SRT, VTT download
Pro
$18 / $14.41
300 minutes per month
TXT, SRT, VTT download
Business
$55 / $44
900 minutes of transcription
TXT, SRT, VTT download
Enterprise
Custom
Custom
Price Policy
#6. Descript
Descript is a powerful audio and video editing tool that stands out for its exceptional podcast transcription capabilities. With its advanced AI-based technology, Descript can automatically transcribe audio recordings with a high degree of accuracy, making it an essential tool for podcasters and content creators.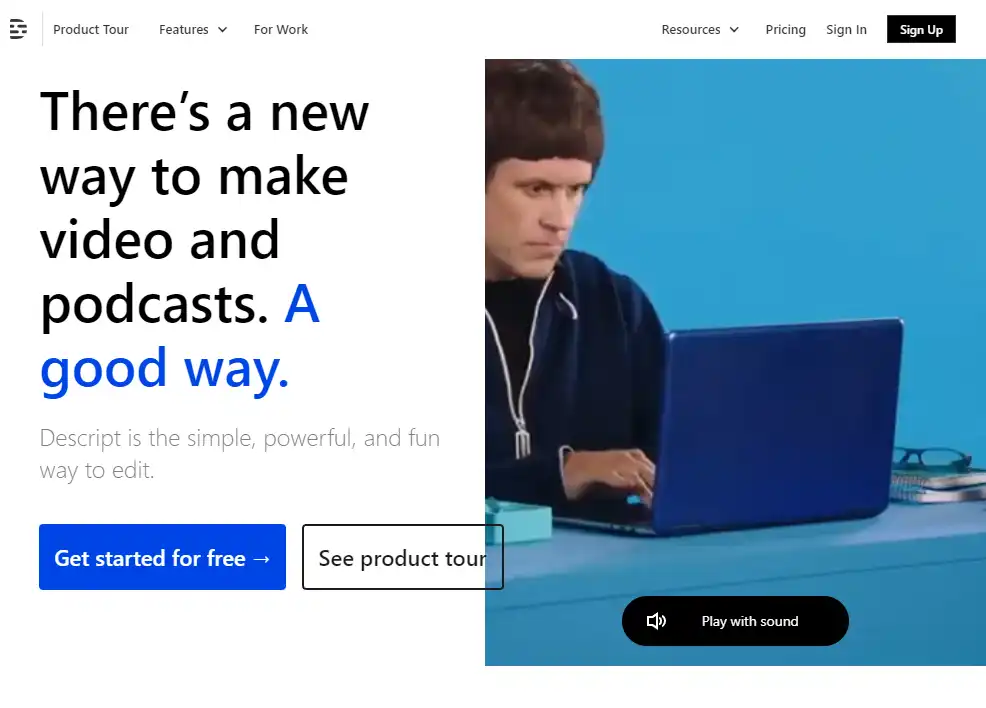 Highlights:
Automatic transcription with industry-leading accuracy and speed
Near-instant turnaround and low cost per minute
Professional transcriptionists standing by for high-quality results
Automatic speaker labels and multilingual support
Cloud sync and collaboration tools
Clip creation and AI voices for repurposing content
Screen recording and video editing capabilities
Pros:
Edit audio and video by editing text
Fast and accurate transcription
Many features for podcast production and distribution
Cloud sync and collaboration
Free and affordable plans
Cons:
No human transcription option
Only English language supported
Limited editing options
Unlimited overdub only available to Pro and enterprise users
Plan
Price
Features
Free
Free
1 hour per month
Creator
$12 per user/month
10 hours per month
$144 billed annually
Pro
$24 per user/month
30 hours per month
$144 billed annually
Enterprise
Custom
45 hours per month
Price Policy
Conclusion
Podcast transcription software can be incredibly helpful for content creators, marketers, and anyone else who wants to save time while producing high-quality content.
From the advanced AI and human transcription service of Descript to the cheapest charge of FineVoice, the five tools we've covered in this article offer a range of features and benefits to suit different needs and budgets.
Whether you're producing a podcast, recording an interview, or conducting research, transcription software can help you get more out of your audio content. Try out these top tools and see which one works best for you.
Other Posts about Podcast
Have other problems with podcasting? Check if helpful.
How to Upload Podcast to Spotify for Free
How to Start a Podcast on YouTube [2023 Guide]