As one of the most popular video games around the world, Minecraft has a huge player community full of creativity. Almost every Minecraft player enjoys building houses in the game world, and they have made countless beautiful houses in the past years, you can easily find those great works on the Internet.
However, building a house from nothing in Minecraft can be a tough challenge for new players. If you are looking for Minecraft house ideas for beginners, here are 10 ideas for you to choose from.
10 Minecraft House Ideas
Modern Survival House
Among all the Minecraft houses in survival mode, this one is a particularly suitable choice for beginners. Its structure is extremely simple and requires mostly basic materials such as oak and birchwood to build.
Although the size of this building is quite small, it still provides you with two floors available. You can store things like materials, equipment, tools, and weapons on the second floor, and use the first floor as the living room and bedroom.
For detailed building steps, you can check the channel of YouTuber SheepGG.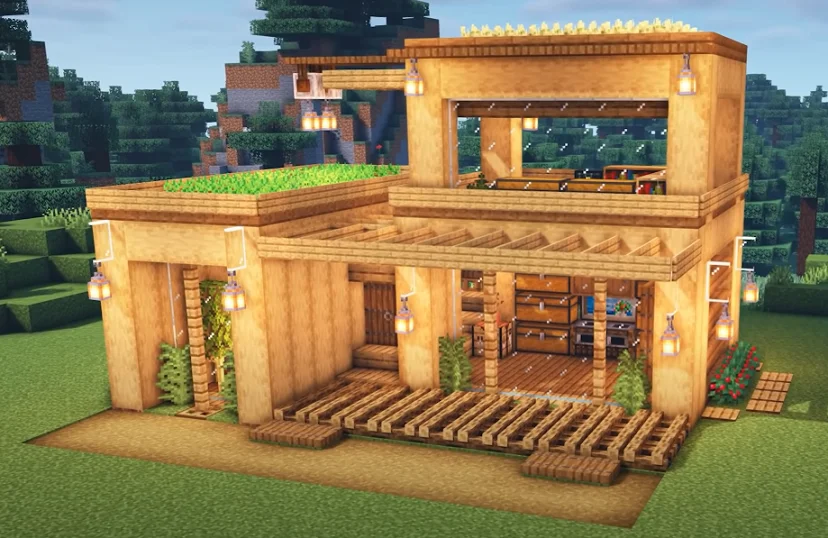 Simple Survival Hobbit Home
The Hobbit film series presented a wonderful fantasy world and made this fictional species Hobbit become famous. The Hobbits live in houses that look like caves, how about making a similar one in Minecraft and living in a Hobbit house?
Picked from a lot of Minecraft house designs based on Hobbit home, this one made by YouTuber Folli is detailed enough for beginners to follow the steps and build in survival mode. Everything is reachable without any movement inside its tidy space, and it's recommended to build this house in a forest or hill to get the best effect.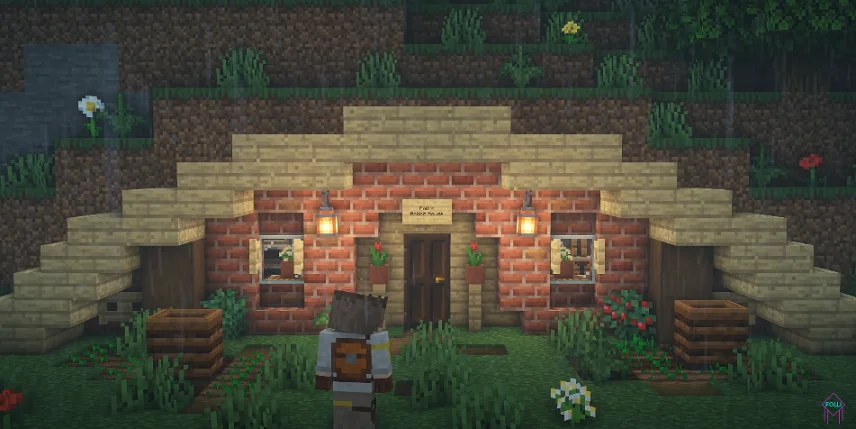 8×8 Starter House
Players who need simple Minecraft house ideas should check this out. This starter house takes only 8×8 grids of area, which means it doesn't require too many materials to build.
This starter house is a perfect choice for beginners to build when they are still learning things about how to build their own ideal houses. And since no rare materials are used in this house, you can feel free to dismantle it later after you have better ideas. You can find it on the channel of YouTuber TheMythicalSausage.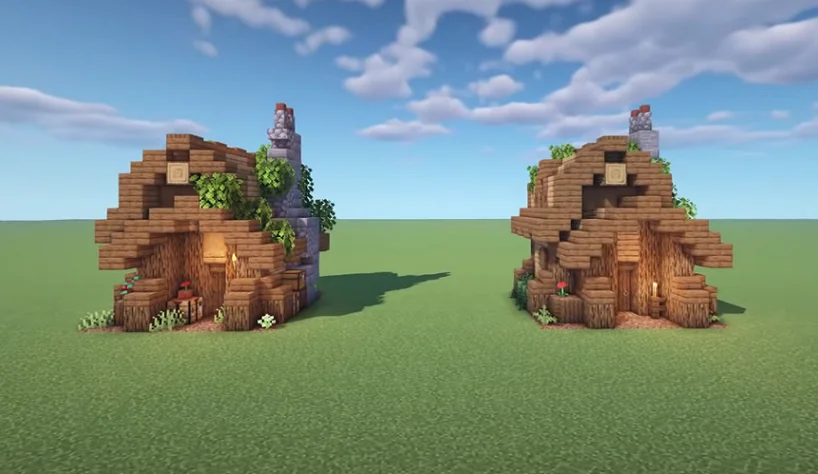 Witch House
Minecraft allows players to brew potions in the game to gain enhancement or weaken enemies. And this witch house can provide more immersive potion-brewing experiences with its creepy looking.
The left part of this house is made of bricks, but the number of required materials isn't too much, you can still start building this house at the very beginning of a new save.
For more details including how to build this house, you can find it on the channel of YouTuber PlatinumThief.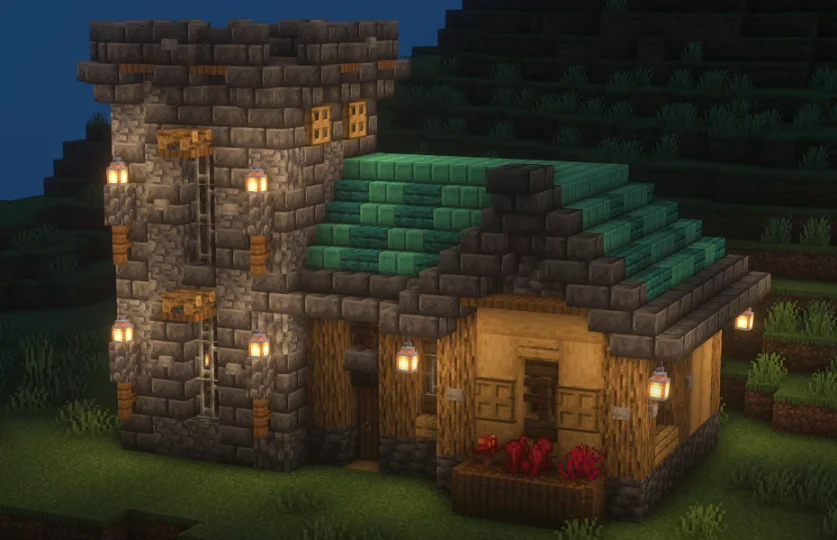 Suburban House
Created by YouTuber Rizzial, this house is made in an understated and less magnificent way, and it might remind some players of their houses in real life. It's a two-floor building attached to a garage on the first floor, although you can't actually drive anything in Minecraft. Except for the garage, there's also a dining room with cooking equipment on the first floor and a living room on the second floor.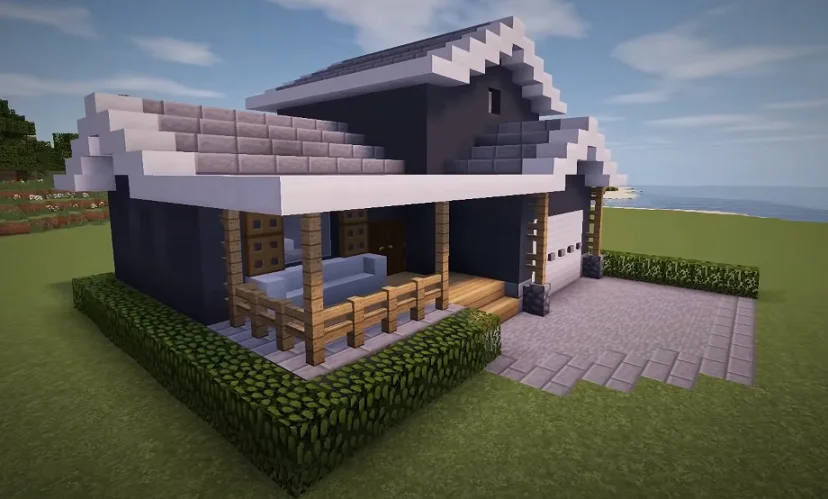 Starter Brick House
The most popular materials for building in Minecraft are logs because they are very easy to find and gather. But if you are tired of making wooden houses and want to try Minecraft ideas for houses made of other materials, check out this brick house made by YouTuber TanolGames.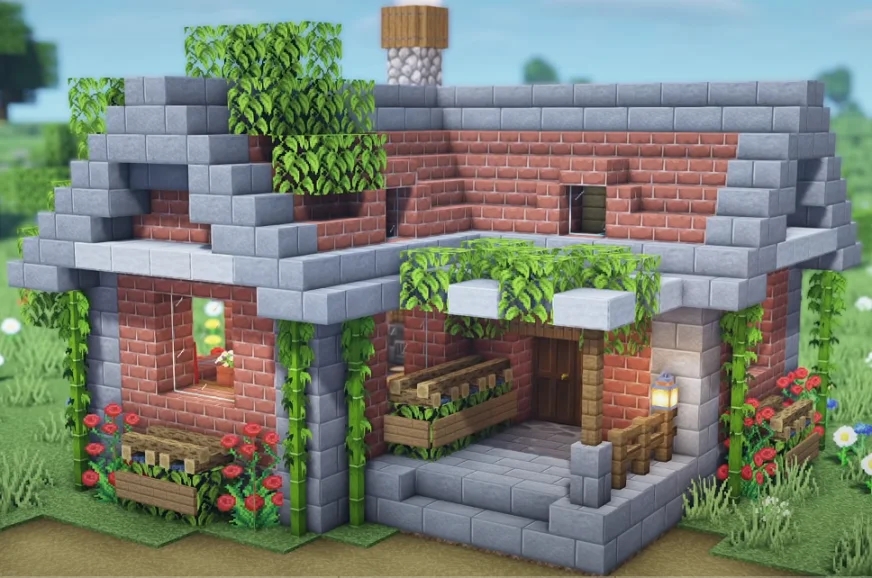 Autumn Wooden House
If you like the sceneries of red leaves in Minecraft's Autumn season, here is a house design made by YouTuber Zaypixel to satisfy your needs. This Autumn wooden house has a plain and elegant looking on both the exterior and interior. And the beautiful red color covering from the rooftop to the ground floor is perfectly immersed in the Autumn season.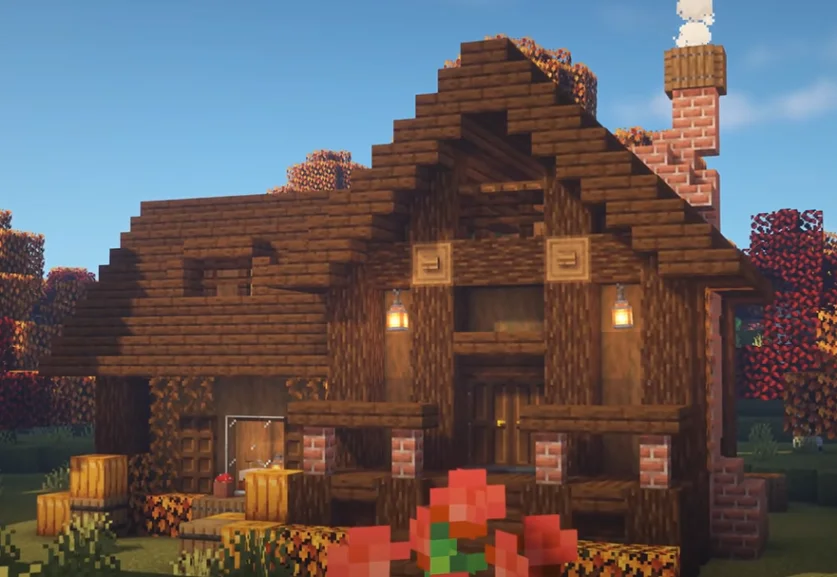 Stylish Wooden House
This beautiful house made by YouTuber Folli consists of two parts, one side is shorter but slightly wider, and the other is two-floor including a balcony. There's a staircase in the middle, and it leads to the balcony where you can have good views of the surroundings.
The design of a vast interior space suits players who like to stack items in their houses the best. And you can invite several friends to make good use of this big house thoroughly.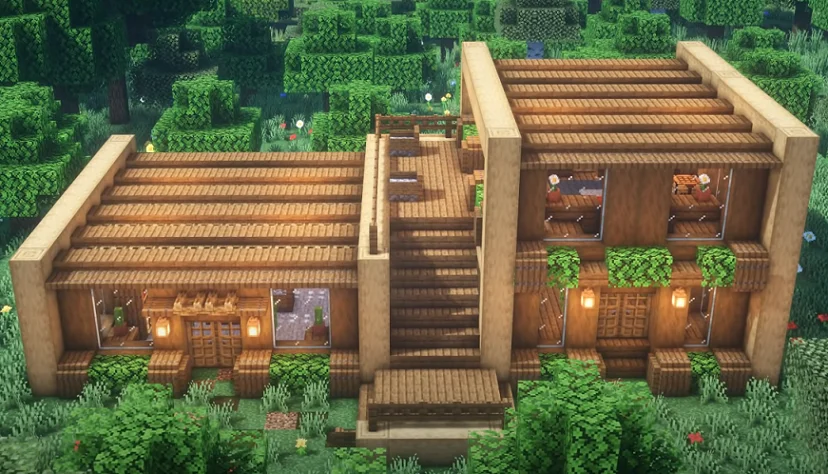 Mangrove Starter House
Minecraft players have high enthusiasm for exploring how to build better houses, and the earth ground isn't the only place for building. Players are allowed to build houses on the water's surface and in the middle of the sky too. And YouTuber Folli is one of them.
If you want some easy Minecraft house ideas about a floating house, this Mangrove house is a good way to start. It's small in size, but the interior provides you with a lot of possibilities for customization.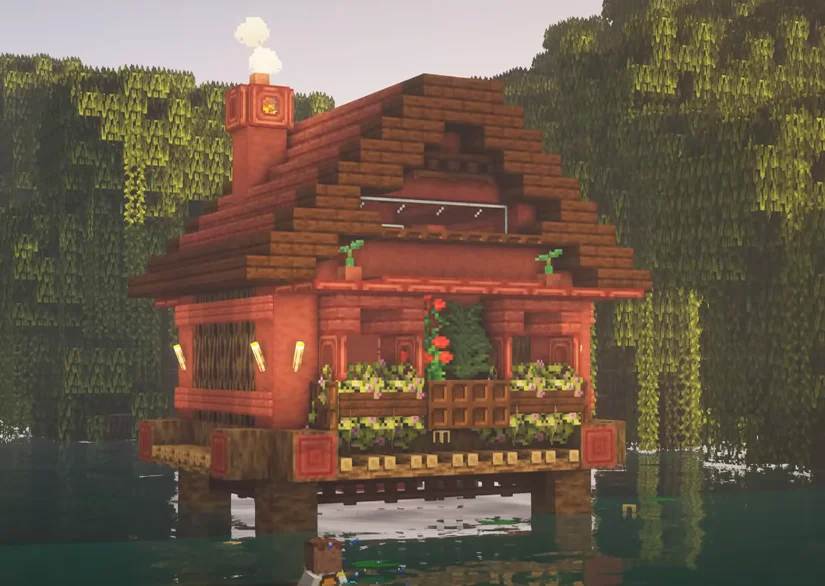 Oak Survival Farm House
This is another house made by SheepGG. As the name suggests, this farmhouse is mainly made of oak logs, and it's suitable for starters who play survival mode. It might be oversized for one player, but it's just for two or three friends to build and live together. The design is cozy and the grass fields with water streams around are the best part of the whole house.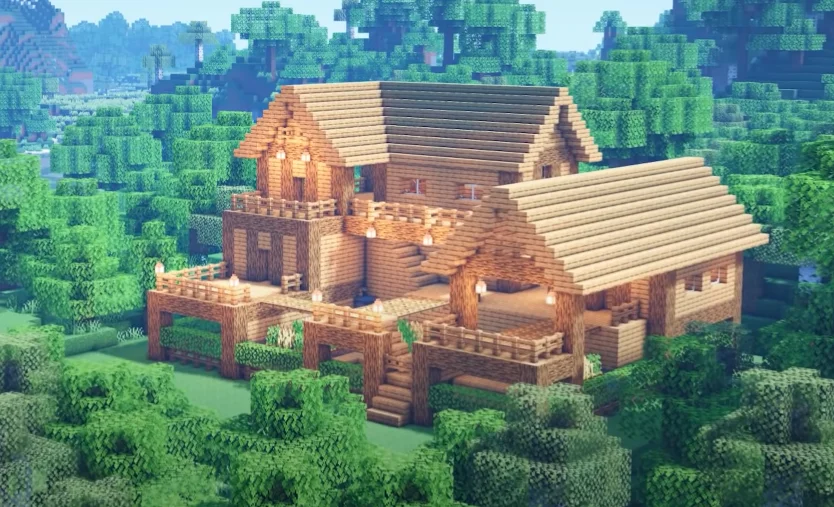 Tips: How to Use Voice Changer in Minecraft?
Playing a survival-build game like Minecraft with friends is very popular among gamers, building bigger houses takes more effort than one person can handle after all. And while playing together with friends and talking through voice chat, many players like to use a voice changer.
If you are interested in using voice changers in Minecraft too, try FineShare FineVoice. It's one of the best free voice changers that can increase the fun stuff during your gameplay in Minecraft. Download it and have a try.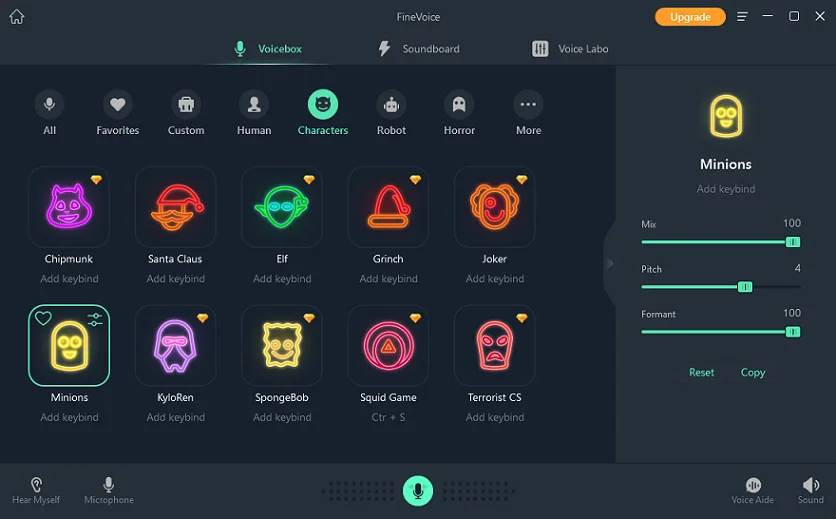 Conclusion
It's always a good thing to have a nice place to sleep and survive enemies in the game world. The 10 Minecraft house ideas mentioned above are all suitable for beginners to build in survival mode. Wish you have fun building and surviving in Minecraft.
If you want to record your building progress in Minecraft, check this related article for how to do that: How to Record Minecraft in 8 Easy Ways [2023]