Minecraft is a game that lets you unleash your creativity, adventure, and combat skills in a blocky world with endless possibilities. You can play solo or with friends, and customize your character with skins, items, and mechanics.
But have you ever wondered what it would be like to sound like someone else in Minecraft? What if you want to sound like a robot, a celebrity, a hacker, or even another player? That's where Minecraft voice changers come in handy. In this article, we will introduce you to the 5 best voice changers for Minecraft.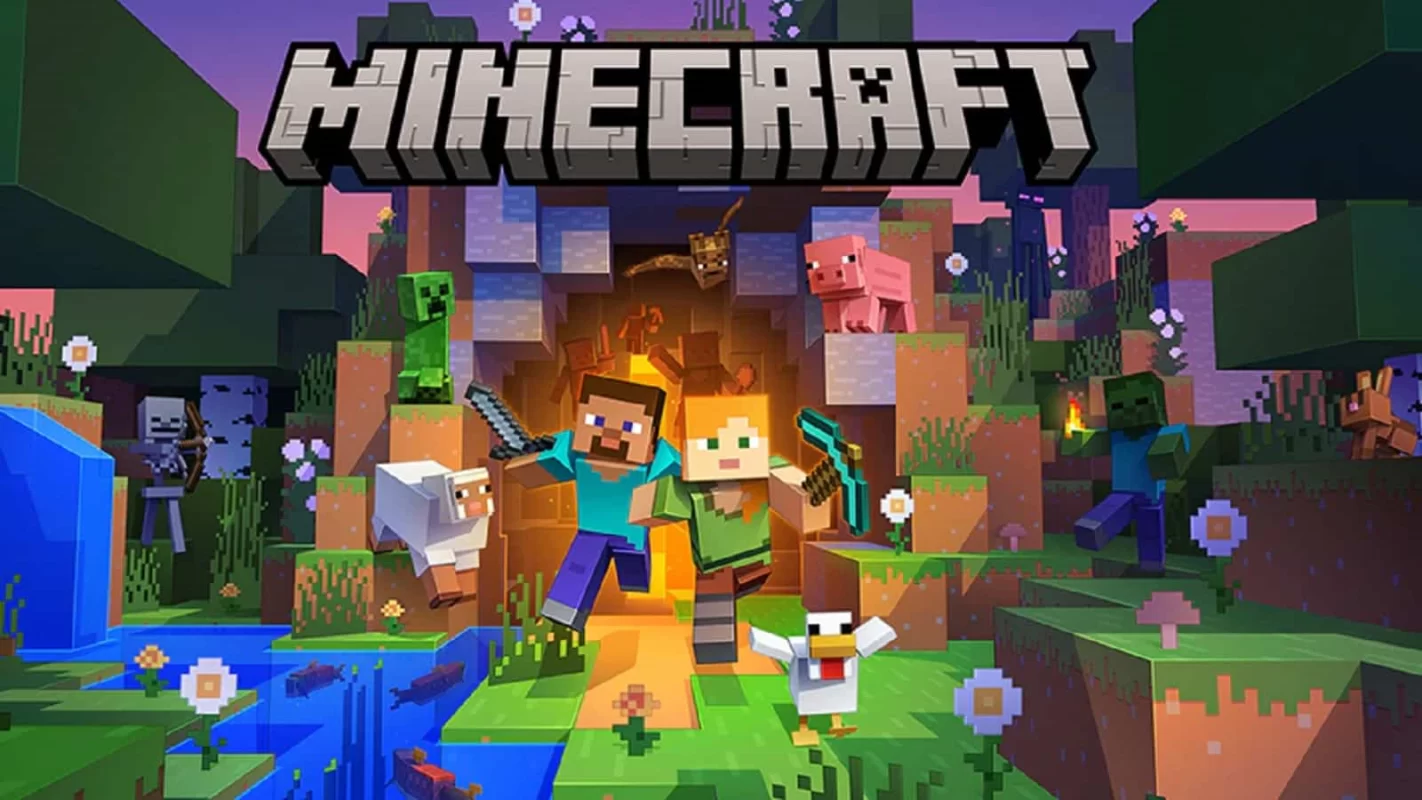 5 Best Voice Changers for Minecraft
FineShare FineVoice- A Multitude of Voices at Your Fingertips
FineShare FineVoice is a powerful and versatile AI digital voice solution that can change your voice in real-time. You can use it to enhance the gaming experience, such as in Minecraft, Overwatch, CS: GO, PUBG, etc. Its user-friendly interface ensures easy navigation, making it accessible to both seasoned players and newcomers.
With FineVoice, you can easily modify your voice to sound like different personas, such as heroic knights, mystical wizards, mischievous creatures, and more. You can also make your voice sound like cute cartoon characters, including Patrick, Squidward, and Pinkie Pie.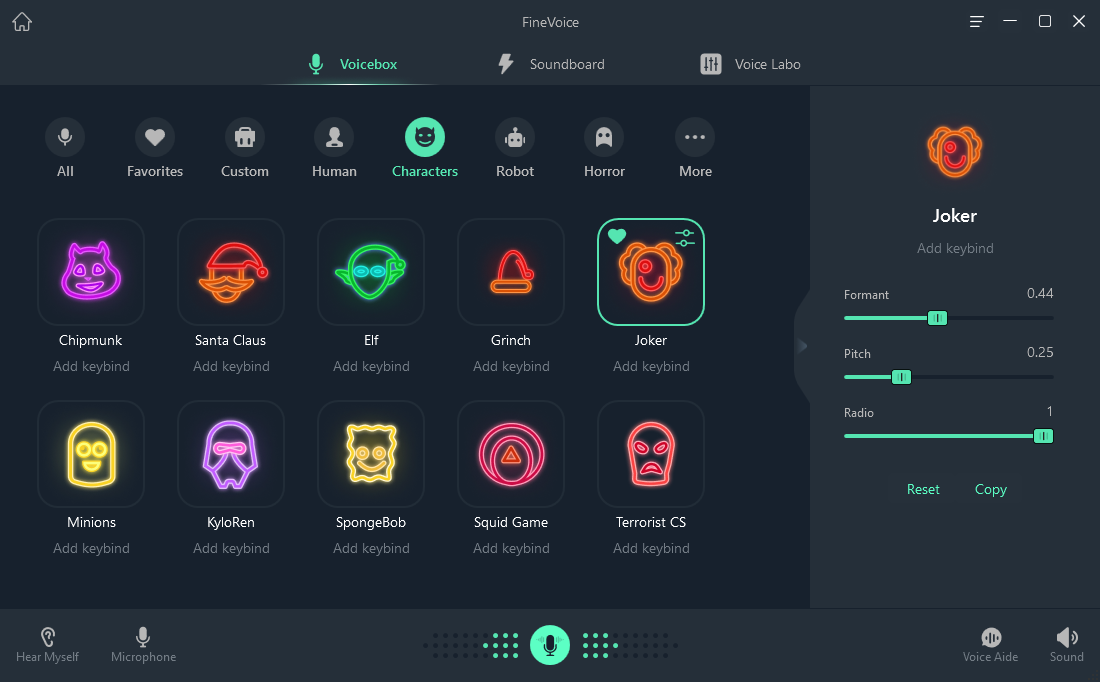 You can try FineShare online voice changer, the best free online voice changer. It has over 90+ amazing voice effects, ranging from realistic to hilarious, such as Selena Gomez, Darth Vader, Chipmunk, and more.
MorphVox Pro – Shape-Shifting Perfection
In the world of voice changers, MorphVox Pro also stands out as a top choice for gamers, content creators, and voice enthusiasts alike. Its extensive library of voice presets caters to every whim and fancy.
MorphVox Pro smoothly integrates with popular voice chat applications like Discord, Skype, and TeamSpeak. One of the major attractions of MorphVox Pro is its Voice Doctor feature, empowering users to create their unique voices. By fine-tuning pitch, timbre, and other vocal attributes, individuals can craft bespoke voices for their characters or personas.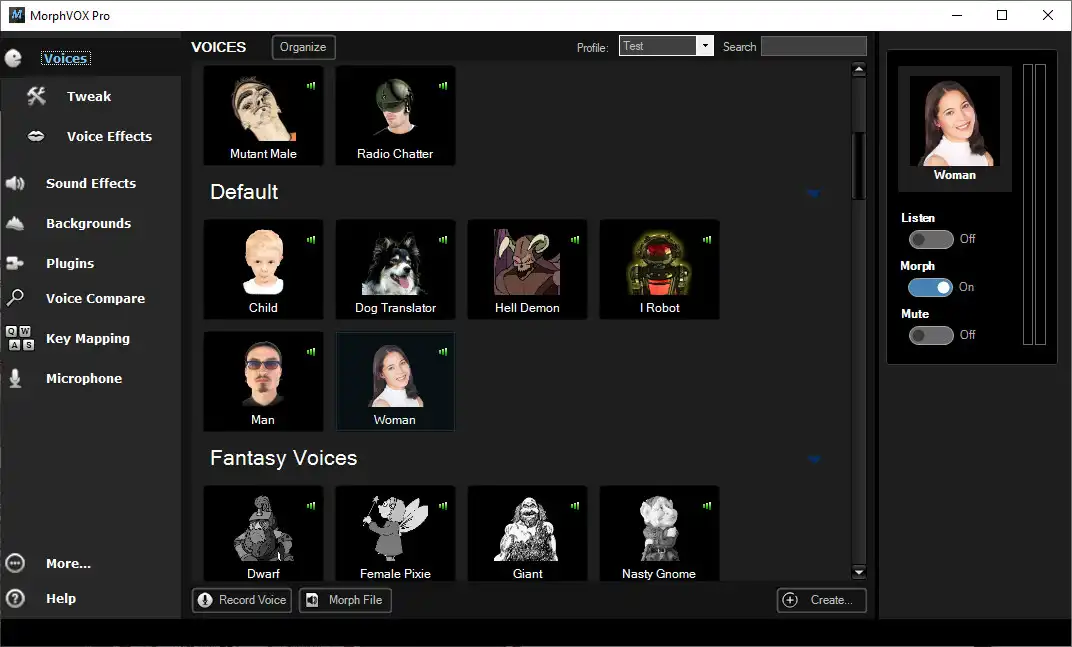 Clownfish Voice Changer – A Playful Prankster's Delight
If laughter is your ultimate goal, then Clownfish Voice Changer is your perfect companion. With a delightful selection of voice effects including robots, aliens, and even helium-induced squeaks, you can entertain and surprise your friends with hilarious antics.
Clownfish Voice Changer comes with an integrated music player, allowing you to groove to your favorite tunes while you conquer Minecraft's virtual landscapes.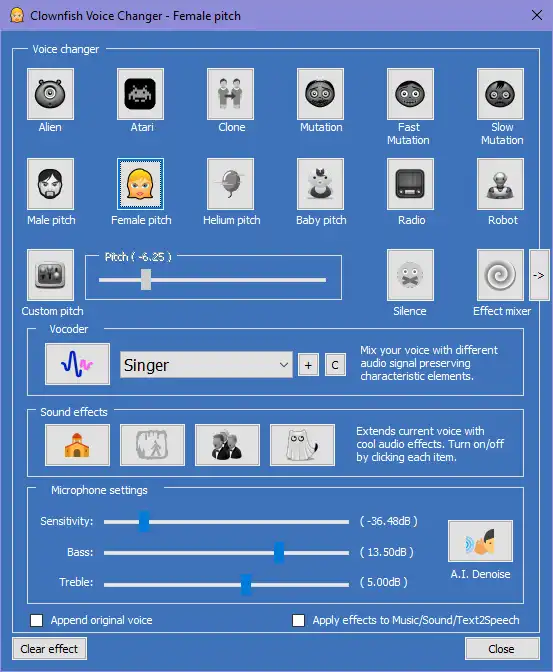 With its wide array of voice effects and editing capabilities, Voxal Voice Changer is a popular voice changer for Minecraft. You can effortlessly switch between various voices, including male, female, baby, Mandalorian, Optimus Prime, Space Marine, and more.
Voxal Voice Changer also allows you to apply voice changes to pre-recorded audio. This opens up exciting possibilities for content creators who want to produce high-quality machinimas and storytelling projects within the vast realms of Minecraft.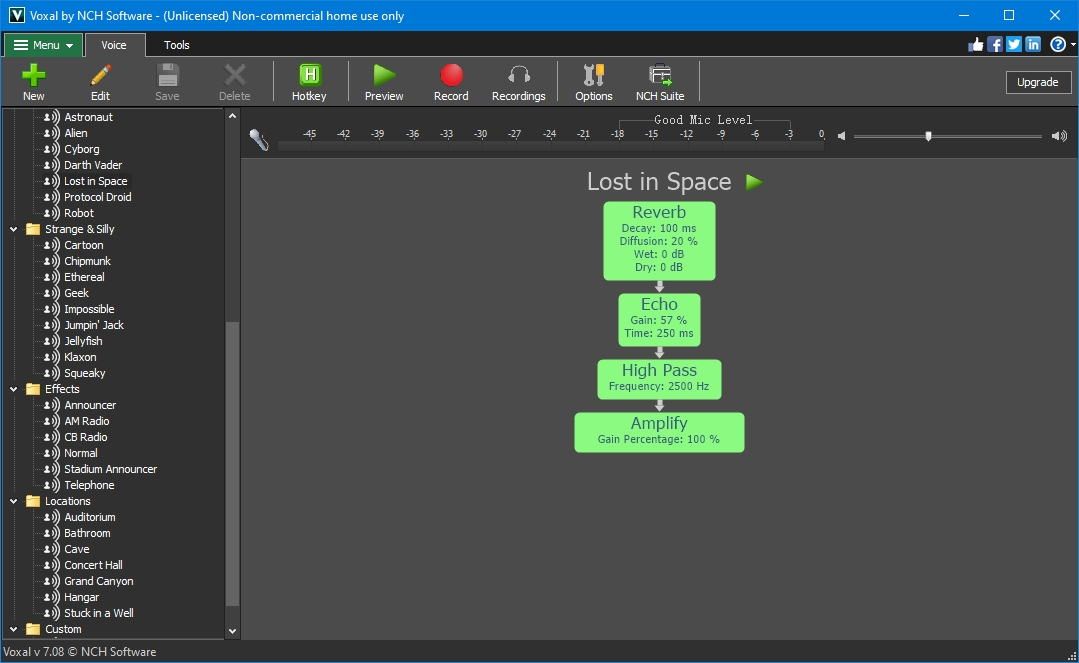 AV Voice Changer Software Diamond – The Ultimate Shapeshifter
AV Voice Changer Software Diamond is one of the most comprehensive Minecraft voice changer apps. It has a huge collection of voice effects, ranging from human to animal to fantasy. You can also mimic the voice of any person or character, from movie stars to mythical creatures, such as Angelina Jolie, Tom Hanks, Scarlett Johansson, Batman, Spider-Man, Harry Potter, Kevin Costner, and Lady Gaga.
Most importantly, this software supports batch file processing, enabling users to apply voice effects to multiple audio files simultaneously. This saves time and effort for content creators working on extensive projects.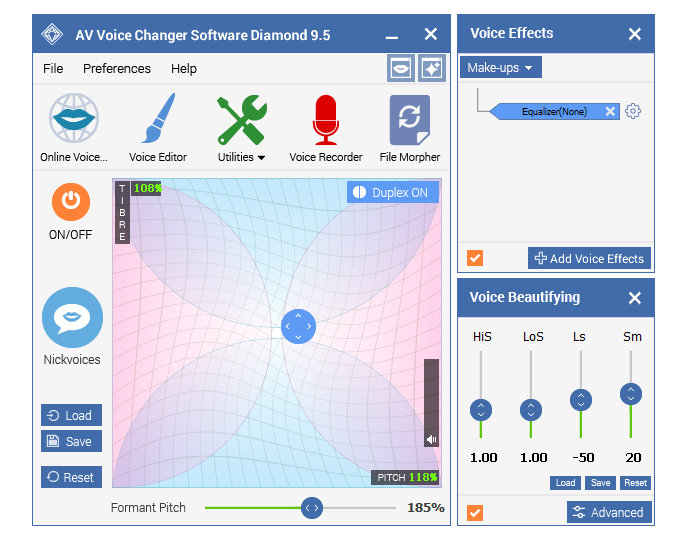 Conclusion
Now that you have discovered the 5 best voice changers for Minecraft, it's time to embark on an extraordinary vocal journey. Minecraft voice changer is a great way to enhance your gaming experience. It can help you have more fun, troll other players, roleplay different characters, or just express yourself better. And it has a wide range of voice effects and features that can suit any preference or mood.
Download FineVoice now and unleash the magic of sounding like anyone you want in Minecraft! You won't believe the level of fun it brings!
FAQs about Minecraft
Is Minecraft Available on All Platforms?
Minecraft is available on a wide range of platforms, including Windows, macOS, Linux, iOS, Android, Xbox, PlayStation, and Nintendo consoles.
What Is the Objective of Minecraft?
Minecraft has no specific objectives; it is an open-ended game where players set their own goals. Common objectives include building structures, mining resources, defeating mobs, and exploring the vast world.
Is Minecraft Educational?
Yes, Minecraft has been widely recognized for its educational value. It fosters creativity, problem-solving skills, and teamwork, making it popular in educational settings.