A webcam can be used for various purposes, including monitoring, recording, streaming, conference, etc. For a specific purpose, we use a specific webcam. For example, if you want to use the webcam for a video conference, the laptop's built camera with 720p (1080 x 720) is acceptable enough. For a high-quality live stream, you may need an auto-focus 1080p HD webcam.
Likewise, for a specific purpose, choosing qualified webcam software is quite necessary. Below we hand-picked 15 free webcam software based on 6 use cases to help you improve camera quality and capture a better video using your webcam.
Part 1. Free Webcam Software for Live Streaming
We recommend these free webcam programs for streaming on a computer. They enable you to create scenes with multiple sources, and they work well with popular platforms like Twitch, YouTube Live, Facebook Live, etc.
1. OBS Studio
OBS Studios is one of the most popular open-source software for live streaming with tons of features. It is also gamers' favorite software as it allows virtual cameras for channels like YouTube, Twitch, Facebook, and other live streaming platforms.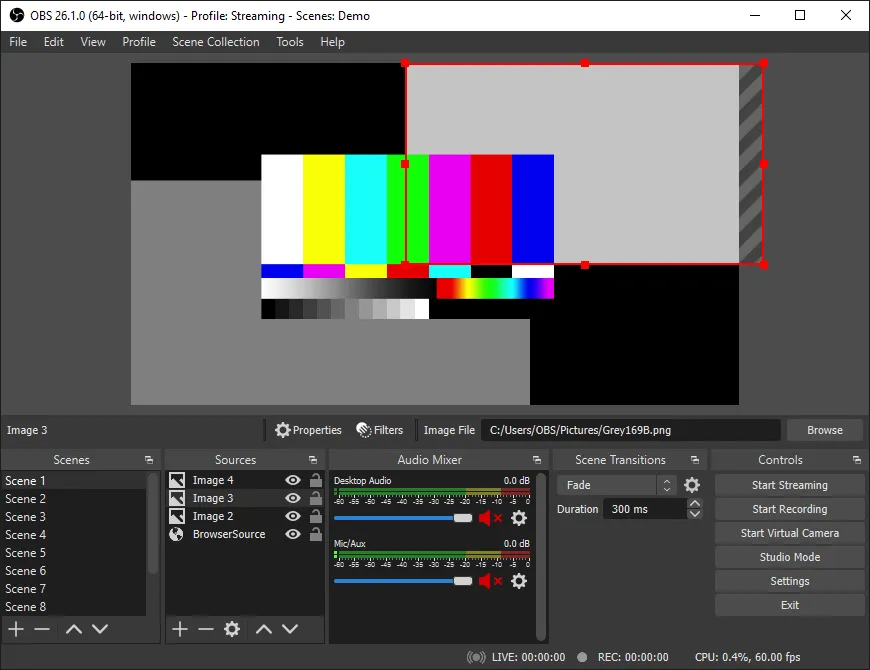 You can record your videos, blur or remove backgrounds, apply filters, and use various handy plugins while you stream. The platform has limitless perks due to plugins that make recording tension-free, and you can focus on your viewers.
It is compatible with Windows 8/8.1/10 and 11, macOS 10.13 or newer, and Ubuntu 16.04. On the hardware side, you will need AMD FX series or Intel Core-i5 2nd gen (at least). Make sure you have RAM not lower than 4GB. Also, your GPU should be DirectX 10.1 compatible.
2. Streamlabs
Streamlabs is a set of different software designed for live streaming videos on sites such as Youtube, Twitch, and Facebook gaming.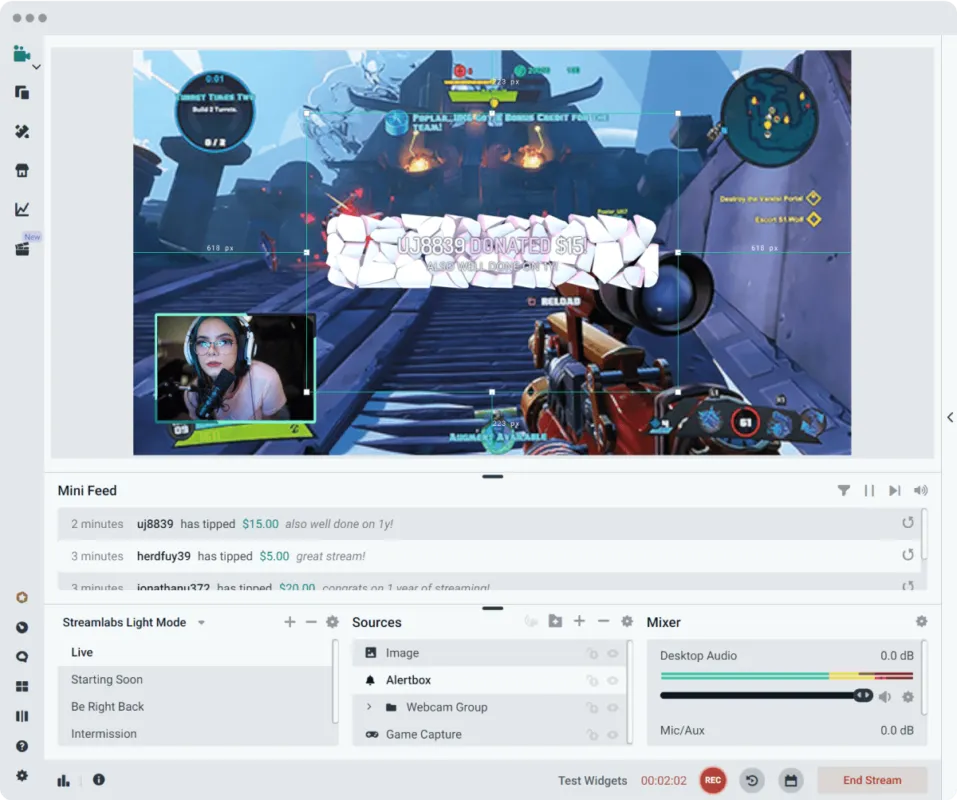 With the help of Streamlab, you can edit your layout to customize which elements you want to include in the editor. It has a particular recording feature that allows you to choose sources that appear in the recorded video of your live broadcast. This software also allows the multi-streaming for personalized streams with pro overlays. Streamlab offers widgets that integrate with their software.
It is compatible with Windows 10 or macOS 10.14 or higher and Ubuntu 18. Your RAM must be 8GB, and the minimum storage requirement is 512 GB SSD.
Part 2. Free Webcam Filters & Effects Software
There are lots of webcam filter apps that you can use to add awesome webcam effects for your video recording or video calls. There we picked these two free webcam filter software for you.
1. FineShare FineCam
As an AI-powered free webcam software, FineShare FineCam enables you to quickly preview and use filters like Byers, Clayton, Cobi, etc, to enrich your webcam videos. There are totally 30+ filters and effects that you can use with FineCam.  Besides filters, this webcam program also helps you add funny effects, various backgrounds, and brand overlays.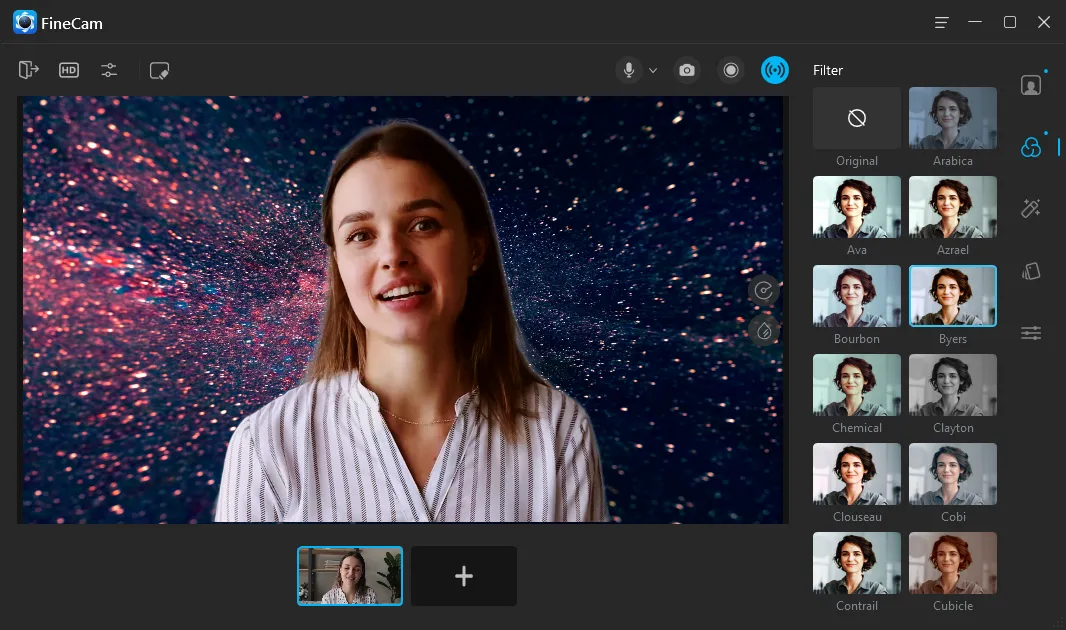 2. Snap Camera
Snap Camera allows you to apply lenses on your face while utilizing the computer webcam. It has a user-friendly interface and is easy to understand and use. It brings the magic of lenses to your PC.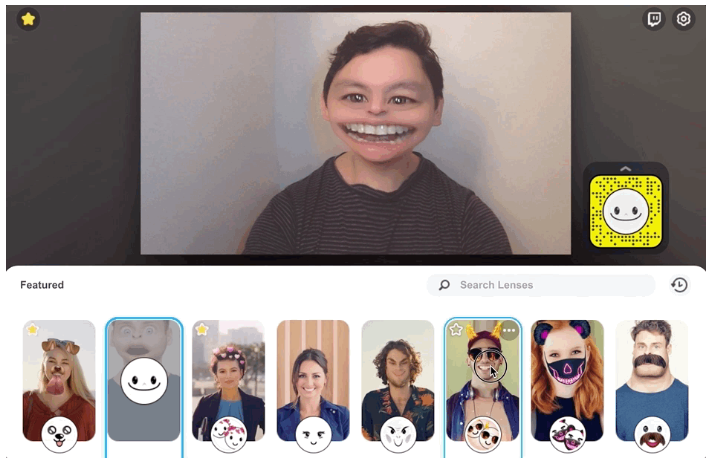 You have different options to customize your webcam video. It has a mode used to blur the background of pictures and videos. It includes various types of filters to edit your live videos. This app also supports gestures that users can quickly scroll through photos and videos.
It requires the operating system of Windows 10 and macOS 10.11. You will need Intel Core i3 with 2.5GHz+ or AMD Phenom II 2.6GHz+ processor with 4GB RAM. From the GPU side, you will require Nvidia GeForce 710 / AMD Radeon HD 6450, and you must have the latest driver for your specific graphics.
3. Webcam Toy
Webcam Toy is a fully-featured online webcam software designed to serve startups, enterprises, and agencies. It provides end-to-end solutions designed for web apps.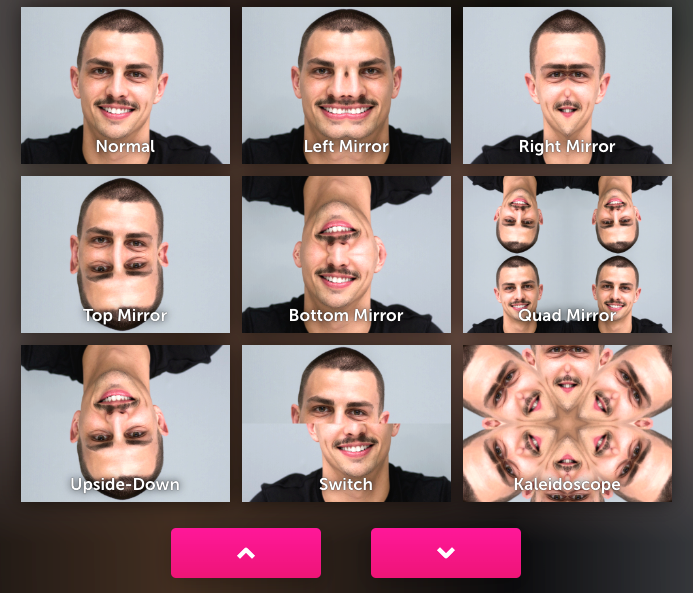 It helps you take selfies with the camera using 80 free fun effects. You can save the pictures on your PC and share them online. You will find it quickly as it loads in a few seconds. This is compatible with Windows 7/8/8.1/10 and 11. However, you can use it from any device as it is available on the website.
Part 3. Free Webcam Recorder Software
If you simply want to record a video on your Windows or Mac, some built-in camera software would be the best choice, because they are completely free and you don't need to download extra software.
1. QuickTime for Mac
QuickTime is a famous multimedia player for Macintosh. It can handle a significant amount of pictures and videos, becoming a leading choice among Mac users.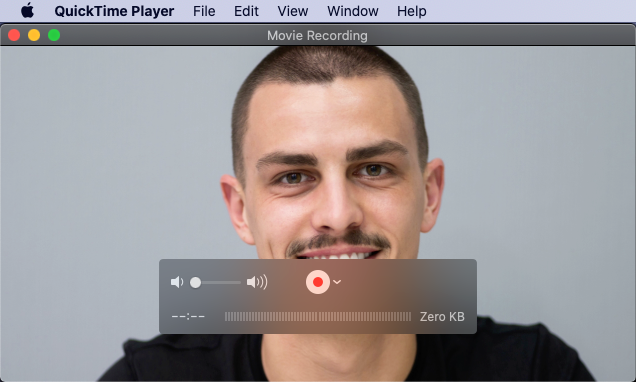 You can use QuickTime to seamlessly play videos, audio, and other content. This tool also comes with basic video editing features. You can record videos in a clean and straightforward interface. It also supports live streaming with many other features.
It is compatible with 400 MHz or higher Macintosh G3 PowerPC-based or Intel-based machines. You should have at least 128 MB of RAM and Mac OS X version 10.3.9 or later.
2. Windows Camera App
For Windows users, what could be better than their official Camera App? It will enable your webcam recordings instantly and let you capture videos and photos.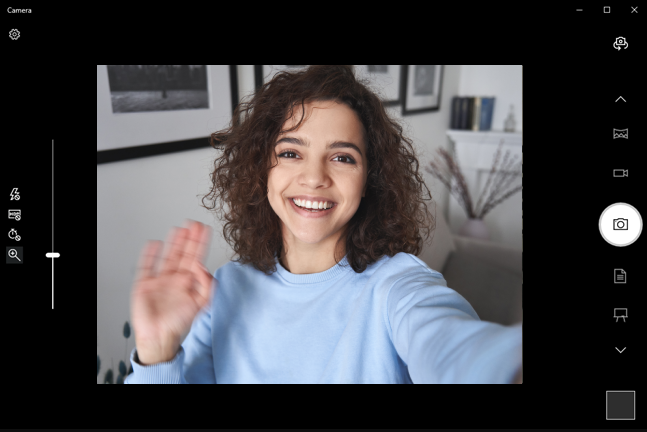 The Camera app supports high-resolution pictures and allows you to take quick snapshots. It comes with a self-time that makes clicking the images even more effortless. Since it is lightweight, you won't need loads of resources or top-tier hardware. However, you will need at least Windows 10 or higher.
3. Bandicam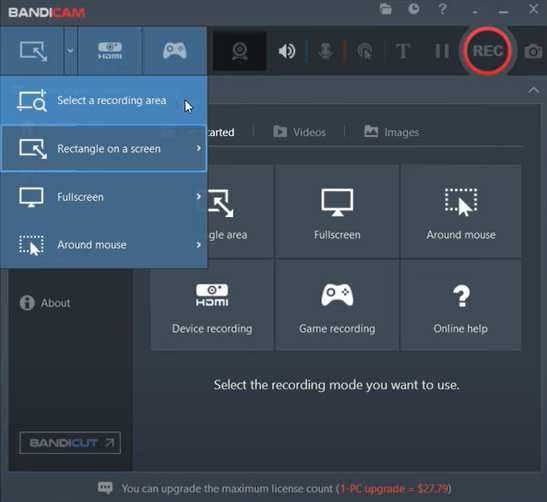 Bandicam is a great screen recording software that helps to capture anything on your PC. It is among the best video game webcam recorders. It will help you to screen capture with a high compression ratio.
With the help of it, you can record video for 24 hours. It also supports real-time drawing and is easy to use from different video overlays. It is compatible with 32-bit Windows Vista, XP, 7, 8, 10, and 11. However, t is not available for macOS.
4. Logitech Capture (for Logitech Camera)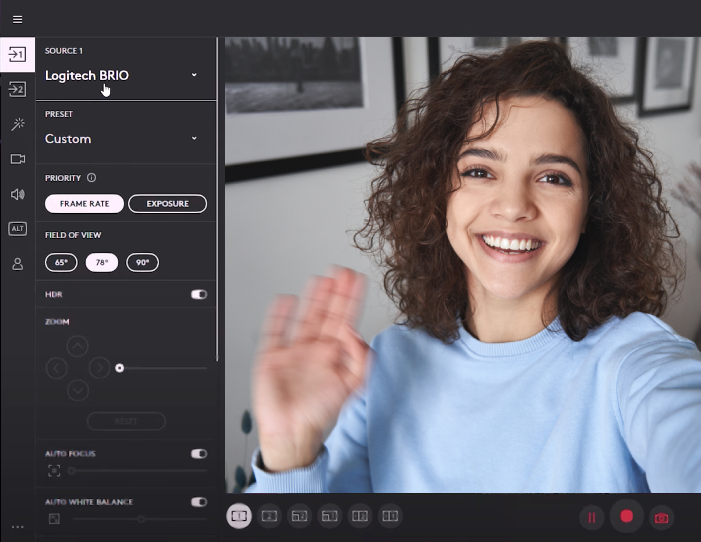 Logitech Capture is a program used to record videos with Logitech Webcams. You don't need an expensive camera to make high-quality videos with the help of this tool.
It provides collaboration, speed adjustment, multi-streaming, and live-streaming adjustment features. Logitech capture adds transition effects, source stitching, and colorful borders to your video recordings. Additionally, you can use Logitech Capture to configure your webcam field of view, aspect ratio, and recording resolution.
You must need Microsoft Windows 10 or later, macOS 10.14 or above. Also, you will need a minimum of 8 GB of RAM.
Check for the 11 Best Video Recording Software in 2023 [Free & Paid]
Part 4. Top Webcam Background Removal Software
There are millions of people who want to remove the background of pictures or videos. With the help of webcam background removal software, you can quickly remove the webcam background even if you have no green screen before saving them as media files, which significantly enhances efficiency because there is no need to use some editors after recording.
1. FineShare FineCam
You don't need to buy a green screen or know what is Chroma Key. FineCam makes it simple to remove, blur and change the webcam background on your Windows and Mac computer.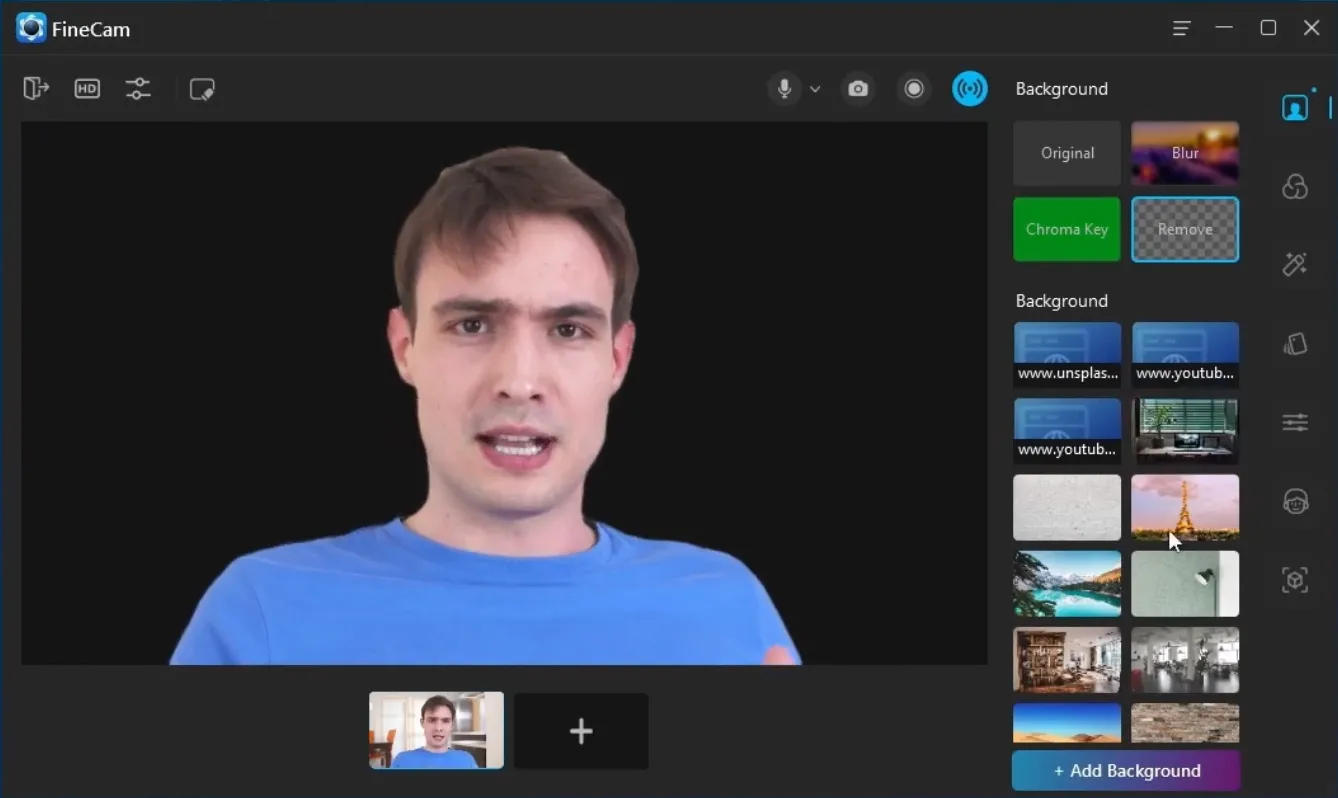 Works with Unsplash, you can easily pick one ideal background image from hundreds of free images. Additionally, it allows you to quickly create a custom background using files like PowerPoint slides, YouTube Videos, webpages, application windows, videos, and photos, etc.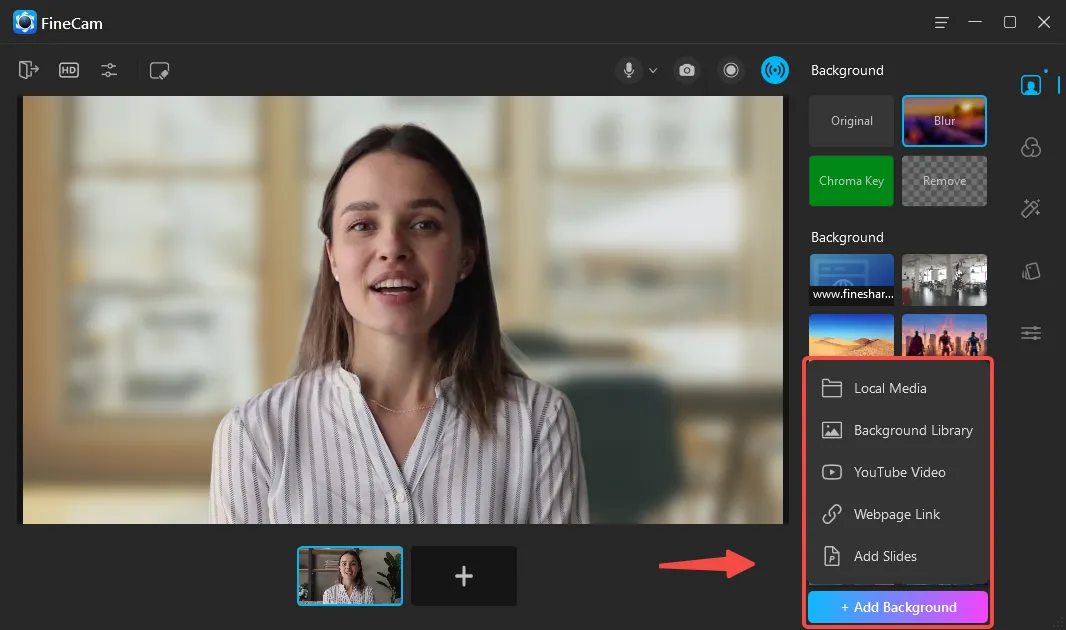 In addition to background removal, FineCam also allows you to use your phone as a webcam, add filters and effects, and preview and switch between multi-scenes. All these features ensure you look perfect and outstanding in live video for recording, conferences, and streams.
Compatibility: Windows 7 and above (However, background removal requires better system requirements: Windows 10 and above); macOS 11 and above.
2. Xsplit VCam
Xsplit Vcam enables cutting-edge backdrop removal and blurring with any camera eliminating the need for costly green screens and complex lighting setups. It adds a high-quality blur effect to your video without any need for extra hardware.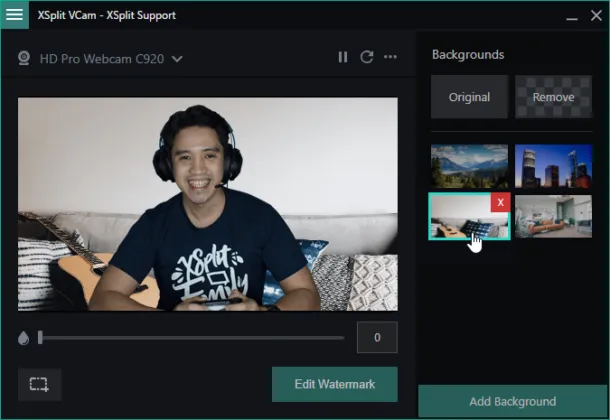 It helps to replace your background with the image or webpage. You can use this while streaming on YouTube, Twitch, and Facebook. It also works with all video chat applications and conferencing.
It is compatible with Windows 10 (64bit) or higher, macOS Mojave, Catalina, Big Sur, or Monterey. In GPUs, you will need one with DirectX 10.1 or better support.
3. ChromaCam
ChromaCam enables you to alter and blur your background wherever you go. It helps to create steaming engagement with material making a seamless face-to-face meeting.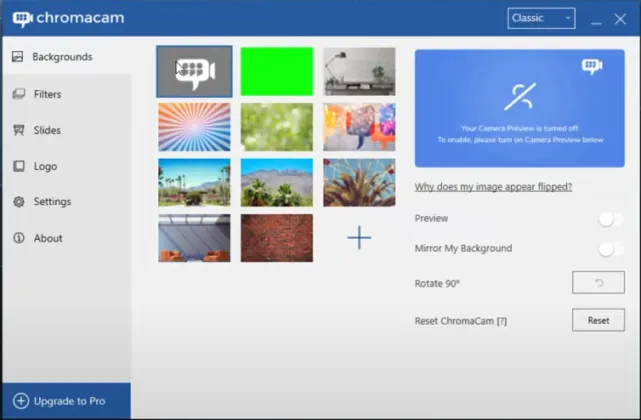 ChromaCam helps you replace or blur your background without a fancy green screen and assists you in getting studio-like functionality from your desktop. You can make video meeting settings secure and private with the help of ChromaCam and can seamlessly integrate with all leading video chat apps.
It is compatible with Windows 10 (64bit), and Mac OS 10.14 and above. The 8 GB memory is recommended, and it supports every camera embedded in your laptop or computer.
Part 5. Top Webcam Apps to Turn Phone into Webcam
If there is no webcam available on your computer, using your smartphone as a temporary webcam is a good idea. With some free webcam apps, you can easily turn your phone into a high-quality webcam through Wi-Fi or USB.
1. FineShare FineCam (iOS & Android)
FineShare FineCam mobile apps help computer users quickly get HD webcams by taking advantage of their smartphones. Currently, this app supports turning an iPhone/iPad or Android device into high-quality webcams. And it offers a desktop client which enables users to control and adjust the iPhone webcam from their computers.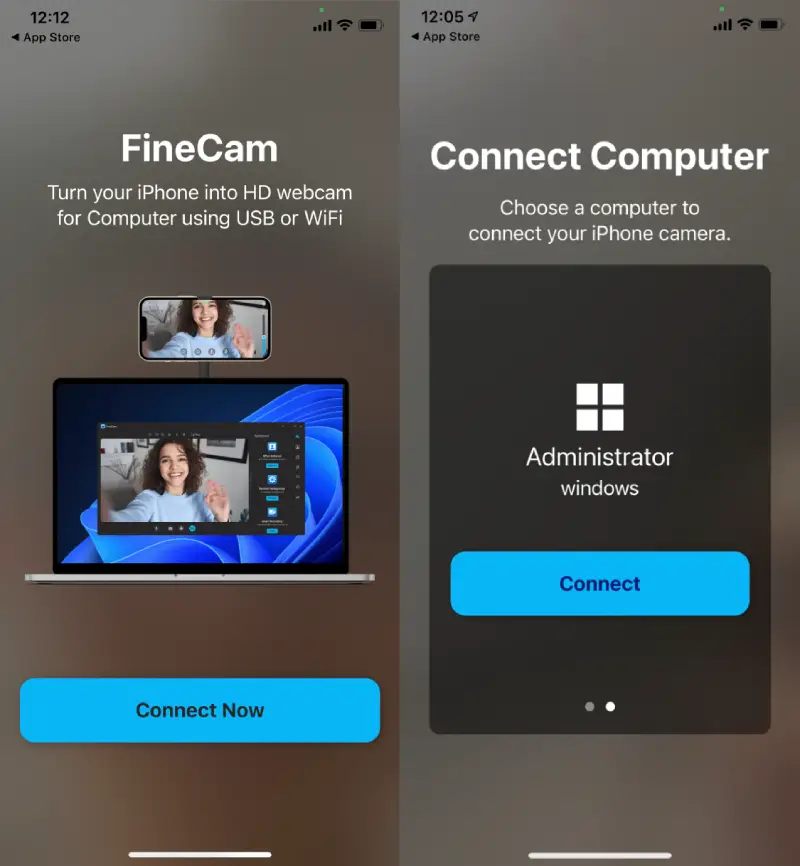 2. EpocCam
Similar to FineShare FineCam, EpocCam is a computer and smartphone app that, when connected, allows you to use your computer or smartphone camera as a webcam. It effectively turns your phone into a high-definition webcam within minutes.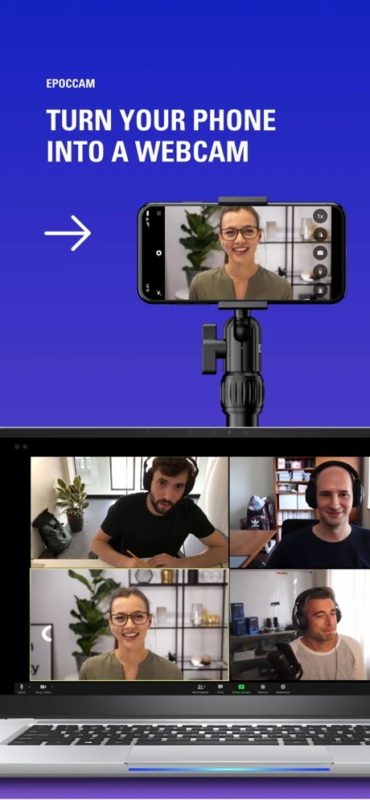 You can shoot in landscape or portrait mode with a blurred background for the chroma key. It has gestures to support Snapchat lenses with AR effects and animation. You can easily connect via Wi-Fi or USB. It provides a professional quality to your video and is best for remote work like businesses, teaching, and content creation.
It is compatible with macOS 10.14 or newer and requires Android 4.4+. On PC, you will need Windows 10 or 11.
3. Reincubate Camo
Reincubate Camo is an app to use your phone or tablet as a pro-quality webcam. It allows you to access high-quality videos from your android or your iPhone.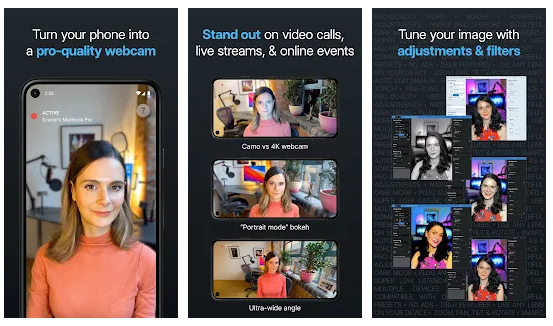 You can record these videos on the apps like Zoom, Skype, and Meets. The easy connectivity allows flawless use and proper handling for the best results, as have various controls over the hardware and software adjustments. You will require macOS 10.13 or newer or Windows 10 or 11.
4. DroidCam
DroidCam is another amazing software that can make your phone a webcam instantly. You can also use it with multiple online meeting apps like Zoom, Skype, and MS Teams.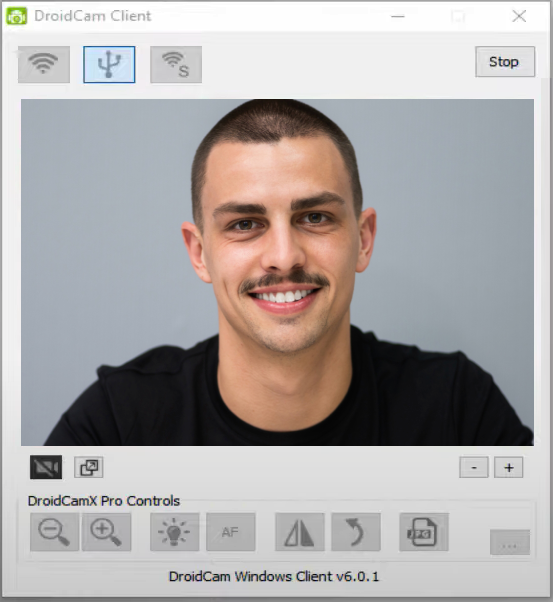 You can use DroidCam by connecting it with Wi-Fi or USB, with unlimited free usage in high-definition. The user-friendly interface has an easy setup and lightweight coding. So you won't need any loads of support.
Unfortunately, it doesn't work on Mac, but you can download the PC client for Windows 10/11 or Linux. You will need Android 5.0 (Lollipop) or higher on the mobile side.
Part 6. Top Free Best Webcam Tester Online
Before you start a video call on your computer, you may like to test whether your webcam works. Or you just want to find a tool that you can use as a mirror to see your face. Thus, the webcam tester is just the thing.
1. WebcamTests
WebsiteTests is a website-based free tool that provides testing services for your webcam. Since you can quickly test it from your browser, you don't have to install third-party software. The ready-to-go feature helps to check your webcam instantly, seconds before a meeting.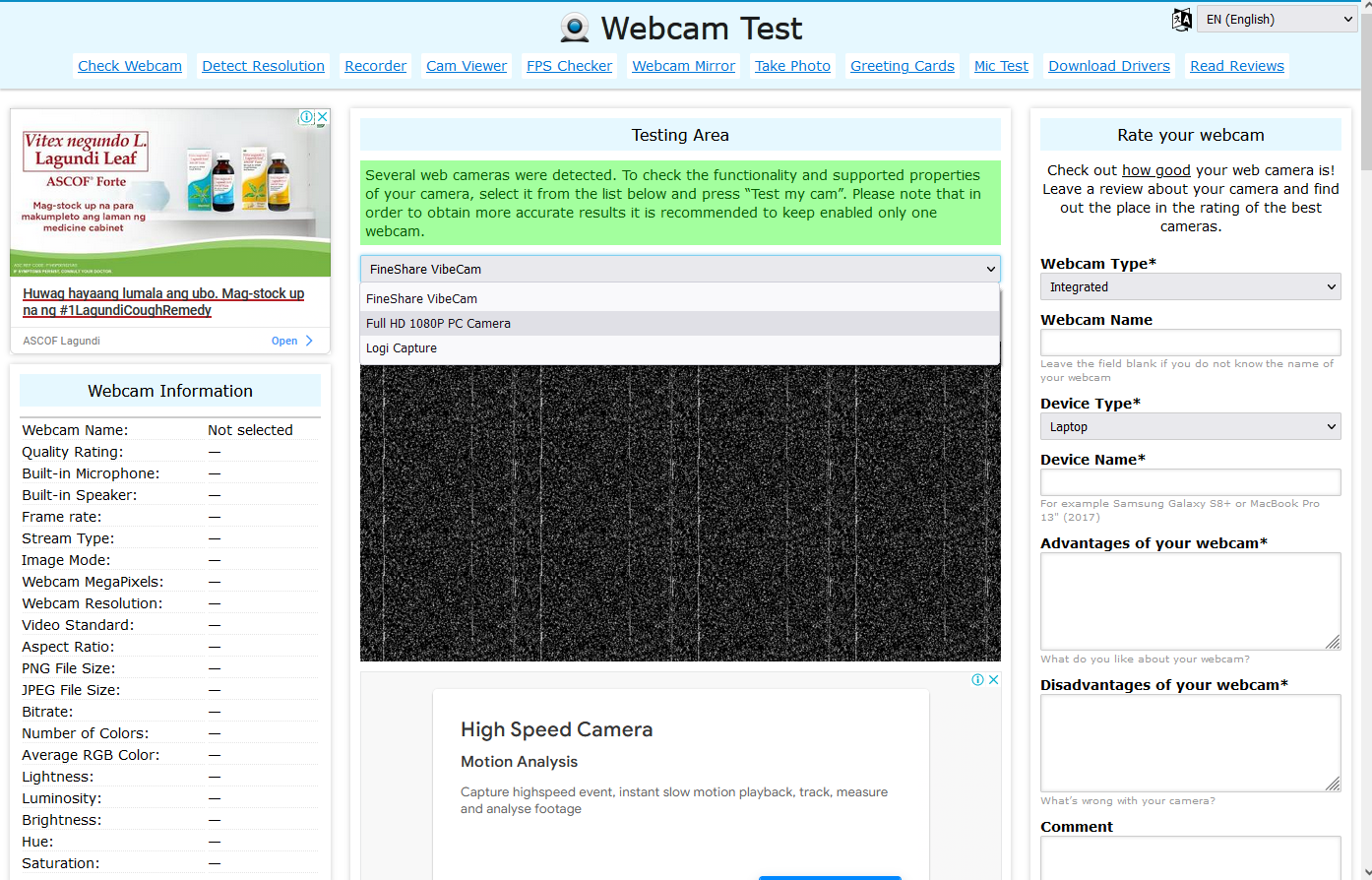 Apart from testing, you will also know some important facts about your PC camera. Also, if the website detects any problem with your webcam, it will suggest methods to fix them instantly.
2. RapidTables
Another great online webcam testing tool is RapidTables. The site also has many other mathematical tools that you can check out later. Anyways, the one in question allows you to test your PC camera and microphone simultaneously.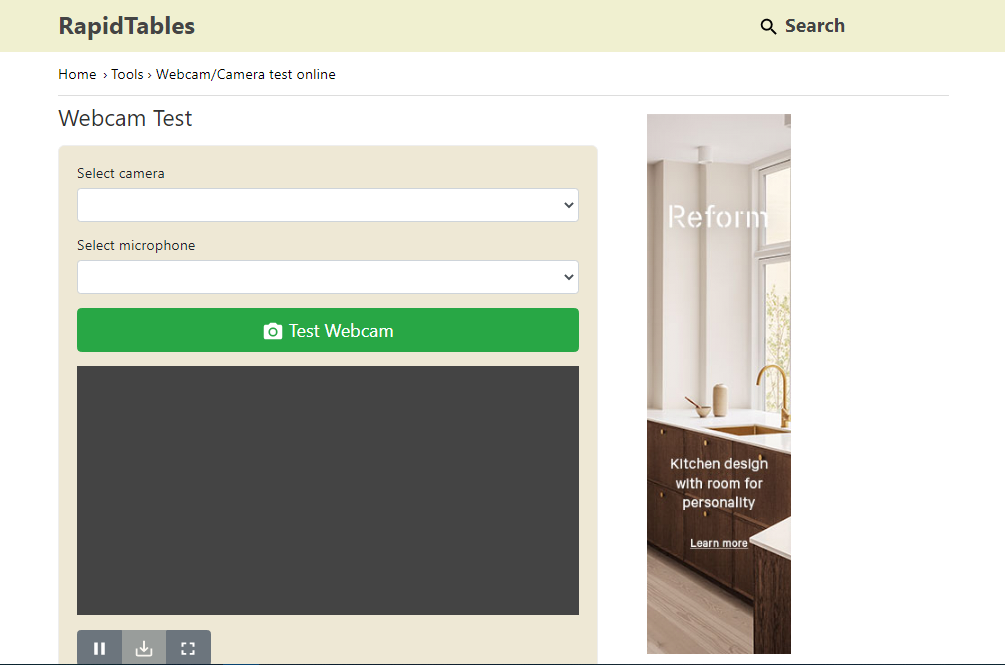 You can test your webcam instantly and analyze different settings that your camera and microphone operate at. It gives an in-depth analysis of this hardware that can be helpful for later use.
Conclusion
Having a webcam on a PC for video calls can be marvelous sometimes. It enables unique filters and customization options that a mobile phone won't. But configuring suitable software with it is also necessary.
We've given you a list of 15 fantastic free webcam software that can take your webcam experience to a whole new level. Install the ones that you feel comfortable with and require a lot, and significantly improve your video recordings.