Online video calls and video conferencing are not rare things nowadays, such convenient communication method allows people to easily meet each other through a webcam. But finding a satisfying webcam isn't an easy thing since it costs both money and time. In this situation, have you ever considered making use of your phone's HD camera as a webcam on your computer?
It doesn't require so much knowledge to do. There are applications that can help you add a virtual camera to your computer with ease, so you can use it on platforms like Skype, Zoom, Discord, etc.
In this article, we will explain the benefits of using your phone as a webcam, and how to use phone as webcam on Windows and macOS. Let's find out.
Why You Need to Use Your Phone as A webcam?
Maybe you don't have enough budget for a good but expensive webcam, or you just don't want to buy additional equipment that you won't use often. No matter what's your concern, using your phone as a webcam could be a solution, and here are the benefits of it.
Portability and flexibility
Thanks to the small size, you can carry a phone where you go, and set it up as a webcam in no time when you need it. Besides, you will be able to use it on different devices and conduct a video conference from anywhere.
Compared with built-in cameras on laptops and monitors, modern smartphones usually have better cameras that also lead to better video quality.
Using a webcam and other pieces of equipment that come with it can cost a lot. But your phone can integrate most of the functions you need on itself, which makes it a more affordable choice.
How to Use Phone as Webcam on Computer with FineShare FineCam
FineShare FineCam is available on both Windows and macOS, as an AI virtual camera that helps you create HD videos from anywhere. This versatile software can do a lot of things such as screen capture, and it's also a good tool to turn your phone into a webcam. Here's a detailed guide on how to use this software on your computer below.
Step 1. Download and install the FineCam app for your computer. You can directly download it below.
As for your phone, you can find FineCam Webcam app on Google Play and Apple App Store.
Step 2. Launch FineCam on your computer, choose Multi-scenes, and click the "+" icon to create a new scene.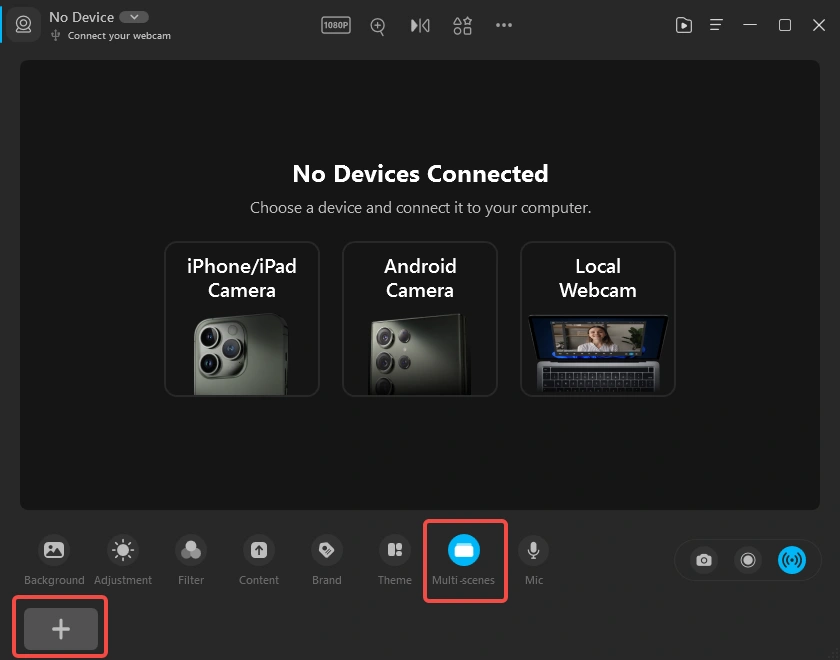 Step 3. Launch FineCam on your phone.
You can use a USB cable to connect the phone to computer or make sure the devices have connected with the same WiFi.
Step 4. Back to the computer, choose a camera option according to what phone you are using, then select the device in the list.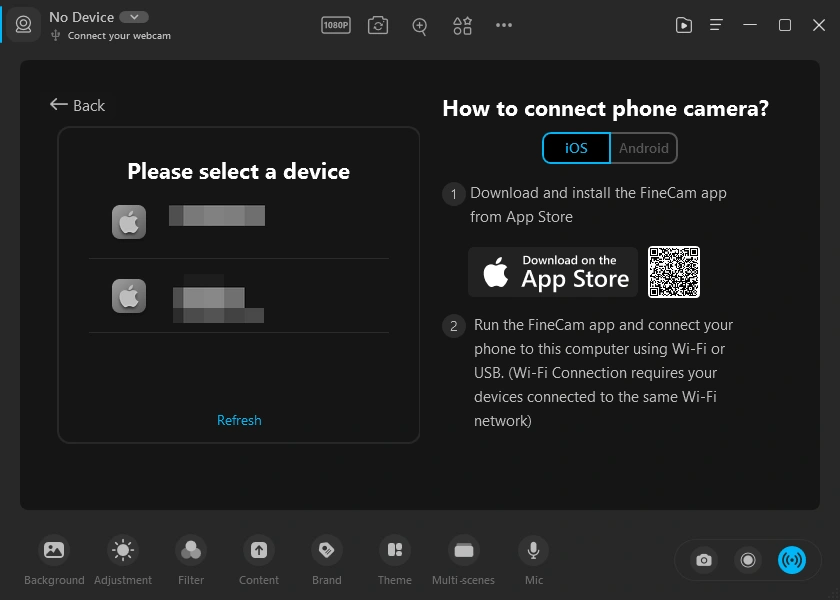 You can also connect in the opposite way. Just choose Connect on your phone app and permit it on your computer.
Step 5. Click the button at the lower right corner to enable Virtual Camera function.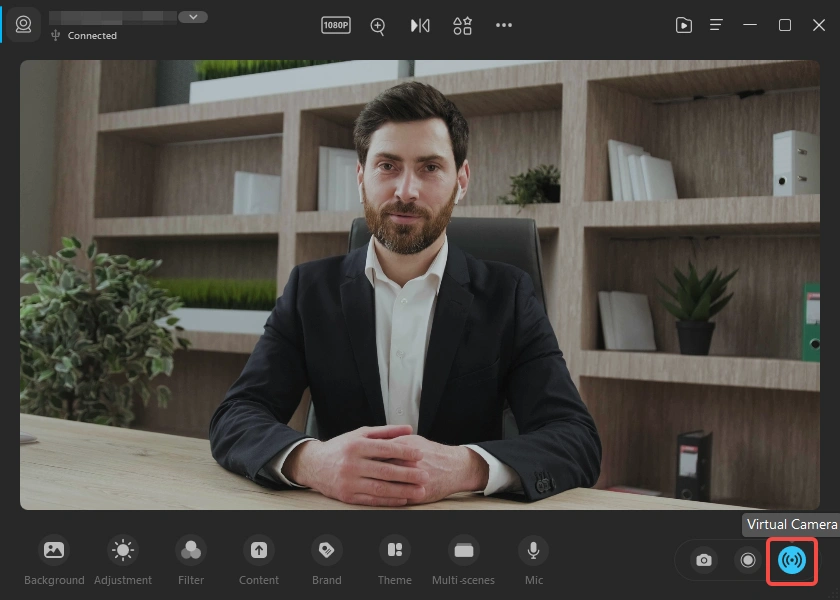 After this, you will be able to use the phone as a webcam in online conferencing platforms like Zoom and Skype.
Best Apps to Turn Your Phone Into Webcam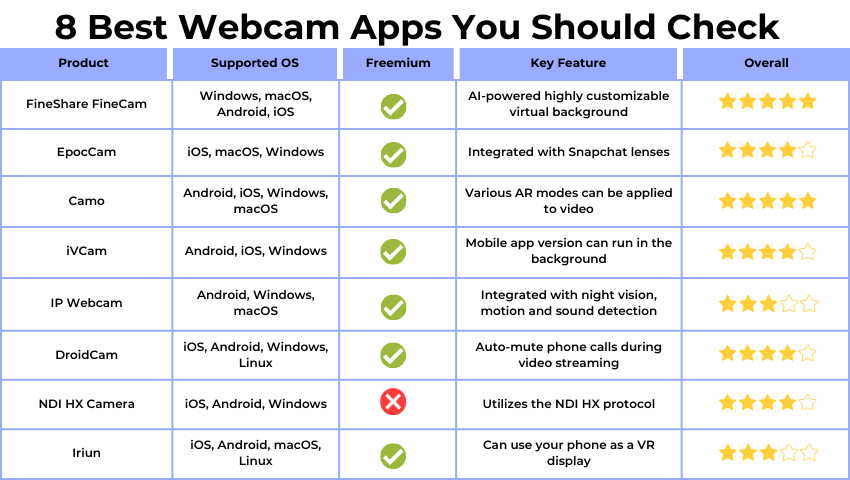 FineShare FineCam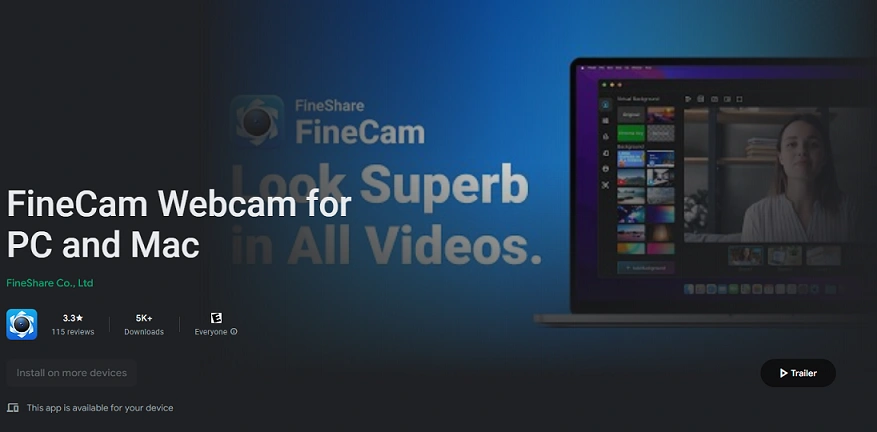 Price: Free plan, $9.95/Month, $29.99/Year, $59.9/Lifetime
Platform: Windows, macOS, Android, iOS
"Not much to say, it has been used for many years, if you like it, you might as well download it and try it out" – Apple App Store review
FineCam is available on mainstream OS, and its compatibility allows you to use it on any virtual meeting platform. This software can use a phone camera as a webcam via USB or WiFi connection. If you have more than one device, its multi-scene function can use all of them to generate multiple angles of your video.
The interface of FineCam is intuitive and user-friendly, even a beginner can understand how to operate it right away. What's more, it supports changing a virtual background for your online conferencing and video call and adjusting the interface to make you look better in the camera.
Features:
Hardware acceleration
Use iPhone/Android as HD webcam
Segment recording and video remixing
Capture video from multiple cameras

Pros:
Supports video resolution from 360p to 4k
Perfect compatibility with other apps
AI-powered highly customizable virtual background
Convenient content sharing

Cons:
The free plan has a watermark

EpocCam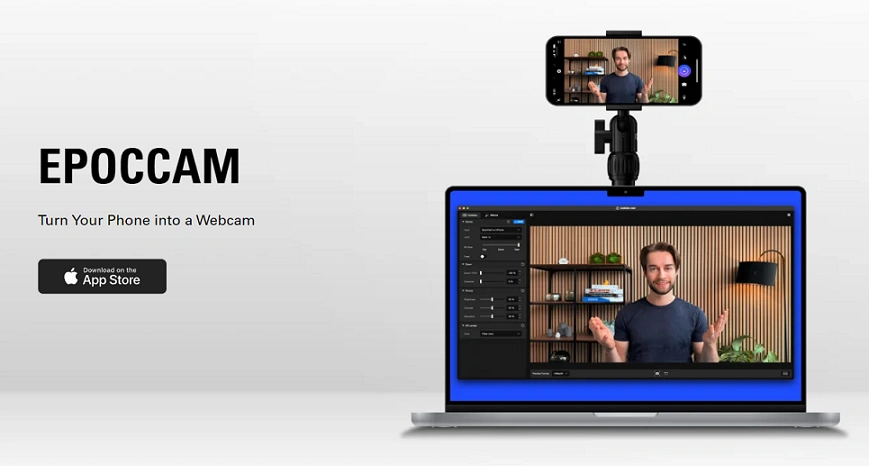 Price: Free basic version, $7.99/Pro version
Platform: iOS, macOS, Windows
"Best purchase of an app over 99 cents" – Apple App Store review
EpocCam is a versatile app that can turn your iPhone or iPad into a wireless webcam for your computer. By harnessing the power of your mobile devices, EpocCam is able to deliver high-quality video streaming at resolutions up to 1080p, and effortlessly use mobile as webcam for Windows or macOS.
Whether you're a professional or a casual user, EpocCam's wireless convenience and compatibility with popular video conferencing platforms make it a nice option for elevating your webcam setup to the next level. It provides a free version with limited features, you can try it before deciding to pay for the pro version or not.
Features:
Supports portrait and landscape mode
Wide angle camera
Integrated with Snapchat lenses

Pros:
Low latency during video streaming
Convenient wireless connection
Use mobile devices' microphones to input audio

Cons:
Supports only 1080p at most
Not available on Android

Camo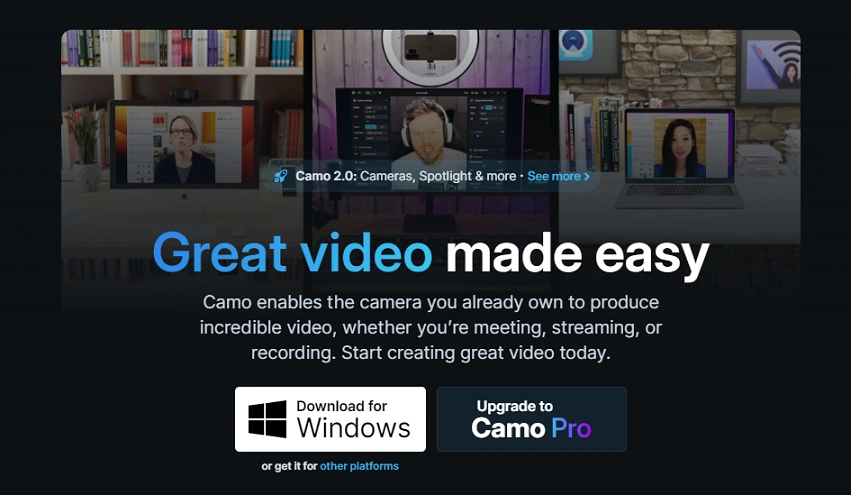 Price: Free plan, $4.99/Month, $39.99/Year
Platform: Android, iOS, Windows, macOS
"The only way I've really been able to use my iPhone as a webcam" – Apple App Store review
If you are a streamer on Twitch and wonder how to use your phone as webcam for Twitch, check out Camo. Developed by Reincubate, Camo is webcam software that has the ability to fully release the potential of your phone camera. Camo is one of the best iPhone webcam software, and it's a powerful tool for everyone. Whether you are a content creator, an online educator, or a streamer, Camo can be useful in simplifying your work by using your iPhone as webcam.
It not only uses your phone camera as webcam but also offers a lot of useful functions including privacy blur, spotlight, and overlay editor. Camo even has some AR modes to give you a unique experience in streaming videos.
Features:
Various AR modes can be applied to video
Provides many automatic functions
Allows to add presets of different adjustments

Pros:
Output video at resolutions up to 4k
Templates and image enhancements available

Cons:
Some features are only available on the specific system
The price might be expensive compared with similar software

iVCam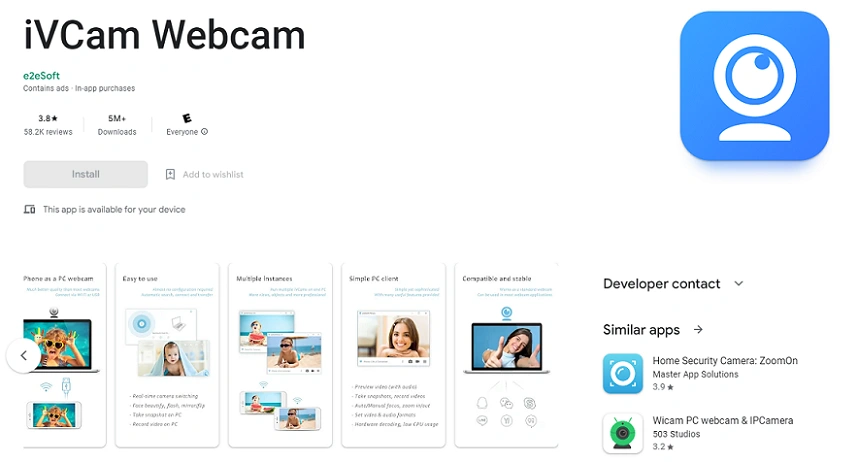 Price: Free version, $9.99/Year, $24.99/Lifetime
Platform: Android, iOS, Windows
"Great app + much cheaper than purchasing a dedicated high quality webcam." – Google Play review
iVCam is another iOS and Android webcam app that enables you to use iPhone as webcam on Windows 10 computer. It provides a convenient and flexible solution for video conferencing, live streaming, and other webcam-related activities including video calls and online teaching. If you want to know how to use phone as webcam for Discord, iVCam could be useful.
It has a face beautify function plus the flash, manual/auto focus, and background replacement functions, you can easily make yourself look better in the video. It also supports advanced camera settings like AE/AF, ISO, EC, and WB. It doesn't support macOS, but you may try an iVCam alternative to get similar functions.
Features:
Video quality, encoder, and frame rate are adjustable
Mobile app version can run in the background
Switch between front/rear and wide angle/telephoto cameras in real-time

Pros:
A wide range of resolution choices up to 4k
Fully automatic connection requires no configuration

Cons:
Connection has stability issues even on USB
There are ads in the free version

IP Webcam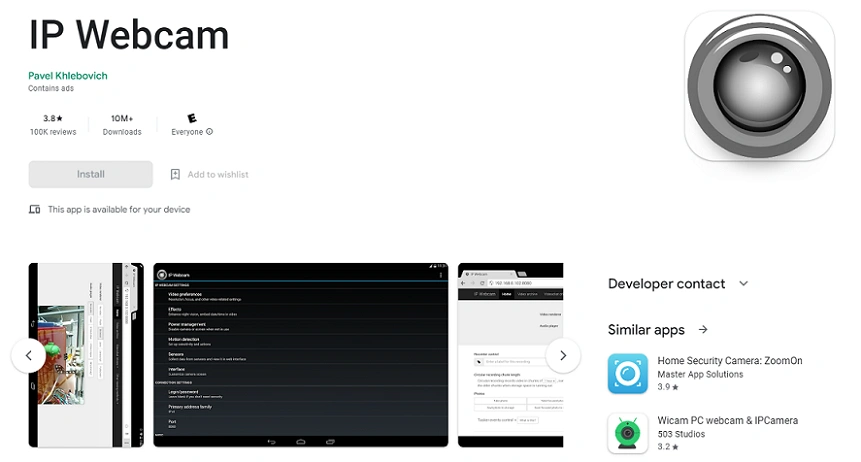 Price: Free version, $4.99/Pro version
Platform: Android, Windows, macOS
"Quick, simple, easy. Does what it says on the tin." – Google Play review
Specially made for Android users, IP Webcam is a free webcam app that can convert Android phones into HD webcams. It provides you with multiple viewing options, as well as some extensive features for baby and pet monitors.
IP Webcam is compatible with various versions of Android systems, and although IP Webcam itself is primarily designed for Android, its flexibility in accessing the camera feed makes it accessible on various platforms and systems.
Features:
Integrated with night vision, motion and sound detection
Supports plugins for uploading videos quickly

Pros:
Customizable camera settings
Allows you to access remotely

Cons:
Only supports connection via WiFi
High power and storage usage

DroidCam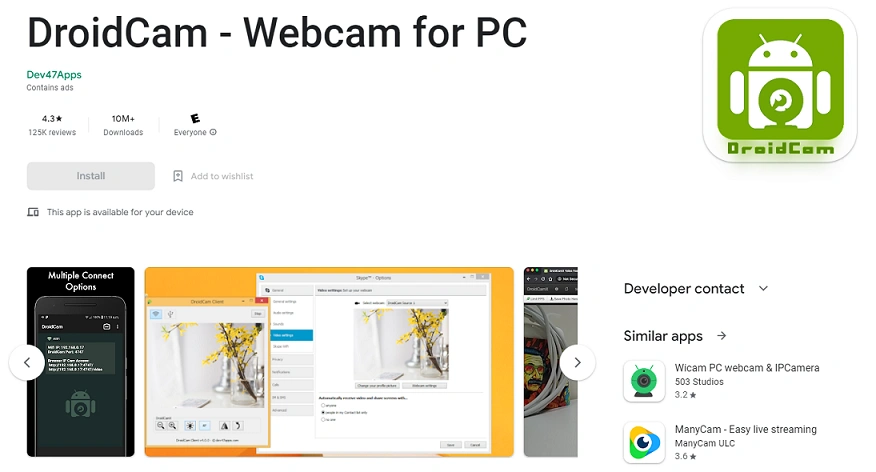 Price: Free version, $5/Pro version
Platform: iOS, Android, Windows, Linux
"Does exactly what it says, very well" – Apple App Store review
DroidCam is a cost-effective webcam app that is designed to connect your computer with mobile devices and transform phone cameras into HD webcams. It allows you to connect wirelessly or use phone as webcam for USB cable. The free version of DroidCam can stream videos in a standard resolution, and the software it's efficient, safe, and easy to use.
If you like DroidCam, you may consider paying to get the pro version which has more functions on camera control, and higher video quality up to 720p/1080p.
Features:
Run the app in the background
Turn on your phone's flashlights for better lighting
Auto-mute phone calls during video streaming

Pros:
Cons:
The free version contains ads
Doesn't support macOS

NDI HX Camera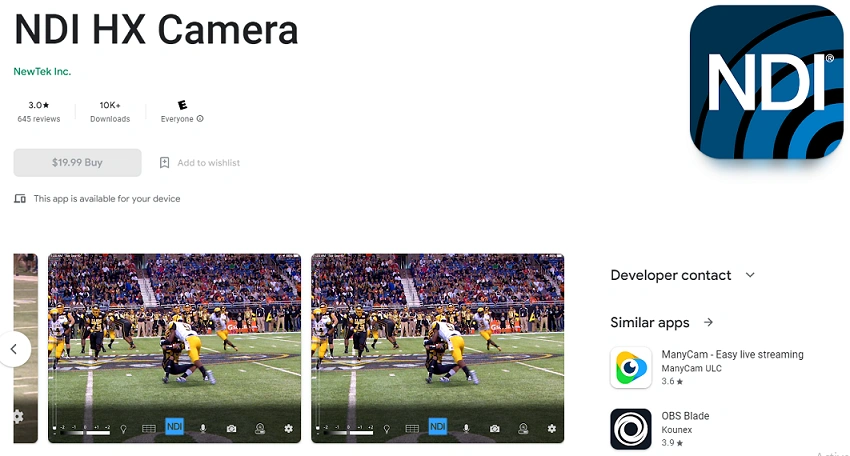 Price: $19.99
Platform: iOS, Android, Windows
"NDI is great. Love being able to beam video around my studio without wires." – Google Play review
If you are using broadcast systems that support NDI (Network Device Interface), then NDI HX Camera is the best option for you to use phone camera as webcam.
NDI HX Camera can easily turn your mobile devices into high-quality NDI cameras, allowing you to capture and transmit content to other detected NDI-compatible devices or software on the same network. It has multiple adjustment options for the video, like camera selection, frame rate, and auto exposure.
Features:
Utilizes the NDI HX protocol
Optional grid overlay
Supports using dual cameras on phones

Pros:
Supports various bandwidth modes

Cons:
Device auto-detection may be inaccurate sometimes

Iriun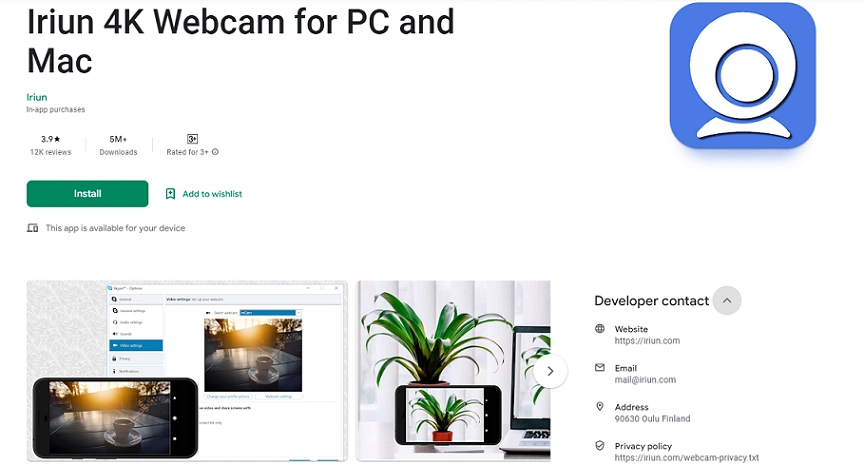 Price: Free version, $7.49/Lifetime
Platform: iOS, Android, macOS, Linux
"No fiddling, it works simply and reliably. A very robust application." – AlternativeTo review
Iriun Webcam is a popular app that allows you to use phone camera as webcam on Windows, macOS, and Linux. It supports a high resolution of up to 4k, depending on the resolution of your phone. And
Some users have complained about its functional boards are not distinguishable enough and they seek an Iriun webcam alternative. But still, Iriun would be a good choice if you want lightweight webcam software.
Features:
Can use your phone as a VR display
Auto connection through WiFi
Various resolutions based on your phone

Pros:
Easy to install and use
Available on mainstream systems including Linux

Cons:
Requires installing the webcam driver too

How to Use Phone as Webcam for Web Browsers, Zoom, Google Meet, etc.
In fact, these apps mentioned above can also use phone camera as a webcam on browsers too. Taking Chrome as an example, here we will show you how to do that with FineCam. And there will also be a guide on how to transform your phone on popular platforms like Zoom and Google Meetings.
Google Chrome
Step 1. Click the three dots option at the upper right corner near your account avatar, choose Settings.
Step 2. Find Privacy and security on the left side panel, then click Site settings.
Step 3. Scroll down and click the Camera option under the Permissions tab.
Step 4. Select FineShare FineCam in the list at the top.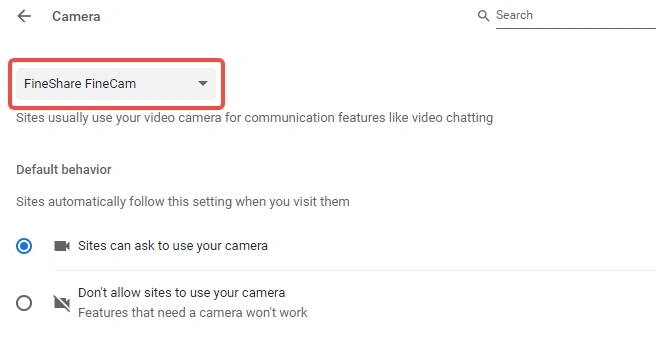 Zoom
Step 1. Launch the Zoom app from your desktop.
Step 2. Click the gear icon under your avatar at the upper right corner to open the Settings interface.
Step 3. Choose Video on the left side panel, and select FineShare FineCam as the camera.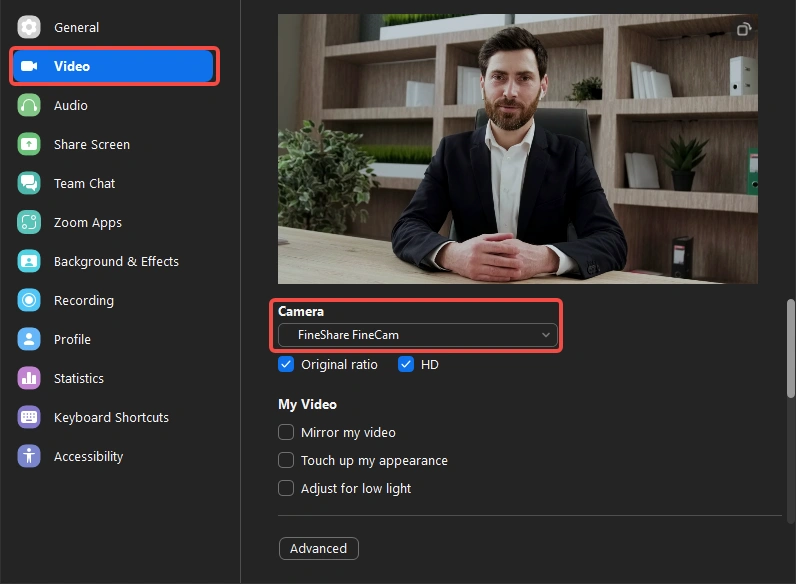 Google Meet
Step 1. Open the Google Meet website.
Step 2. Click the gear icon next to your avatar at the upper right corner to open the Settings interface.
Step 3. Click the Video tab, and set FineShare FineCam as the camera.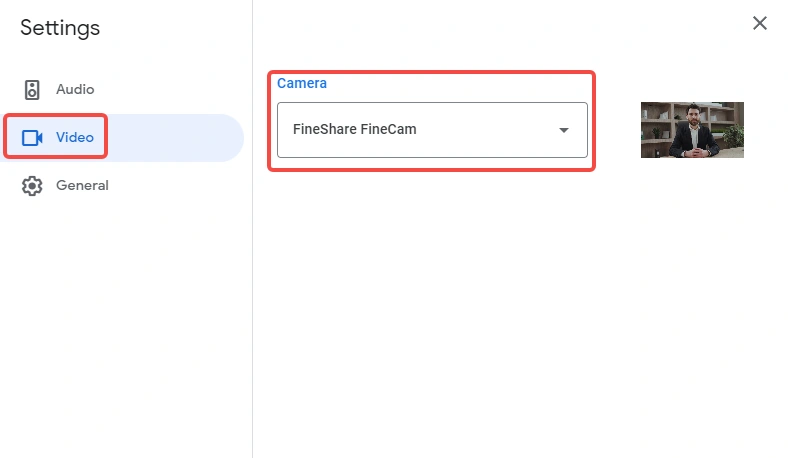 Bonus: Best Techniques to Make You Look Better in the Camera
A suitable webcam app to turn your phone into a webcam is a good start. However, an HD camera isn't enough to get the best performance. Some apps offer options for camera adjustments like Zoom's filters, there are also more techniques that can make you look better in the camera. Take a look.
Additional equipment: Some equipment can improve how you look in the camera immediately. For example, a ring light can light up your face and make you look more energetic in the camera.
Background: Always choose a background that suits your video. If you are making videos for kids, then a colorful background with cartoon images would be good. Some webcam software can change the background directly, so you won't need a green screen for it.
Clothing: Shiny accessories should stay away from the camera, and the color of your clothes should be in the medium range. Don't let the clothes take away your audience's attention, especially when you are having an online meeting.
Good angle: Sometimes the same thing might look different from another angle, so you better try to find the best angle to show your face in the camera.
Suitable lighting: Ring light is one thing, you should also be careful with all the light sources around you. Light from behind will blur your face, and light from directly above will cover your face in shadows.
Conclusion
At present days, phone cameras usually have better quality than the built-in webcams on computers. It would be great if you can fully harness your phone and release the potential of its camera. We hope this article can help you figure out how to use phone as webcam, and wish you enjoy the new journey with convenient phone webcams.
Frequently asked questions
How to use phone as webcam for OBS?
FineCam can help you turn your phone into a webcam via USB or WiFi. After connecting your phone to your computer, turn on the virtual camera in FineCam, and OBS will be able to detect your phone and use it as a webcam.
Which is the best app to convert mobile camera into webcam?
FineCam could be the best app for beginners to convert phones or tablets into webcams. It's a virtual camera integrated with AI technology and is suitable for video conferencing, video calls, live streaming, online lessons, etc.