It's not easy to find a satisfying webcam without paying too much money or time. However, if you have an iPhone or Android smartphone, why not make use of your phone's High-def camera as your computer's webcam?
To make use of a phone camera as a webcam would be way easy than you imagine. This involves downloading an app to your phone, which bridges a signal via Wi-Fi to an app on your computer. This phone-to-webcam desktop app then creates a virtual camera in your video calling apps, like Skype, Zoom, Discord, OBS, etc.
In this article, we will explain how to use your smartphone as an HD webcam for free, through Wi-Fi and USB.
Part 1: How to Use Your Phone as Webcam on Computer with FineCam
FineCam is the powerful iPhone Webcam app that masters turning phones into 4K webcams, which will upgrade your poor quality to a higher level. Beyond that, FineCam also offers camera effects, filters, virtual backgrounds, and brand overlays that you can use for video calls on your Windows and Mac computers.
FineCam Free also allows you to control your Phone camera on your computer by zooming in/out, switching between landscape mode or portrait mode, turning the front or rear camera, flipping and rotating, adding multi-cameras, and so on.
How to Use Phone as Webcam for Free with FineCam
Step 1. Download and install the FineCam app from App Store or Google Play Store (Requires iOS 13 and later, all iPhone models are supported; Android 5.0 and later).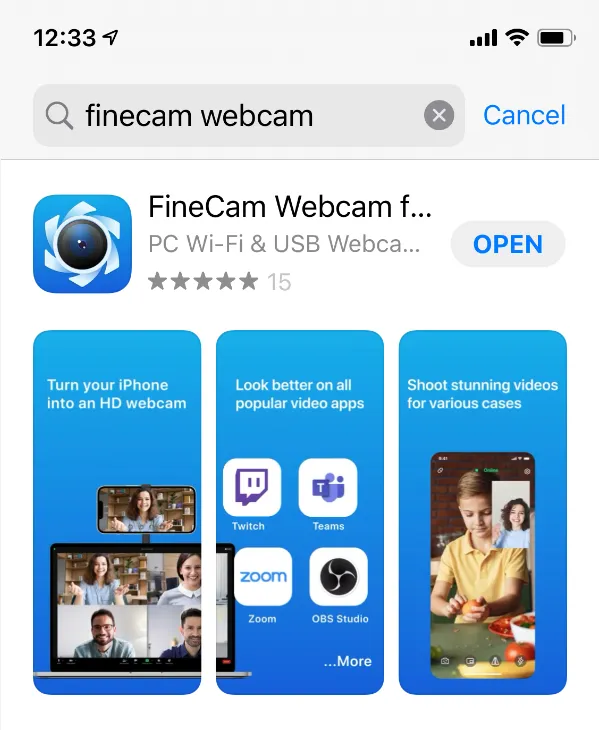 Step 2. Download and install the latest version of FineCam.
Step 3. Run the FineCam app on your iPhone or Android > Then follow the onscreen steps to connect your iPhone to your computer via Wi-Fi or USB.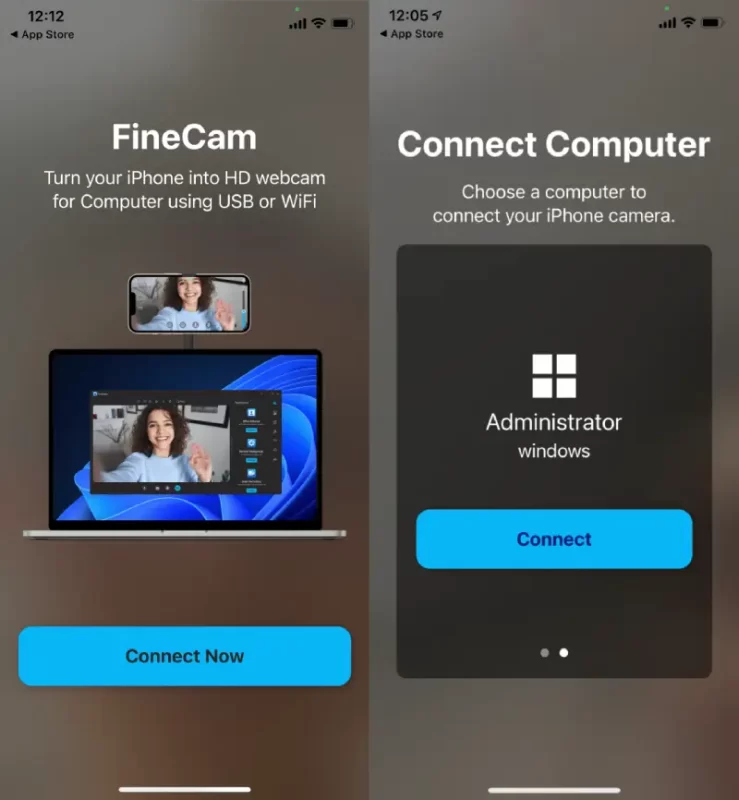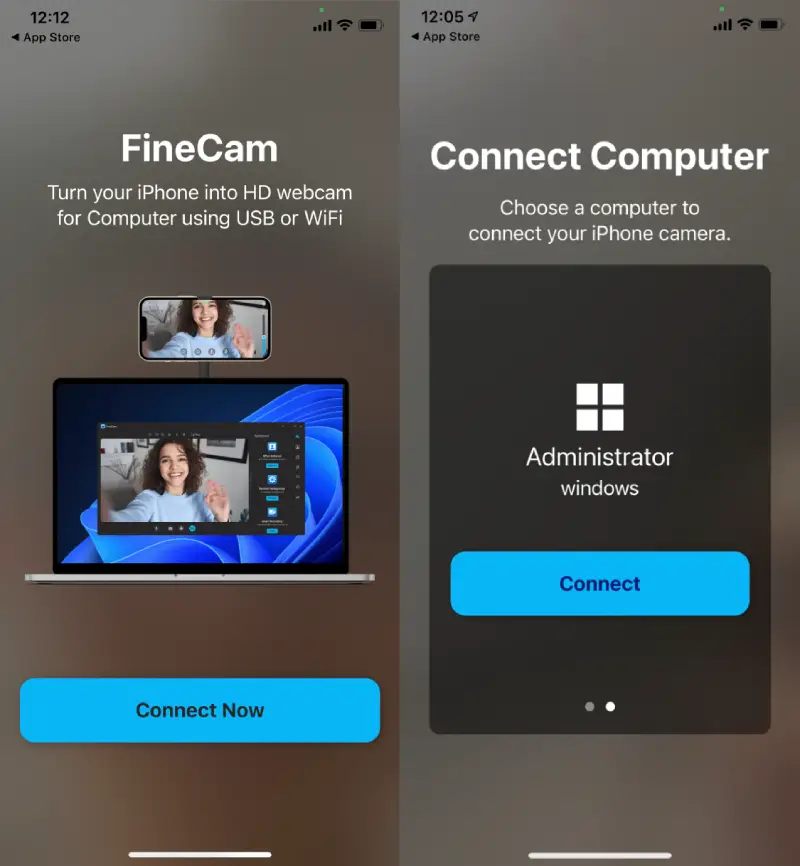 Step 4. Use the phone as webcam and start a video chat on this computer.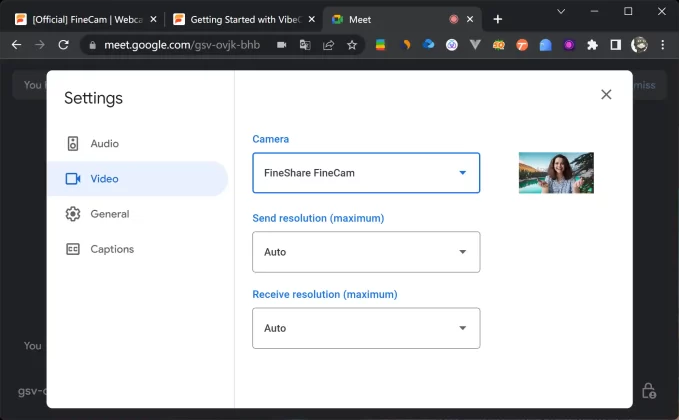 Part 2: How to Use Android Phone as Webcam on Computer with DroidCam
The procedure of using an Android as a webcam is identical to using an iPhone.
Although most of the video callings apps like Skype, Zoom and Google Meet have default mobile app editions for iOS and Android phones, at times you may still feel comfortable using your phone as a webcam on your computer.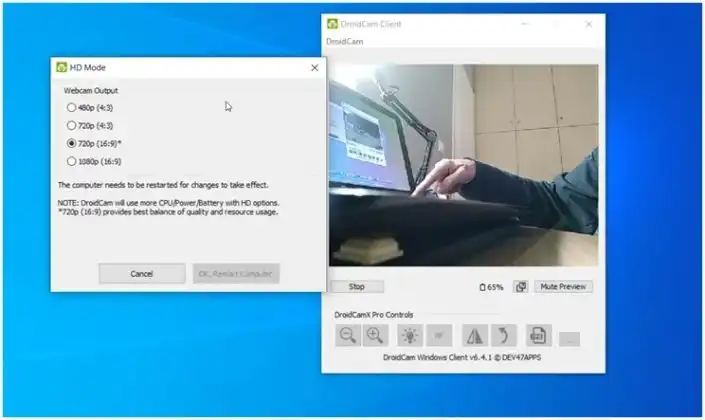 If you have an Android smartphone and want to use your phone as a camera for your computer, you can download the DroidCam app, which works perfectly for setting up an Android webcam via Wi-Fi or USB cable.
How to Use Android Phone as Webcam via DroidCam
Step 1. Download the DroidCam app from the Google Play Store or Apple App Store on your phone.
Step 2. Download the DroidCam desktop client on your computer. Follow the installation setup wizard's instructions to install DroidCam on your computer.
Step 3. Open both the DroidCamApp on your Android phone and the computer (give the camera access permission when asked) > Built the USB/Wifi connection from append, and you'll be able to use your phone as a webcam and see the camera feed on the PC client.
Conclusion
Now, do you know how to use your phone camera as a webcam? If you have any further questions, don't hesitate to leave a comment or contact us directly for asking help. At last, don't forget to download FineCam – the best-in-class iPhone webcam app that helps use your phone as a webcam and make perfect video callings in Zoom, Google Meets, Discord, and more.
Look Superb in All Videos
FineCam is an AI-powered virtual camera for Windows and Mac. It makes you look better in Zoom, Teams, YouTube, makes video production easier, and tunrs your phone into an HD webcam. Get it for free.