Zoom is one of the most widely used virtual meeting platforms. Are you bored of the same old Zoom meetings where you see a bunch of faces on a screen? Do you wish you could feel more connected and engaged with your colleagues or friends online?
If so, you might want to try Zoom Immersive Mode, a feature that lets you create a more realistic and fun virtual meeting space.
What is Zoom Immersive View?
Zoom Immersive View is a feature that places you and your attendees in a shared virtual background and frame. It's like being in an in-person meeting, but without leaving your home or office. Up to 25 people can simultaneously use the Immersive View.
You can choose from different scenes provided by Zoom, such as a classroom, a boardroom, a conference auditorium, or a coffee shop. You can also upload your favorite Zoom backgrounds, such as Spring, space, Skyscraper, and many more.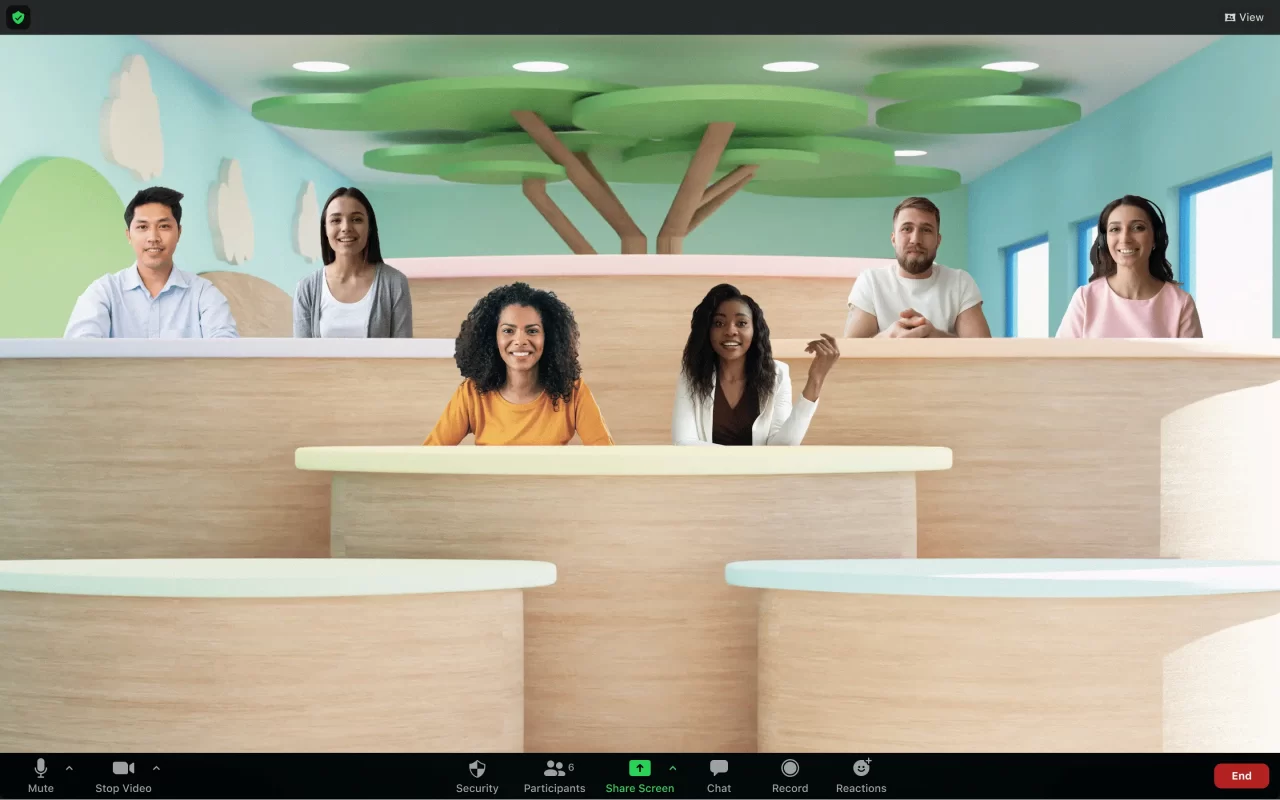 Benefits of Zoom Immersive View
Let's delve into the benefits Zoom Immersive View brings to the table.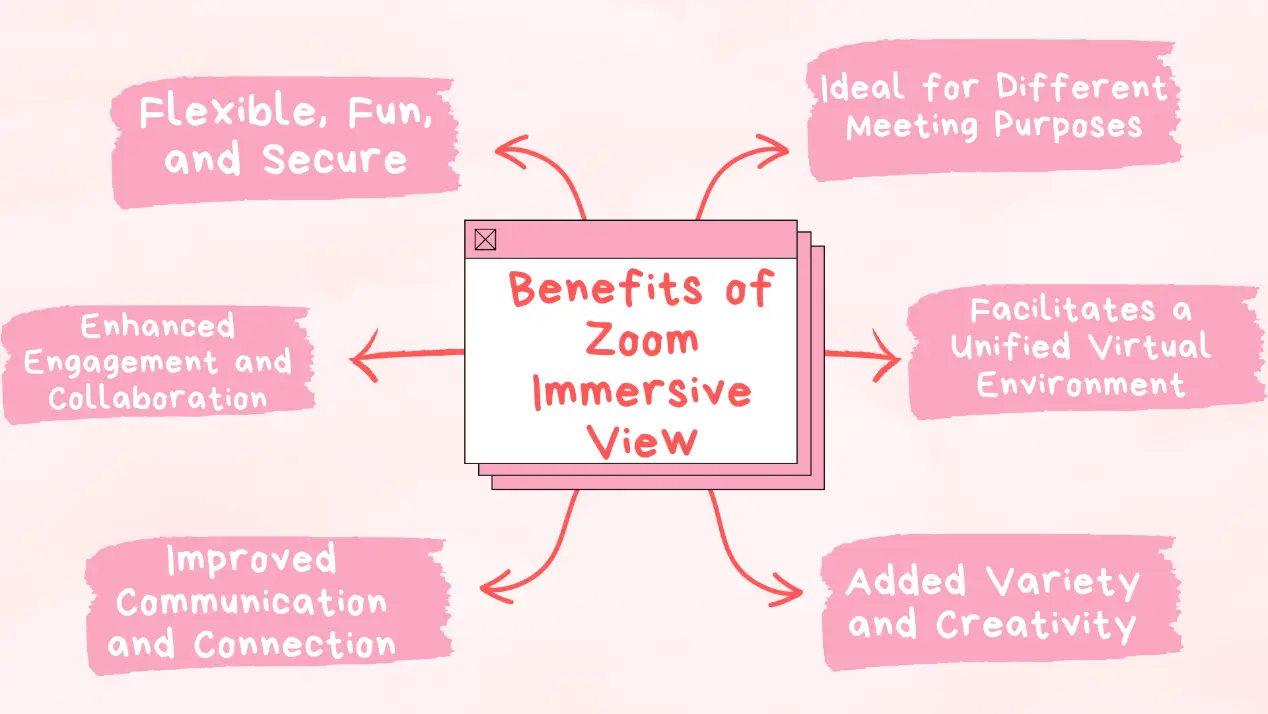 Flexible, Fun, and Secure
You can use it for any meeting size and type, from fireside chats to virtual interviews.
Enhanced Engagement and Collaboration
Zoom Immersive creates a realistic and enjoyable meeting environment, captivating participants and boosting their attention and participation.
Improved Communication and Connection
Zoom Immersive View bridges the physical distance. You can see facial expressions and body language more clearly enhance communication and builds stronger connections among participants
Added Variety and Creativity
Immersive View in Zoom allows you to unleash your creativity by choosing from a range of pre-designed scenes or uploading your own custom backgrounds.
Facilitates a Unified Virtual Environment
This visual cohesion makes participants feel like they are truly sharing a physical space, fostering a more connected and engaged meeting experience.
Ideal for Different Meeting Purposes
Whether you're hosting educational sessions, business meetings, team-building activities, or casual chats, Immersive View offers scenes that cater to various meeting purposes.
Basic Requirements for Using Zoom Immersive View
Here are some basic requirements for using Zoom Immersive View.
Zoom desktop:
Windows version 5.6.3 or higher
MacOS version 5.6.3 or higher
Mobile device:
Android version 5.6.3 or higher
iOS version 5.6.3 or higher
How to Use Zoom Immersive View?
If you want to start Immersive View, follow these steps.
Step 1: Open the Zoom desktop app.
Step 2: Click on the gear-shaped Settings menu > View More Settings.
Step 3: Jump to Zoom's control panel and select the Settings button on the left.
Step 4: Scroll down to the In Meeting (Advanced) section and enable the Immersive View feature.
Step 5: Start a Zoom meeting or webinar as a host.
Step 6: Click View > Immersive in the upper right corner.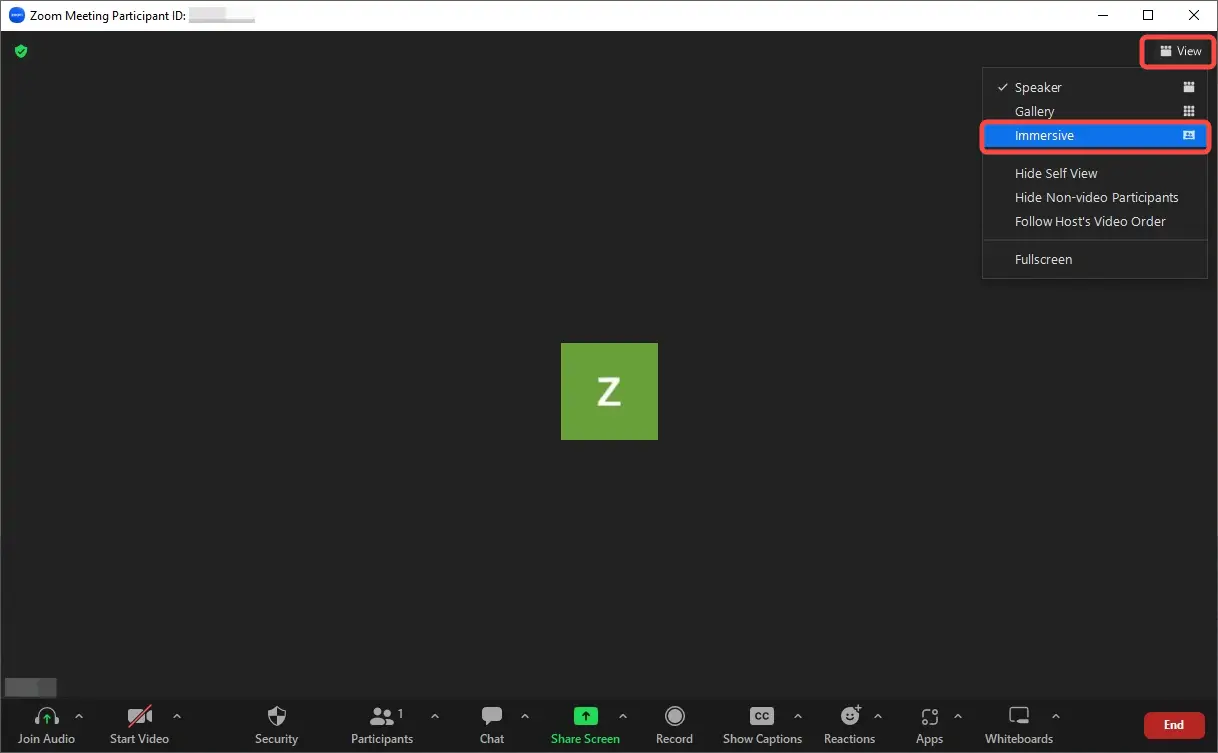 Step 7: Select Automatically and or Manually to Place participants into view.
Automatically: It will include as many participants as possible.
Manually: You can add or remove participants as needed.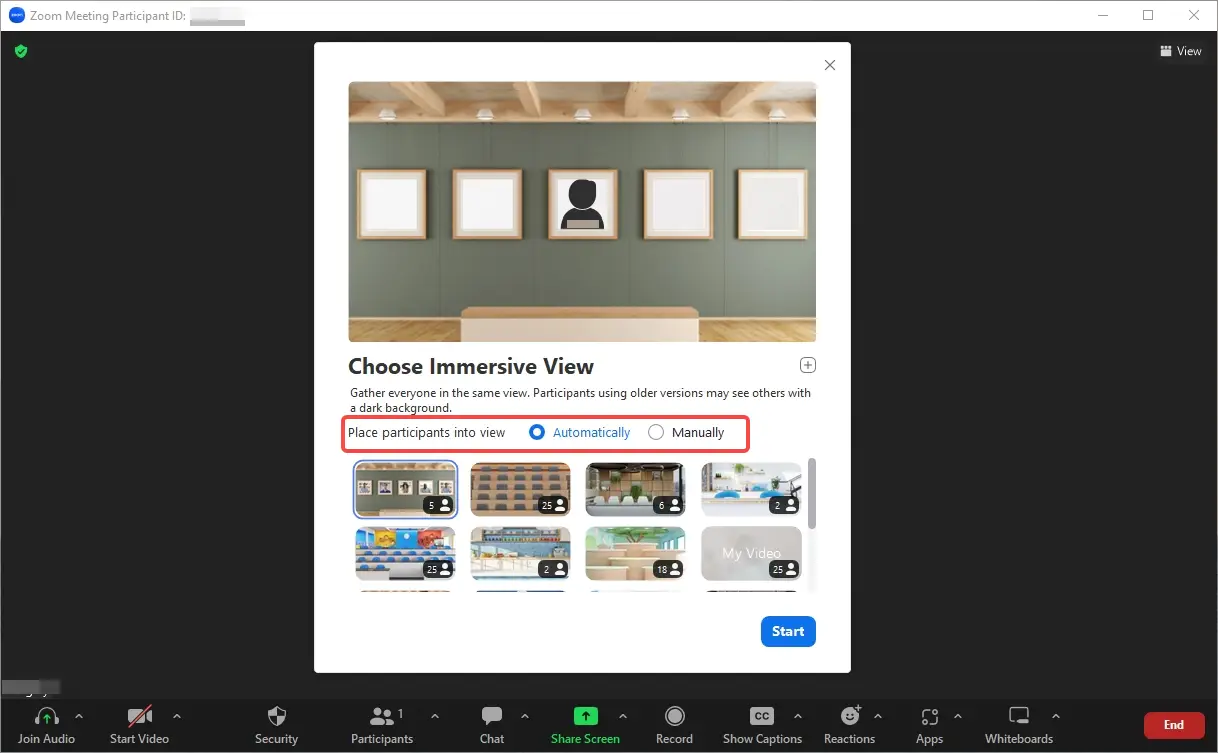 Step 8: Select the Zoom immersive view background you want to use and the picture has a maximum limit of people in the bottom right corner.
Step 9: Once all settings and backgrounds are selected, click Start.
Want to know more about Zoom meetings? You can read: Zoom Etiquette: 9 Tips for Better Video Conferences.
Tips: How to Make Your Meeting More Interesting and Attractive
FineShare FineCam is an AI virtual camera for Windows and Mac. Whether you want to record a video, host a webinar, or teach a class online, FineCam can provide you with a high-quality and immersive Zoom video meeting experience.
You can use AI to automatically remove your background and change a professional Zoom background to enhance your video. You can choose from a variety of scenes provided by FineCam or upload your own. You can also use your video, PowerPoint, or webpage as an immersive scene, bringing participants into your virtual background.
FineCam is easy to use and compatible with most platforms such as Zoom, Skype, Teams, etc. Download FineCam today and see how it transforms your video experience!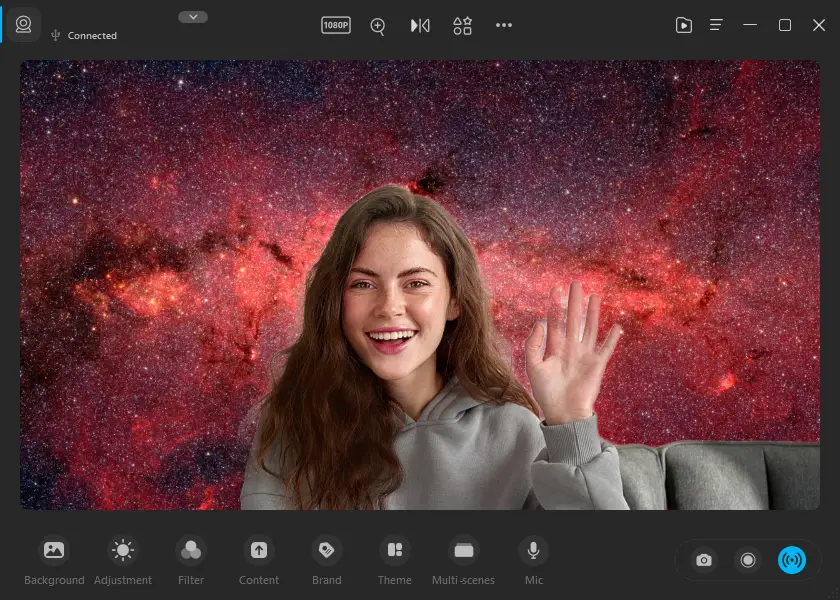 Why Use FineShare FineCam?
Easy to use
Automatically remove your webcam background and apply a unique and creative background
Capture video from various perspectives and transition between various scenarios smoothly.
Offer a selection of filters and changes that let you change the brightness of your video and boost its color vibrancy.
High-quality video recording software
Various templates to add logos, texts, images, stickers, etc
Conclusion
Zoom Immersive View is a great way to boost collaboration among remote workers and colleagues. Try it out today and see how it transforms your online meetings into more fun and interactive experiences!