Virtual meeting platforms have seen a sudden surge in popularity and need since the outbreak of Covid-19. Many people went remote working and conducted meetings and conferences online. Although the pandemic's effects are slowly fading, numerous companies are still conducting virtual meetings due to their flexibility, convenience, versatility, and affordability.
If you also like the idea and want to create a virtual meeting environment for your team and employees, this guide is for you. Here, we will discuss the top 10 leading online meeting platforms, their features, pros, and cons. You will also learn how to select the right software according to your needs and get a fantastic recommendation at the end. So, read along to get your team excellent software.
What is Virtual Meeting Platform?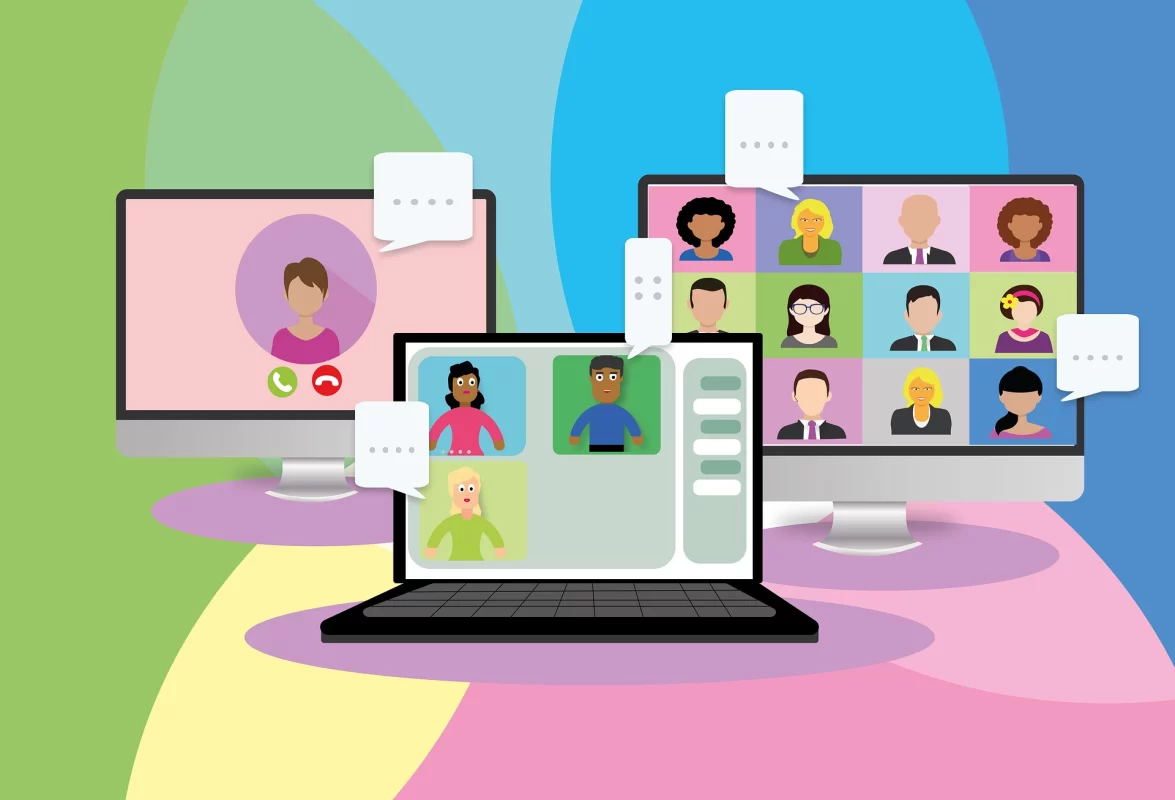 A virtual meeting platform is an application or software that allows you to communicate with another person visually over the Internet. You can conduct video calls with the person at the receiver's end if they also have the same software.
Why Should You Use Online Conference Software?
Using video meeting software for your conferences and meetings has numerous benefits, some of which are discussed below:
It connects you to the other person from your home comfort.
The method is cost-effective and affordable.
You are saved from the hassle of traveling.
It increases productivity and allows you to communicate effectively.
These meetings have the least carbon footprint.
How to Choose the Best Virtual Meeting Platform for Your Business
With multiple options on the internet, it can be overwhelming to choose the right platform that will serve you well. So, when choosing the best platform for online conference, here are a few tips, tricks, and factors you can consider.
Criteria
While selecting the right tool for your conference, here are some criteria and features you should look for in the software to have smooth and effective meetings.
1-on-1 Calls
Group Calls
Live Chats
Video Calls
File Sharing
Responsiveness
Factors
Apart from the above criteria, you should also consider some side factors before choosing a video conferencing software that can affect the overall usage and meeting experience.
Main Purpose
Features
Price
Video Feed
Ease of Use
Reviews
Tips
Although the executives and managers usually make the selection, it is best to let the IT department choose the video conferencing tools. They know most of the company's technical requirements better.
Never jump into the first platform you check. Compare and analyze multiple tools to get the right one for your team and smooth meetings.
Try to check out the free trails of shortlisted paid platforms. Sometimes, the software seems great on paper and in spec sheets, but testing can reveal many minor issues with your webcam that you don't want to face in a live meeting.
The Top 10 Virtual Meeting Platforms in 2023
Since now you know how to pick the right software, it's time to get into our list of the best virtual meeting platforms.
#1. Zoom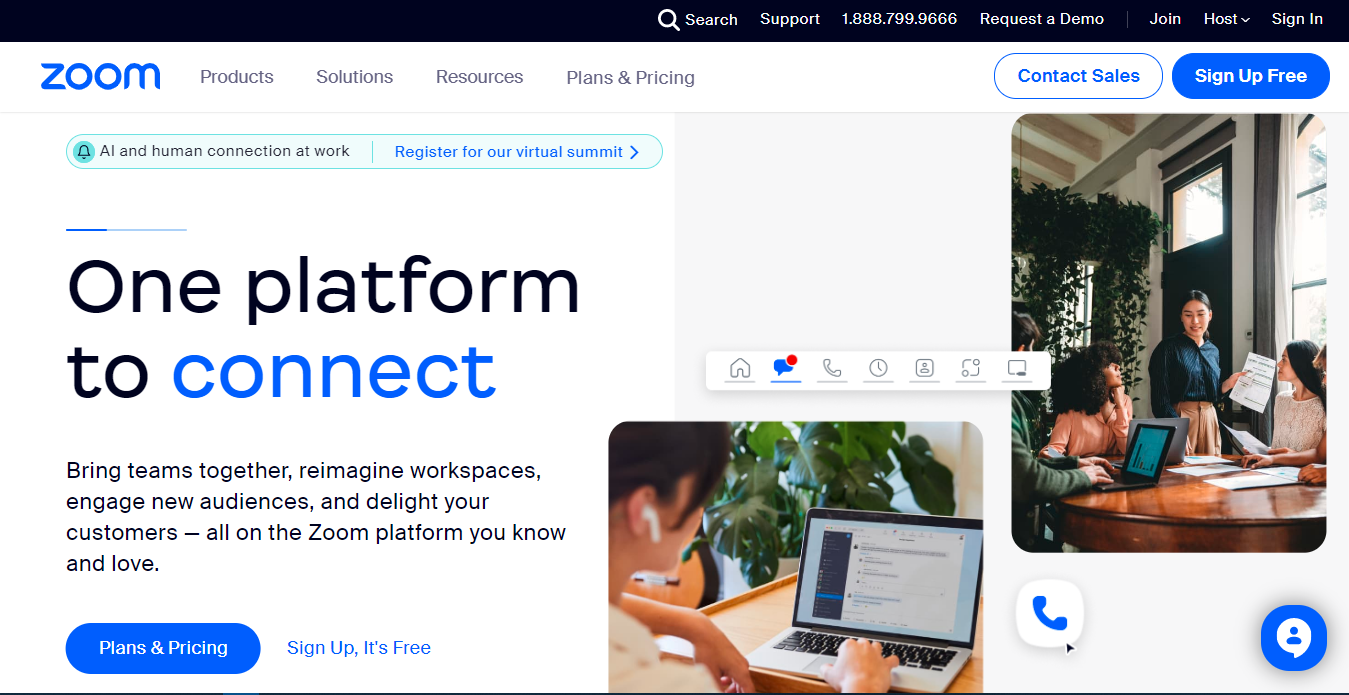 Zoom comes into our minds as soon as we hear "virtual meeting platform". The software was well-known earlier but it has seen a surge in popularity after Covid. It was launched in September 2012 and has over 300 million daily active users on the platform. Zoom's basic version is free to use, but you can join its pro version by paying 14.99 USD per month.
Features:
You can stream your video calls on Facebook and conduct meetings, seminars, or webinars.
It allows up to 100 participants to join a video call on the free version.
Anyone can easily join the conference and navigate conveniently.
Pros
Free Version is Features Rich
Relatively Affordable
High-Resolution Videos
Impressive Customer Support
Cons
International dial-in number is not supported in US and UK
Some companies showed privacy concerns in the past
#2. Microsoft Teams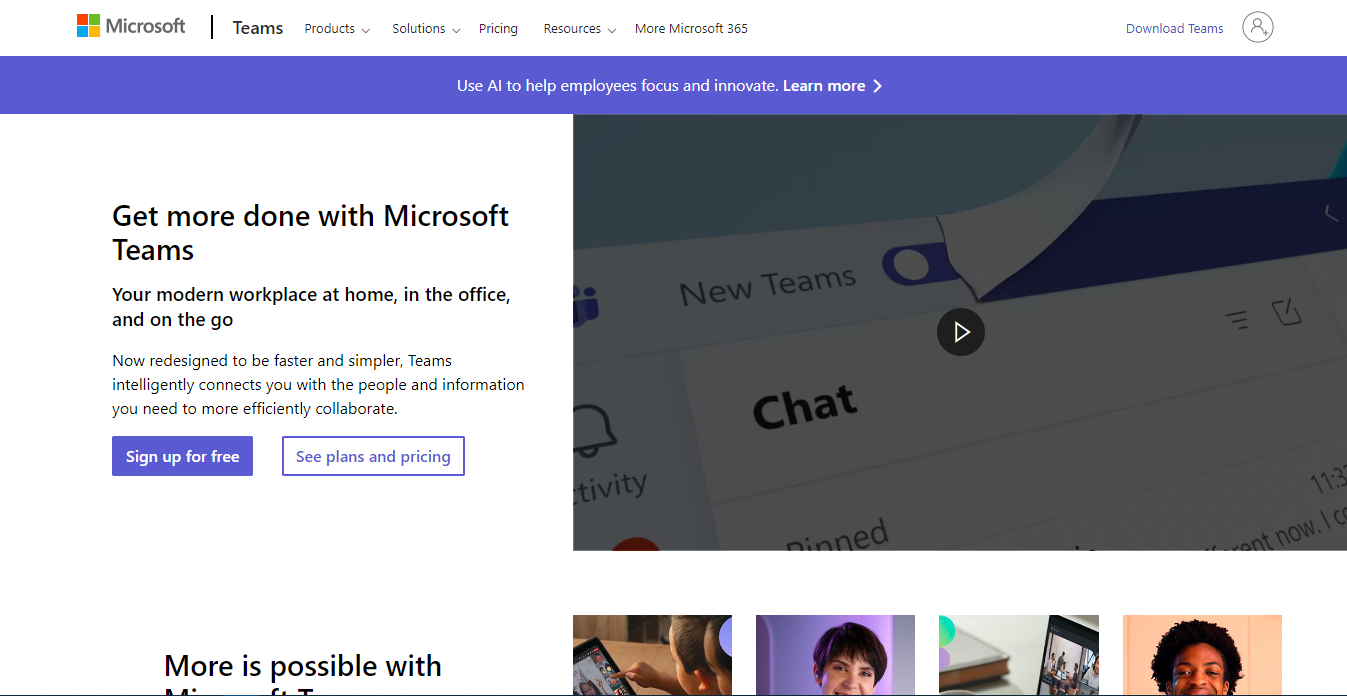 Microsoft Teams is also considered one of the best virtual conference platforms due to easy integrations of other MS products. Microsoft launched it in March 2017, and now MS Teams has over 280 million daily active users. You can access the software for free for up to 60 minutes, even if you are not subscribed to Microsoft 365. However, you can buy it at $4/month for business use.
Features:
It allows complete MS 365 app integrations, making it the best platform for online meetings for 365 subscribers.
You can create multiple channels, projects, topics, and teams, for maximum coordination and planning.
MS Teams allows seamless integration to platforms like Trello, Dropbox, or Google Drive.
Pros
High Customization
Numerous Integration Options
Complete Package with Microsoft 365 Suite
Affordable
Cons
Not suitable for non-365 users
File sharing can be confusing
#3. Google Meet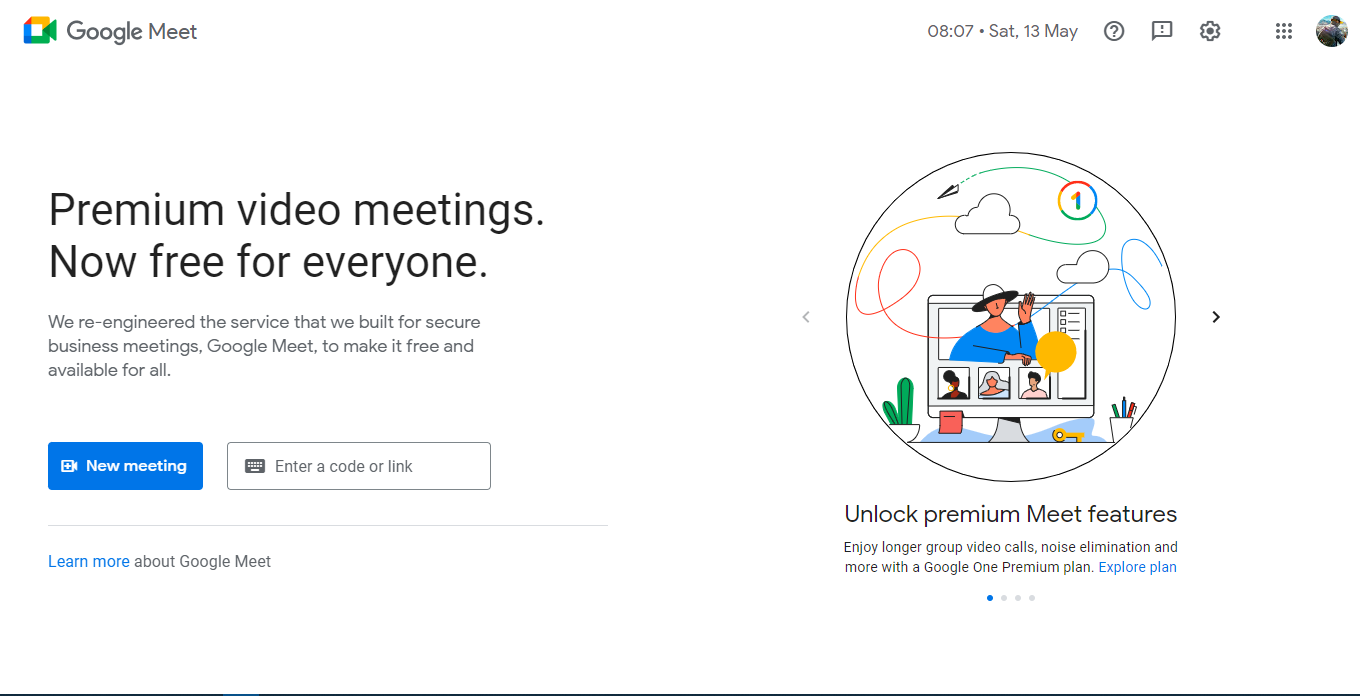 Google Meet is also among the excellent online meeting platforms and a tough competitor to Zoom. It was also launched in March 2017, a few days prior to MS Teams. But it has just over 2 million new users daily. Anyone with a Goole account can use Meet free for an hour, but you can unlock a 24-hour meeting at just 7.20 USD per month.
Features:
Since it is an online platform, you can access your Google Meet account from anywhere.
It is an excellent choice for businesses of all sizes, making it scalable.
It effectively integrates Google Workspace and other third-party apps, like Slack, Zendesk, Smartsheet, etc.
Pros
Easily Accessible
Convenient File Sharing
No Download Required
Meetings Automatically Save into Google Drive
Cons
Can stress your hardware if run on a weak system
Comparatively has lower features
#4. Cisco Webex
Cisco Webex is one of the oldest online platforms, created in 1995 but officially launched in 2006 by NASDAQ. It is rather unpopular as only 39+ million users are cloud calling over Webex. However, its flexibility and reputation still keep it in business, and some dynamic features give it a score on this list.
Features:
Technically originating for businesses, it is among versatile virtual meeting platforms solely dedicated to business conferences.
Webex has an interactive, simple, and easy-to-use UI for users with minimal background knowledge.
It uses many useful business tools, like polling, tracking, and other analytical tools.
Pros
Amazing Whiteboard Features
Supports Cloud Recording
Includes Breakout Rooms
Trusted & Business-Centric
Cons
Only has 10GB of cloud storage
Is relatively expensive
#5. GoToMeeting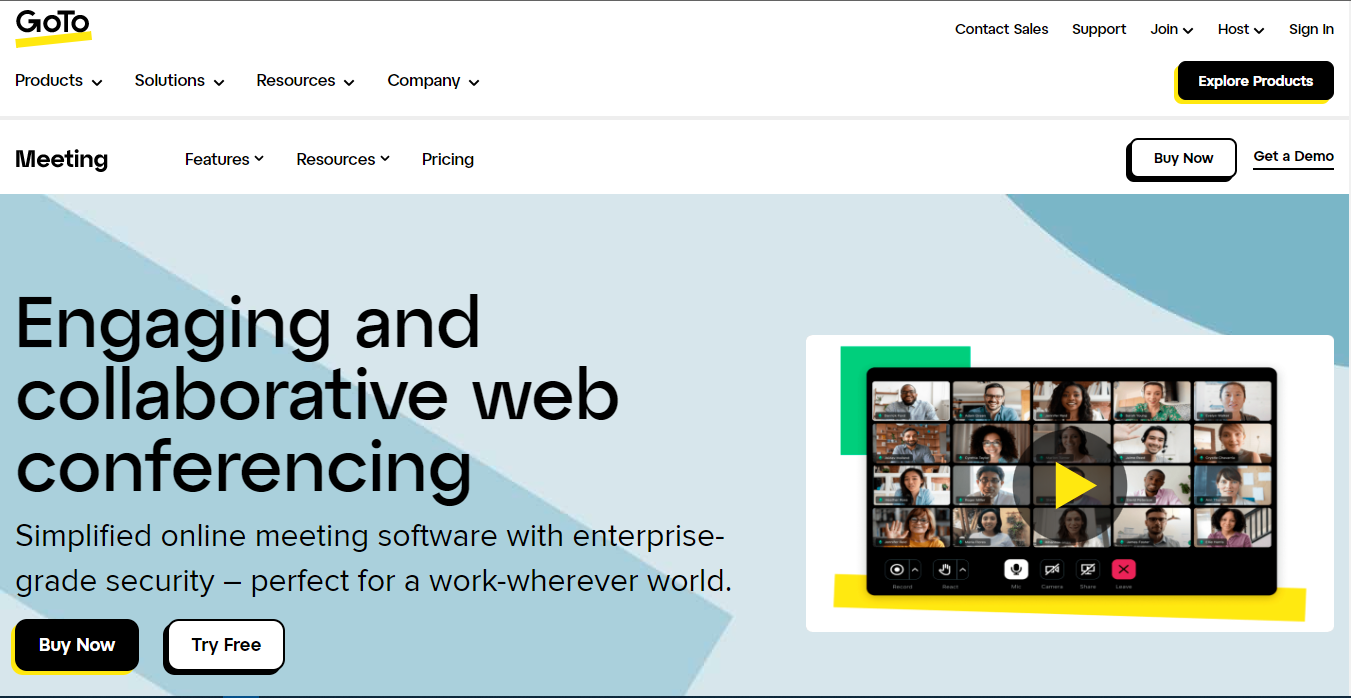 GoToMeeting was earlier known as LogMeIn (funny, but don't ask why) and is now included among the top online conference platforms due to its impressive features. The software was released in July 2004 and is a great platform for small meetings. On the free plan, you can add up to 2 more participants. However, you can join their premium level at 12 USD/month.
Features:
Its free version allows you to video call for up to 40 minutes, longer than many other meeting platforms.
GoToMeeting conveniently integrates Microsoft 365 and Google Workspace calendars, increasing versatility.
On a pro level, it features a Smart Meeting Assistant, which can actively transcript during the calls.
Pros
Responsive to All Platforms
Versatile & Valuable Smart Assistant
Presenter Controls & Drawing Tools
Allows Custom Backgrounds
Cons
Doesn't have a whiteboard
Limited chat features
#6. Slack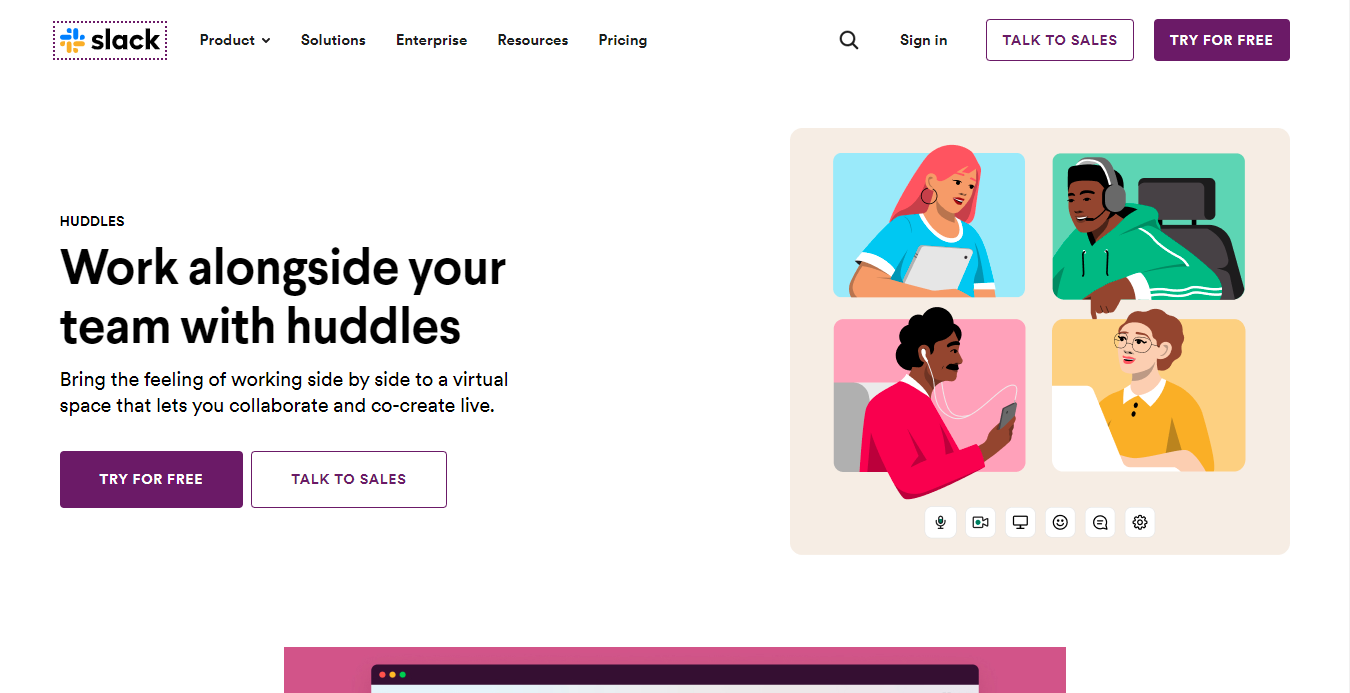 Slack is a leading communication and project management tool which also allows virtual video call meetings. It was released in February 2014, and (currently) over 10 million users video call on the platform. Although its paid version unlocks numerous features, the free plan is loaded with necessities for a video call. However, you can get more participant's support on a call in the Pro version at 7.25 USD/month.
Features:
Might be the greatest feature, Slack allows you to conduct as many video calls for as long as you want.
It can easily integrate with other video calling applications, increasing its flexibility and versatility.
It offers quick calling, accepting or declining calls on both desktop and mobile versions.
Pros
Unlimited Video Calling
Multiple Operating Systems Support
Easy to Use & Interactive UI
Quick Screenshare
Cons
Allows only 1:1 calls on the free plan
Video quality can be compromising
#7. FaceTime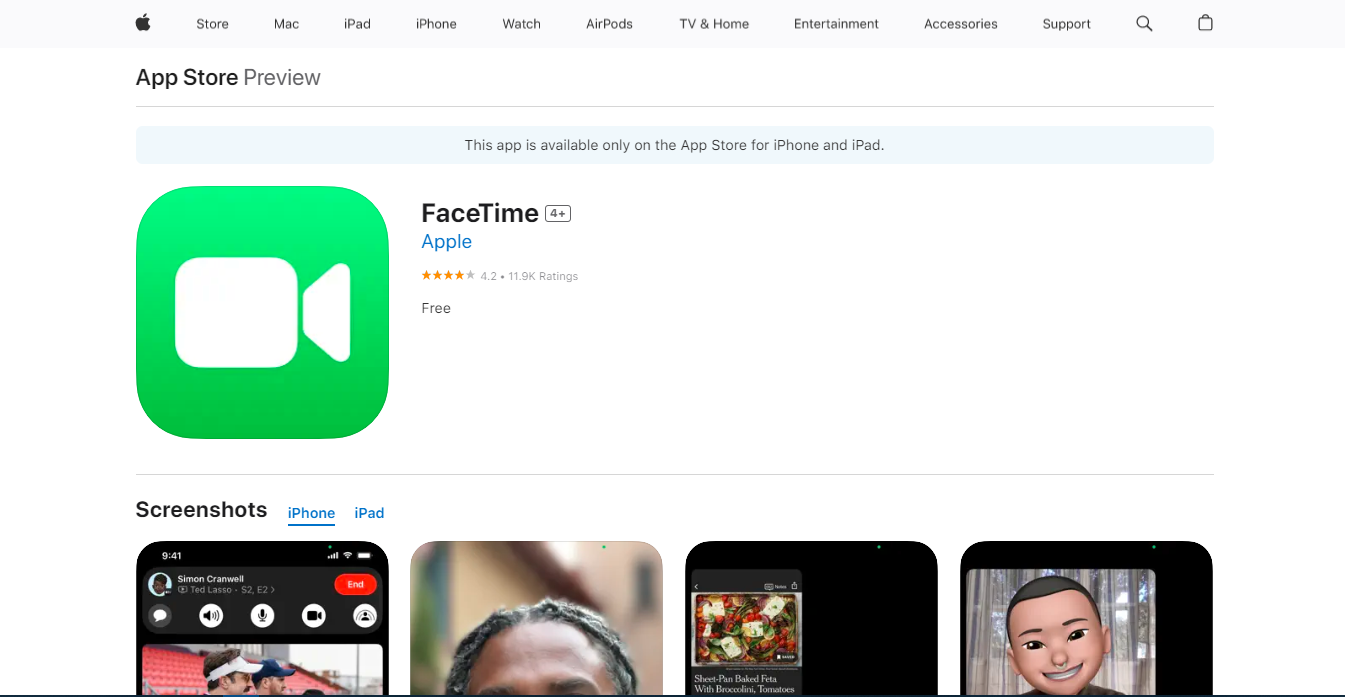 FaceTime provides the best video conferencing services to iOS and macOS users. It was launched in June 2010 and soon became popular among the iPhone users. As long as you have a stable connection, you can make unlimited Facetime call to another Apple product for free. It doesn't cost any extra charges, which makes it a phenomenal choice for Apple users.
Features:
You can enjoy free calls for as long as you want, all in high resolution and picture quality.
Since the application is a built-in Apple product, you can have a secure call with others.
You can easily access your important contacts as it is automatically connected to your phone app.
Pros
Completely Free
Secured Calls
High-Resolution Videos
Quick Setup & Easy to Use
Cons
Only limited to Apple users
Only limited to 32 participants at once
#8. Jitsi Meet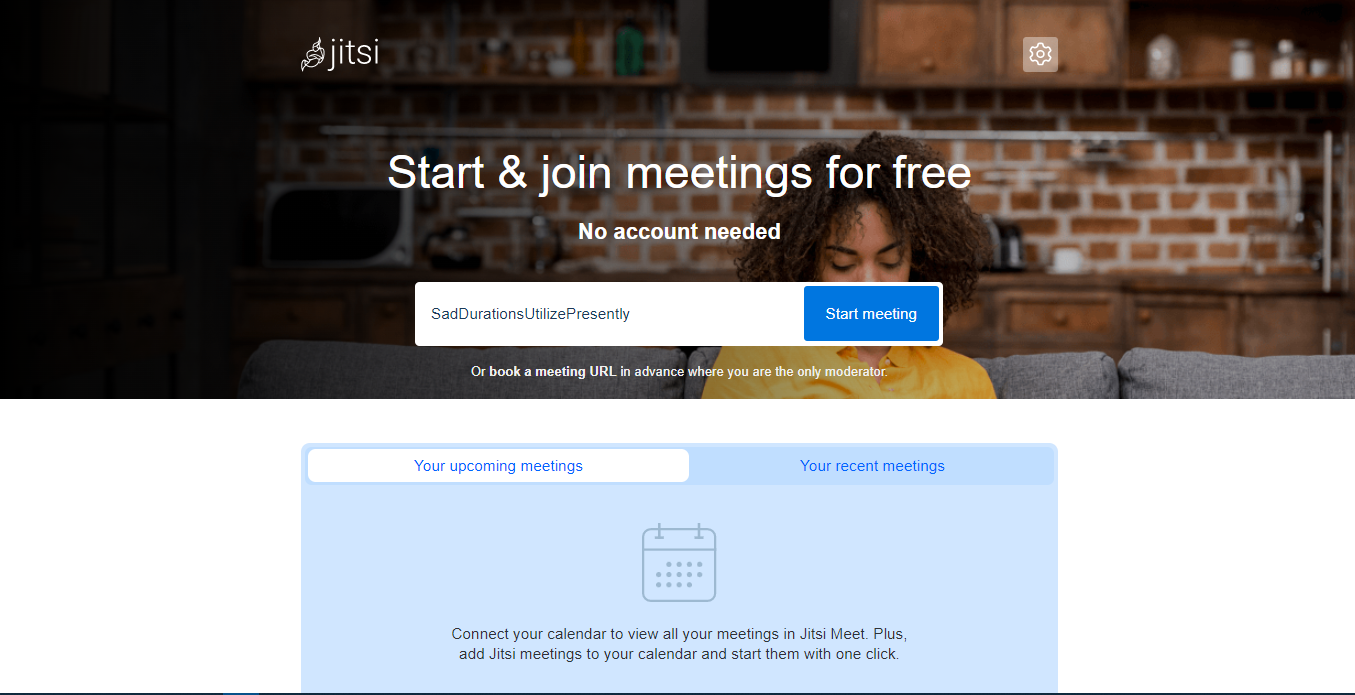 Jitsi Meet is another great online meeting platform famous for its accessibility and affordability. It was created in 2021 and is operable on various platforms, including Windows, macOS, Linux, Android, and iOS. The platform is also one of those virtual meeting platforms that are completely free, making it an ideal choice for many users.
Features:
Jitsi Meet allows you to have one-on-one encryption, providing a secure platform for your calls.
You can easily blur background during calls to stay in focus and avoid distractions.
As a moderator, you can control various functions, like muting multiple participants.
Pros
Limitless Video Calling
High-Definition Quality
Secured Meetings
Multiple Third-Party Integrations
Cons
Customer support should be improved
Chat option has limited features
#9. Lifesize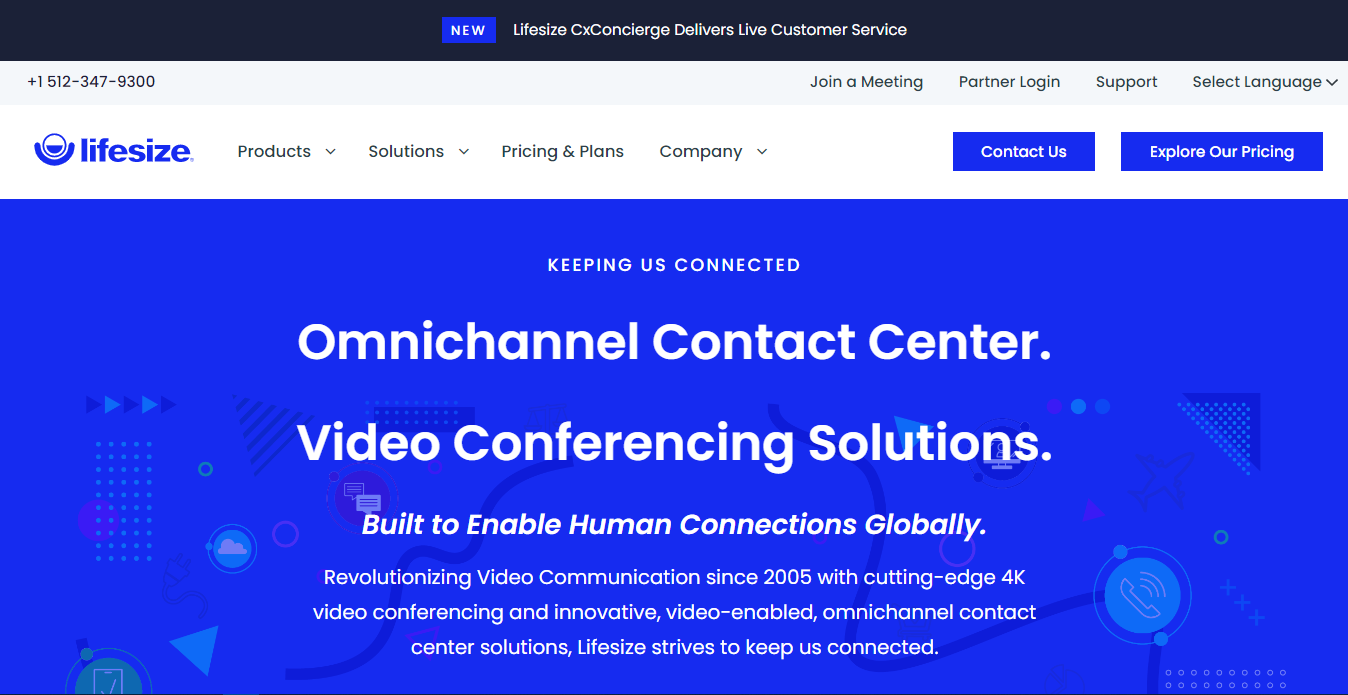 Lifesize is also in the industry for a long time and is better known for its high-quality conferences. The platform was launched in 2003 but introduced video calling in 2005. The cloud-based Lifesize Go is free to use with unlimited group calls, but the participants are limited to only 25 people. Their premium plans start from 12.50 USD per month.
Features:
The platform is cloud-based, meaning you can access it anywhere, anytime, on any device.
It supports up to 4K video calls, so you can enjoy high-quality meetings.
The platform smartly adapts to your hardware configuration to meet the desired results on the video quality.
Pros
Unlimited Calls
4K Video Quality
Easily Accessible
Custom Management Tools
Cons
Only support 25 participants on the free plan
Internet consumption can get quite high due to 4K support
#10. RemotePC Meeting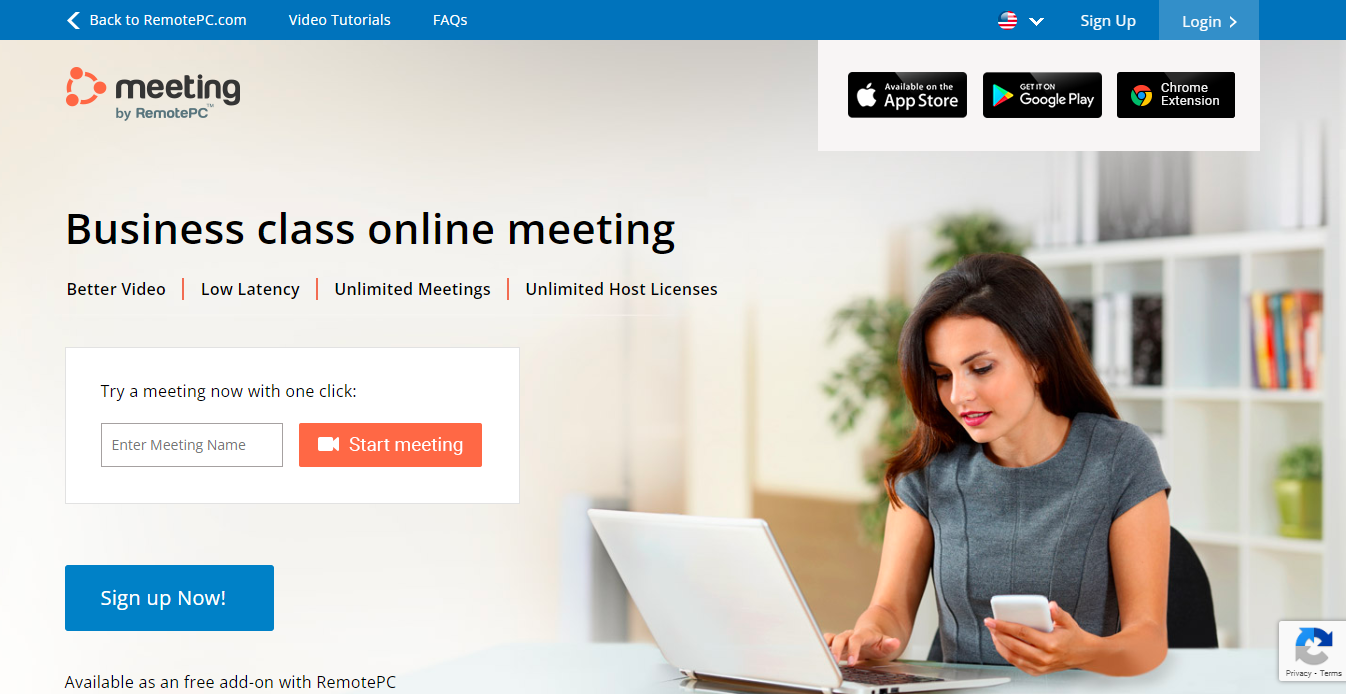 RemotePC Meeting is relatively new in the online conferences world, but it has become an interesting choice for many business owners. The platform was launched in July 2020 and also features limitless video calling. Unfortunately, it doesn't include a free version as it is limited to personal use only. However, its subscription only costs almost 19 USD annually, with a week of free trial.
Features:
Despite lacking a free plan, it is among the most affordable paid tools, costing almost 1.5 USD monthly.
If both users call via Windows, the platform offers a smooth experience with no lag.
Supports instant and convenient file sharing between two callers.
Pros
Affordable
Feature-Rich
Highly Secured Calls
Best for Windows Operators
Cons
No free version
Doesn't support chat during calls
| | | | | |
| --- | --- | --- | --- | --- |
| | Price (USD/Month) | Video Calls Duration (on Free Version) | Group Calling (Supported Participants) | Free Trial (Days) |
| Zoom | $14.99 | 40 Minutes | 100 | 30 |
| Microsoft Teams | $4.00 | 60 Minutes | 100 | 30 (for Basic & Standard Users) |
| Google Meet | $7.20 | 60 Minutes | 100 | 14 |
| Cisco Webex | $14.50 | 40 Minutes | 100 | 90 |
| GoTo Meeting | $12.00 | 40 Minutes | 3 Participants (150 for Paid) | 14 |
| Slack | $7.25 | Unlimited | 1:1 | – |
| Facetime | Free | Unlimited | 32 | – |
| Jitsi Meet | Free | Unlimited | 100 | – |
| Lifesize | $12.50 | Unlimited | 25 | 14 |
| RemotePC Meeting | $18.38 | Unlimited | 50 | 7 |
How to Make Your Virtual Meetings More Interactive and Fun
Having the best platform for online meetings is great for virtual conferences. However, you can make it more interesting, interactive, and productive with virtual webcam software. The tool will easily integrate with the platform's webcam and provide high-resolution and immersive video quality.
One such recommended software is FineShare FineCam, an excellent virtual webcam tool. You can easily download it via FineShare official website for free. The software supports multiple features on its free version that can make your video calls exciting.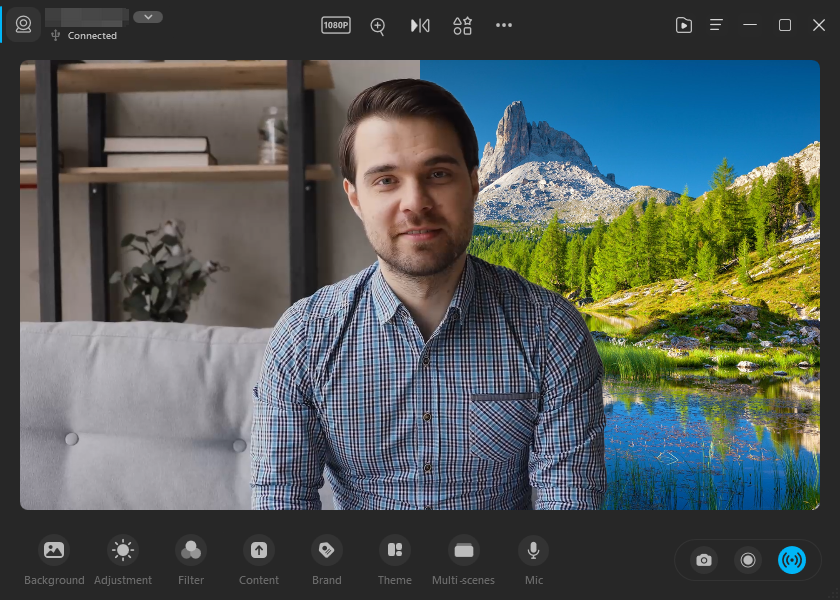 What You Can Do with FineShare FineCam
You can use its background removal, blur, or replacement to bring focus to your video calls or eliminate disturbing or distracting backgrounds.
You can use various filters, themes, and overlays to make your calls interesting.
When enrolled in the premium plan, you can unlock FHD and 4K video quality for higher-resolution meetings.
With multiple video scenes, you can conduct the most innovative, productive, and indulging meetings with your employees.
You can use various video adjustments or simply the Smart Portrait Mode to make yourself presentable.
Conclusion
Virtual meeting platforms are a blessing in disguise, as we've learned their importance and effectiveness after the pandemic. But selecting the right software is necessary to enjoy the same comfort of easier meeting with your team.
So, pick one of the best online meeting software that suits you the most, and remember the tips and factors while choosing. Also, don't forget to use FineShare FineCam to bring excitement and fun to your video calls and have a great time talking to others.