The trick part is taking over Halloween every year instead of the treat. You can also get into the trend by fooling your friends or listeners with spooky voices. Here, a cosplay voice changer will be amazing since the software perfectly masks your voice with a popular but grim character.
Here, we will review the 6 best voice changers for cosplay. You will also learn the benefits of using these tools. So, let's start!
Learn More about Halloween Cosplay
Halloween cosplay, often referred to as Halloween costume play, is a creative and festive activity that combines elements of traditional Halloween costume dressing with the art of cosplay. It involves individuals dressing up as their favorite fictional characters, whether from movies, television shows, video games, comics, or other forms of media, specifically for Halloween celebrations.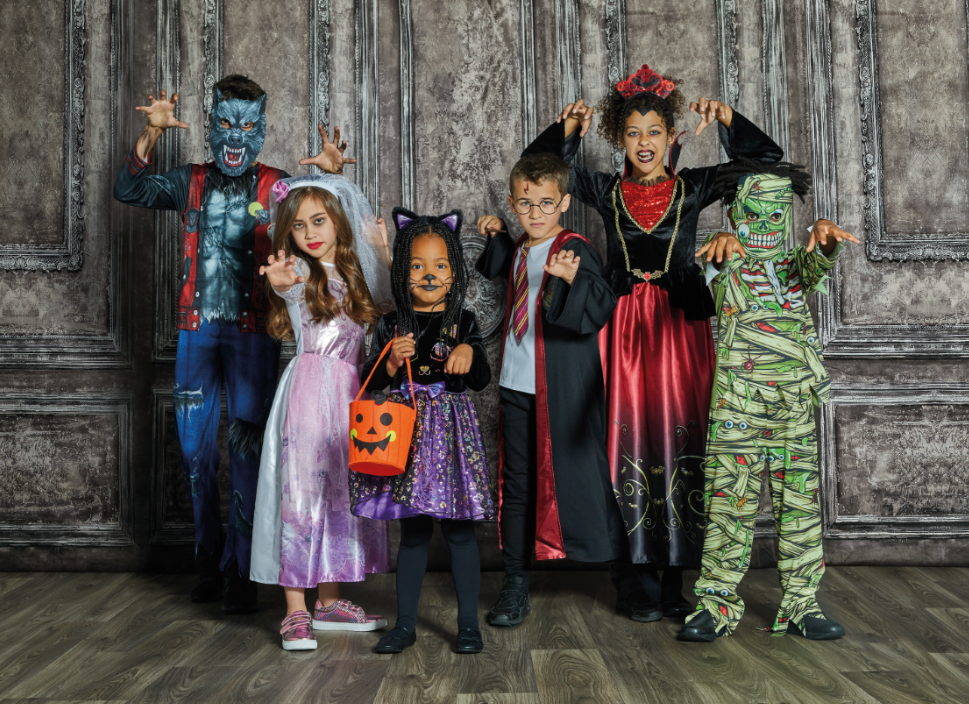 The Benefits of Using Cosplay Voice Changers
While it is a great time to play trick or treat with friends, you can also give some goosebumps to your distant friends. One of the joyful tricks people love is prank calls, and what can be better than using a cosplay voice changer? These are some of the things you can accomplish with such software.
Your friend may get confused (or nervous) with a scary voice.
You can cover your identity while playing along for as long as you want (if you call from a different number).
You can have more immersive online streaming as these tools can integrate with different platforms.
Your voice can be converted into diversified characters and persons.
3 Amazing Cosplay Voice Changers on the Computer
Mostly, people use a Halloween voice changer on their computer for live streaming, video recording, or content creation. If you are one of them, these are the top 3 cosplay voice changers you can try today.
FineShare FineVoice tops our chart due to its vast voice collection and high-quality results. It's probably the best voice changer for cosplay due to AI assistance. The software uses robust artificial intelligence algorithms to create realistic and deep fake voices; let them be spooky ghosts, fictional characters like Spiderman, Batman, and Iron Man, or celebrities like Selena Gomez, Joe Biden, and Morgan Freeman.
FineVoice is compatible with several platforms, including Zoom, Google Meet, Twitch, Discord, Skype, OBS, and others. And it has more than 30 voice effects and 200+ sound effects with high-quality recording. Moreover, it doesn't have a huge learning curve. You will get used to it working right from the start due to its user-friendly interface.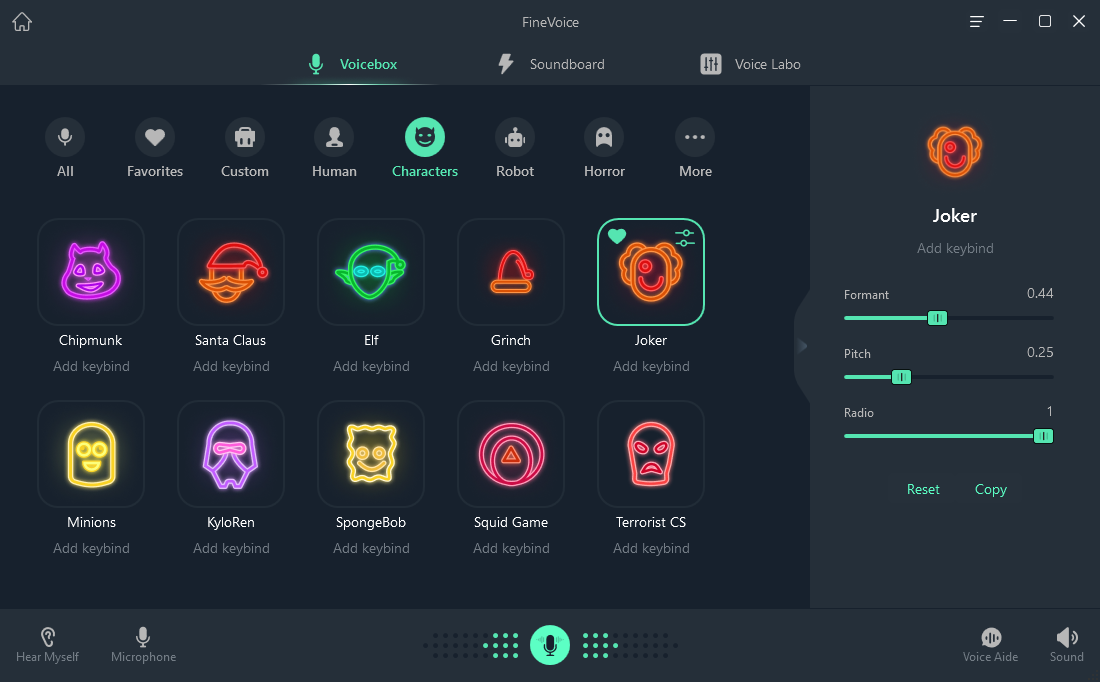 Pros:
Smart & friendly interface
Change your voice in real-time to sound like different people or characters
Create realistic voiceovers for more than 200 famous characters in over 40 languages
Convert hours of speech, from Zoom meetings, interviews, or conversations, to text
Record audio without losing quality
Send all the sounds captured by FineVoice to streaming and recording apps
Cons:
Only available for Windows
MorphVOX
MorphVOX is another great voice changer for cosplay, especially for Halloween. Although the software is compatible with various platforms like Discord, Twitch, and Skype, it also supports games like Fortnite, CS: GO, and Call Of Duty. So, you cannot just prank your friend but also your fellow players.
The application is low in file size, which means it won't stress your computer hardware. While the tool has many voices built-in, you can also download several packs later from their website, including demons, magical creatures, Batman, or others.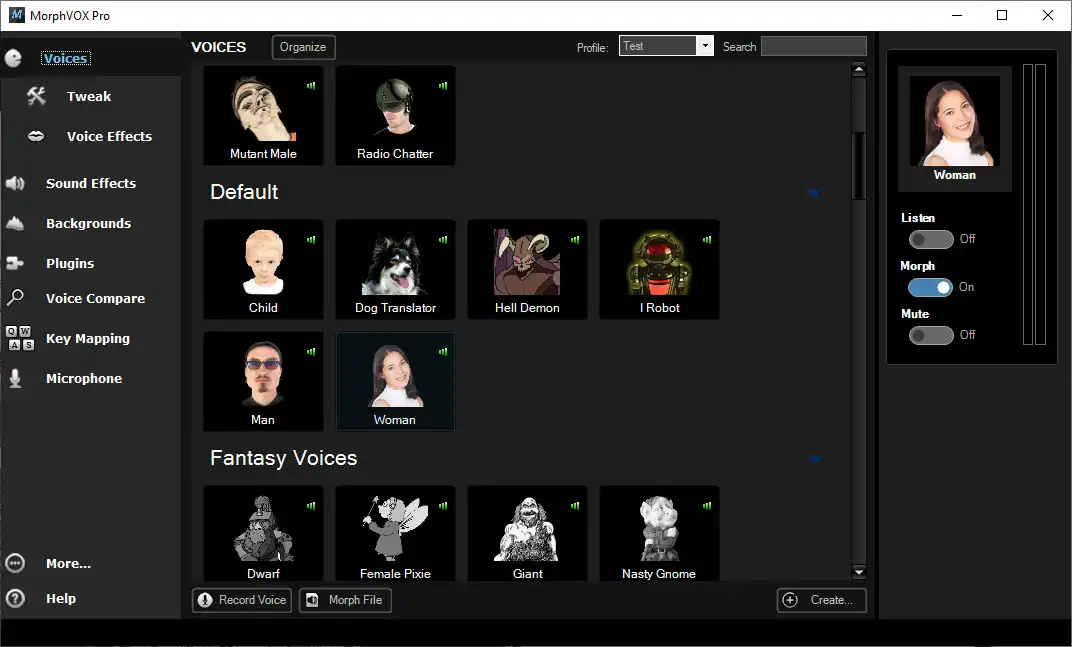 Pros:
It has a lot of voice presets to pick from, from sci-fi robots to squeaky gnomes
Various sound effects and background noises
Make your own voice settings with the equalizer
Low file size
Support stereo microphone
Cons:
Not available for free
Not so user-friendly
Clownfish Voice Changer
Clownfish Voice Changer is also one of the most popular cosplay voice changers that is available for all platforms, i.e., Windows, macOS, and Linux. However, the software is better optimized for Windows. It also has many voice effects, including alien, clone, ghost, mutation, robot, Jigsaw, and others. You can also create a custom pitch for versatility.
Moreover, the official website guides you about how to make a voice changer for cosplay using Clownfish. The software is not complex at all. You will easily navigate through the sections easily and change your voice in a short time.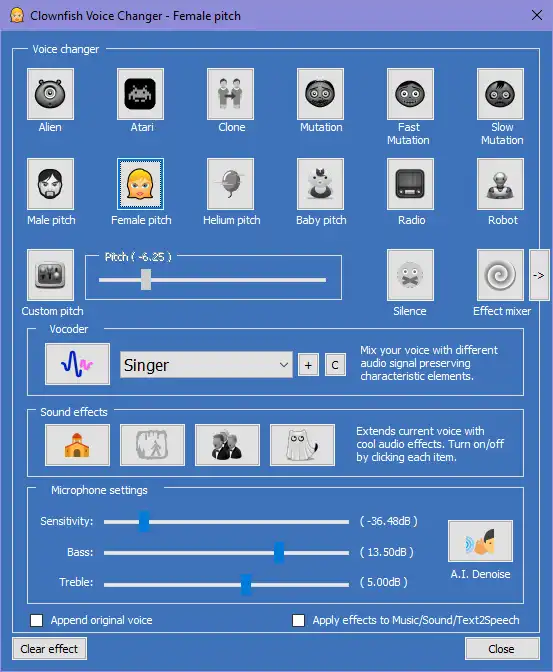 Pros:
Free and easy to use
Works with many platforms and programs, such as Skype, Discord, Steam, Snapchat, TeamSpeak, and more
Offer many different voice effects, such as alien, baby, robot, helium, hacker, mutation, radio, and more
Make your own custom voice effect by using the sound player and the sound editor
Support Virtual Studio Technology (VST)
Cons:
Relatively average quality
The interface is a bit outdated
2 Amazing Cosplay Voice Changers on the Phone
Returning to the topic of pranking friends, it will be possible through phones only, right? So, here are the 2 amazing Halloween voice changers you can install today.
Voice Changer with Effects
Voice Changer with Effects is available for both Android and iOS users. On the Google Play Store, its size is 12 MB, while the App Store version is 18.5 MB in size. And on both platforms, it has a high rating. Why? The application offers more than 50 voice effects, including monsters, zombies, aliens, extraterrestrial creatures, Space Marines, and more.
You can record your audio, save it, and send it to others via WhatsApp or messages. You can also import audio files and modify them with scary tones. Additionally, you can create images with sounds.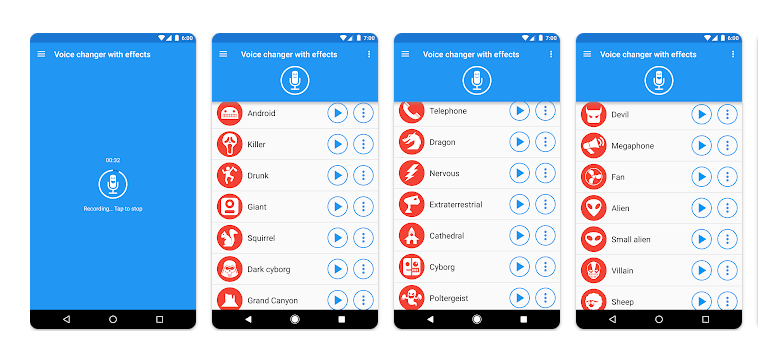 Pros:
It's user-friendly, with a simple design and many options
Have fun with your voice by choosing from different effects
Record your voice and change it with any effect
Save or share your modified audio file or use it as a ringtone or notification
Get more effects by watching ads
Cons:
Customization options are lesser
Importing pre-recorded files is not available on iOS
The app has ads that can be annoying
Voice Changer Plus
Voice Changer Plus is not just an app for changing your voice, it's also an app for enhancing your cosplay experience. It's one of the best cosplay voice changers for making your cosplay voice more realistic and immersive.
During Halloween, you can use scary and spooky sounds from its diversified library. You can sound like a robot, a joker, a Stormtrooper, an alien, or any other character you can imagine. The app uses high-quality sound creation, which gives amazing results. Moreover, it's also a great voice-changing app for singing and karaoke nights.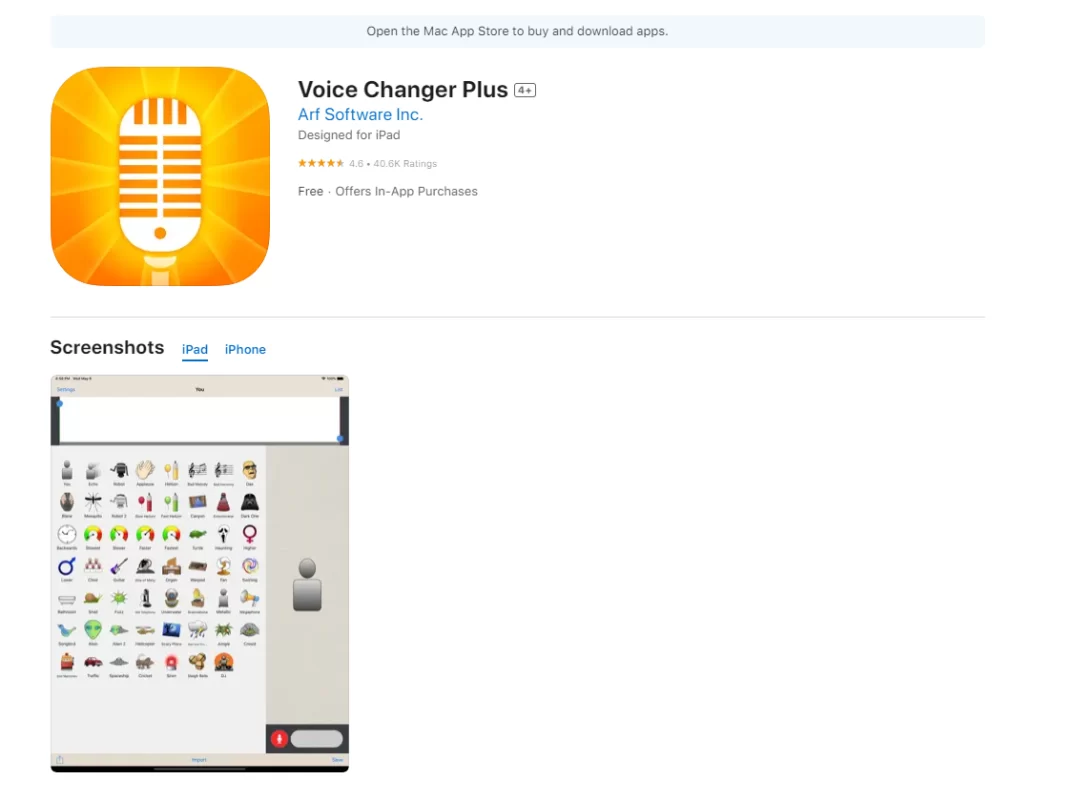 Pros:
It's simple to use and navigate
Enjoy a variety of voice effects and sound effects
Work with many languages
You can use it live with any app or game that uses a microphone
Cons:
It may show some bugs
Too much advertisement
Although downloading apps or software is beneficial, online voice changers are amazing since they free you from installing them. One such tool is FineShare Online Voice Changer, available online for free. And since it is a browser-based tool, you can access it anywhere, from any device, as long as you have a stable internet connection.
The tool uses AI-powered engines to create realistic voices of characters or celebrities. You can use any one of the 110+ pre-set voice collections, including Shinchan, Ghostface, Darth Vader, Venom, Spiderman, Zombie, Morgan Freeman, Kevin Costner, and others.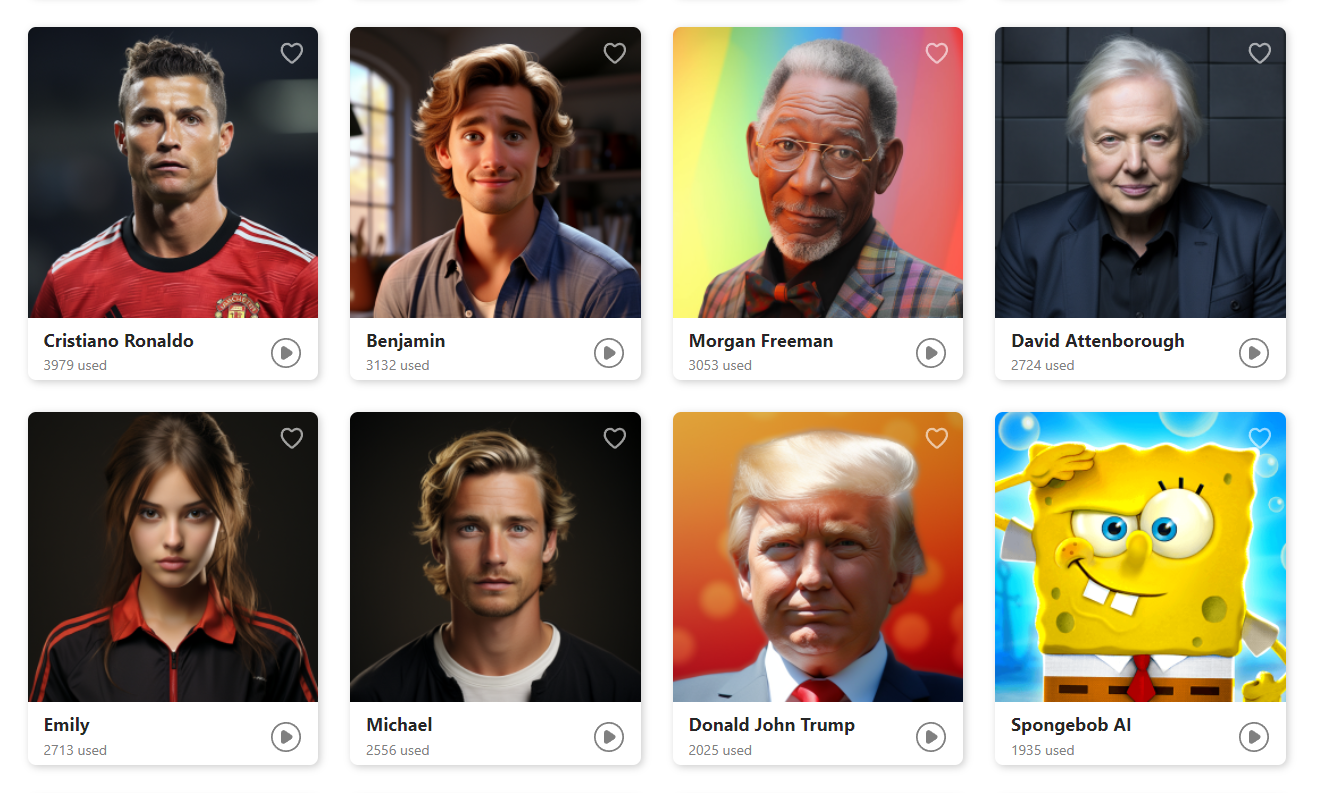 Pros:
It's free to use and doesn't require any software installation
It's fast and convenient
Offer a vast library of 110+ voice effects, including realistic character and celebrity voices
Powered by AI voice cloning technology
Cons:
Cannot integrate with other apps
Conclusion
Besides April Fool, Halloween is a great time to fool your friends with jumpscares or spooky pranks. Using a cosplay voice changer is perfect for this purpose, as it masks your voice with a grim tone. While you have several options, like MorphVOX and Clownfish, FineShare seems pretty consistent with quality apps. However, you are free to test them all and select the one that is perfect for your prank.