Pranking friends is a favorite hobby for anyone. But devising new ideas to prank them is the challenging part. You might come up with the clever idea of fooling them with different voices. However, the thing that bugs you might be which is the right voice changer for iPhone.
So, here we've listed the 7 best iPhone voice changer apps that you can use to prank your friends. You can download five of them, while the other two are usable online. So, let's get into their details!
5 Best Voice Changer Apps for iPhone
#1. Celebrity Voice Changer Parody

Celebrity Voice Changer Parody is a great voice changer for iPhone. The application uses strong AI algorithms to change your voice as you speak. The application size is only 61.5 MB, so it won't take much time to download.
Key Features
Several Voices: Celebrity Voice Changer offers you a wide range of voice choices, consisting of more than 100 voices. It includes characters like Walter White, Hulk Hogan, Kylo Ren, Donald Trump, Snape, and many more.
Free Download: The application is free to download and use. Although it has some voices locked (available after purchases), the free ones are versatile enough.
Easy to Use: It has a user-friendly interface, which makes it easy to use. All you need is to speak in the mic and create impressions of various celebrity voices.
Pros:
100+ Voices
AI-Assisted Voice Changing
Easy to Use
25+ Million Downloads
Cons:
Great voices are locked
Some great voices are missing
#2. Voice Changer Plus

Voice Changer Plus is another great voice changer on iPhone. It comprises several sound effects, funny voices, and free celebrity voices. You can easily transform the voice to have incredible fun. However, the application size is up to 106 MBs.
Key Features
Interesting Voices: The feature-rich app has more than 50 voices and sounds to convert your voice. They include robotic, helium-pitched, Baine, Bill Cipher, echoed voices, and many more.
Background Effects: Besides recording your sound in different accents, you can also add a background sound, like a helicopter, jungle, rain, and many more.
Full Control: It also gives you maximum control in customizing the result as you like. You can trim the length, change its tone and volume, and play with it.
Pros:
Save Recordings
Voice Effects & Background Sounds
High-Quality Results
Trim Control
Cons:
Too much advertisement
Fewer voice options
#3. Voice Changer With Effects

Voice Changer with Effects is also a significant iPhone voice changer that allows you to change your voice and have fun with the modified version. The app size is also small at only 18 MBs. However, it requires iOS version 14.0 or above.
Key Features
Images with Sounds: This voice changer lets you include voice effects in images. So, you can change your voice and put it on memorable photos.
Instant Saving: When you change your voice, the application instantly saves the recording on your iPhone or iPad. So you can share it on the go.
High User Ratings: Among the two thousand ratings, the app has gathered a rating of an astonishing 4.8 stars. So, you can relax as the application is working perfectly for others.
Pros:
50+ Sound Effects
High User Ratings
Low File Size
Instant Sharing
Cons:
Doesn't import pre-recorded audio files
Cannot be integrated into other apps
#4. Voice Changer – Audio Effects

Voice Changer – Audio Effects will be a great application if you need a voice changer app for free for popular character voices. The application is quite versatile and easy to use. Moreover, it is only 17.5 MB large.
Key Features
Several Voice Effects: The application features more than 25 sound effects, including voices like drunk people, chipmunks, zombies, underwater, and many more.
Quick Sharing: When you finish changing your voices and playing with the app, you can easily share your recordings with friends.
Intuitive Interface: The application's interface is also simple and exciting. So, you can easily navigate through the app if you use it for the first time.
Pros:
25+ Voice Effects
Interesting Animation
Audio Importing
Easy Interface
Cons:
Too many ads
Fewer choices
#5. Live Voice Changer – Prankcall

If you are looking for some fun with voice changing app, Live Voice Changer – Prankcall is the answer. The real-time voice changer lets you do fake calling with several options. And since it is only 8.8 MBs (the smallest on this list), it won't take up much space.
Key Features
Multi-Language Support: The application supports multiple languages. So, you can change the setting to your local language and enjoy real-time changing.
Bluetooth Pairing: The application is operable for both Bluetooth and airplay devices. So you can pair your AirPods while calling.
Save Recordings: You can also save the recordings, which you can later use to make automated calls and prank your friends.
Pros:
Easy to Use
12-Band Equalizer
15 Reverb Effects
Auto-Saving Files
Cons:
Cannot manually adjust the pitch
The free version has a 1-minute recording limit
2 Best Online iPhone Voice Changers
While the above voice changer iPhone apps are great, they require downloading. If you are low on space, you will need an online voice changer for iPhone that doesn't consume your iPhone's space. Below are a couple of those.
#1. FineShare Online Voice Changer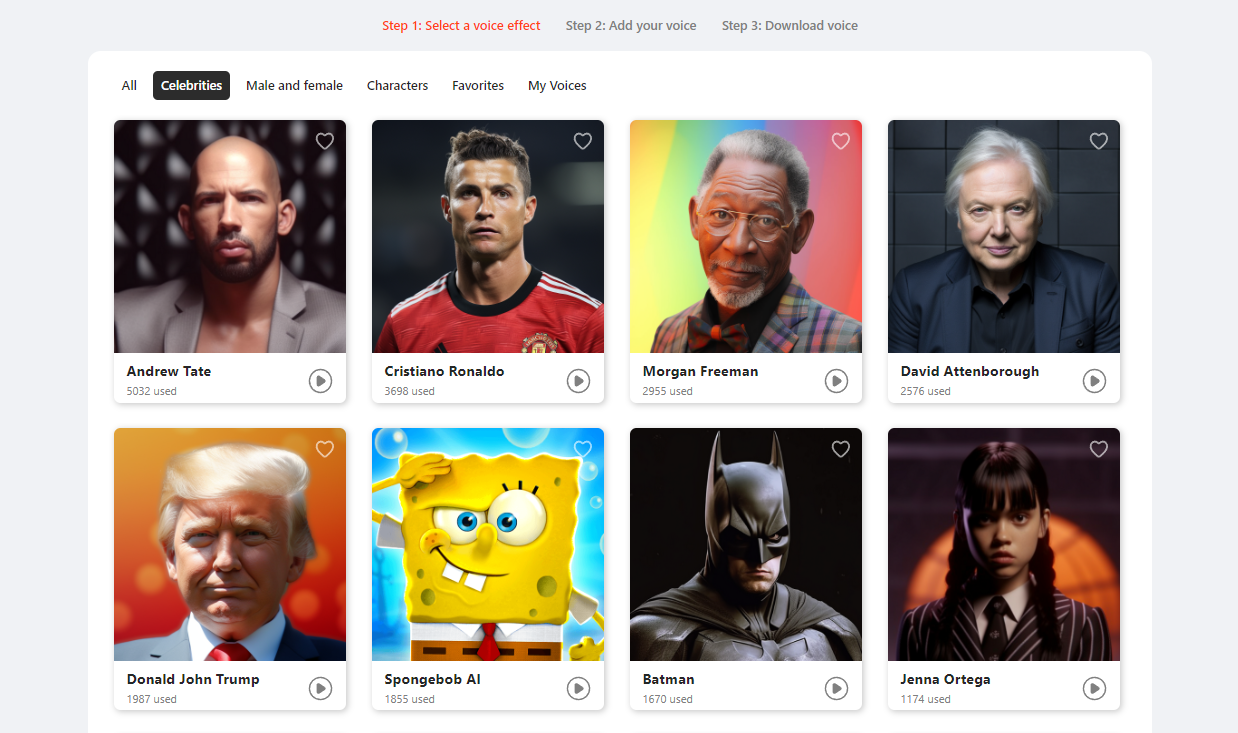 FineShare Online Voice Changer is an excellent iPhone voice changer that you can access online. Whether you are looking for realistic voices of SpongeBob, Donald Trump, Michael Jackson, or any other character and celebrity voices, FineShare has the right solution.
Key Features
AI-Assisted: FineShare Online Voice Changer uses robust AI algorithms to create realistic and deep fake voices.
On-the-Go Use: Since the tool is available online, you don't need to download anything. All you need is a browser and the internet, and you are free to use it anywhere, anytime.
Dynamic Voices: FineShare Voice Changer offers diversified voices, including popular figures, celebrities, and fictional characters.
Ultimate Privacy: Your sound recording doesn't leave the website, keeping your privacy intact. In fact, they automatically delete after 4 hours.
Pros:
100+ Realistic Voices
AI-Powered Results
No Download Required
High Privacy & Security
Cons:
Cannot integrate with other apps
#2. FakeYou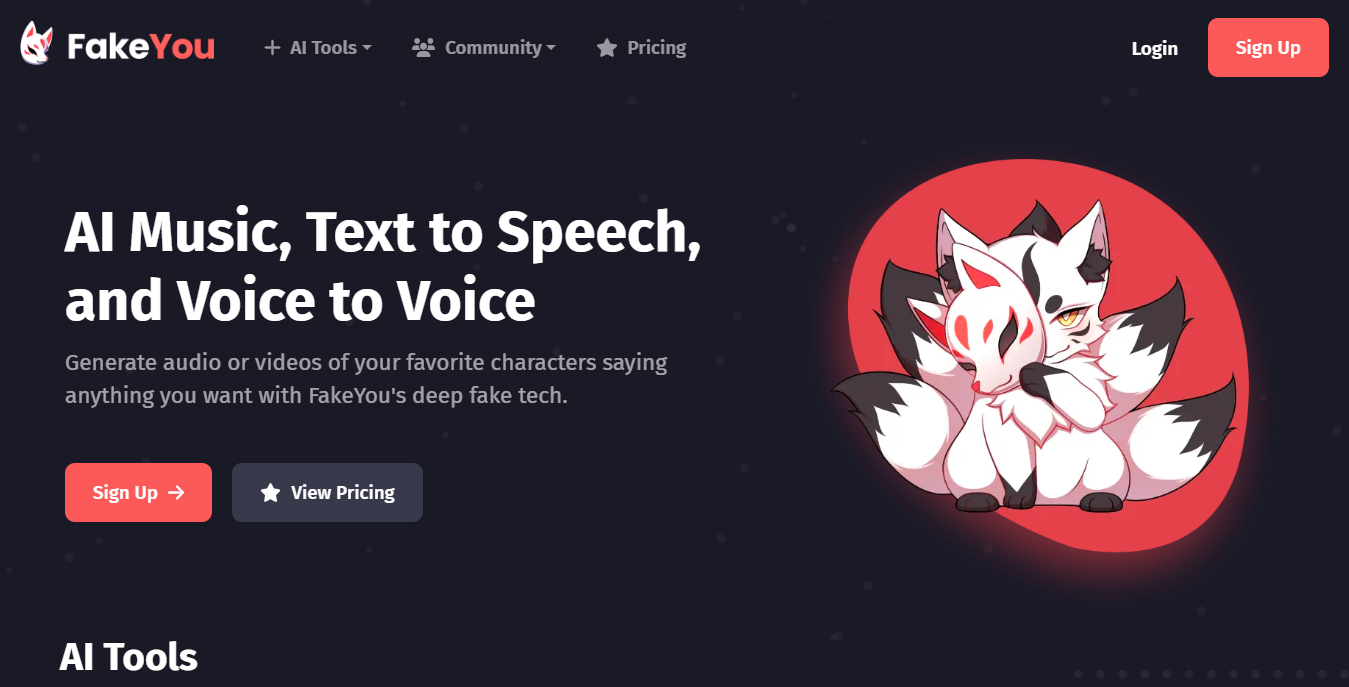 Another great online voice changer is FakeYou, which offers audio file voice changing. It is integrated with AI technology and lets you create stunning voiceovers from the input text.
Key Features
Diversified Voice Selection: The tool has a huge library of celebrities, characters, and figures from which you can select a voice.
Easy to Use: FakeYou doesn't require software installation to use it. Select a model, enter your file, and get an AI-generated voice.
Lip Sync: You can also create lip-synced videos where the person in the video will say things that you want with proper (you guessed it right) lip sync.
Pros:
Free to Use
Simple Interface
Vast Library
Cons:
You have to wait for results in the free account.
Free account has a limit of only 12 seconds of voice changing.
Conclusion
Apple App Store has several iPhone voice changer applications that you can use to prank your friends. However, we have eased your search with the 7 best software apps. Install any of the 5 or use the online voicer changer for iPhone, and have fun with your friends.
FAQs
#1. How to Get a Voice Changer on iPhone?
Downloading and installing Voice Changer on iPhone is simple. Go to the App Store and search for the powerful voice changer app. Download it and start using it for free.
#2. What is the Best Voice Changer App for iPhone?
Several voice-changing apps are available for iPhones. You can try different voice-changing apps and select the one that suits you the best.
#3. What is a Good Real Time Voice Changer for iPhone?
You can find many decent real-time voice changers. Let it be Darth Vadar, Morgan Freeman, or Marco Polo voice changer for iPhone. You will find many available on the App Store.