Zoom has become one of the leading online meeting platforms, allowing hosts to attend to hundreds of participants at a time. Conducting such large meetings sometimes requires a lobby where early-comers can gather so the meetings start doesn't clutter up. Zoom waiting rooms serves the same purpose.
However, many people are unfamiliar with the feature or don't use it effectively at all. If you are also curious to try it out, this guide is for you. Here we will discuss Zoom waiting rooms in detail, how to enable or disable them, and how to allow participants to join in. So, without further waiting, let's start!
What is Zoom Waiting Room?
The Zoom waiting room serves as a virtual reception area which allows the entry of participants in meetings by the host. The platform's virtual communication has gained significant popularity in the current digital era due to its control over the participants.
Participants are temporarily placed here and greeted with a personalized welcome message. This standout feature is very useful for security control and gives access to meetings to only authorized individuals. It also brings order and control to the meetings, improving the Zoom virtual meeting etiquette of the joining people.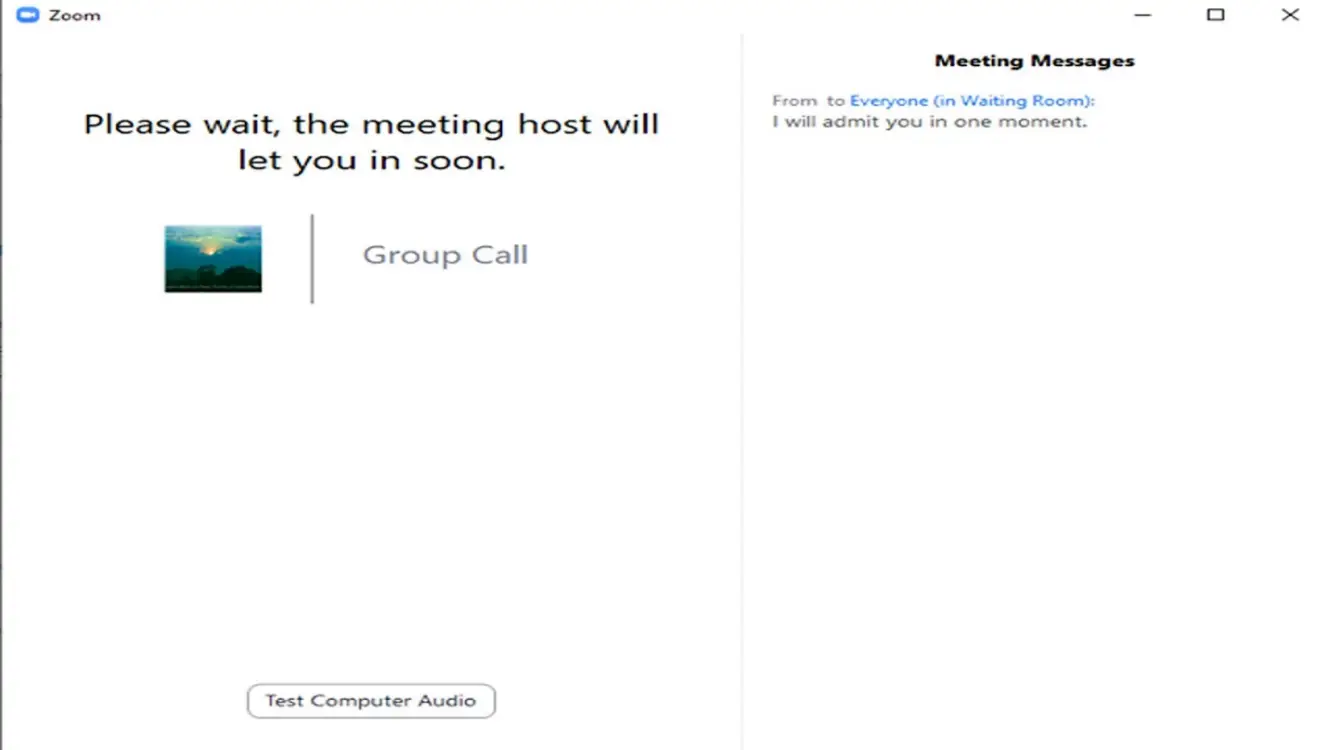 How to Enable a Zoom Waiting Room?
If you want to provide your participants with a safe and efficient virtual meeting environment, enable the Zoom waiting room. It will offer you complete authority to control participants' entry into the meeting.
You can allow the participants one by one or all of them at once from the waiting room. Follow the step-by-step guide to enable the feature, customize the settings, and control the participant's entry. Here's how you can enable it.
Step 1: Register or log into your account using the Zoom application or the official website.
Step 2: After logging in, select Settings from the top right corner. And then click View More Settings.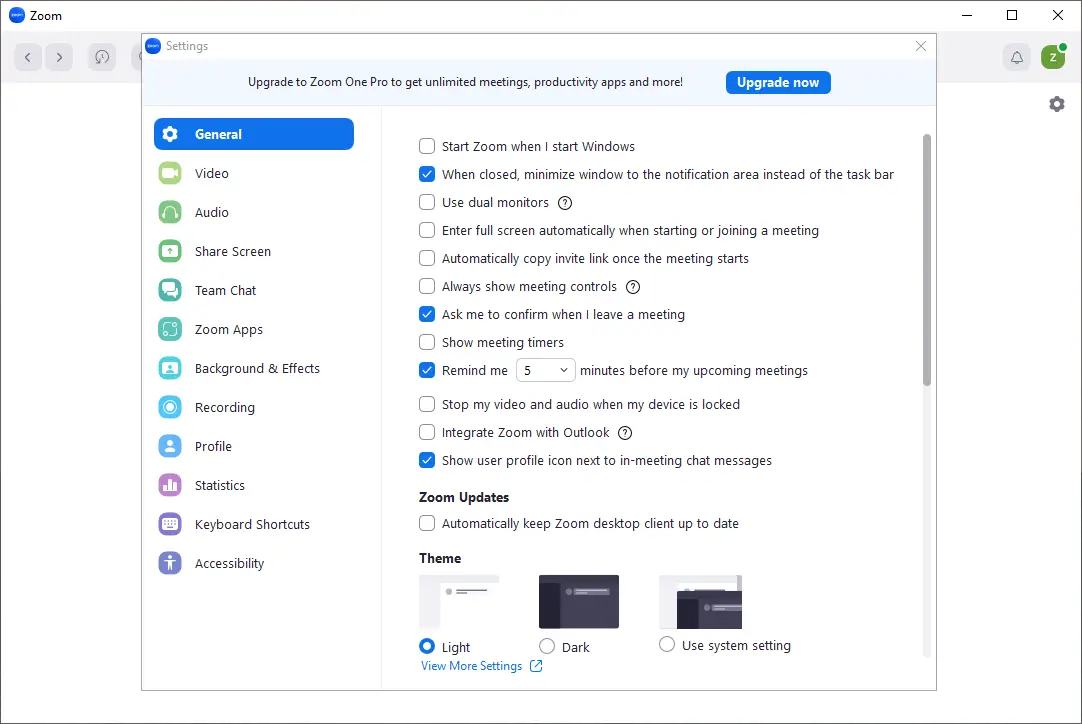 Step 3: Choose the Security section under the Settings menu.
Step 4: To activate the function, look for the Waiting Room option and toggle it on.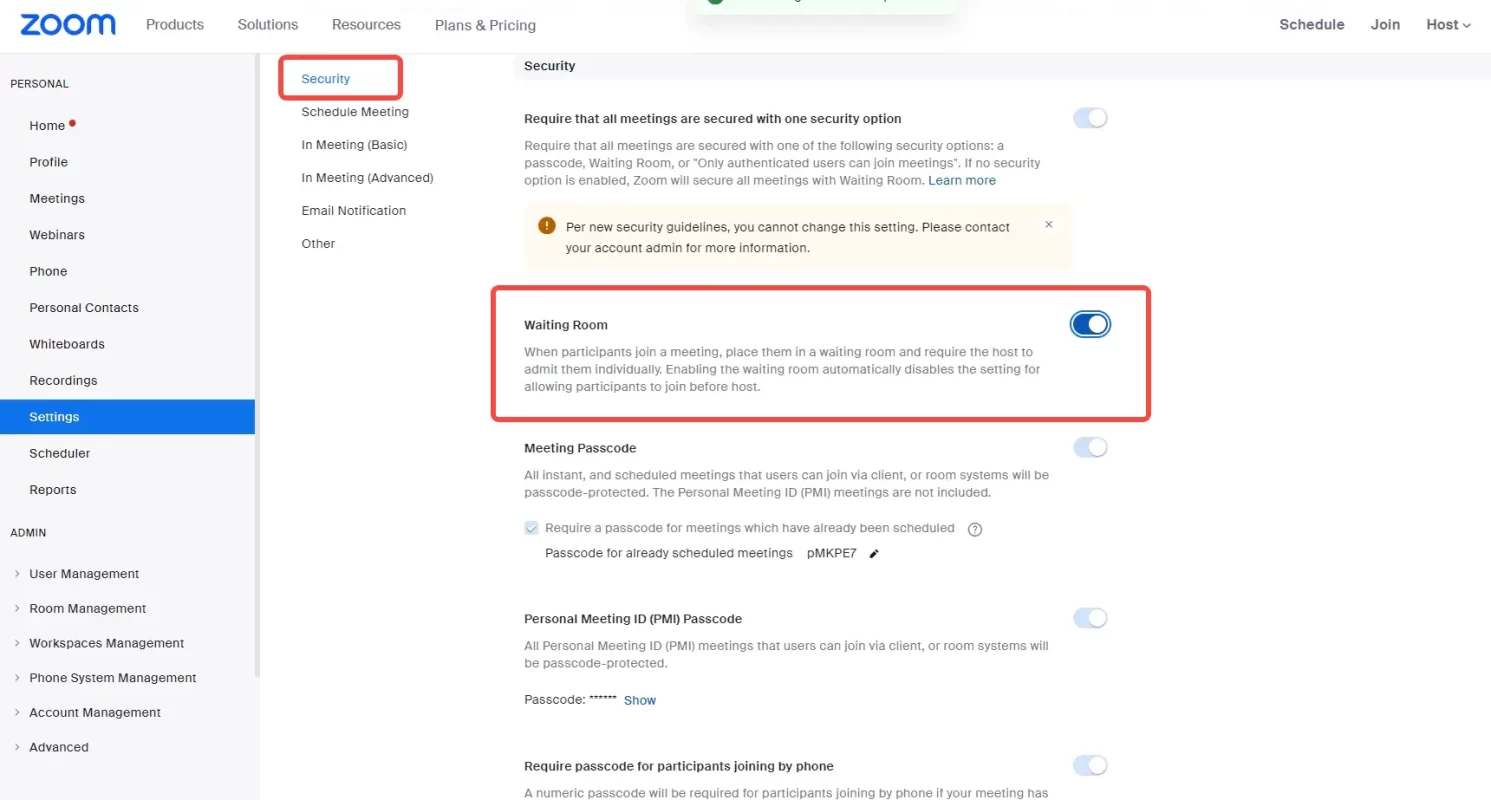 How to Disable a Zoom Waiting Room?
Sometimes, these meeting rooms become too exhausting and annoy the joining person a lot. For instance, your inviting person loses connection and rejoins or connects to the meeting late when immediate joining is necessary. It becomes even more daunting if you are holding an international meeting with someone speaking a different language, as it can cast a negative impression.
In such cases, waiting rooms can cause further delays. So, it's better to learn how to turn off the waiting room in Zoom to avoid participants missing out on important details. Here's how to disable the Zoom waiting room in a few steps.
Step 1: Log in to your account, and enter the dashboard.
Step 2: Click Setting at the top right corner.
Step 3: You will find many tabs on the left side. Click on the Meeting tab and scroll down to the Security section.
Step 4: You will find the option of a Waiting Room in Zoom. Uncheck the box to disable it.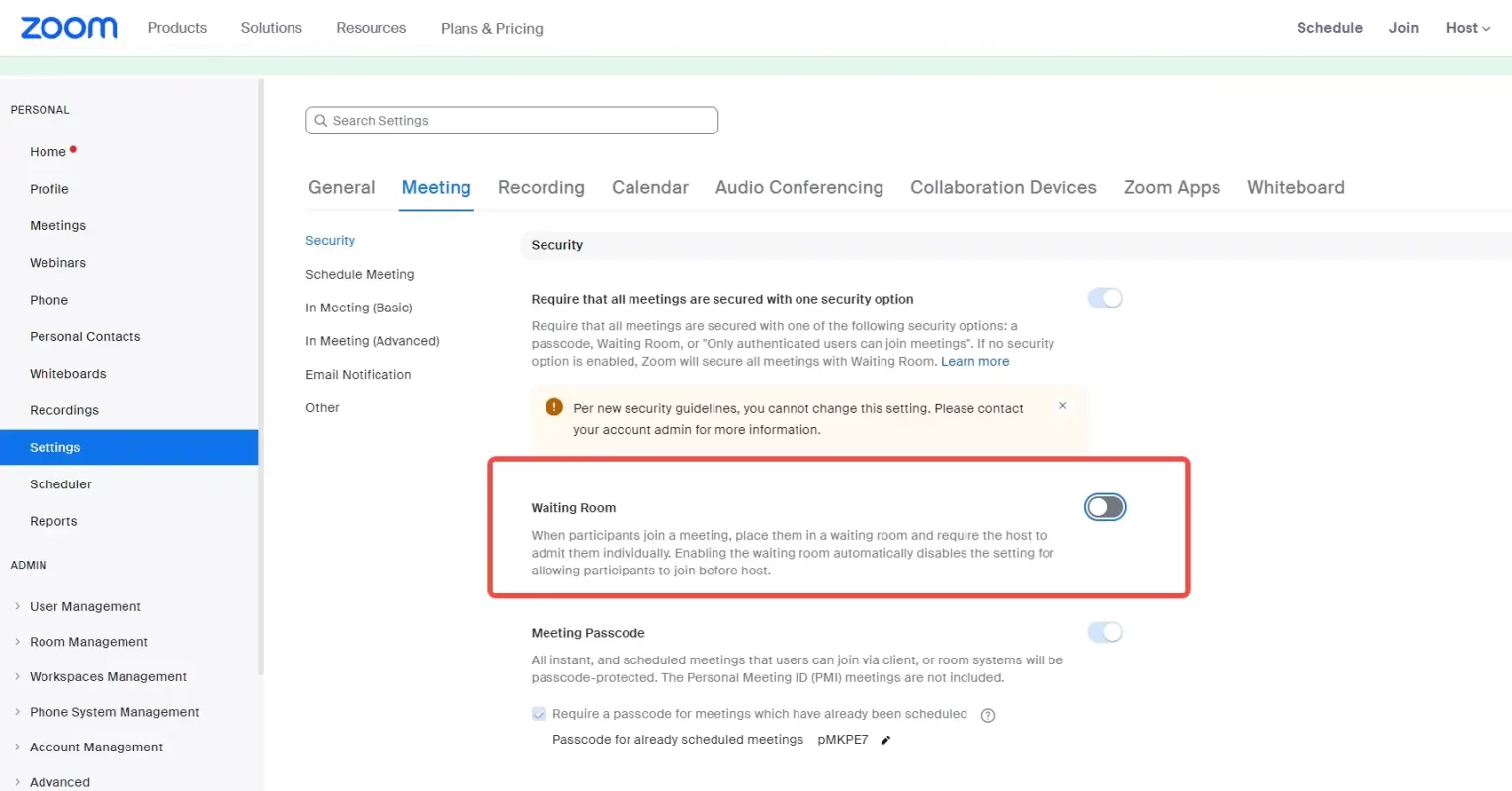 Step 5: Don't forget to save all the changes you made in the above setting page. Scroll down the page and click on the Save button.
Related article: How to Transcribe a Zoom Meeting Easily And Effectively.
How to Admit Participants From the Zoom Waiting Room?
The host's control over the participant's entry brings a different level of versatility, flexibility, and order. Both hosts and co-hosts of a Zoom meeting can allow the people from the waiting room to join the video calls. Here's how you can admit participants in the meeting if you want that particular person immediately.
Step 1: Start a new meeting, and wait for your participants to join.
Step 2: Make sure to enable the waiting room before you start the meeting by following the steps given above.
Step 3: After starting the meeting, you will see the Participants button at the bottom. Click the button to see the list of participants.
Step 4: Select the participant you want to include in the meeting and click More>Put in Wating Room.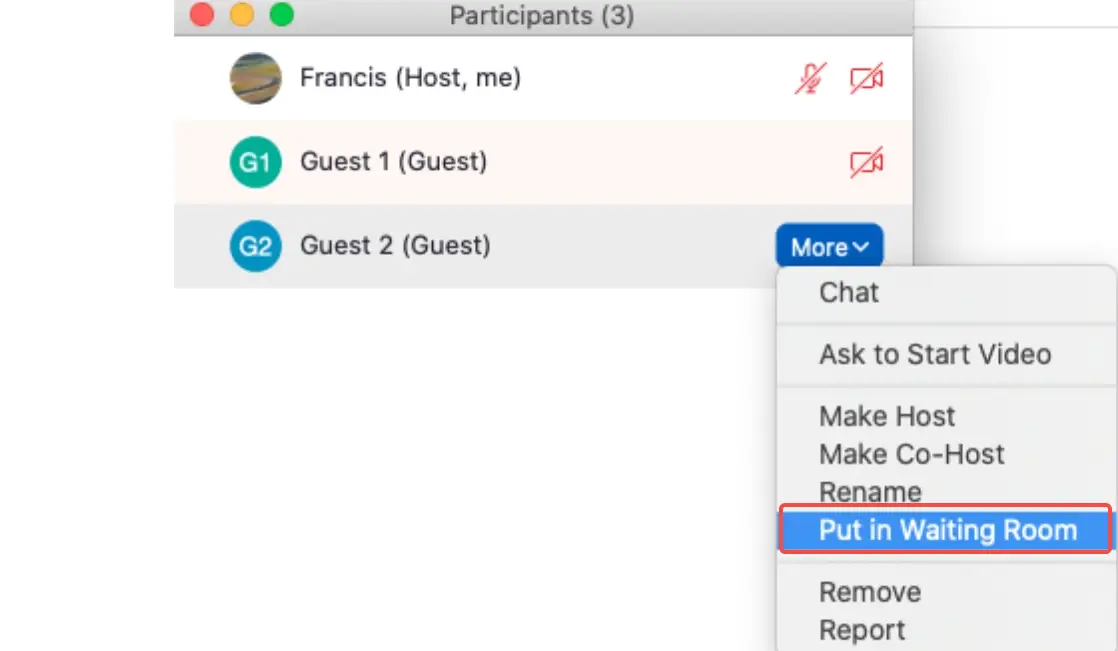 Benefits of Zoom Waiting Room
It's a standout feature among all virtual meeting platforms, making it especially beneficial for Zoom presentations since it can control the entrance of the participants. Due to this awesome feature, zoom has emerged as a game-changer and revolutionized how we connect. Let's explore the benefits.
Enhanced Security and Privacy
These rooms allow only authorized participants to enter or those who hosts allow. So, it acts as a protective barrier and enhances the security and privacy of meetings.
Improved Meeting Efficiency
The hosts control all participants who enter the meeting. Hence, the organizers can start a meeting at the proper scheduled time and can check who is present and who is delayed.
Increased Engagement and Interaction
Hosts can greet all attendees individually in the Zoom waiting room. This personalized welcome creates meaningful engagement and interaction during meetings.
Professional First Impressions
All hosts can edit the rooms to give a good impression to their participants. They can customize them with eye-catching logos, images, and colors for lasting professional impressions.
Reduced Disruptions and Tardiness
The waiting room guarantees participants are ready and prepared before accessing the meetings. This reduces interruptions created by latecomers who join existing talks.
Hosts can customize them with their brands, especially businesses, educational institutions, or organizations that showcase their unique identities to create a visual experience for participants.
Tips: How to Look Better in Zoom With FineShare FineCam?
Are you ready to transform your video experience with FineShare FineCam? It can offer a unique experience for your Zoom meetings. After you enter the video conference from the waiting rooms, you can use the FineCam for various outstanding opportunities to make your video calls more distinctive than others.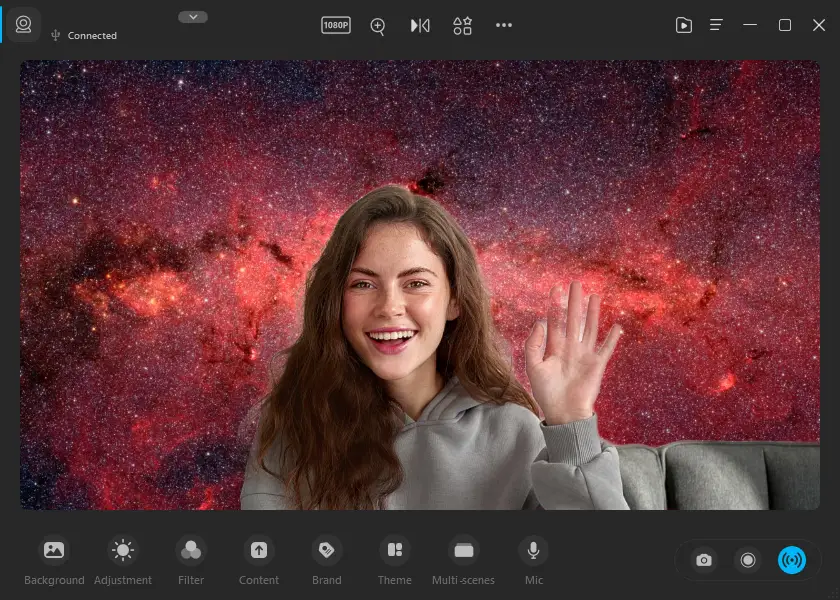 Use FineCam to Make Your Zoom Calls Look Better:
With its high-resolution calling mode and easy-to-use interface, increase your chances of a successful deal through virtual meetings.
You can use your iPhone as a webcam through the software if you don't have a webcam.
Its diversified filters will allow you to create a beautiful impact on others with vibrant and elegant video calls.
You can blur, remove or change the background of your calls to clear disturbance or distraction and look more professional.
The tool can integrate multiple cameras, allowing you to record your meetings from multiple angles.
You can utilize its video enhancement and Self Portrait Mode for a more professional and clearer call.
Conclusion
Zoom waiting rooms are a great feature to control the participants' entrance. It not only decreases the rush of people but also helps the security of the meeting. Since now, you have understood how to enable/disable these rooms and how to admit people from them, go and conduct the organized and controlled Zoom meetings now.
Don't wait any longer. Try FineShare FineCam today and see the difference for yourself!
FAQs
Can You Be Seen in Zoom Waiting Room?
No, hosts and other participants cannot see you in the Zoom waiting room. It is virtual reception for them, where they just wait. So, you cannot worry about the anonymity while you wait for entrance.
Why Does Zoom Put Me in a Waiting Room?
You will only enter these rooms if the host has enabled the said feature. Since it allows only authorized participants to join the meeting, the feature increases the security and order of the meetings. So, by placing them in the waiting area of Zoom, hosts get time to review all the people before admitting them into a meeting.