Over recent years, communication has changed, and people have shifted to using online conferencing applications to communicate, such as zoom and Skype. The video conferencing apps require you to have a webcam.
It's possible that your laptop's in-built webcam gets some problems accidentally, so it cannot work. In this case, your smartphone may be your lifesaver. We introduced how to turn iPhone into a webcam before. So in this article, we will explain all the things about how to quickly turn your Android phone into a webcam for your video call on computers, regardless of Samsung, OnePlus, or other brands.
Method 1. How to Turn Android Phone into Webcam via USB
To generate a stable connection, you may like to connect your Android device using a USB cable. And this is possible with some Android webcam apps. To use these apps to turn your Android device into a webcam via USB, you first need to enable USB debugging and then connect your Android to your laptop.
Below we take one of the popular webcam apps – DroidCam as an example to show you how to connect an Android webcam to your computer.
Step 1. Enable USB Debugging
USB debugging allows your Android phone to be accessible to a PC, and it needs to be enabled for any webcam app to access its camera and use it as a webcam.
Depending on your Android type, the steps below should work in enabling USB debugging.
Navigate to your phone's Settings.
Scroll down and click About Phone.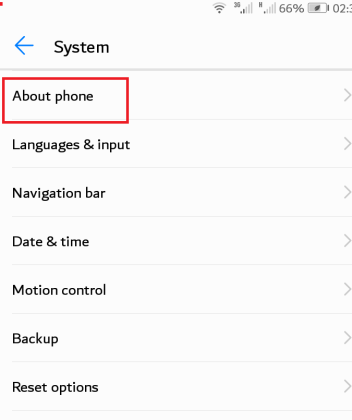 Look for your phone's build number and click it 7 times.
You may need to confirm your password to enable the developer options.
Locate Developer Options.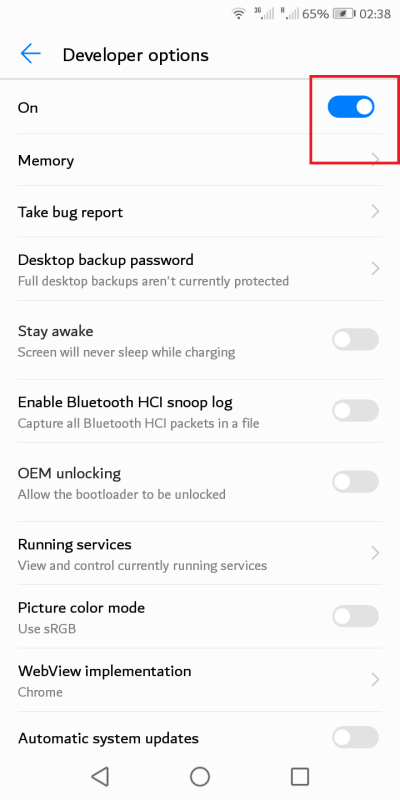 You should see the option for USB Debugging. Go ahead and turn it on.
That's it. The first part is over. Note that turning on USB works in helping you use your Android phone as a webcam. However, it puts your phone at risk, and you are recommended to turn it off whenever you are not using your phone as a webcam.
Step 2. Set Up DroidCam
DroidCam is a reliable app that connects your Android phone to your PC. The app is trusted and simple to use. Follow the steps below.
Download and install the DroidCam app on your Android phone from the play store and DroidCam Client for your PC from the official website
Open DroidCam on your phone and PC
Connect your Android phone to the PC via a USB cable.
On your PC, click Connect over USB.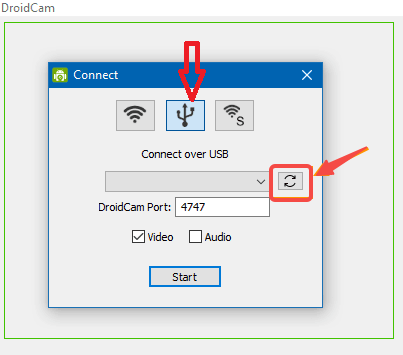 Next, click the refresh button, then wait for the app to detect the USB connection.
Once the USB connection displays on the drop-down list, click to select it.
Lastly, click Start.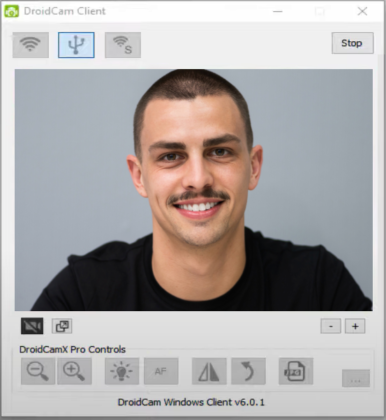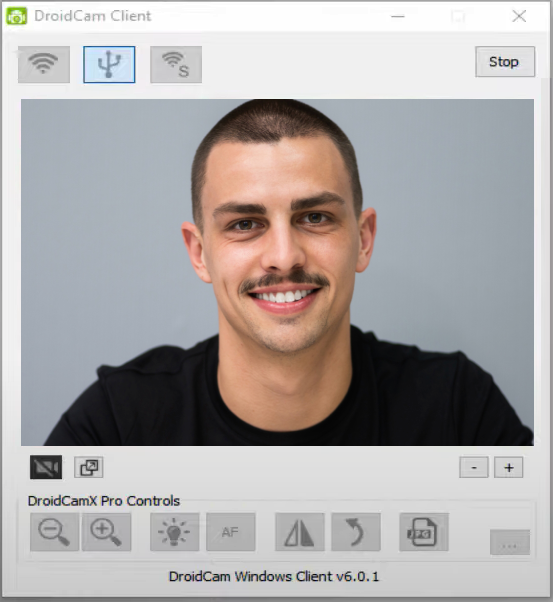 Bingo! You can now use an Android phone as a webcam USB. Your phone will be recognized as the webcam anytime a webcam is needed, like when using Zoom.
The downside of this method, however, is that you won't have the flexibility to move around with your phone.
Method 2. How to Use Android Phone as Webcam Wirelessly
You can also use your phone as a webcam wirelessly. After connecting your Android phone and PC to the same Wi-Fi network, you can use your Android phone as a webcam wirelessly using FineCam without any effort.
Follow the steps below to get started.
Ensure your PC and phone are on the same network. You don't have to use Wi-Fi. Even your mobile hotspot will still work.
Next, download FineCam from the Google Play store.
Click the button to download the desktop client for your PC.
Open FineCam on your phone.
On your PC, open the FineCam client and click Use Phone as Webcam to connect your Android via Wi-Fi.
Click OK on your phone to accept the connection request from your computer.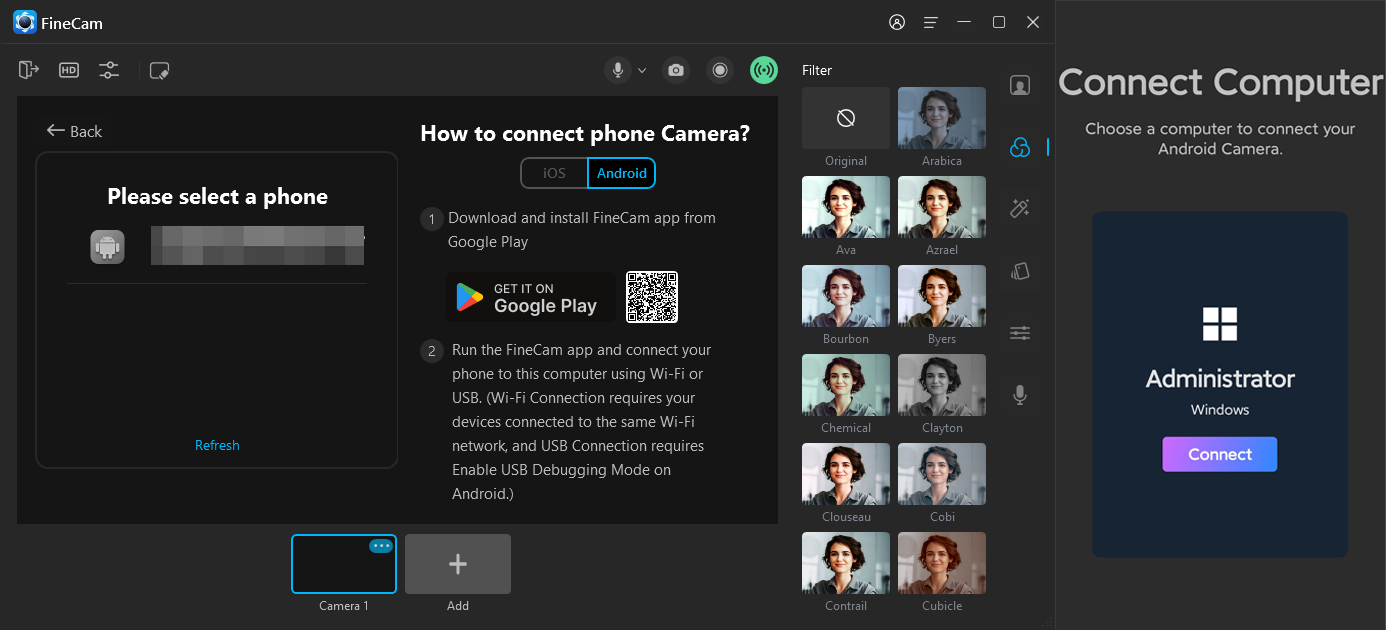 You can now select FineCam as your preferred webcam interface when using video conferencing apps. Note that the FineCam client on your PC needs to remain open for it to work. However, you can close the app on your phone. The app will work in the background and not affect anything.
Once you've completed a session, you can close the desktop client to stop the webcam.
The good thing with wireless is that you can move around with the phone, and setting it is easier as no USB debugging is needed. However, the quality of using it wirelessly is lower compared to using a USB.
Method 3. How to Turn Android Phone into Webcam Without App
If you don't want to download any app on your Android phone, there is still one way you can use to turn your Android phone into a webcam. VDO Ninja is a web-based software that lets you bring an external webcam source to an OBS studio on your PC.
This method would be a little complex since it will download OBS studio to your computer. OBS Studio is a free open-source streaming software allowing you to record, stream and start a virtual camera with multiple media sources. You can learn more about webcam software for streaming from our recent article.
Below are the detailed steps that you can follow to connect a remote Android webcam to OBS.
First, visit VDO.Ninja website from your Android phone.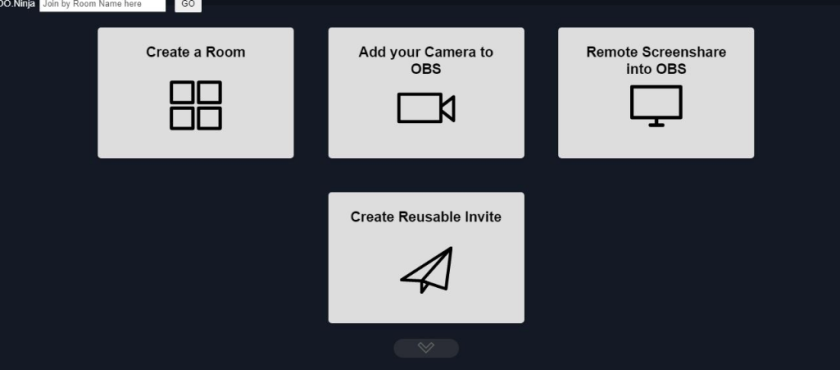 Once on the website, click the option to add your camera to OBS.
Allow the app to access your camera.
Proceed to choose your audio source and an optional password.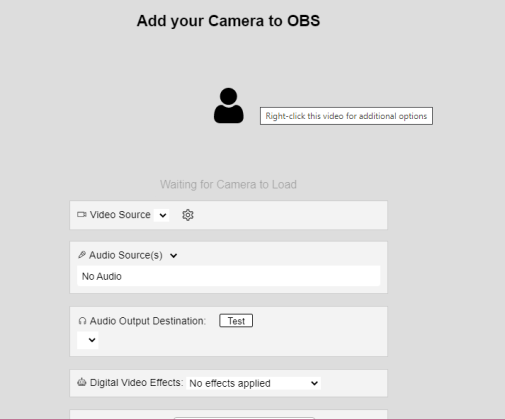 Once set, click Start.
Copy the generated link at the top of the screen.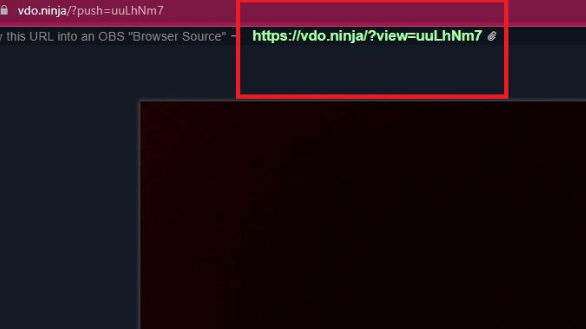 Open the OBS studio on your PC. If you don't have installed already, download it from their official website
Once you have OBS studio open, click the option to add a Browser Source. Name the source any name.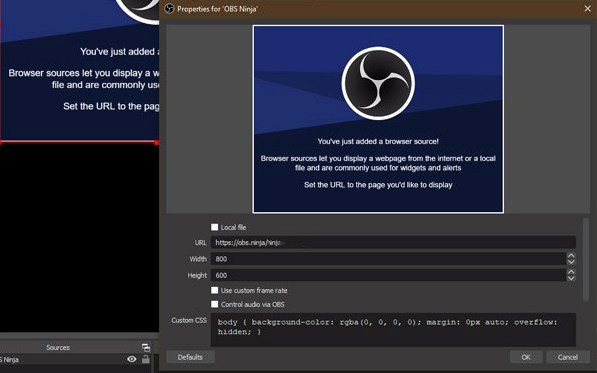 Next, paste the link you copied from your phone and add your desired properties, such as resolution size.
Finalize by clicking OK, and a webcam feed will start to show on your PC.
You've done it. Congrats! Your phone is now using your Android as a webcam.
Conclusion
You now have three ways to use an Android phone as a webcam for free, either via USB or wirelessly. One of the methods listed will hopefully work for you. Try them out.
Look Superb in All Videos
FineCam is an AI-powered virtual camera for Windows and Mac. It makes you look better in Zoom, Teams, YouTube, makes video production easier, and tunrs your phone into an HD webcam. Get it for free.