While online learning and meeting platforms have become the daily norm, knowing the best tricks to stand out when using platforms like Google Meet comes in handy. For instance, using the voice changer for Google Meet can quickly help refine your voice and draw more attention to you when speaking.
Today's post focuses on the 9 best voice changers for Google Meet that you will love using. Let's get started!
1. FineShare FineVoice
FineShare FineVoice is the one-stop digital voice solution for Google Meet. It transforms your voice into different styles from an old nanny to a young girl. You can also use Chipmunk or Minions voice to have fun with your friends.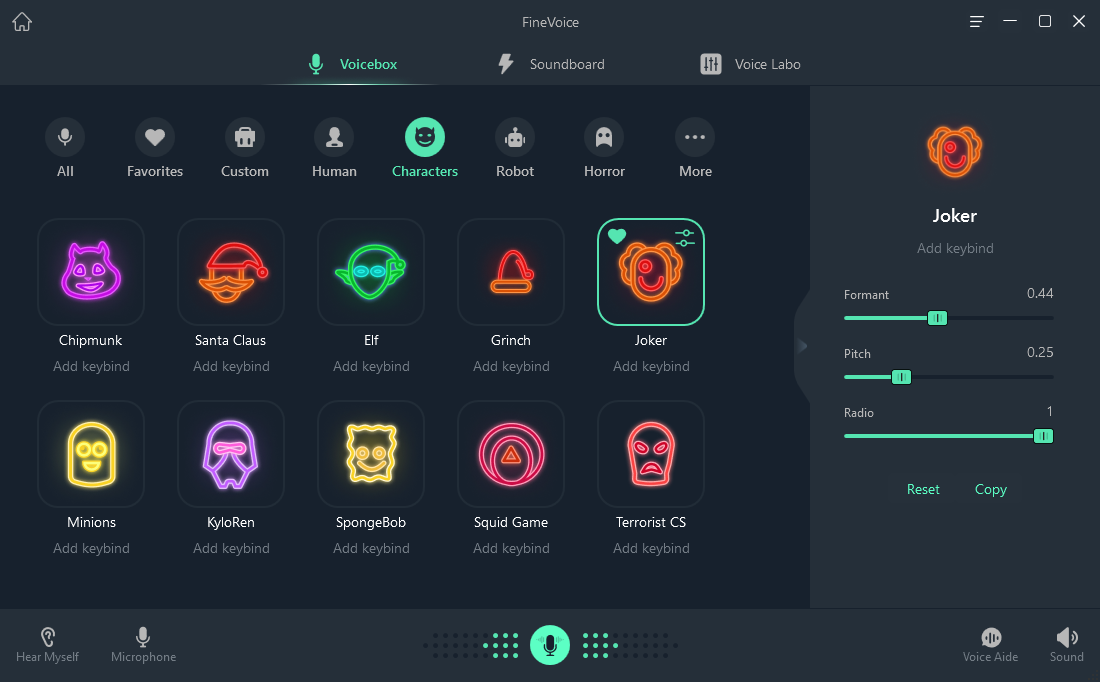 Key Features:
It's a real-time voice changer offering dozens of voice effects.
You can play 200+ sound effects when voice chatting.
It can be used as a voice recorder to record your meetings and music at the same time.
It can extract voice from a video file.
2. Voicemod
If you are looking for a popular, effective, free voice change for Google Meet, Voicemod is your option. It is a free extension with multiple voice effects that you can choose from, and the best part is how well they fit every scenario, from funny to professional voices.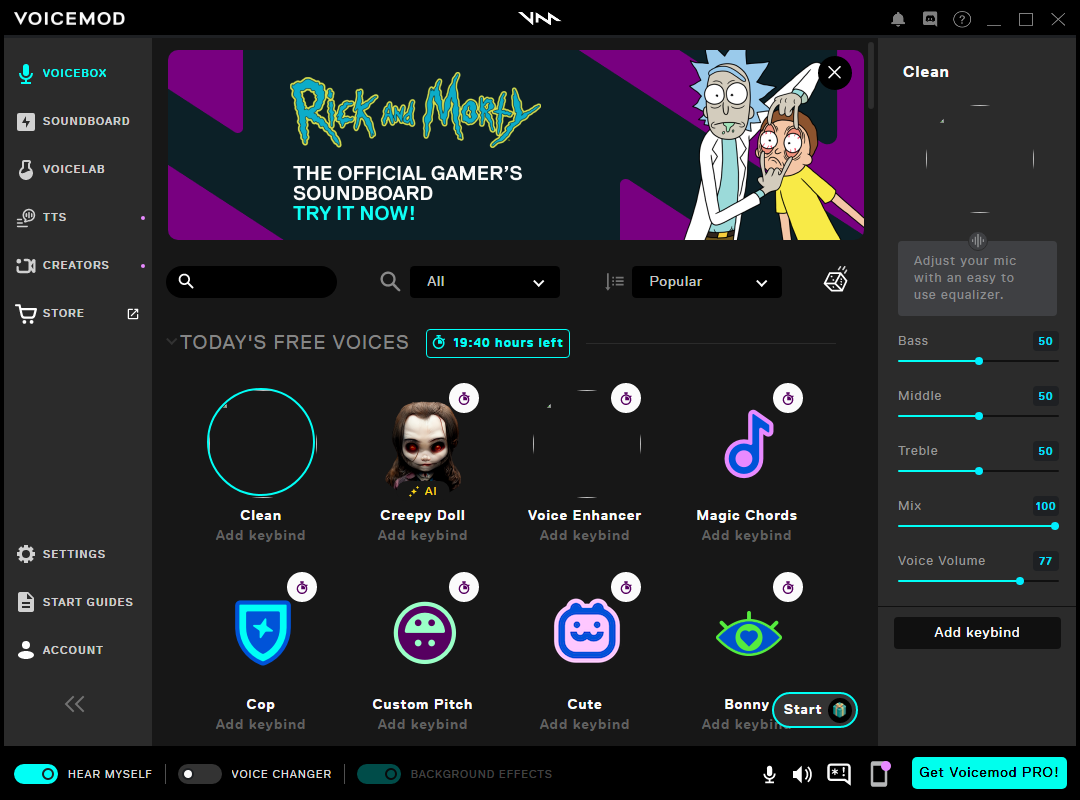 Key Features:
It has multiple voice effects.
Its integration is quick, and the voice changes in real time.
It is compatible with most platforms, like TeamSpeak, Discord, and other apps and games.
It is available for Windows and Chrome.
Related article: Top 6 Tips to Fix Voicemod Not Working [100% Effective].
3. AV Voice Changer
The beauty of AV Voice Changer is that it allows you to change your voice and sound older, deeper, younger, and feminine. You will enjoy using AV Voice Changer; you can even change your voice in batches and keep doing so for hours. You can process multiple audio files simultaneously and modify the output using its audio editor.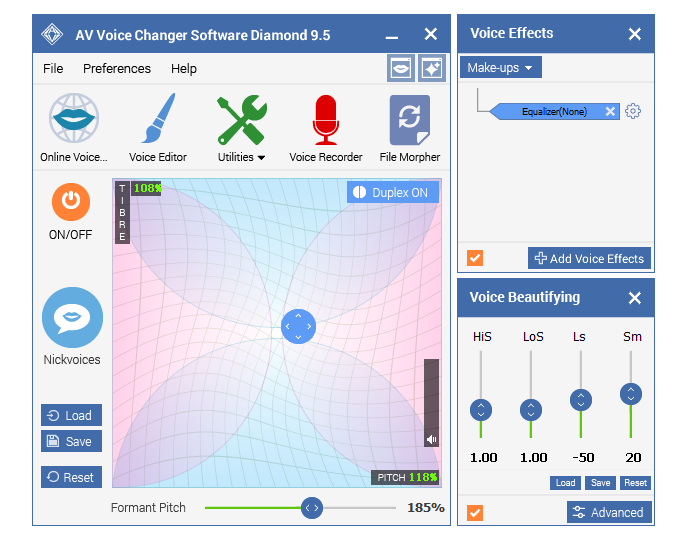 Key Features:
It allows modifying the audio of multiple audio files.
It works perfectly with messaging services and platforms like Google and Zoom.
It offers various sound effects.
It has an audio editor to support the modification of output files.
4. Voicemeeter
While looking for a voice changer for Google Meet, Voicemeeter is a worthy candidate. It is a free virtual audio mixer, and you can use it for voice modification while using platforms like Google Meet, Discord, Zoom, etc. It currently supports Windows OS and is not recommended for beginners as it has some level of complexity that require professionals.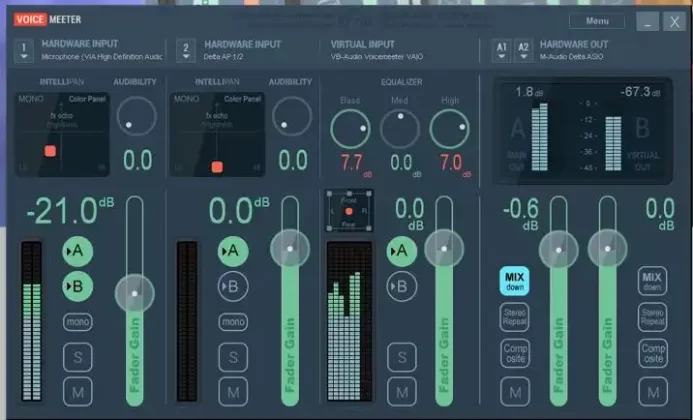 Key Features:
It's free.
It supports Windows OS, including XP and Vista.
Its installation is straightforward.
Some technical expertise is required to get comfortable with using it.
It allows voice adjustment and corrections.
You can use it for modifications of multiple audio inputs.
Also read: 7 Best Voice Changer for Discord.
5. Clownfish Voice Changer for Chrome
An extension created for Google Meet that allows you to change your voice is nothing short of the perfection you need. The extension attributes its millions of downloads to gamers, Google Meet users, and live streamers for the quality of its voice effects and how well it allows changing sound using a microphone. Besides, Clownfish works with multiple platforms.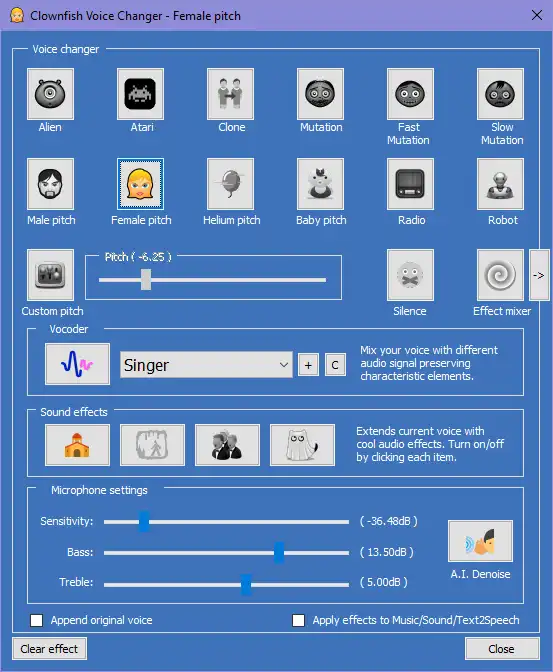 Key Features:
It's compatible with Windows and Chrome.
It has a simple user interface.
It is free to use.
It supports converting text to speech voice.
You can also read this related article: Is Clownfish Voice Changer Safe? Get Best Clownfish Alternative.
6. Voxal Voice Changer
With the Voxal voice changer, you only need to open it and set the tone you wish to use, and any voice from your computer will utilize the tone you set. Furthermore, it offers advanced features that any basic skilled user can quickly get comfortable using. Note that for home use, you need to get a license, and for a professional setting, you must acquire a commercial license.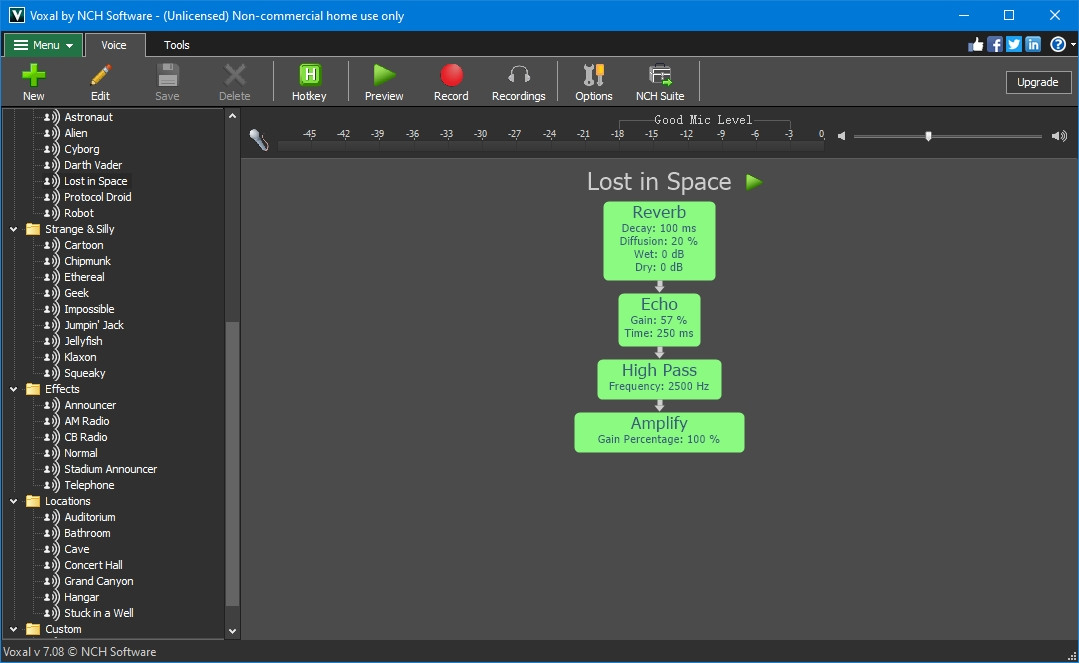 Key Features:
It supports Windows and Mac.
It has a free and paid subscription.
You can easily change voices using hotkeys.
Voxal has low CPU usage.
Don't miss this article: 5 Best Alternatives to Voxal Voice Changer Software in 2023.
7. Live Voice Changer – Prankcall
If you want to turn your iOS into a phone changer for Google Meet or have a prank call to your friends, Prankcall is your buddy for the job. Furthermore, it can act as an audio recorder, and with it, you can modify your voice and utilize its 11 voices from male, squirrel, female, etc. With Prankcall, you will enjoy a natural voice thanks to how well it tunes its tone color, making your Google Meet experience worthwhile.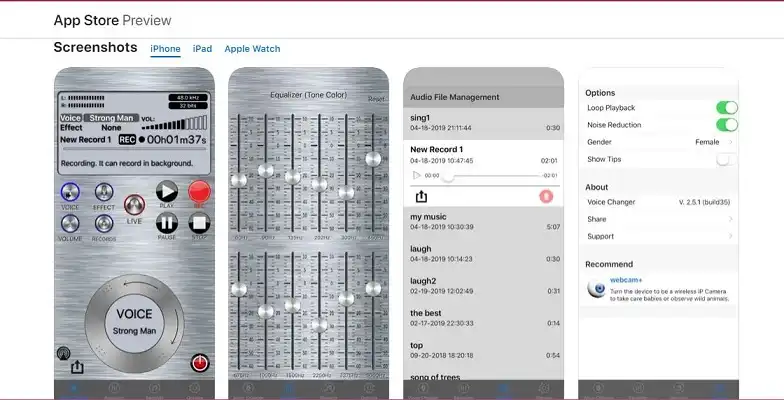 Key Features:
It supports audio recording.
It offers over 11 effects.
It supports tuning the tone color to make your voice natural.
Prankcall supports Bluetooth output devices.
8. Adobe Audition
Audio Audition is excellent for Google Meet because it lets you quickly modify your voice in real-time. It supports adding over 16 audio effects making it perfect for modifying your voice to obtain the desired sound. Besides, you can increase the pitch of your voice and customize other settings.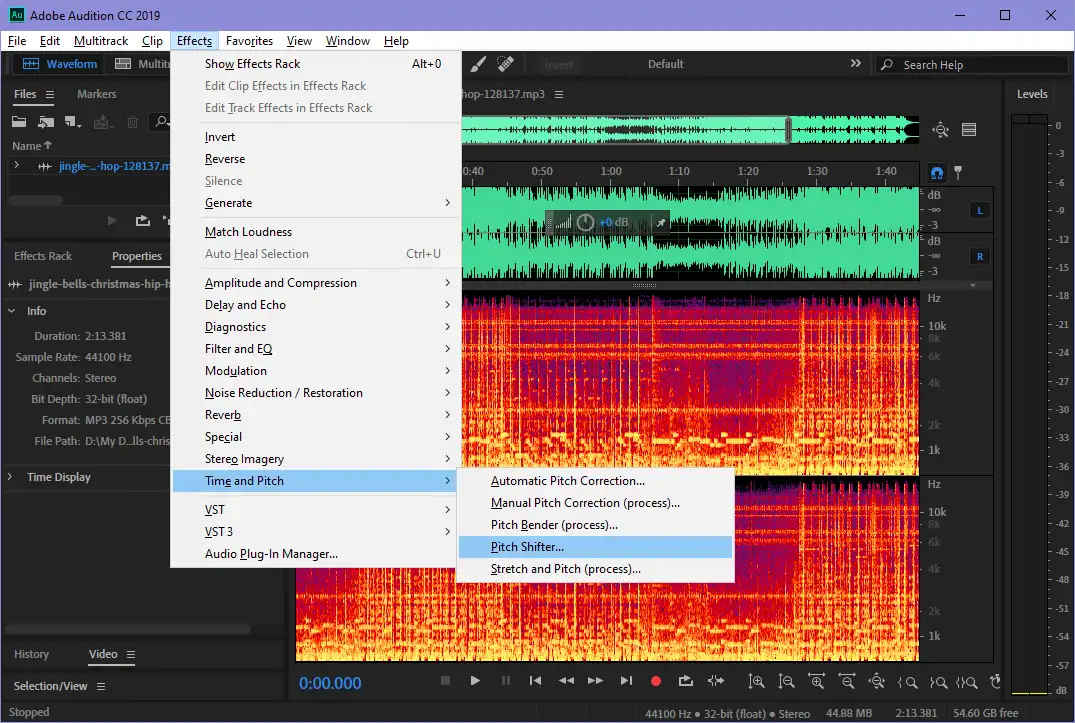 Key Features:
It's compatible with Mac and Windows.
It features a free trial.
It allows adding multiple audio effects to one track.
You can use it with third-party plugins that are 64-bit.
9. All in One Voice Changer
If looking for a reliable voice changer for Google Meet, ensure you try the All-in-One voice changer. With it, you can modify your voice in real-time during a call or meeting. Besides, you can test how you sound before you go live to ensure you don't miss out. You can even import voice or sound.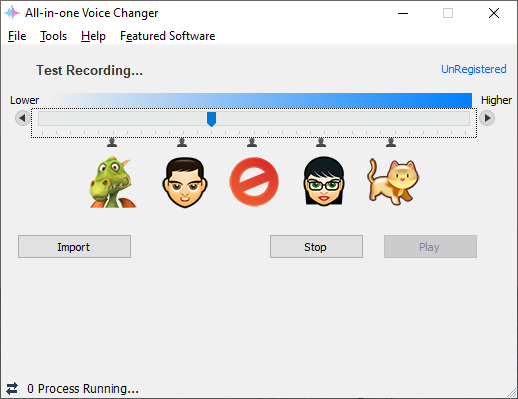 Key Features:
It allows importing files and altering their pitch.
It works with Windows.
It can integrate with different platforms.
It has a slider that allows you to change your voice easily.
Conclusion
This guide has presented the 9 best voice changers for Google Meet. You can try the discussed voice changer and check which works best for you. Here we recommend you download and try FineVoice. Don't miss this amazing tool! Have fun using the voice changer!