Do you want to change your voice in a Zoom meeting? Read this post, we will introduce the 6 best voice changers for Zoom to you. And get an easy guide to connect the voice changer you like with Zoom.
Why Do You Use Voice Changers for Zoom?
Remote meetings are getting more and more important these years. So many people have to study and work at home from time to time. Companies and schools use Zoom to work or teach online.
You need to take a speech, do a presentation, or host a meeting in your organization. A good voice changer will help you give a quality presentation. It reduces the background noise of your audio and enhances your voice.
And an anonymous voice changer may do a big favor one day. When you don't want to use your real voice or give away your identity in a webinar, a voice changer is your savior.
Not to mention that a voice changer will give you lots of fun in relaxing voice chat with your family and friends.
Do you want to get an awesome voice changer for Zoom? There is no need to waste money on headsets with the voice change feature. A voice changer app is everything you need to change your voice. Read this post, and choose the best Zoom voice changer that suits you. Download it and have fun.
Part 1. Best Voice Changers for Zoom on Windows
FineShare FineVoice
As a Windows user, you can use the best voice changer for Zoom in the market. FineShare FineVoice is an AI all-in-one voice changer. It makes you sound like anyone else, from male to female or vice versa.
It offers the voices of popular characters from movies or TV series. You can find Minions, Transformers, Darth Vader, Batman, and other charming voices. Use hilarious or scary voices to have fun with your friends.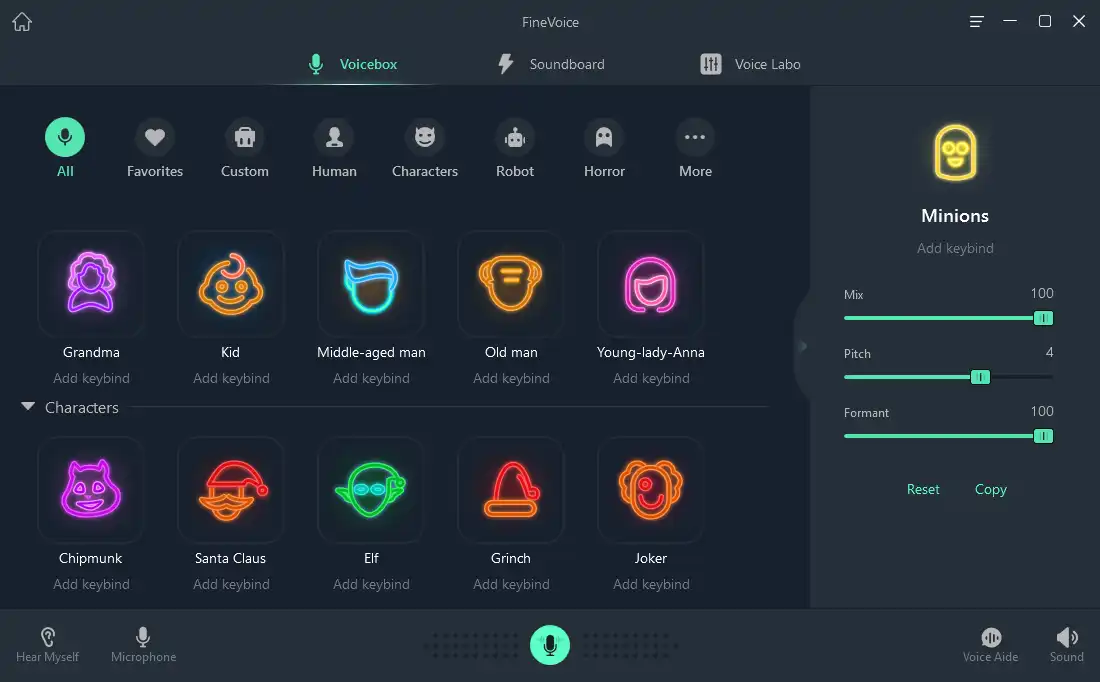 Supported operating systems: Windows 11 / 10
Price: A free version and $39.99 per year
Features:
A real-time voice changer to make you sound professional in Zoom meetings.
A voice recorder to record your Zoom meetings.
A speech-to-text tool to transcribe your Zoom meetings.
An audio extractor to extract audio from your meeting videos.
An audio file voice changer to make your Zoom voice chat funnier.
Pros:
You can create custom soundboards with the preset sound clips or the uploaded audio files.
Offers many preset soundboards to make your friends laugh.
You can create unique voices with the Voice Labo feature.
Cons:
Only provide the Windows version
Voicemod
Want a voice changer offering dozens of voice effects and hundreds of sound effects?  Want to change your voice from male to female or vice versa?  Get Voicemod.
It's a real-time voice changer for Zoom, Discord, and Twitch. With Voicemod's voice effects and sound effects, you can give an exciting presentation. Have fun with your audience and friends.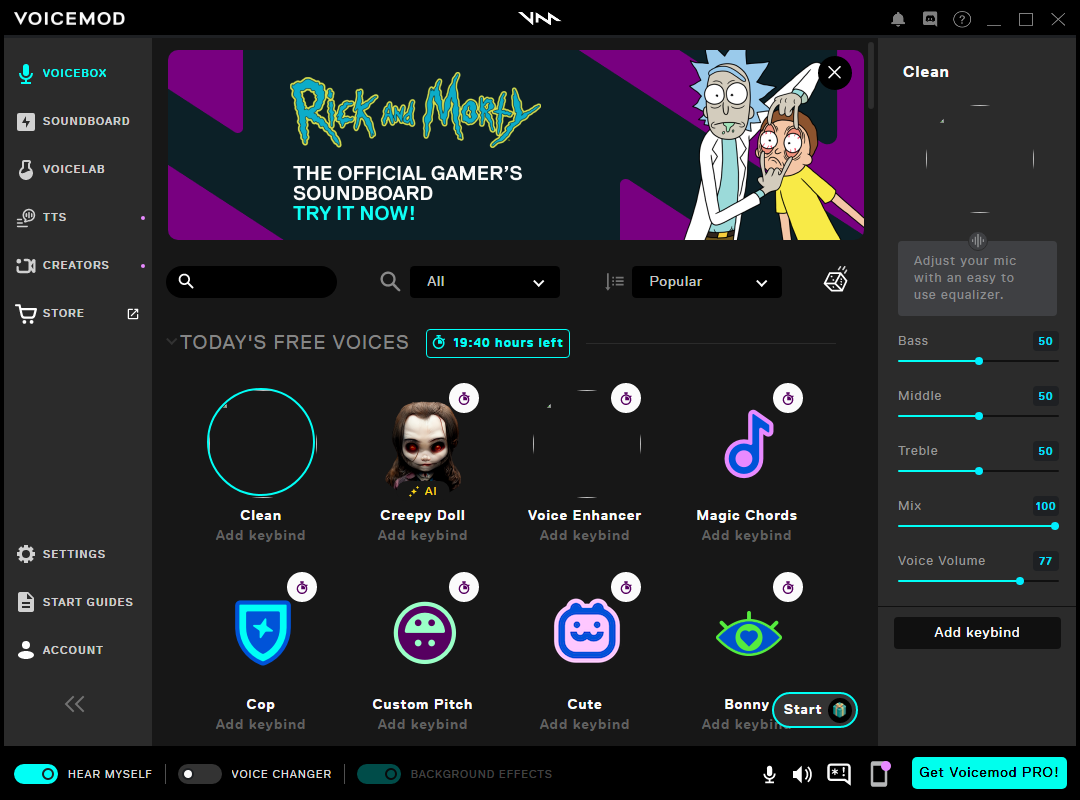 Supported operating systems: Windows 10 / 8 / 7 / Vista / XP
Price: A limited free version; Lifetime license £19.00 (special 50% off)
Features:
More than 80 voice effects of humans, robots, characters, and others.
A soundboard contains sound effects for pranksters, gamers, and Halloween.
A sound effects online community for sharing sound clips with others.
Pros:
Offers voice effects every day for free users.
Offers a Voice Enhancer to reduce the background noise, and give you better audio quality.
Offers portable soundboards to have your audience's attention.
Cons:
You cannot find the voice of Darth Vader, SpongeBob, and other popular characters.
You cannot create a unique voice in Voicemod unless you subscribe to a paid plan.
Clownfish Voice Changer
Are you looking for a voice changer that works on every voice chat platform? Get Clownfish Voice Changer. This free voice changer for Zoom is installed on the system level. So you don't need to set it for every application using a microphone.
Set the voice changer and it will change your voice in Steam, Skype, Discord, TeamSpeak, etc. once and for all.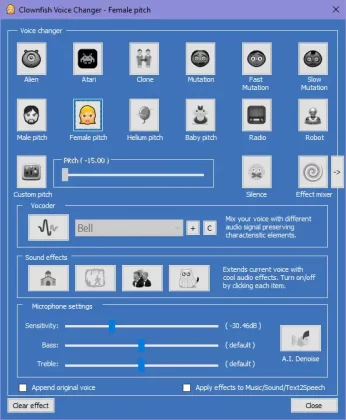 Supported operating systems: Windows Vista / 11/ 10 / 8.1 / 8 / 7 (64-bit & 32-bit)
Price: Free
Feature Highlights:
The Voice Changer offers 12 common voice effects to meet your chat needs.
It has an AI Denoise tool to reduce background noise.
It offers a Music Player to upload and play the background music.
It provides a Sound Player and a Soundboard to play funny sound clips.
Pros:
You can access the male pitch, female pitch, helium pitch, and baby pitch. And get a voice of an alien, an Atari, or a robot for your Zoom chat.
You can get a funny voice with the effect mixer. It combines up to four voice effects to generate a unique one.
You can set the sensitivity, bass, and treble of your microphone to get better audio quality.
Cons:
You need to spend some time learning how to use the voice changer and its VST plugin.
A correct setup is a basis to make the voice changer effective. But it's a little hard to do it right.
Related article: Is Clownfish Voice Changer Safe? Get Best Clownfish Alternative.
Part 2.Best Voice Changers for Zoom on macOS
Voxal Voice Changer
Is there a real-time voice changer with an audio recorder? Can I record audio with a changed voice? Download Voxal Voice Changer. It can give you what you want.
Voxal Voice Changer is a voice changer software that works on macOS and Windows. It is compatible with Zoom, Twitch, Skype, and video games like CS: GO. Try on its free version and record a funny chat with an Alien voice.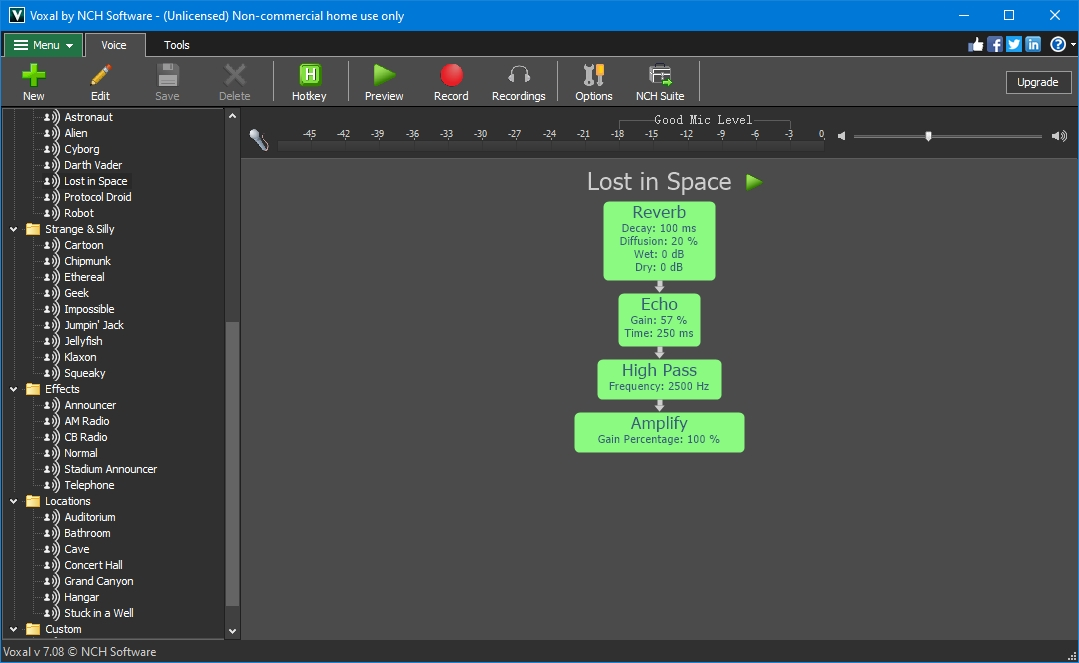 Supported operating systems: macOS 10.5 or above & Windows 11 / 10 / 8.1 / 8 / 7/ XP / Vista (64-bit)
Price:
Limited version for home use: Free
Plus version for home use: $14.99; for commercial: $19.99
Features:
It offers 37 voice effects to change your voice.
It allows you to generate voice-overs with 6 effects like radio and telephone.
It offers background noise effects including a cave, bathroom, auditorium, forest, etc.
Pros:
You can customize a preset voice effect with audio effects like echo and distortion.
It integrates with other NCH audio software. Using it with NCH's sound editor, audio recorder, and multitrack mixer is easy.
A log window showing on the main interface by default. It lets you see how the voice changer work according to your instruction.
Cons:
The free version of Voxal only offers one voice effect each time you run it.
You need to upgrade to a paid version to use it for commercial use.
We have introduced the best voice changers for the Zoom desktop program. But what if you wish to change your voice when using a Zoom mobile app? Read on, we will give you two voice changers that can work on a mobile phone.
You can't miss: 5 Best Alternatives to Voxal Voice Changer Software in 2023.
Part 3. Best Voice Changers for Zoom on Android
Celebrity Voice Changer
Want to change your voice to Elon Musk? Want to make Elon Musk say anything you want him to say? Try this voice changer. Celebrity Voice Changer is an app for Android and iOS mobile phones.

Features:
It offers celebrities' voices. Access to the voices of Donald Trump, Peter Griffin, Grim Reaper, and Barack Obama.
You can use it as a movie maker. Record your voice with a modified voice and the voice changer will generate a video.
You can share and download the video.
Part 4. Best Voice Changers for Zoom on iOS
Is there any voice changer that works on an iOS mobile phone? Yes. Download Voice Changer Plus. Change your voice with the voice effects and background sounds.
Voice Changer Plus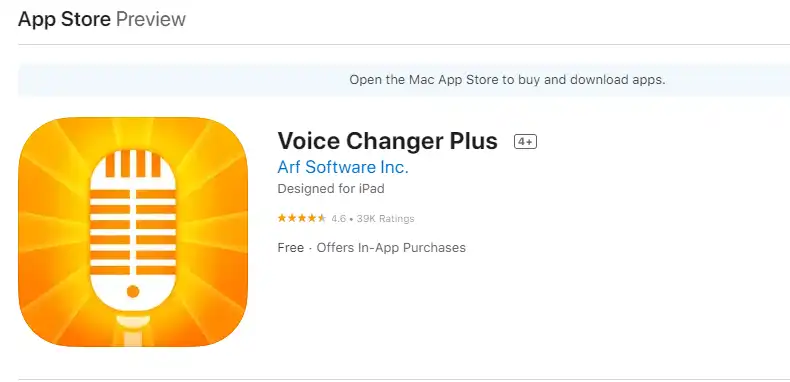 Features:
It offers 55 voice effects and background sound effects.
It's easy to record your voice and download or share the recordings with others.
It supports you to upload recording files to layer on more effects.
You can trim an audio file in the app.
You can use it to generate voiceover.
Have you tried TikTok Voice Changer? Read TikTok Voice Changer: How to Get Funny Voice Effects for Videos.
Part 5. How to Use FineVoice Voice Changer on Zoom
Now you got the best Zoom voice changers. let's see how to use FineVoice voice changers on Zoom. Please refer to the guide to try the best voice changer you have in mind.
Step 1: Download and install FineVoice on your device.
Step 2: Launch FineVoice and click the Real-time Voice Changer tab on the main interface.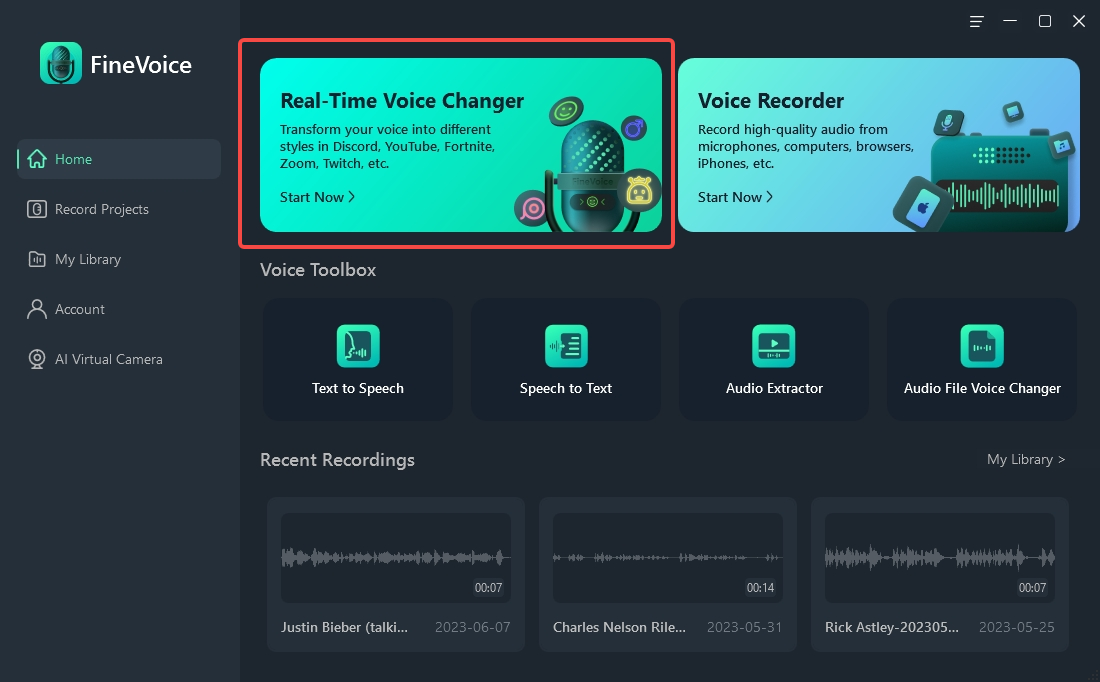 Step 3: Set your real microphone as the input audio device. Set your speaker as the output audio device.
Step 4: Select the voice effect you want to use from the 30+ options under the category tabs. You can also customize a voice effect via the audio effects on the right panel.
Step 5: To hear your modified voice, enable the Hear Myself/ Hear Microphone option.
Step 6: Launch the Zoom program. Click your avatar.
Step 7: On the Settings menu, click the Audio tab.
Step 8: Click the Audio tab and select FineShare FineVoice Microphone as the microphone option. You can click Test Mic to check if it works on Zoom.
Step 9: Host or join a meeting and speak with your changed voice.
Conclusion
Envious of others who always have a clear and good-sounding voice in Zoom chat? Want to know how to use Minions' voice to speak in Zoom?
Take away the 6 best voice changers for Zoom we give you. Make the best voice and change your voice to something funny. No more boredom on Zoom. Explore the potential of your voice and have fun.