Do you play Fortnite Battle Royale? Want to make more fun in a team battle? Play funny sound effects in Fortnite. Read on, we will give you the best Fortnite soundboards for PC and mobile playing.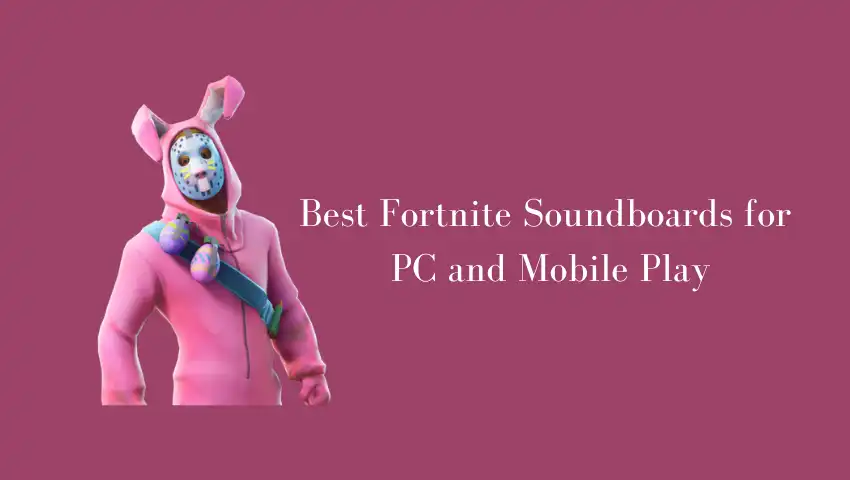 Best Fortnite Soundboard for PC and How to Use
#FineVoice
First, we want you to get a free real-time voice changer. FineVoice can work seamlessly for real-time voice changing in gaming, streaming, and voice chatting.
Play the 200+ sound effects in Fortnite to make a game funnier. You can also change your voice into Minions, Darth Vader, or other characters randomly. Have fun with it.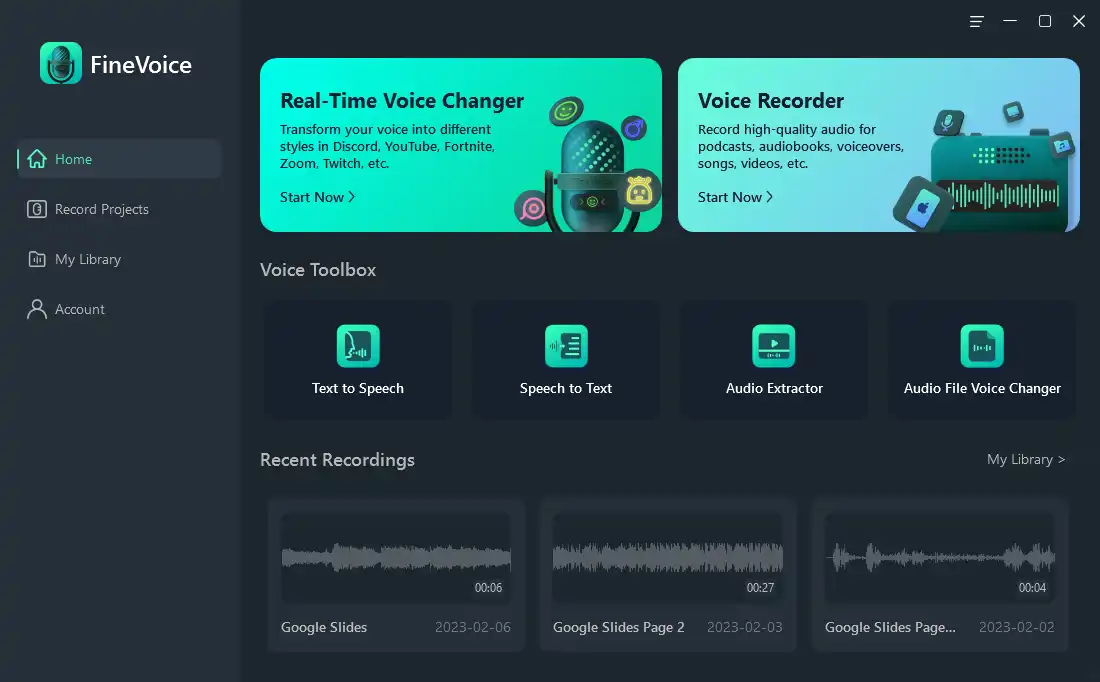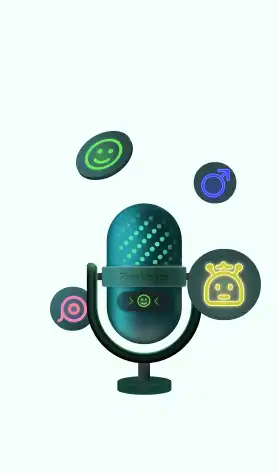 Try This Best Fortnite Soundboard on PC
A variety of voice effects and soundboards for games, chatting, live streaming and more.
Create your own custom voice with 28 audio effects including delay, reverb, equalizer, and Wah.
Audio file voice changing is supported.
Works with almost all apps like Discord, Zoom, Teams, Skype, OBS, FineCam, etc.
Offers other voice tools including text to speech, speech to text, audio extractor, and multi-track recorder.
How to use a soundboard in Fortnite with FineVoice:
Step 1: Download this free soundboard app on your computer.
Step 2: Open the Real-Time Voice Changer. On the Voice Aide window, select the Microphone and Speaker to capture your voice and hear the playback.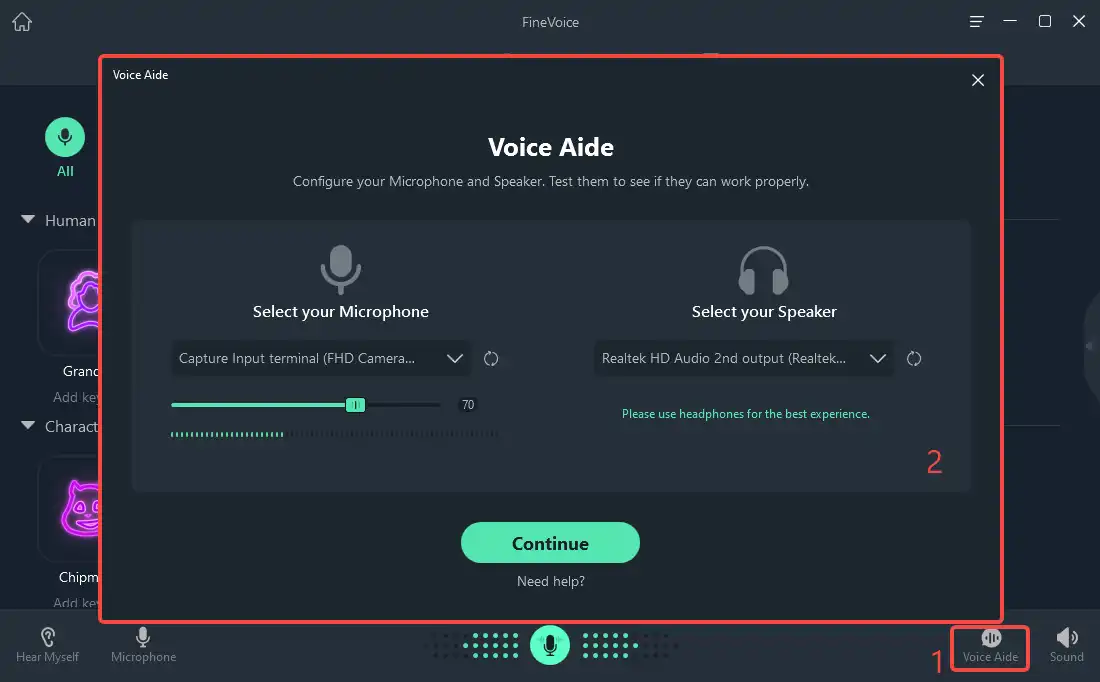 Step 3: Try the voices in the Voicebox. Try the best male-to-female voice changer, if you don't want to change your voice at this point, click the Soundboard tab at the top menu bar.
Step 4: Navigate the soundboards for the game, Halloween, and April Fool's day and play them to add more fun. You can also play animal, and ambient sounds to disguise where you are and what are you doing.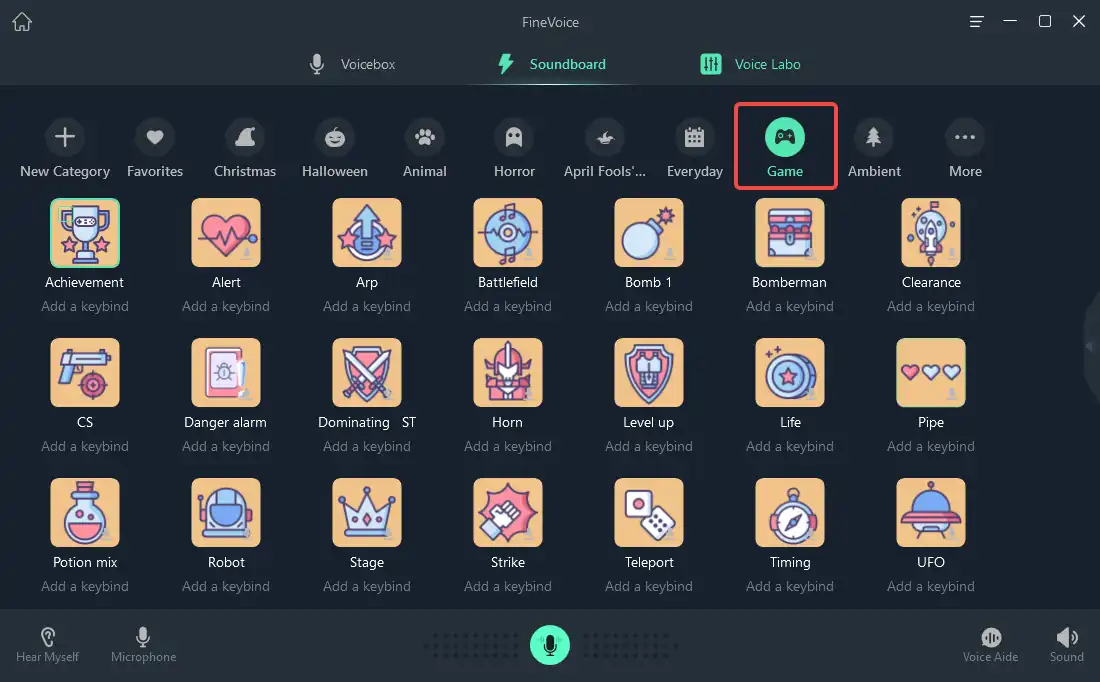 Step 5: Click a sound to play it. Click Add a keybind under a sound to add a hotkey, so you can play your favorite sound in Fortnite.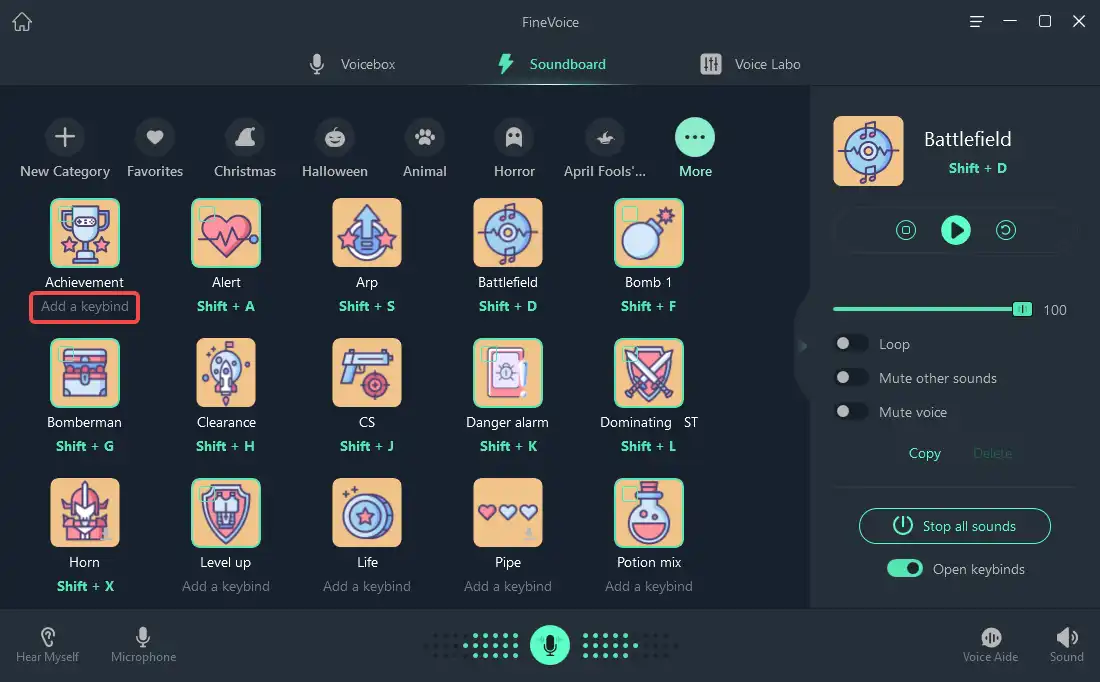 Step 6: You can also upload your audio files to a created custom category. FineVoice supports audio file uploading in MP3, AAC, AC3, AMR, MP2, and WAV.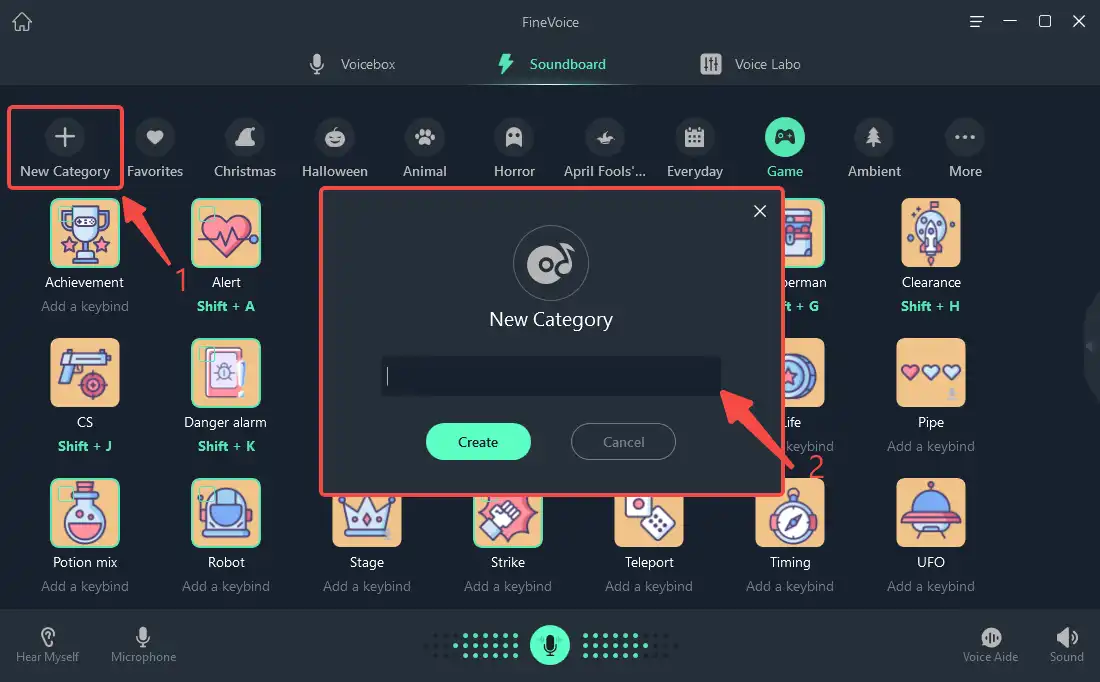 Step 7: Open Fortnite. Go to Menu > Settings > Audio > Voice Chat. Turn on Voice Chat and select FineVoice Virtual Microphone as the Voice Chat Input Device.
Step 8: Click Apply to make the change effective. Press a key and you can hear the sound played through FineVoice Microphone to Fortnite game.
Best Fortnite Soundboards for Mobile Play
Got the best Fortnite soundboard for PC playing? If you often play Fortnite on your iPad, iPhone, or Android mobile devices, you may need some online soundboards for Fortnite.
You can also access them on your computer if you want to save time on running software.
So, let's move on to the 4 best online Fortnite soundboards.
#1. 101 Soundboards
101 Soundboards is the first Fortnite soundboard you should take a try. It's one of the websites that offer a large number of sound clips from celebrities and films and you can find viral meme sounds on the website.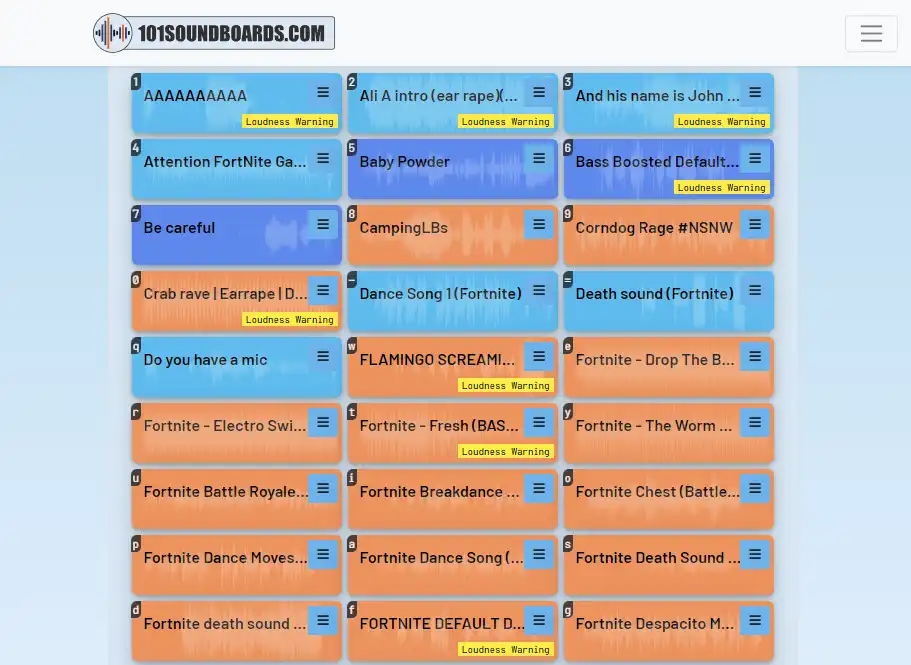 Key Features:
It offers meme soundboards like Arnold Schwarzenegger soundboard.
It supports hotkey playback.
The sounds are sorted alphabetically.
You can free download the file in MP3 format.
You can create a custom soundboard and upload local sound clips.
#2. Myinstants
Myinstants is the largest site that offers interesting sound buttons. One of its competitors, SoundBoardGuy, also offers sound buttons, but not as comprehensive a collection of sounds as Myinstants.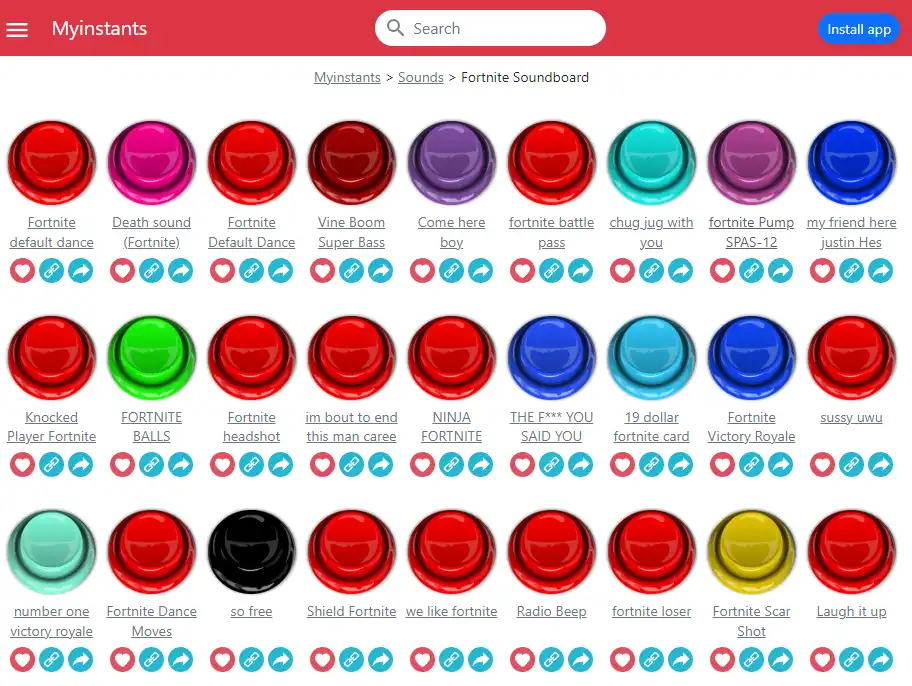 Key Features:
Hundreds of sounds are on the Fortnite soundboard.
Offers movies, games, television, viral and anime soundboards, etc.
You can share the funny sound buttons with your friends with a link.
You can download sound as MP3 without charging.
Myinstants allows you to add to your soundboard with an account.
#3. Voicy
Voicy is an online community to create, share and find sound clips. Voicy users create their soundboards and capture voices from films, games, anime, sports, and more.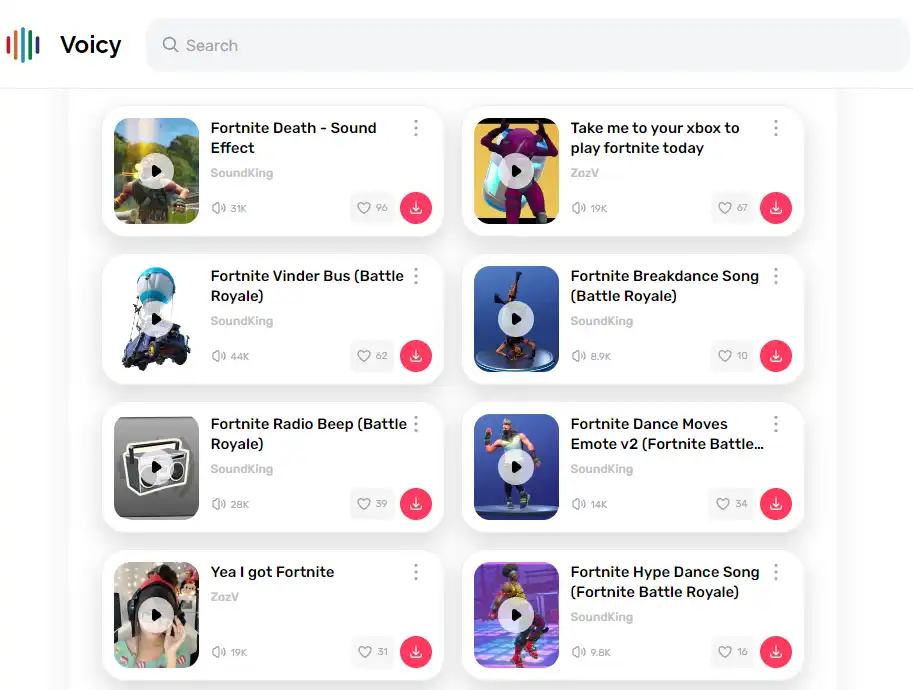 Key Features:
There are thousands of high-quality sound effects created by other users.
You can download the MP3 file of a sound clip after logging in.
You can create a soundboard and add sound clips to yours.
#4. Jayuzumi
If you are looking for a funny virtual soundboard to share with others, Jayuzumi is perfect for you. And with its high-quality sound clips and well-designed website, Jayuzumi is one of my favorite soundboard websites.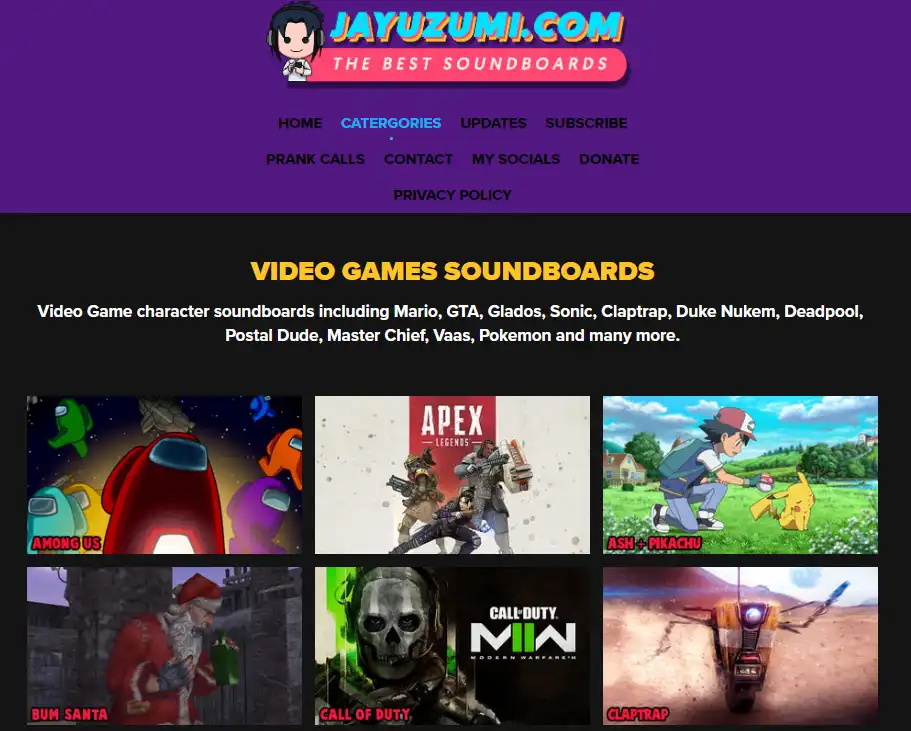 Key Features:
Quotes of the popular character from mass media like anime, cartoons, video games, and Disney.
Funny virtual boards for most soundboards.
Clear classification of the sounds.
You can play the sounds in normal or full-screen size.
Jayuzumi supports audio file download in MP3 format for free.
Conclusion
Got the best Fortnite soundboards for PC and mobile? Choose what you like most. Get the funny sound effects from the internet and manage them all in your FineVoice soundboard.
Get the Best Soundboard for Fortnite
Powerful real-time voice changer for tuning your voice in gaming, streaming, and chatting. It comes with various voice & sound effects and supports creating custom voice. Get it for free.