If you love K-pop, you've probably dreamed of creating your own K-pop songs. Maybe you want to sing along to your favorite tunes, but you don't know Korean. Or maybe you want to show off your musical skills, but you don't have the equipment or the talent. Don't worry, there is a solution for you: K-pop song generators.
In this article, we will show you the 4 most popular K-pop song generators and some of the best K-pop songs in 2023.
Learn More Information about K-pop
K-Pop, short for Korean Pop, is a popular music genre from South Korea. It encompasses a wide range of musical styles, including pop, hip-hop, R&B, electronic, and more. K-Pop is characterized not only by its music but also by its elaborate music videos, choreographed dance routines, and visually stunning aesthetics.
Key Elements of K-Pop
Catchy Melodies: K-Pop songs often feature catchy and memorable melodies that appeal to a global audience.
Innovative Music Videos: K-Pop music videos are known for their high production values, intricate storytelling, and visually striking concepts.
Diverse Groups: K-Pop groups typically consist of multiple members with distinct roles, such as main vocalists, rappers, and dancers. These groups often have dedicated fan bases.
Choreography: Choreographed dance routines are a hallmark of K-Pop performances, with intricate moves and synchronized group formations.
Fashion and Style: K-Pop artists are known for their unique and trendsetting fashion choices, often pushing the boundaries of style.
Fan Engagement: K-Pop artists engage closely with their fans through social media, fan meetings, and fan events. Fandom culture is a significant aspect of the K-Pop phenomenon.
Global Reach: While K-Pop originated in South Korea, it has gained immense popularity worldwide, with dedicated fan communities spanning different countries and cultures.
4 Most Popular K-pop Song Generators
FineShare Singify
FineShare Singify is the ultimate tool for K-pop fans who want to experience K-pop music in a new way. You will never run out of inspiration or ideas with it. It's easy to use, fun, and creative. Whether you want to make a catchy dance track, a romantic ballad, or a fierce rap song, it can help you create your masterpiece.
With FineShare Singify, you can create amazing songs that sound like BTS, BLACKPINK, EXO, Twice, or any other K-pop artist you love. It's like having your own personal K-pop studio in your pocket! What's more, you can also make your own original songs from scratch, by selecting the artist you want to emulate or mixing and matching different artists for a unique combination.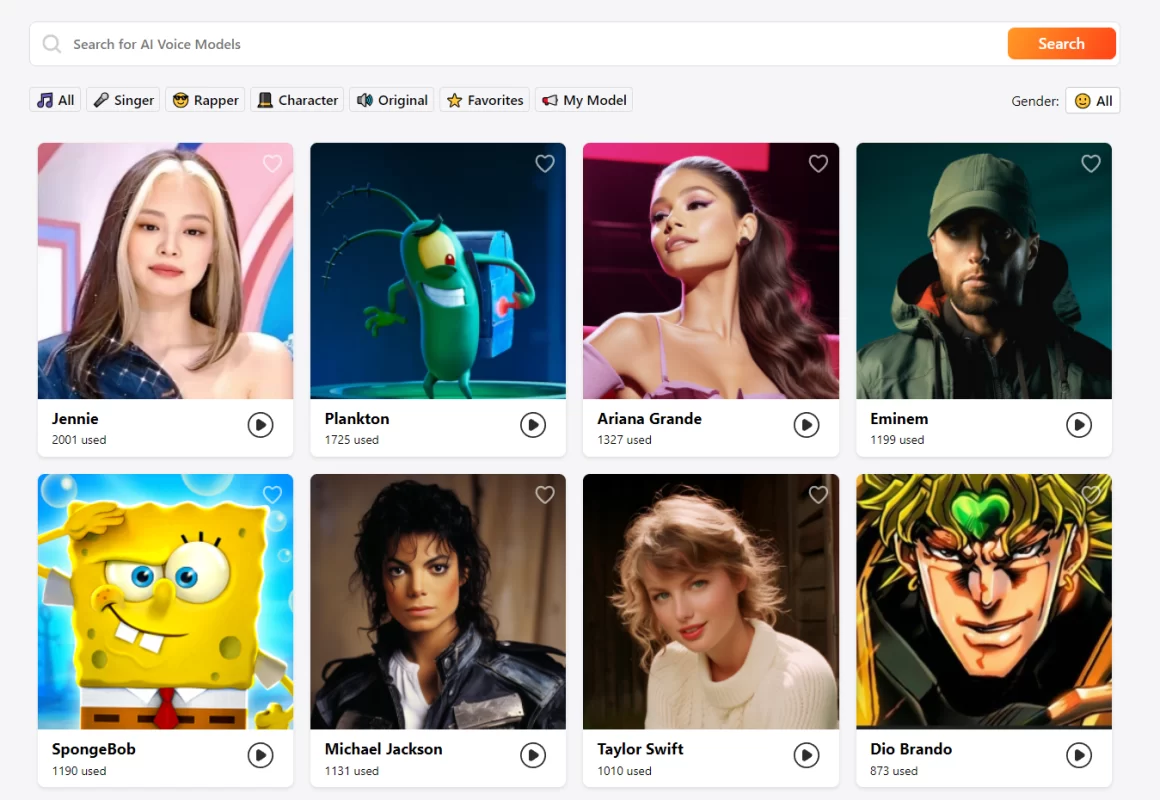 Features:
Simple and intuitive interface
A vast library of 100+ AI voice models
Sing like your favorite artists, such as BTS, BLACKPINK, EXO, TWICE, Red Velvet, Kanye West, Drake, etc
Listen to your AI cover online or download it as an MP3 file
A creative and interactive K-pop song generator
If you are a music lover and want to create your songs in various styles and languages, you should check out Perchance. It's one of the most popular song generators on the web, and you can use it to create your K-pop songs in various styles and languages.
With Perchance, you can create random text generators for anything you want. To give some examples, you can choose from different K-pop genres and artists, such as BTS, BLACKPINK, EXO, TWICE, and more. You can also import other generators created by other users and customize them to your liking.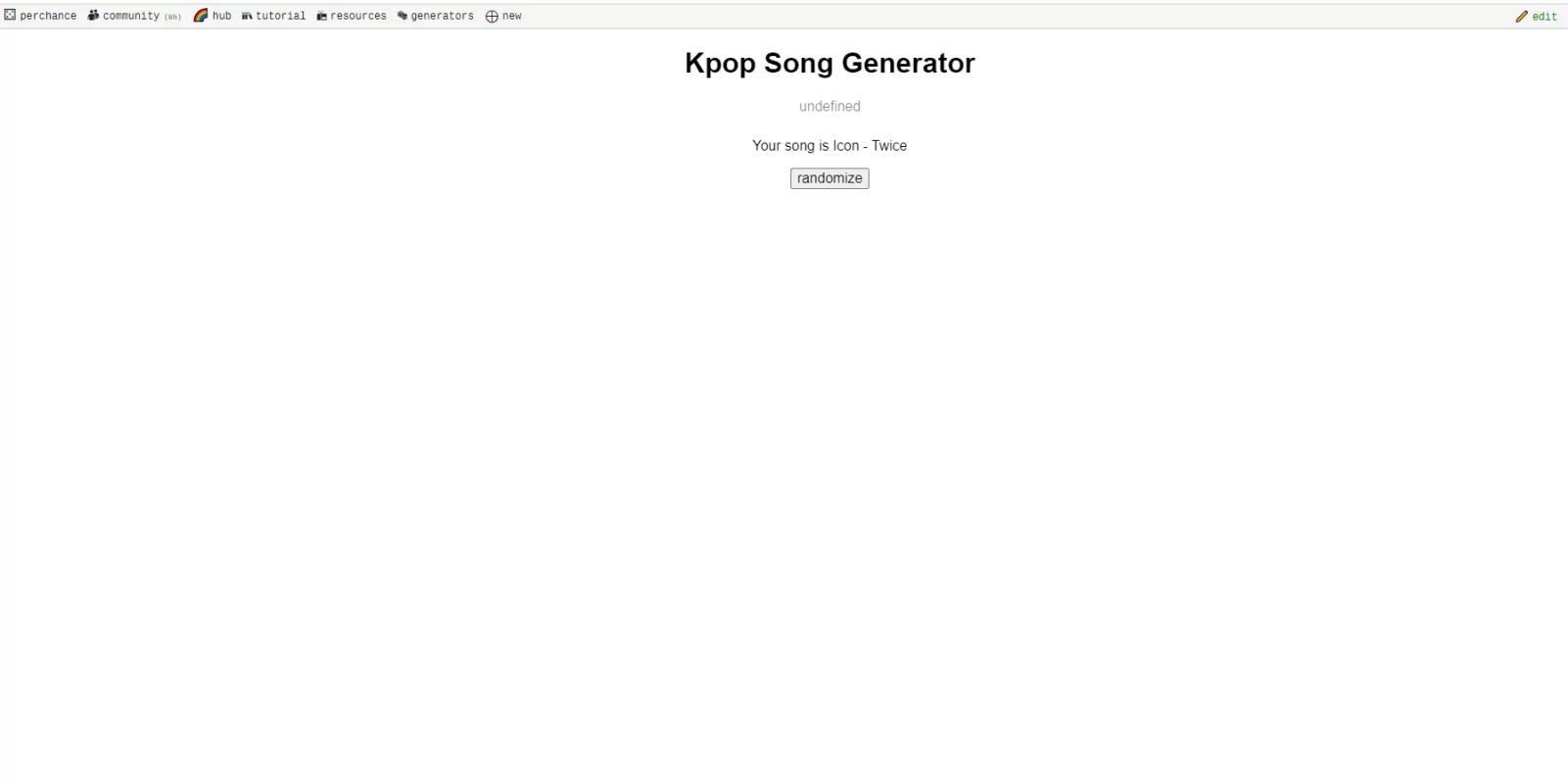 Features:
It's free, no sign-up is required, and there are no limits on what you can create
Create lists of words or phrases that reference other lists
Use special symbols and commands to change the odds, capitalization, pluralization, tense, and other properties of your lists
Import other generators created by other users and customize them to your liking
Share your generators with others by simply sharing the URL
Voicify.AI
Voicify AI is one of the best K-pop AI song generators. It's an excellent tool for anyone who loves K-pop. You can create AI music covers using AI voice models of your favorite K-pop singers and artists. You can use it to transform any song into a unique and captivating musical experience in just seconds.
Voicify AI uses advanced AI technology to analyze the original song and generate a cover version with different vocals, lyrics, and languages. You can choose from over 800 AI voice models, including popular singers, celebrities, cartoon characters, anime characters, public figures, and more. For example, if you want to cover Dynamite with the voice of Taylor Swift, you can choose her voice model from the list.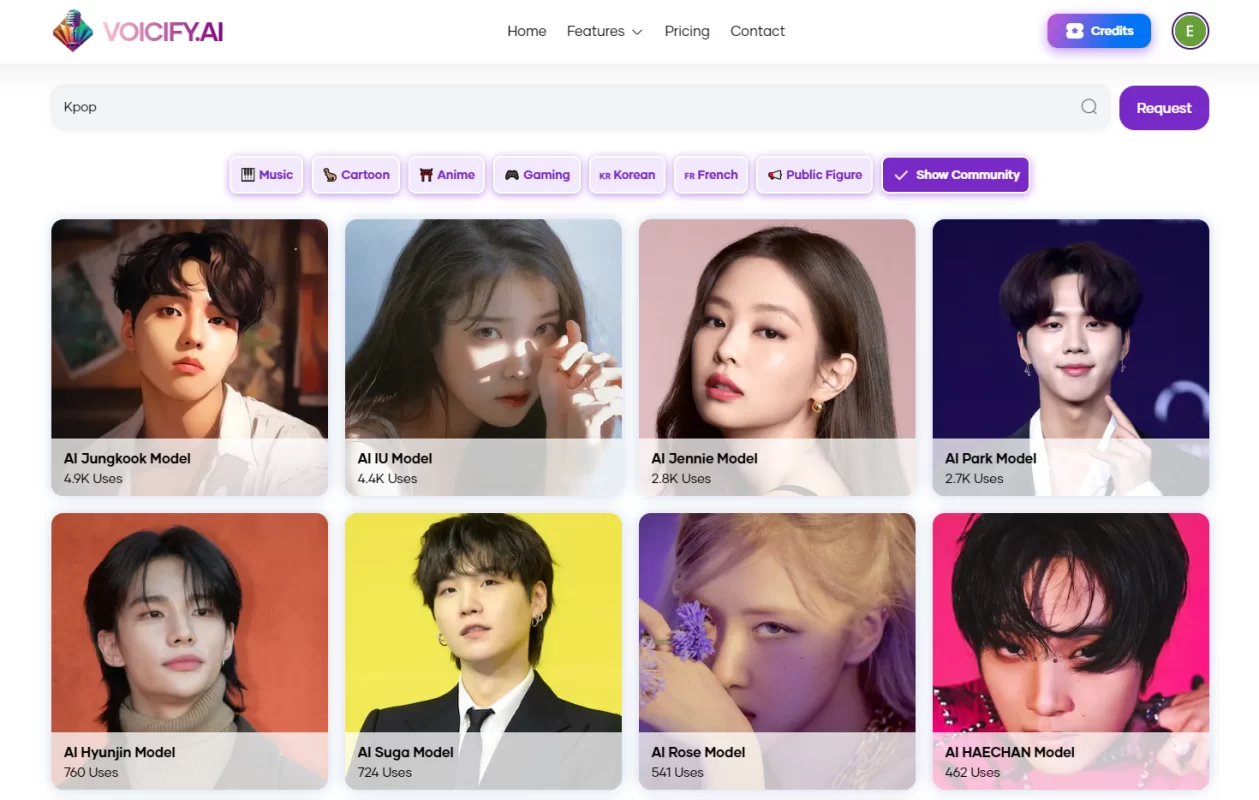 Features:
Large and diverse AI voice models, including popular singers, celebrities, cartoon characters, anime characters, public figures, and more
Easy and fun to create your own AI covers
Create your custom voice model with your voice
Support various languages, such as English, Spanish, French, German, Japanese, and Chinese
Has a vibrant and supportive community
SpinTheWheel
SpinTheWheel is the ultimate K-pop song generator for fans and aspiring singers alike. Whether you want to make a song for yourself, for your friends, or the world, SpinTheWheel can help you achieve your musical dreams. It's easy to use, fast, and free. All you need is an internet connection and a passion for K-pop.
With SpinTheWheel, you can create original and catchy K-pop songs based on your preferences and mood. You can choose from different genres, such as pop, rock, hip hop, R&B, EDM, and ballad. You can also select the theme of your song, such as love, friendship, party, breakup, or motivation. And it will then generate lyrics, melody, and even cover art for your song.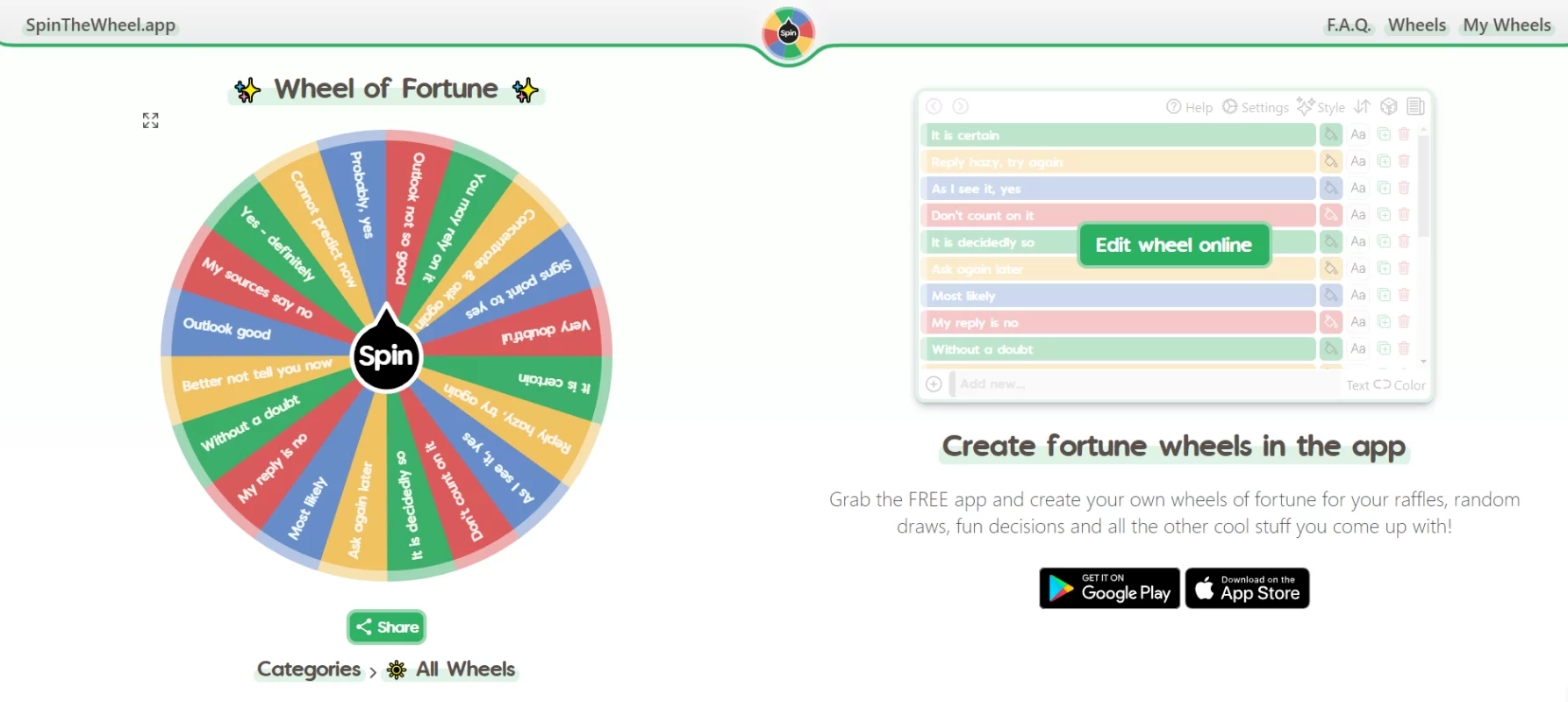 Features:
Different genres, such as pop, rock, hip hop, R&B, EDM, and ballad
Support selecting the theme of your song, such as love, friendship, party, breakup, or motivation
Mix different languages in your song to create a multilingual effect
Pick the artist that you want your song to sound like, such as BTS, IVE, Red Velvet, EXO, and more
Generate a colorful and attractive cover art for your song
Best K-Pop Lyrics Generator The Industry Hackerz
If you are looking for a reliable and trustworthy K-pop lyrics generator, try The Industry Hackerz. It's an artificial intelligence model that can generate lyrics for any K-Pop genre, style, mood, or theme. Whether you want to write a cute and upbeat song about falling in love for the first time, a dark and powerful rap song about breaking free from the system, or anything in between, this tool can help you do it. You can also choose the language of the lyrics, such as Korean, English, or a mix of both.
This K-Pop AI lyrics generator is not only a fun and easy way to create K-Pop lyrics, but also a great way to learn more about K-Pop culture and music. You can discover new genres, artists, and trends that are popular in the K-Pop scene, and get inspired by the creativity and diversity of K-Pop songs. You can also share your generated lyrics with your friends, family, or online communities, and see how they react to your original K-Pop songs.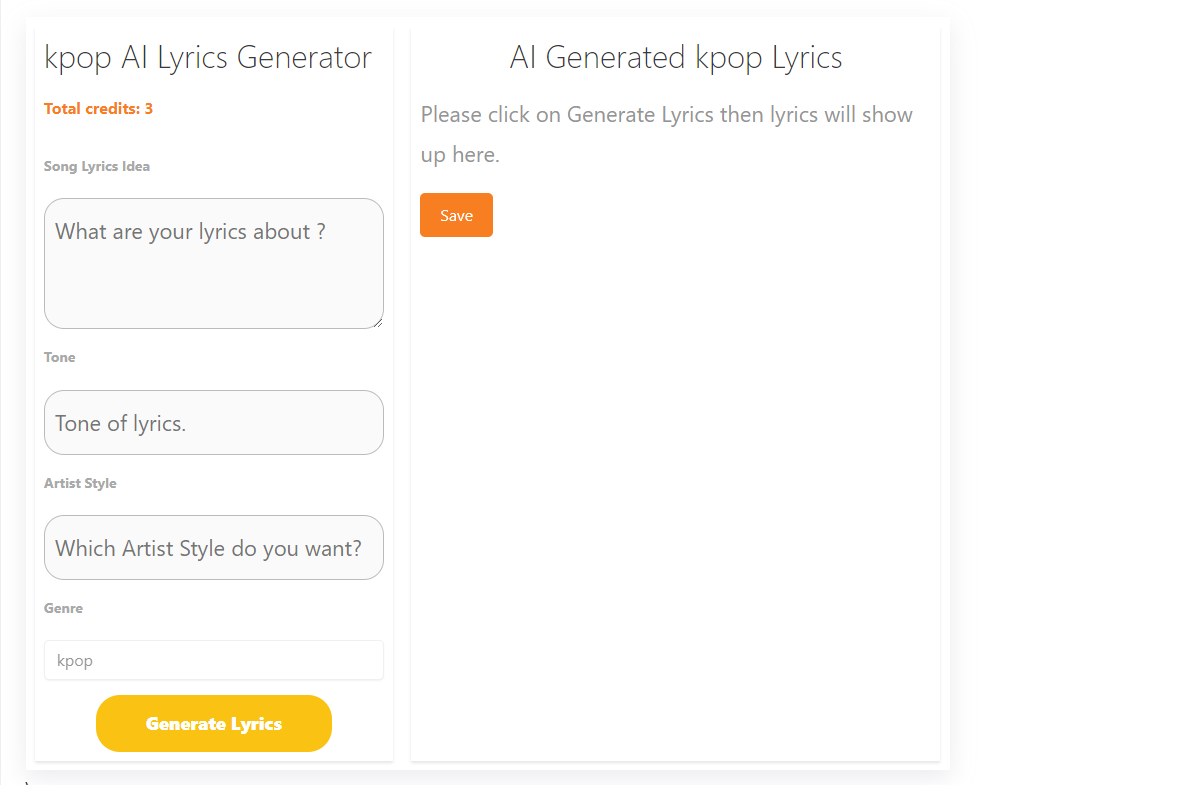 Bonus Tips: The 10 Most Popular and Best K-pop Songs in 2023
According to Koreaboo, the 10 most-streamed K-pop songs of 2023 on Spotify so far are as follows.
Farewell, Neverland by TXT
Love Dive by IVE
Still Life by BIGBANG
Tomboy by (G)I-DLE
Feel My Rhythm by Red Velvet
Ganadara by Jay Park feat. IU
Love, Maybe by MeloMance
DrunKen Confession by Kim Minseok
Invu by TAEYEON
Traffic Light by Lee Mujin
Conclusion
K-Pop song generators offer a gateway to the uncharted territories of musical inspiration. As the K-Pop landscape continues to evolve, the presence of these generators serves as a constant reminder that the journey of creative expression is boundless.
So, whether you're a melody whisperer, a lyric enthusiast, or an orchestrator of beats, the world of K-Pop song generators awaits your touch.
Hot FAQs about Kpop Song Generators
What Are Kpop Song Generators?
Kpop Song Generators are tools that use artificial intelligence to help users create their own Kpop songs in various styles and languages. They can generate song titles, lyrics, melodies, beats, and vocals based on user preferences and inputs.
Why Are Kpop Song Generators Popular?
Kpop Song Generators are popular because they provide a unique opportunity for fans to express their creativity and passion for Kpop, while also learning more about the musical style and culture of their favorite idols. They also offer a fun and easy way to create original and high-quality K-pop songs without requiring any musical skills or knowledge.
What Are the Benefits of Using Kpop Song Generators?
They can inspire users to create their own K-pop songs and discover new ones.
They can help users improve their musical skills and knowledge by exposing them to different genres, elements, and techniques.
They can enhance users' enjoyment and appreciation of K-pop music by allowing them to interact creatively.
They can provide users with a platform to share their songs with other fans and friends.