Are you a fan of Tupac, the legendary rap icon who was tragically killed in 1996? Have you ever wished you could hear Tupac Shakur's rap again? In the world of music, few names hold the enduring power and resonance of Tupac Shakur. His lyrical genius, thought-provoking verses, and iconic voice continue to reverberate through the hearts of fans worldwide, even decades after his passing.
Thanks to the Tupac voice generator, we can now breathe life back into Tupac's voice, allowing his artistry to echo once more. In this article, we embark on a journey to discover how to harness this incredible tool and reignite the voice of the rap icon.
Who Is Tupac Shakur?
Tupac Shakur, born Lesane Parish Crooks on June 16, 1971, and known by his stage name 2Pac, was a highly influential American rapper, actor, and activist. He is widely regarded as one of the most significant figures in the history of hip-hop music.
In 1991, he issued his first solo album, 2Pacalypse Now. For his career, Tupac released multiple critically acclaimed albums, including Strictly 4 My N.I.G.G.A.Z., Me Against the World, All Eyez on Me, and The Don Killuminati: The 7 Day Theory. His music often touched on topics such as racial inequality, poverty, violence, and the struggles of marginalized communities.
In addition to his music career, Tupac pursued acting and appeared in several films, including Juice, Poetic Justice, Above the Rim, and Gridlock'd.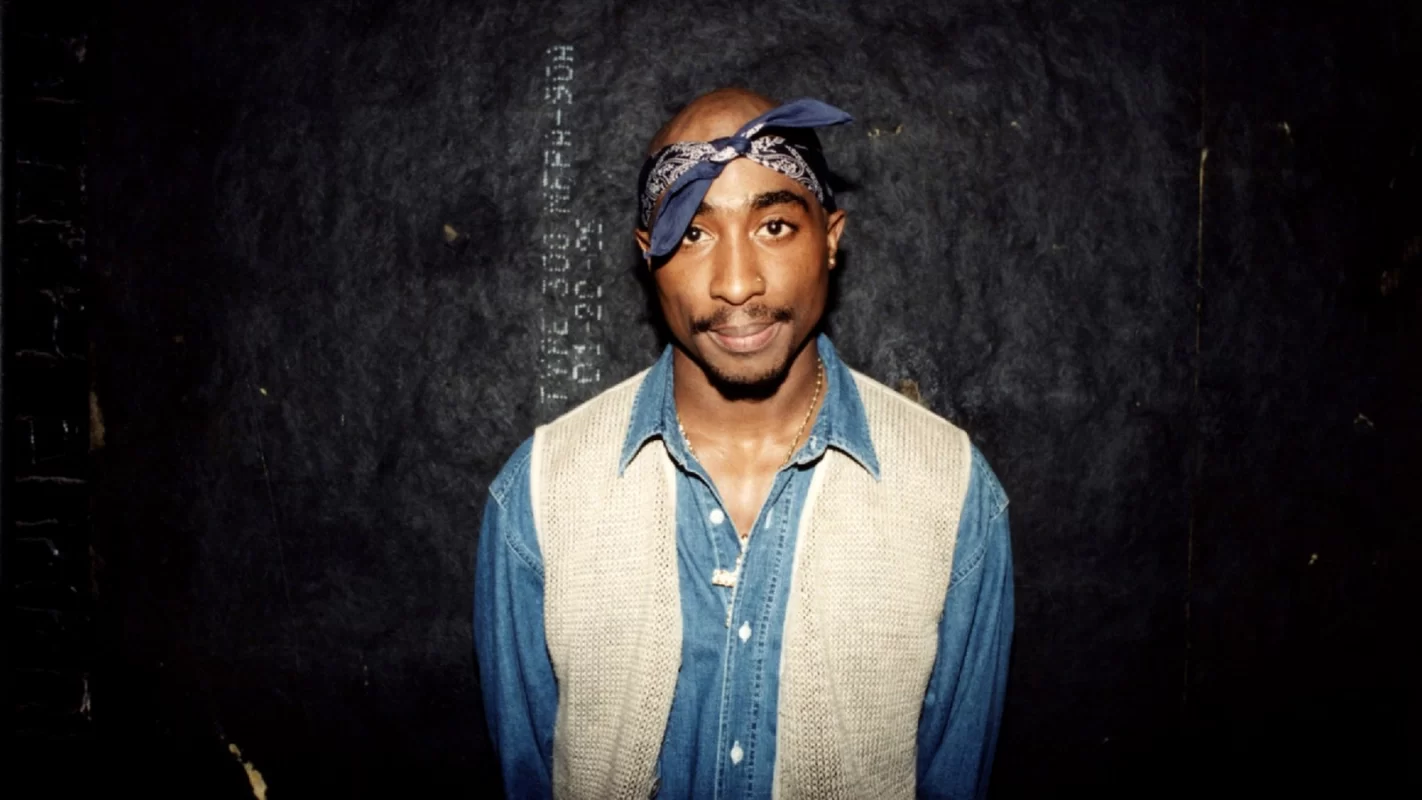 Best Tupac Voice Generator: FineShare FineVoice
Do you want to make your voice sound amazing and impress your audience? Do you want to have fun with different voice effects and characters? Do you want to create voiceovers, podcasts, videos, or memes with the voice of 2Pac? Try FineShare FineVoice, the ultimate Tupac AI voice generator software, to optimize and enhance your voice.
With FineVoice, you can select from more than 220 voice effects in different languages and accents, such as English (US/UK/AU), Spanish (ES/MX), French (FR/CA), Chinese, Japanese, Korean, and more. You can use it to create creative videos or podcasts with the voice of your favorite star or character, including Taylor Swift, BTS, Scarlett Johansson, Drake, Morgan Freeman, Shrek, Danganronpa, and many more. You can use it to create creative videos or podcasts with the voice of your favorite star or character.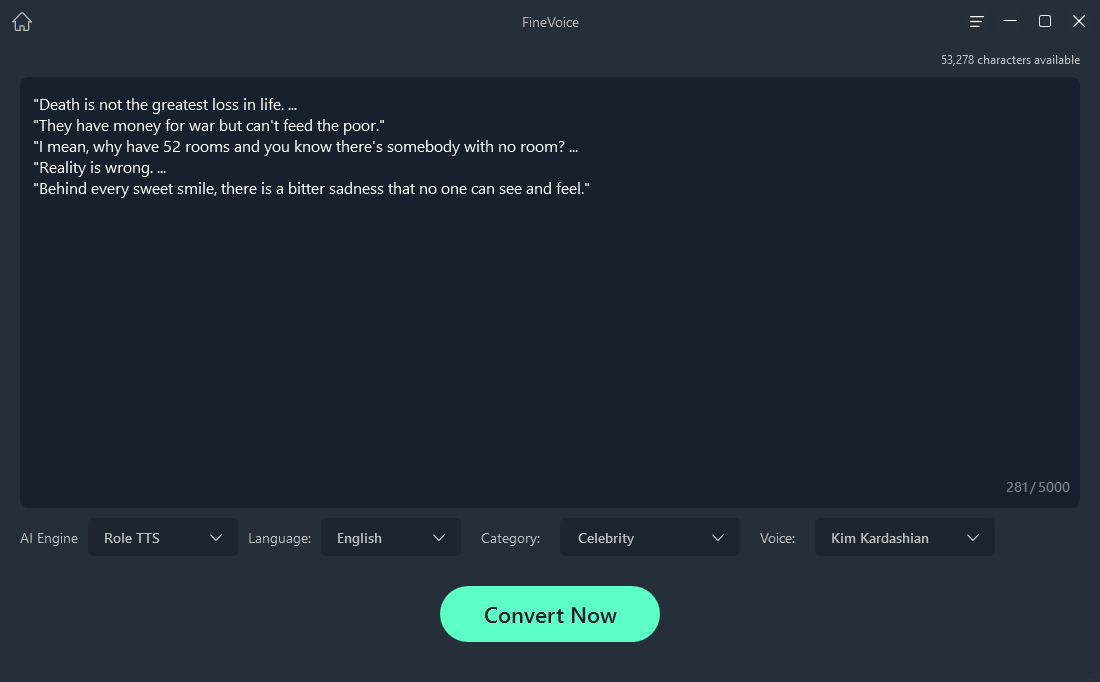 How to Use FineShare FineVoice to Generate Tupac AI Voice?
If you want to use FineVoice this Tupac text to speech tool to make your voice sound like Tupac, you can do the following steps.
Step 1: Get FineShare FineVoice on your computer and install it.
Step 2: Go to the Text to Speech tab after starting the program.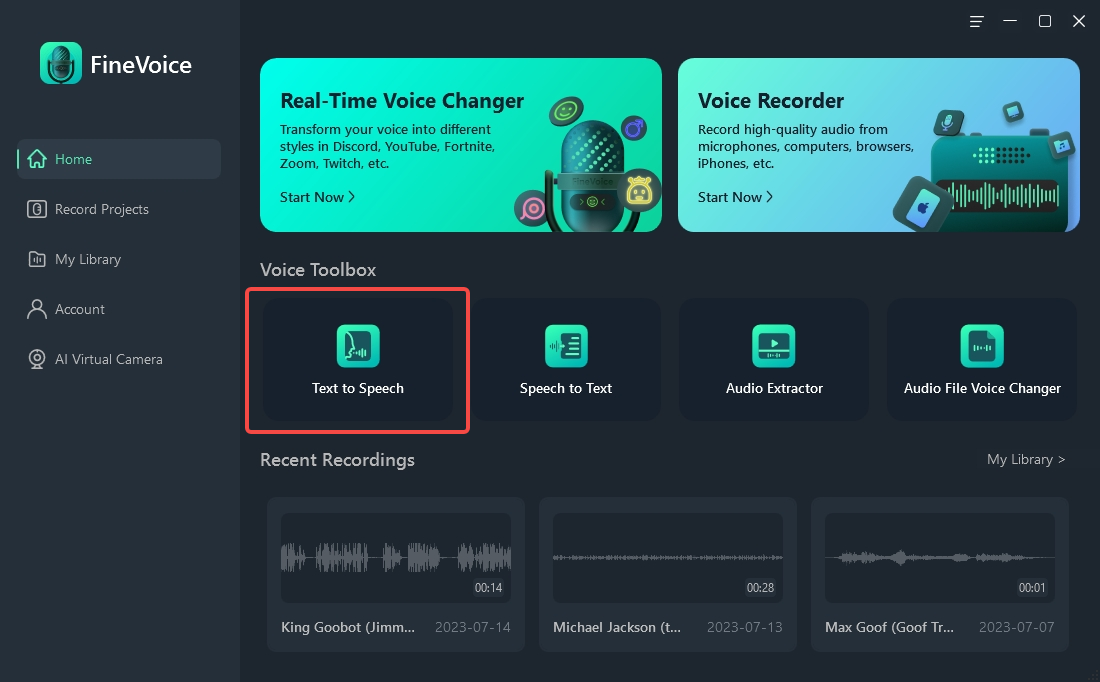 Step 3: Type the text you want to turn into Tupac's voice in the box.
Step 4: Pick the Language and Role TTS > Celebrity > Tupac voice from the menu.
Step 5: Press the Convert Now button to make the Tupac AI voice.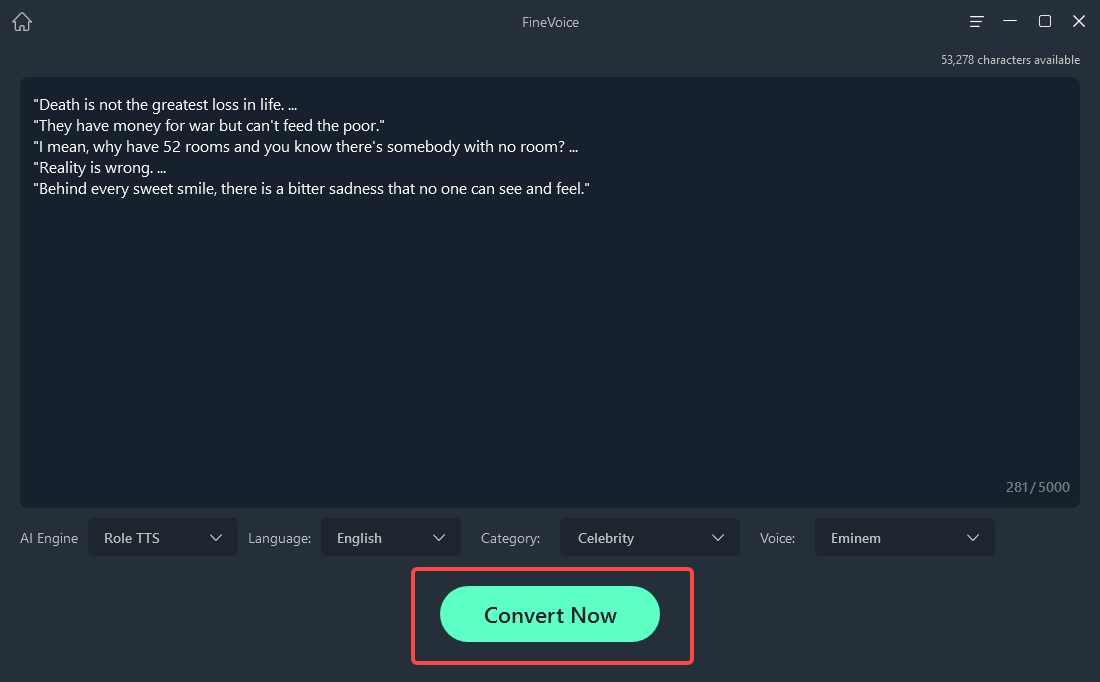 Step 6: Now, you can download and share the audio files.
Want to make your own songs with 2Pac voice? Try FineShare Singify, this online Tupac AI song cover generator. You can choose from more than 100 AI voice models, including Tupac, Taylor Swift, Billie Eilish, Lady Gaga, Kim Kardashian, Drake, and so on. Try it out today and unleash your creativity and passion for music creation.
10 Most Famous and Iconic Tracks of Tupac Shakur
This emotionally charged song is a heartfelt tribute to Tupac's mother and is widely regarded as one of his greatest works.
A collaboration with Dr. Dre, this track became an anthem for both California and hip-hop, featuring an infectious beat and memorable chorus.
Known for its powerful social commentary, "Changes" addresses racial inequality, poverty, and discrimination issues.
This uplifting and empowering track delivers a message of hope and encouragement, particularly to women facing adversity.
Notorious for its aggressive and confrontational lyrics, this diss track aims at several of Tupac's rivals in the hip-hop world.
The title track from his double album, this song is an emblematic representation of Tupac's larger-than-life persona.
Known for its catchy hook and upbeat production, this song is a classic example of Tupac's versatility as an artist.
Featuring a haunting beat and intense delivery, "Hail Mary" is a dark and powerful track that showcases Tupac's lyrical prowess.
This poignant and socially conscious song tells the tragic story of a young girl's struggles in the inner city.
Celebrating Los Angeles, this track captures the essence of the city and its lifestyle while paying homage to its complexities.
Conclusion
In a world where technology and artistry intertwine, the Tupac voice generator stands as a testament to innovation's potential. It grants us the power to not only relive Tupac's iconic voice but also to explore new creative realms.
So download FineVoice to pay homage to a rap legend, inspire fresh waves of creativity, and preserve Tupac Shakur's profound impact on the world of music.
FAQs about Tupac Voice Generator
What Is the Tupac Voice Generator?
The Tupac AI voice generator is a tool that emulates Tupac AI voice. It allows users to input text, lyrics, or quotes, and it generates audio clips that sound like Tupac speaking or rapping the provided text.
How Does the Tupac Voice Generator Work?
The 2Pac voice generator uses deep learning techniques and neural networks to analyze Tupac's vocal patterns, intonation, and speech style from his extensive audio recordings. It then generates audio that closely matches his voice.
What Can I Use the Tupac Voice Generator for?
The generator has various applications, including creating music remixes featuring Tupac's voice, crafting tribute songs, studying Tupac's vocal style for educational purposes, and preserving his memory by generating personalized messages or dedications.