Office virtual backgrounds are now a new trend in video meetings on Zoom, Google Meet, etc. And there are lots of ways to change the webcam background even if you have no green screen. In this way, a user can set a professional background on his back virtually to get viewers' attention and hide unusual things from the viewers of the meeting.
In this article, you will get five professional websites where you can download free HD office virtual backgrounds, no matter what kind of background you want to add to your meeting.
Tip: We've added search filters for you to quickly get hundreds of high-quality office backgrounds, just click the link to get them.
Unsplash – Office Virtual Background (Images + Landscape)
If you want to find HD office backgrounds for Zoom or other meeting platforms, don't miss Unsplash. This is a cool place owning over 3.48 million high-quality images. This amazing website gains over 265,000 contributing photographers and generates. This website has 16 million impressions per month. Therefore, finding high-quality office images from Unsplash is so easy. Get landscape office virtual backgrounds from unsplash.com >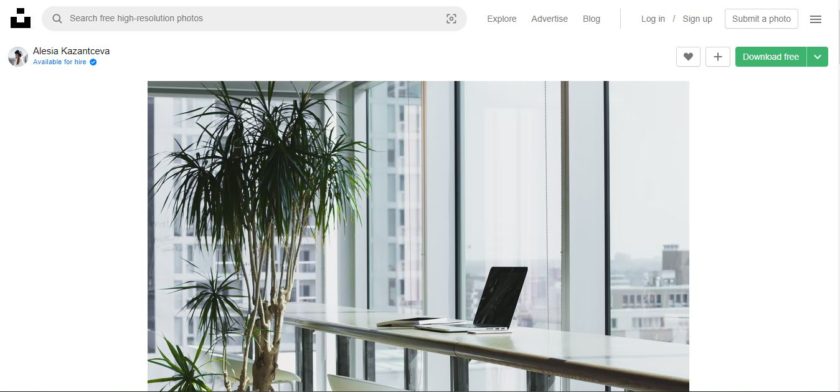 Pexels – HD Office Virtual Backgrounds (Landscape)
One of the most popular providers of photography and footage. It has a collection of over 3.2 million photos and videos so that you can easily find professional virtual backgrounds related to offices and workplaces. You can download high-quality images from this site for free. And you can pick out your favorite backgrounds by using filters including orientation, color, and more. Quick link to get,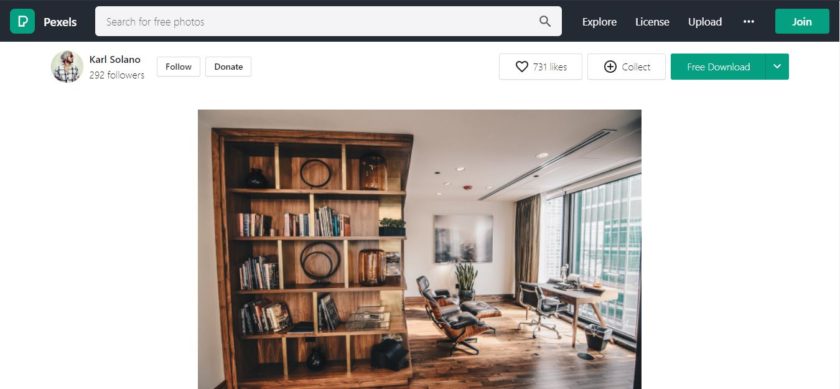 Pinterest – Office Virtual Backgrounds
Pinterest is a social media platform for image sharing and is designed to enable the saving and discovery of information on the internet by images. This platform contains a large number of images, GIFs, and videos. You can save your selected image by pinning it. Get workplace virtual backgrounds from pinterest >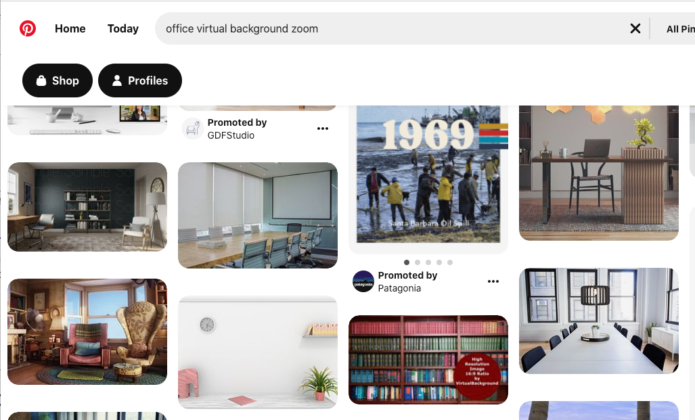 But finding a specific image with the required size is difficult here. But, as it's a specialized social media platform for image sharing, it has a large number of image collections under various subcategories, and the search bar is available for you to quickly pick what you want.
How to Add Downloaded Office Virtual Background to ZOOM?
Zoom is the most popular virtual meeting platform. This platform is mainly used for remote work, virtual meetings, distance education, etc. Zoom is compatible with almost all operating systems.
Zoom Office Virtual Background Requirements
On zoom, you are able to set either image or video as your virtual background. For images, ZOOM is compatible with GIF, JPG/JPEG, or PNG format with an aspect ratio of 16:9 and a minimum resolution of 1280×720 pixels. If you want to use office videos as virtual background, then you need a minimum resolution of 480×360 pixels (360p).
There is one important thing here. You need to select videos as virtual background, you need to consider the bandwidth and computer capability, because if you using a low-end device or low bandwidth, then there could be a streaming problem for both you and your meeting holders.
To set your office virtual background, you have to follow the below steps,
Open your Zoom Client app, log in and click on the Settings (Gear Icon).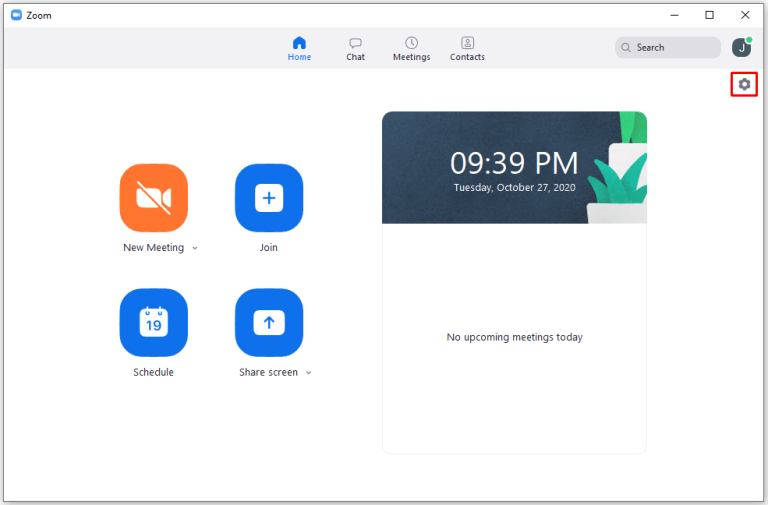 Select "Background & Filters" and you will see an option for selecting virtual backgrounds.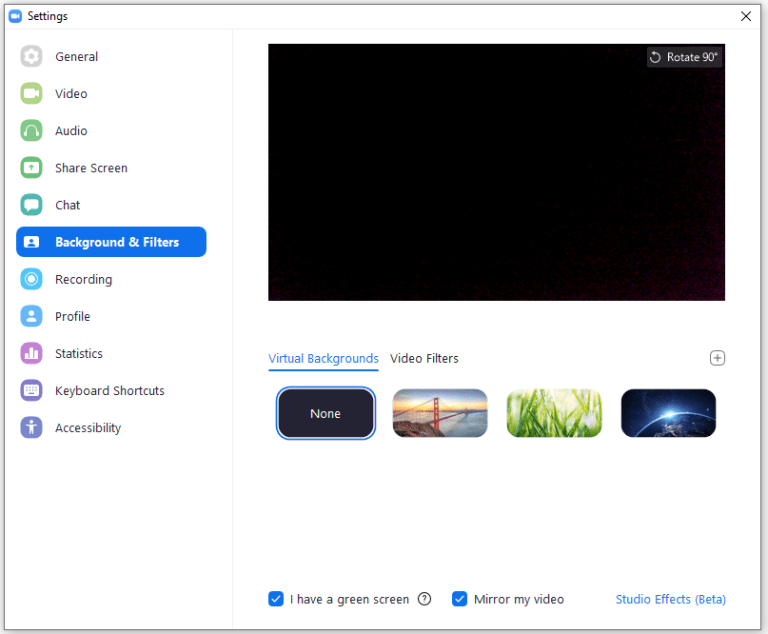 Now, you can select your virtual background. You can add your downloaded image by clicking on the "+" icon.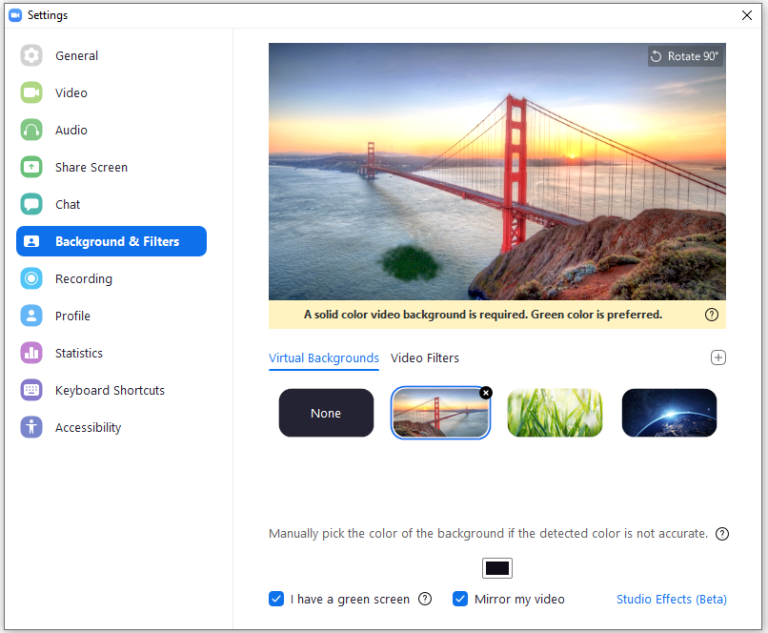 Lastly, take a preview of your virtual background and start your meeting.
In this way, you can get your personalized virtual office background on the zoom app.