In today's age of the Internet, it's common that content creators and influencers tend to make parodies or memes of celebrities to attract more audiences. Donald Trump, Obama, Rick Astley, and the famous entrepreneur Elon Musk, these familiar names are popular subjects for parody entertainment on the Internet.
If you are looking for an Elon Musk voice changer to make your content more fun and attractive, you have come to the right place. In this article, we will show you how to use an Elon Musk voice changer to do that. Let's find out.
Who's Elon Musk and Why is He Popular on the Internet?
Elon Musk is a prominent entrepreneur, business magnate, inventor, and visionary known for his involvement in multiple industries. He was born in South Africa and later moved to America, where he became the CEO and co-founder of Tesla, Neuralink, SpaceX, and is involved in many other companies too. Elon Musk has also made great contributions in various areas such as electric vehicles, renewable energy, and space exploration.
Elon Musk is an ambitious and innovative figure nowadays, but sometimes he is also controversial due to his outspoken personality. No matter what, he is no doubt a leading figure in modern technology.
As for Elon Musk's popularity on the Internet, there is more than one reason. His remarkable success, influences on technology trends, visionary ideas, and most importantly, social media engagement, all these factors made Elon Musk popular on the Internet and often become the subject of memes and pop culture references.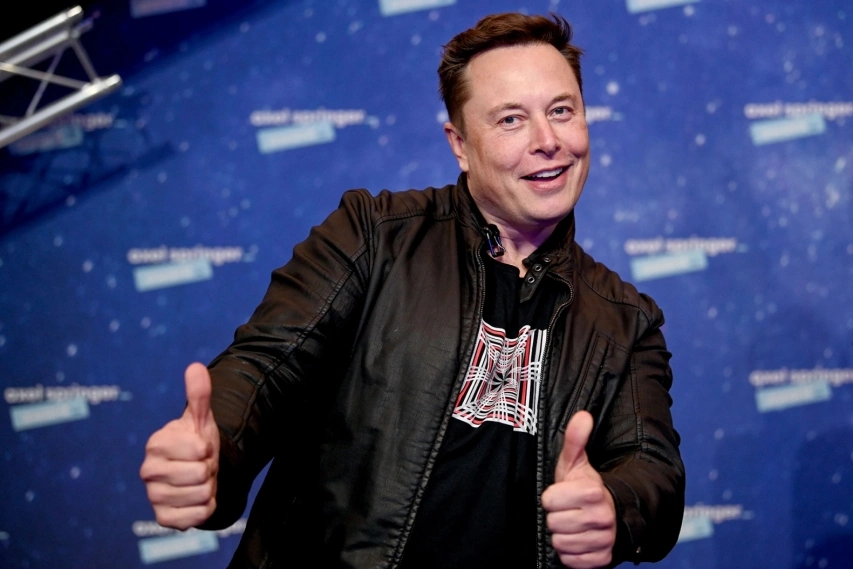 Best Elon Musk Voice Changer You Shouldn't Miss
FineShare FineVoice is an AI digital voice solution that can provide you with everything you need to get Elon Musk AI voice.
This Elon Musk AI voice changer app has a Voice Labo function where you can create your own voice effects. By adding audio effect options and adjusting details, you can create the ideal Elon Musk voice according to your needs and preferences. What's more, there are also 30+ voice effect presets that can be activated with simple clicks or shortcuts, and change your voice in real-time.
If you need an Elon Musk voice text to speech tool, FineVoice can still be your top choice. It provides you with massive text to speech collection that contains more than 5000 voices for you to choose from. You will find the voices across from fictional characters like SpongeBob to real-life celebrities like Morgan Freeman. Of course, Elon Musk's voice is also included.
Currently, FineVoice is available on Windows and can be downloaded for free. Have a try!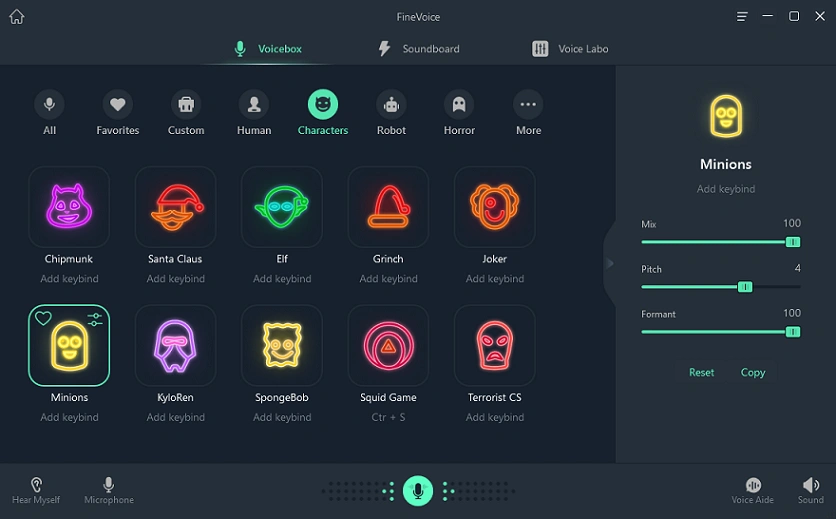 Features:
Intuitive and user-friendly interface
Compatible with various platforms like Discord and Skype
Integrated with multiple useful voice-related functions
Lots of voices for text to speech
Voice effect details are adjustable

Experience the cutting-edge FineShare Online Voice Changer and unleash 87+ AI voices! From Barack Obama to Chipmunk, Batman to Kevin Coster– the possibilities are endless! Try it now!
Bonus: 3 Steps to Use FineVoice to Generate Elon Musk Text to Speech for Free
Step 1. Choose Text to Speech on the FineVoice main interface.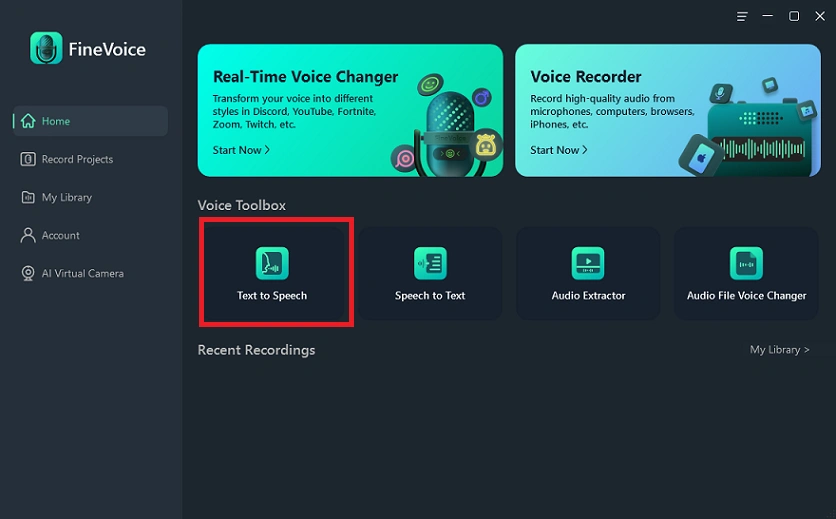 Step 2. Select Role TTS, and find Elon Musk in the Technicians category.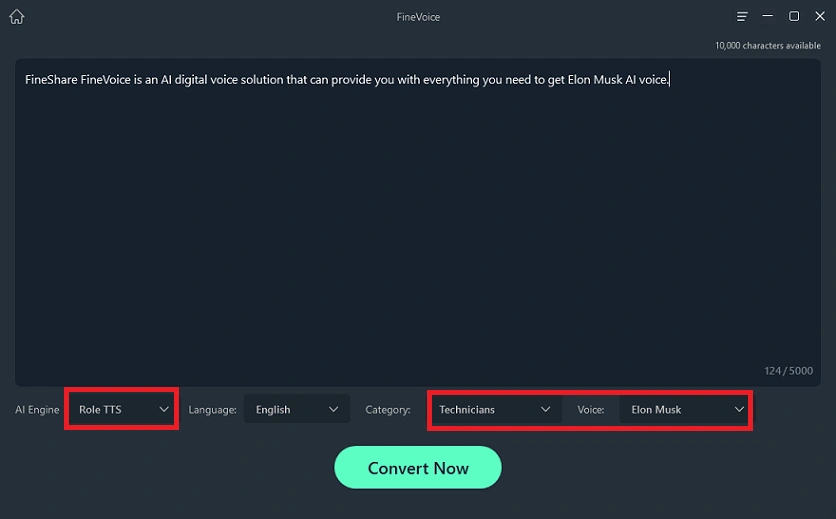 Step 3. Input your text and click Convert Now.
Conclusion
We hope this article can help you figure out how to use Elon Musk voice changer. Using a voice changer is a quick and convenient way to get additional improvements for your content, funny stuff can shorten the distance between you and your audiences.
FAQs
How to make my voice sound like Elon Musk?
FineShare FineVoice can make your voice sound like Elon Musk. You can add and adjust 20+ voice details in FineVoice to get the ideal Elon Musk voice to your likings.
What is AI-generated Elon Musk voice?
A voice generator powered by AI technology like FineVoice can generate a realistic Elon Musk voice based on the text you input. You can use it for voiceover in content creation, or make some funny meme videos.
Did Elon Musk voice for Elon Tusk?
Yes, Elon Musk cast the voice for Elon Tusk. Elon Tusk is a fictional character in the South Park series, he's a parody of Elon Musk, and the Tuskla in the show is also a parody of Tesla in real life.