The iconic character Arthur Morgan from the critically acclaimed video game Red Dead Redemption 2 captivated players with his memorable voice and compelling personality. Yeehaw, partner! Are you ready to step into the boots of a rugged outlaw and ride the untamed trails of the Wild West?
In this article, we will introduce the best Arthur Morgan voice generator to you and show you how to use FineShare FineVoice to generate Arthur Morgan AI voice for your content. We will also give you some background information about Arthur Morgan and his voice actor, Roger Clark, who won several awards for his performance in the game.
Learn More about Arthur Morgan
Arthur Morgan is a central character and the main playable protagonist of the video game Red Dead Redemption 2, released by Rockstar Games in 2018. As an outlaw and member of the Van der Linde gang, Arthur's journey unfolds through a gripping narrative, allowing players to witness his growth, moral dilemmas, and evolving personality.
Arthur Morgan's voice is one of the key features of his character, as it reflects his emotions, thoughts, and actions. His voice is deep, gruff, and authoritative, but also warm, humorous, and compassionate. His voice also changes depending on his honor level, which is affected by the player's choices in the game.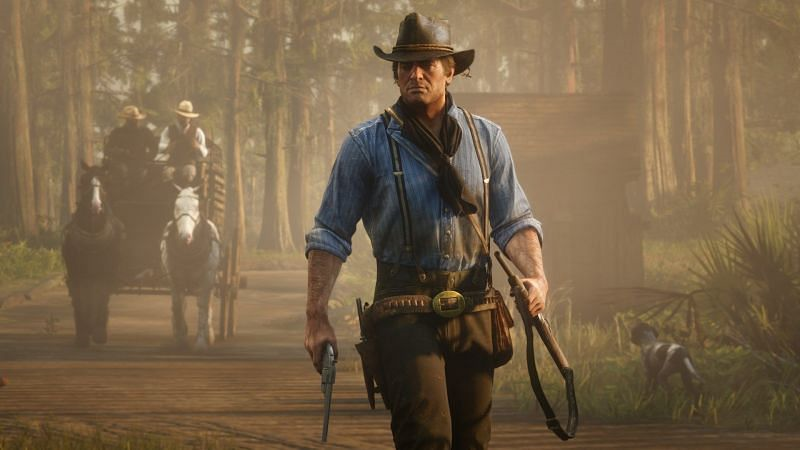 Who is Arthur Morgan's Voice Actor?
Roger Clark, the talented Irish-American actor and voice actor, brought Arthur Morgan to life with his remarkable performance capture in Red Dead Redemption 2.
Many people consider Clark's portrayal of Arthur Morgan to be among the best voice acting jobs ever recorded for a video game. He won several awards and nominations for his work, including Best Performance at The Game Awards in 2018. He has narrated more than 50 audiobooks and enjoys a thriving career as a theatre actor.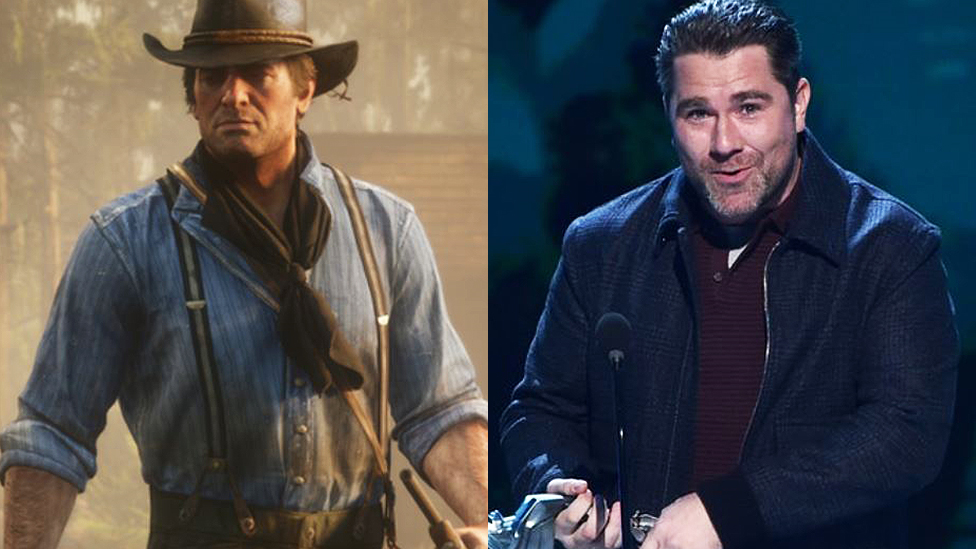 The Best Arthur Morgan Voice Generator: FineShare FineVoice
Looking to add a dash of personality and charm to your content? Well, partner, look no further. FineShare FineVoice this Arthur Morgan voice generator is your ticket to creating natural-sounding voiceovers using the iconic voice of Arthur Morgan from Red Dead Redemption 2.
With FineVoice, you can create realistic AI voiceovers for your videos, podcasts, books, or presentations. It supports more than 40 languages in various interesting voices, so you can choose from a wide range of options. You can select the popular voices of celebrities, actors, singers, and even video game characters, such as Arthur Morgan, Morgan Freeman, Scarlett Johansson, Taylor Swift, etc. It also offers a simple and intuitive user interface that makes it easy to use for anyone.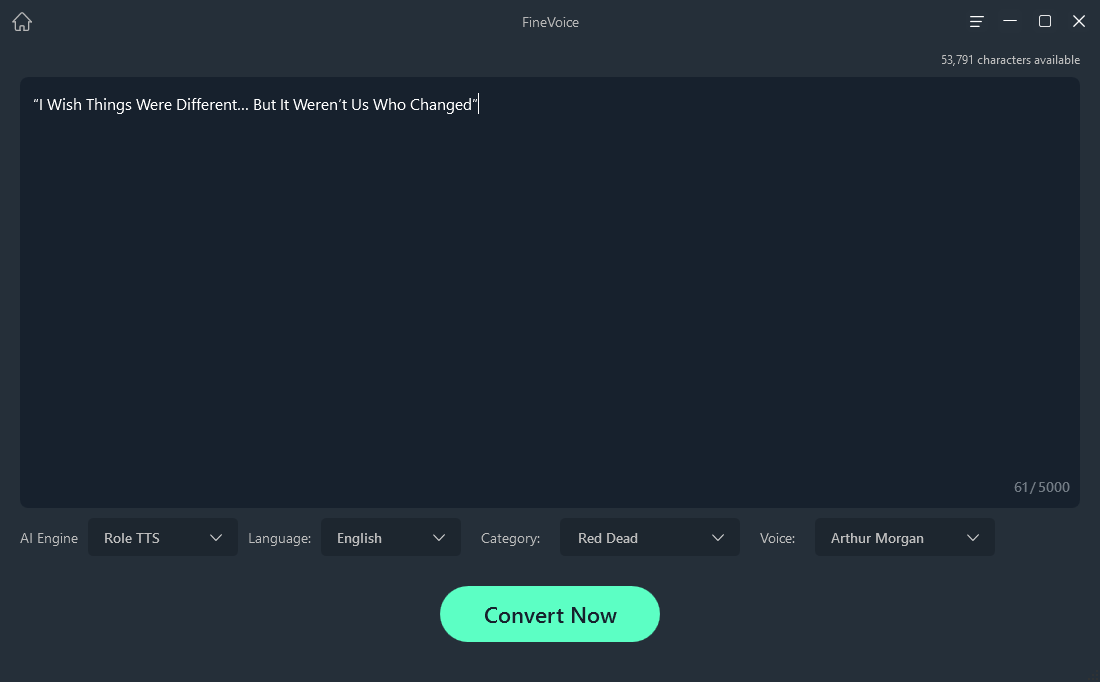 FineVoice is also an Arthur Morgan voice changer. You can use it to change your voice in real-time for online meetings, games, chats, live streaming, etc
How to Use FineShare FineVoice Arthur Morgan Voice Generator?
To use FineVoice Arthur Morgan Voice Generator, you can follow these steps.
Step 1: Download and install FineVoice.
Step 2: Launch the software and click on the Text to Speech tab.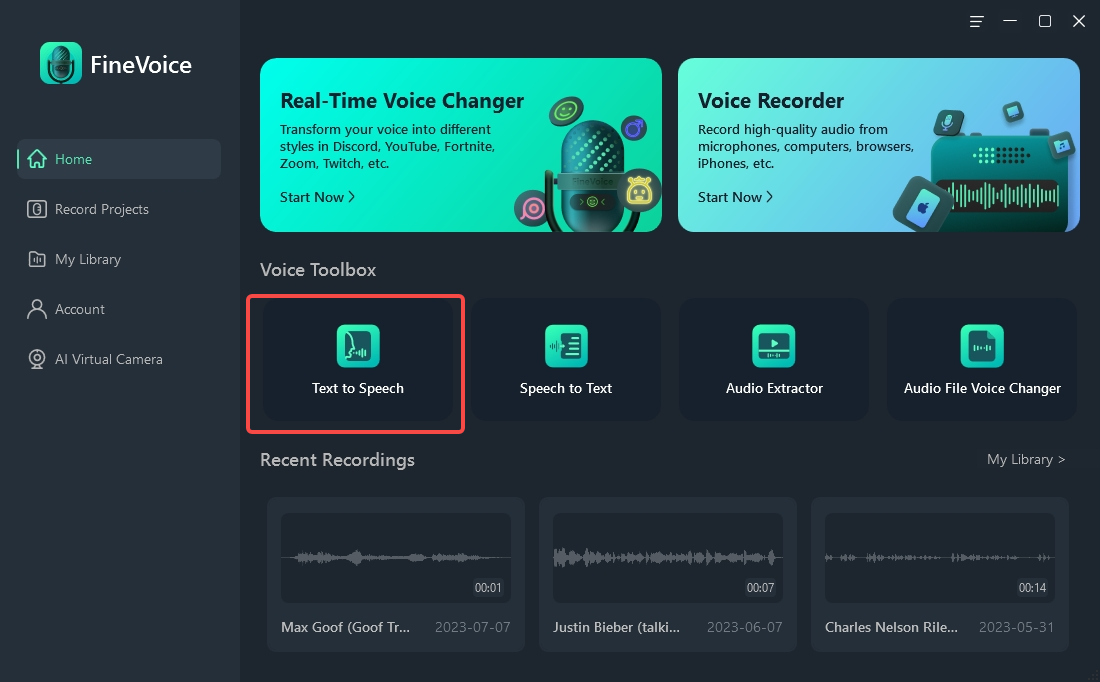 Step 3: Enter your desired text into the text box provided.
Step 4: Select Role TTS in the AI Engine and Arthur Morgan voice from the Red Dead category.
Step 5: Adjust the speed, pitch, and volume of the voice to your desired settings.
Step 6: Click the Convert Now button to generate your Arthur Morgan AI voice audio file.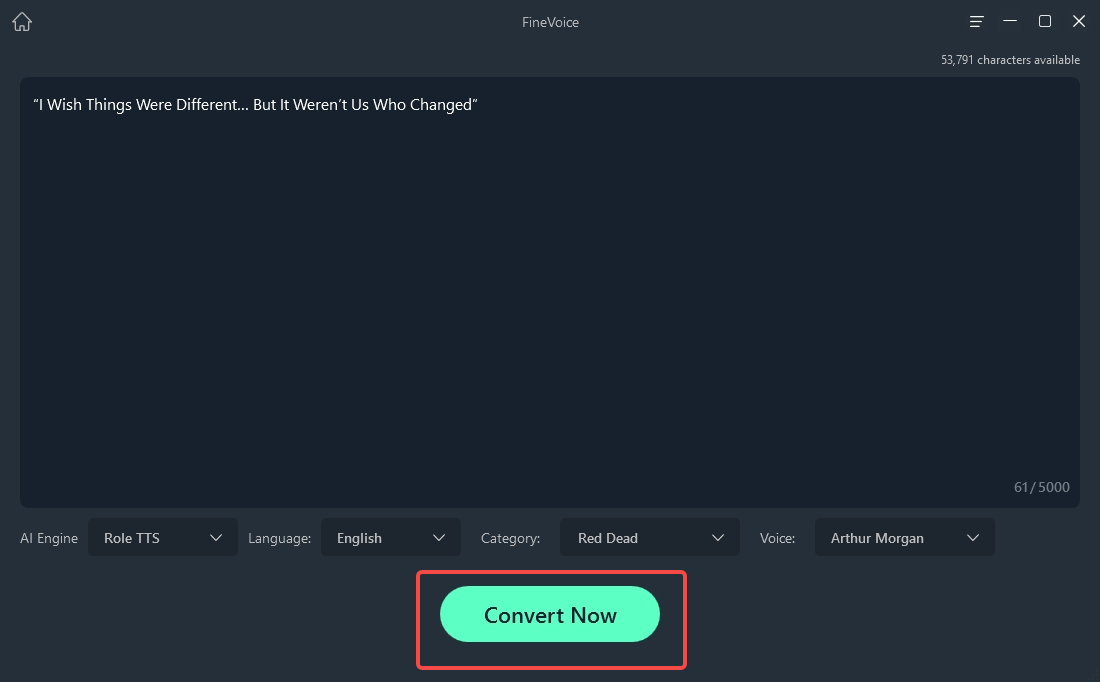 Step 7: Enjoy Arthur Morgan voice Now!
Conclusion
The Arthur Morgan voice generator has taken the gaming community by storm, allowing fans to infuse their content with the distinct voice of the beloved character from Red Dead Redemption 2. Now, with the FineShare FineVoice Arthur Morgan text to speech tool, you can effortlessly incorporate Arthur Morgan's voice into your projects, injecting them with personality, humor, and that Wild West charm.
So, give it a try today and see how it can improve your content creation! Gather your wits, ignite your passion, and let the echoes of Arthur Morgan's voice reverberate through your creations.
FAQs about Arthur Morgan
Can Arthur Morgan Fall in Love?
Arthur Morgan can fall in love with certain characters in the game, depending on his choices and interactions. The most prominent example is his ex-fiancée Mary Linton, whom he still has feelings for despite their breakup. Another example is Sadie Adler, a widow whom Arthur helps to avenge her husband's death and becomes a close friend and ally. However, their relationship never goes beyond friendship, as Sadie still mourns her husband and Arthur respects that.
How Many People Has Arthur Morgan Killed?
It depends on how the player plays the game, as they can choose to kill more or less people in various situations. Arthur still kills over 100 people in the main story missions alone. Some fans have calculated that Arthur kills around 900 people in total if they play with high honor, and over 1000 people if they play with low honor.
What was Arthur Morgan's Last Words?
If he has high honor and chooses to help John Marston escape from the Pinkertons, his last words are "I gave you all I had. I did." When Dutch van der Linde deserts him following a confrontation with Micah Bell, he says this to the latter. Arthur then dies peacefully on a mountaintop, watching the sunrise.