Do you love Hank Hill's voice and want to sound like him? Want to create hilarious memes and pranks with his voice? Want to learn his accent or imitate his mannerisms? If you answered yes to any of these questions, then this post is for you!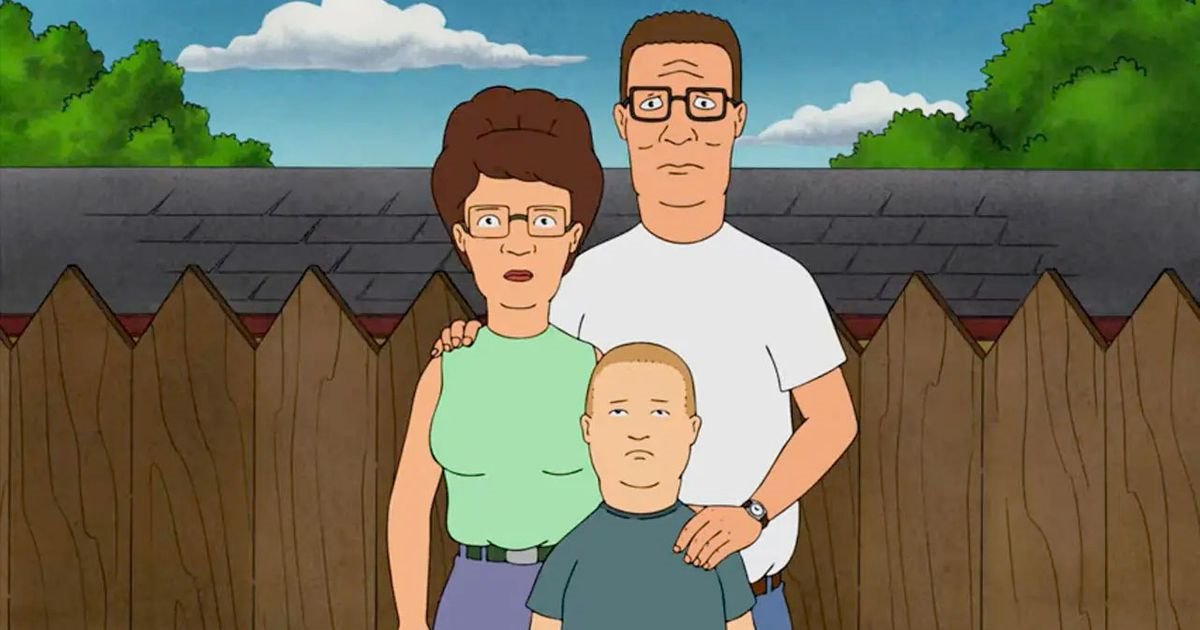 In this post, we will introduce you to the top 3 Hank Hill text to speech tools and soundboards that can create realistic and funny Hank Hill voices for memes and pranks. Let's get started and have fun!
Top 3 Hank Hill Text-to-Speech Tools for Memes
#1. FineShare FineVoice
FineShare FineVoice is a voice changer for Windows PC. You can use it as a Hank Hill voice generator with the text-to-speech feature. This TTS tool offers 5000+ AI voices for your needs and preferences. There are voices of singers, rappers, cartoon characters, movies, etc. Some of the most popular voices in FineVoice are Peter Griffin, Goku, and Hatsune Miku.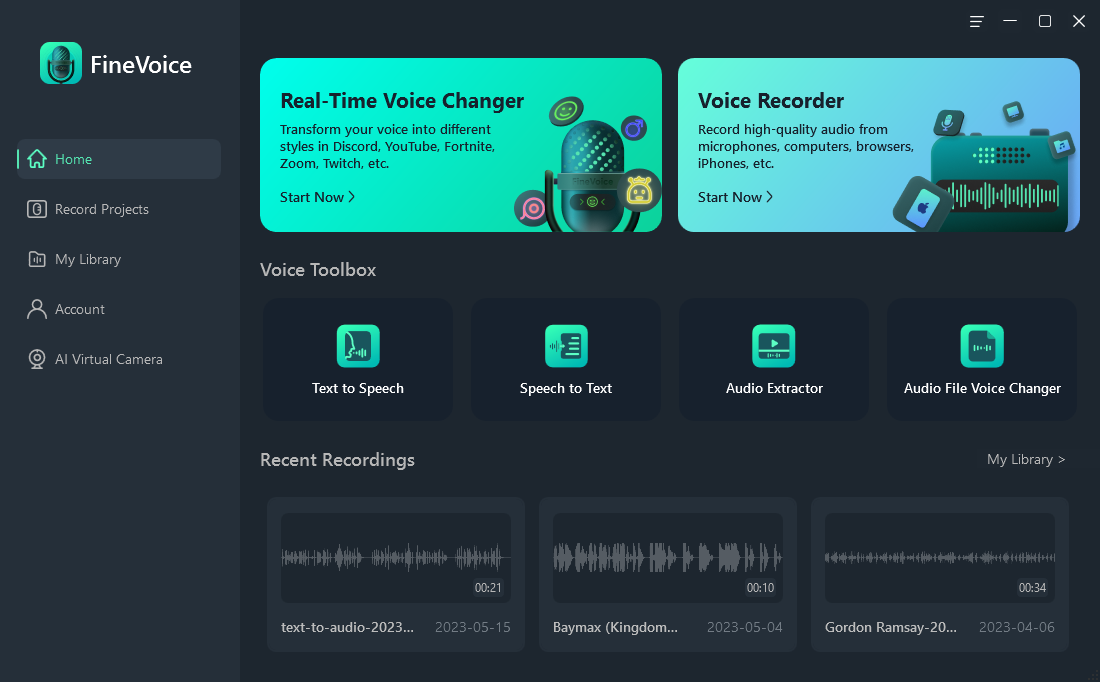 Features:
5000+ AI character voices for funny voiceovers
200+ lifelike realistic voices in 40 languages for newscast, audiobooks, etc
Custom voice creation supported
Generated audio auto saving
Audio file voice changer to make voice-to-voice
#2. FakeYou
If you want to find Hank Hill's voice on a website to avoid installing software, FakeYou is a good choice. This Hank Hill text to speech tool has an easy-to-use interface. It adds character and celebrity voices continuously. The clear classification of voices makes you find what you want easily.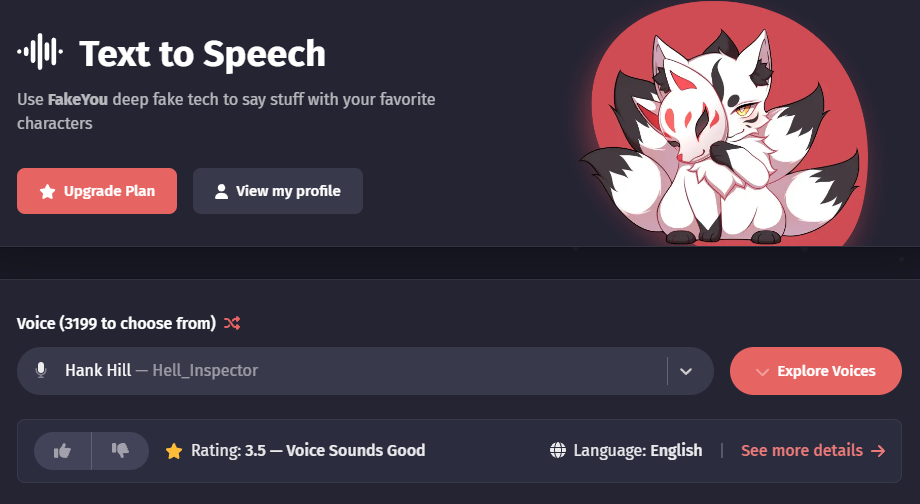 Features:
3000+ voices for AI voiceovers
Custom voice clone supported
Voice-to-voice to change the voice of upload file
Lip-sync video templates such as Yoda and Trump
#3. Uberduck
Another online Hank Hill text to speech tool you should try is Uberduck. You can find the hot animated comedy character voices of these years here, from South Park and The Simpsons to Bojack Horseman and Rick and Morty. And the AI voices of rappers like Kanye West and Juice WRLD are available as well.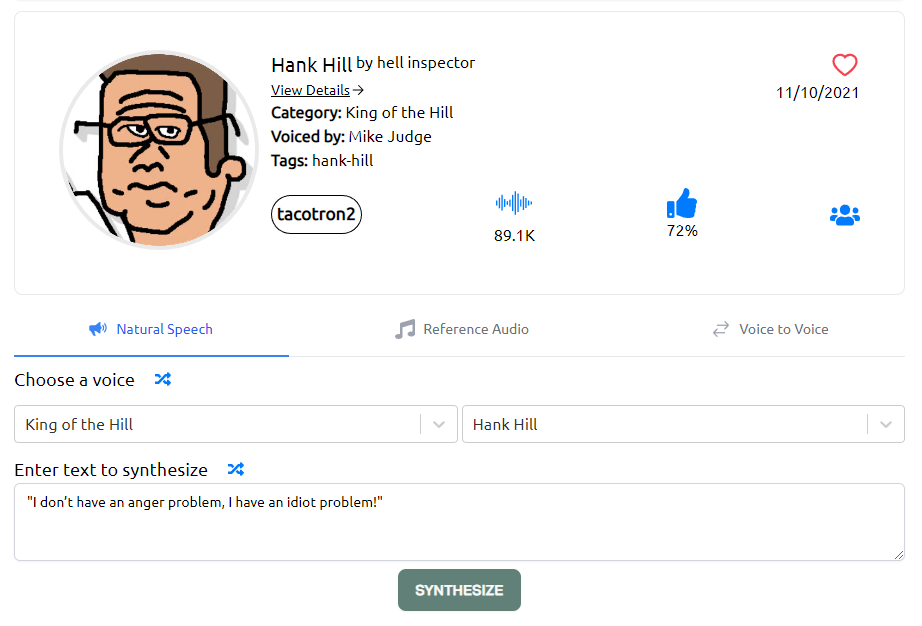 Features:
4000+ voices for AI voiceovers
Provides APIs for developers and creators
Open-source machine learning community
Custom voice clone supported
Unique AI generated raps feature for singing and rapping
Top 3 Hank Hill Soundboards for Classic Hank Hill Sound Clips
#1. Jayuzumi
If you are looking for a soundboard website having a funny and beautiful interface, Jayuzumi is the best one. It offers a variety of soundboards that include celebrities, politicians, singers, actors, cartoon characters, and more. You can share the virtual soundboard to your social media for easy access when streaming.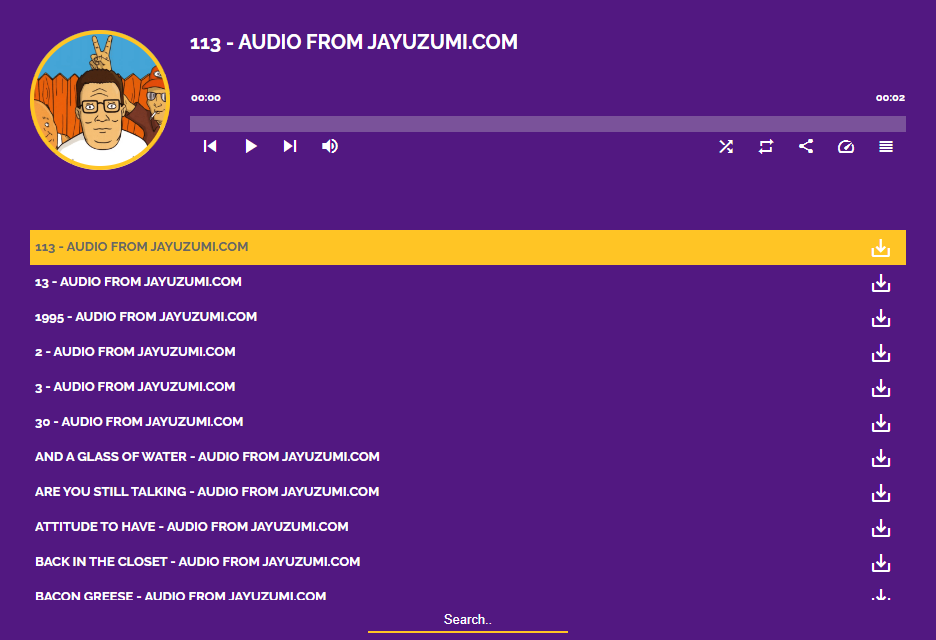 #2. 101 Soundboards
101 Soundboards is one of the largest websites that offer sound clips from cartoons, movies, sports, and other pop cultures. The sound clips are recorded and uploaded to 101 Soundboards by its users. You can use the hotkeys to play Hank Hill sound clips to make prank calls or have fun with your audience in streaming or video.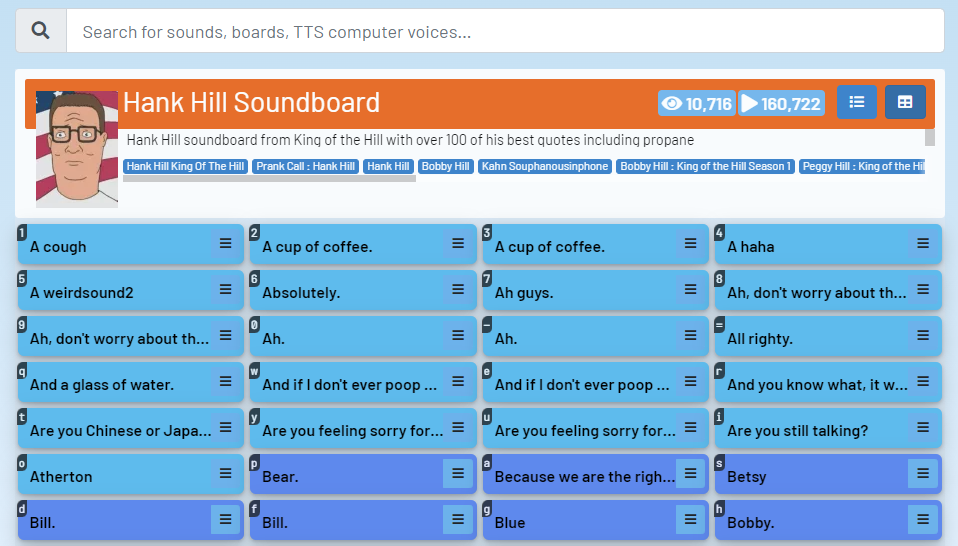 #3. FineShare FineVoice – Manage Your Hank Hill Sound Clips
FineShare FineVoice voice changer offers you a soundboard feature. With the soundboard, you can upload your generated Hank Hill voiceovers to it. And also the recorded audio with custom Hank Hill voice, or the famous quotes collected from Jayuzumi and other websites.
Then speak with the Hank Hill created, play the sound clips and the voiceovers generated in gameplay, streams, and prank calls. Leave your friends, family, and audience a deep impression. Have fun!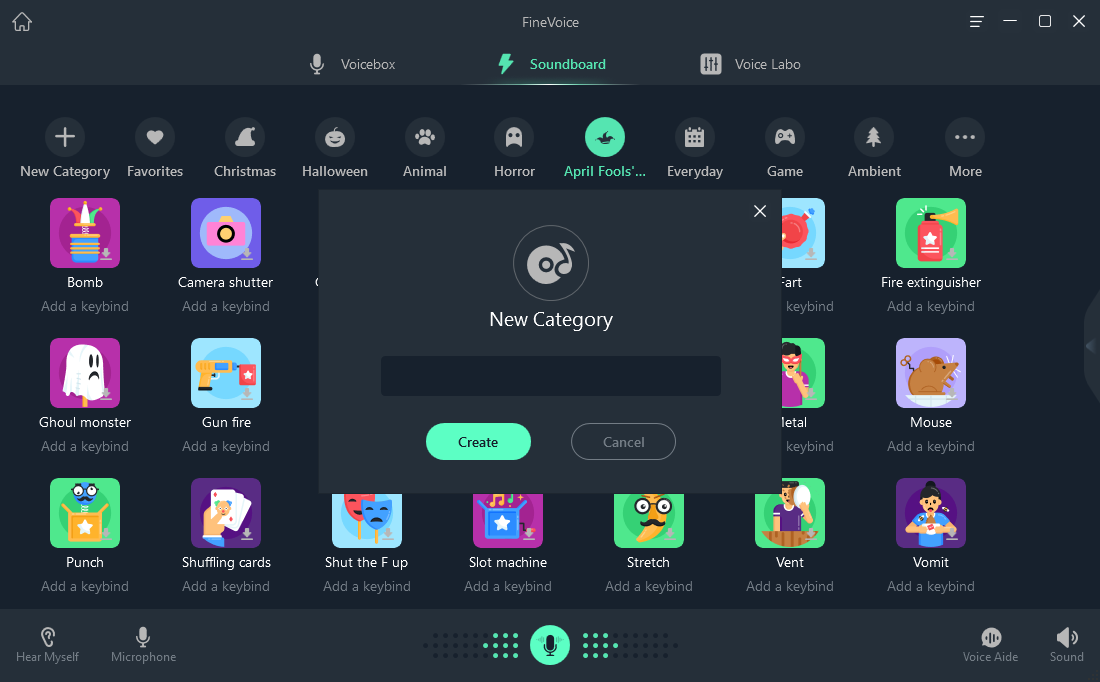 Conclusion
We have shown you the top 3 Hank Hill text to speech tools and soundboards that can create realistic and funny Hank Hill voices for memes and pranks. You can use them to have fun with Hank Hill's voice, learn his accent, or imitate his mannerisms.
Now it's your turn to try them out and see what you can create with them. Don't forget to share your feedback or experiences with Hank Hill's voice in the comment section below. We would love to hear from you!
Thank you for reading this post and have a great day! Bwah!
FAQ
#1. Who voices Hank Hill?
The voice of Hank Hill is Mike Judge, who is also the creator and co-executive producer of King of the Hill. Mike Judge is an American animator, filmmaker, actor, and musician. He is also known for creating other animated shows such as Beavis and Butt-head and Silicon Valley.
who voices hank hill
#2. How to imitate Hank Hill's voice?
To imitate Hank Hill's voice, you need to pay attention to his accent, pitch, tone, and mannerisms. Here are some steps that can help you imitate Hank Hill's voice:
Step 1: Listen to Hank Hill's voice carefully and try to mimic his pronunciation and intonation. You can use the tools or soundboards mentioned above to practice his voice.
Step 2: Speak with a nasal and monotone voice, as if you are holding your nose. Try to avoid raising or lowering your voice too much.
Step 3: Use a slight southern accent, but not too strong. Pronounce some words with a drawl, such as "y'all", "ain't", or "dang".
Step 4: Use some of Hank Hill's catchphrases or expressions, such as "I tell you what", "That boy ain't right", or "Bwah!".
Step 5: Adopt some of Hank Hill's mannerisms, such as shaking your head, sighing, or folding your arms.
#3. Can you give me some famous quotes or catchphrases of Hank Hill?
Some of the famous quotes or catchphrases of Hank Hill are:
"I sell propane and propane accessories."
"Propane is clean burning fuel that comes from God's green earth."
"Bobby, if you weren't my son, I'd hug you."
"What the hell kind of country is this where I can only hate a man if he's white?"
"I don't have an anger problem, I have an idiot problem."
"That's my purse! I don't know you!"
"Why do you keep calling me Bill?"